Modular Room Systems by Getinge


The

future

,

built

better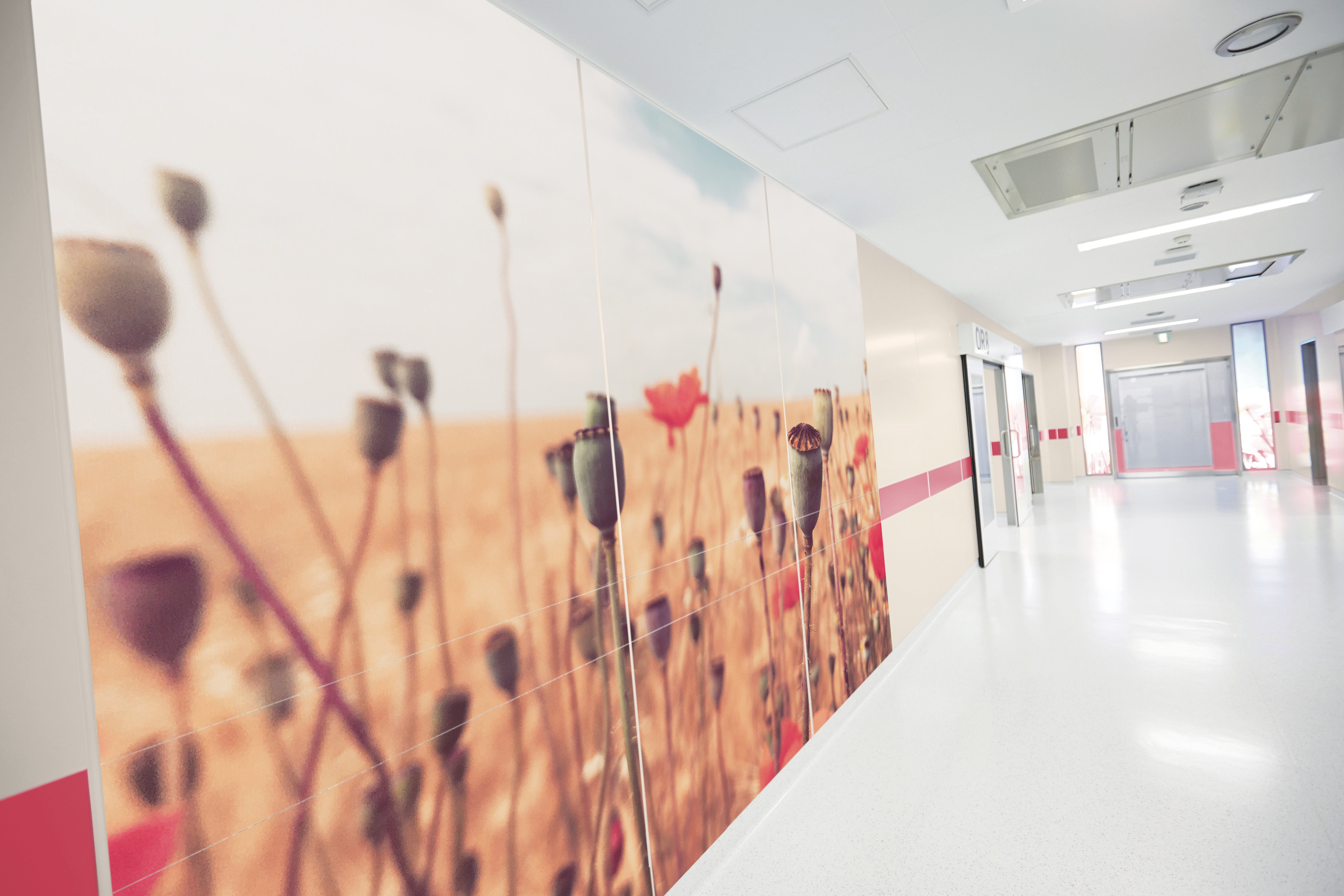 In the future...
your hospital will be different
​An ideal hospital environment ensures seamless workflows for practitioners with​ deep consideration for the patient's experience. The Getinge IN2 Modular Room System is the​ IN-telligent and IN-tuitive solution for flexible workspaces and positive atmospheres in your​ OR, ICU, and CSSD.
Getinge IN2 Modular Room Systems at a glance
The Getinge IN2 Modular Room System is the core of our project business. This high-quality, hygienic Modular Room System consists of a substructure, wall and ceiling elements, doors, and the optional integration of built-in elements that give you the flexibility to change and replace as needed. It is the flexible foundation for your hospital to grow and adapt to new technologies.
1. Substructure
The Getinge IN2 elements are mounted to a solid galvanized steel substructure. Floor rails, ceiling rails, and vertical mounts are used to mix, match, and mount all types of panels.
2. Wall elements
High-quality wall components in different material options are designed to build a pleasant, safe, and efficient work environment. Smooth and hygienic surfaces are easy-to-clean and meet highest standards.
3. Cabinets
Getinge IN2 offers a variety of cabinets to keep items close and improve workflows. All cabinets are fully flush with the wall panels, can be outfitted with shelves and can be powder-coated to match the wall panels.
4. Modular ceiling system
Room lighting and Laminar Airflow are integrated into the modular ceiling system. The available lighting options ensure accurate perception of tissues and colors. Getinge IN2 LAF options are available in single part or three-part systems.
5. Glass elements
Thanks to windows between rooms light can pass through to create an open atmosphere for a functional and safe working environment. Optional blinds or liquid crystal smart glass as well as façade windows are available. Illuminated glass wall elements help setting aesthetic accents.
6. Door system
The Getinge IN2 door system includes the mechanical and electrical components for sliding and hinged doors allowing for a safe and ergonomic touchless entry.
7. Built-in elements
Getinge IN2 offers a wide range of built-in elements to complement your workflows. Control panels, infobars, LED X-ray film viewers, signal lights, and much more can be added to your room to improve everyday usability and convenience.
8. 3-parted system
3-parted panels with a 200 mm installation element are suited to the installation of medical gas outlets, sockets, or other wall installations. Elements can easily disassembled and reinstalled during maintenance or modernization.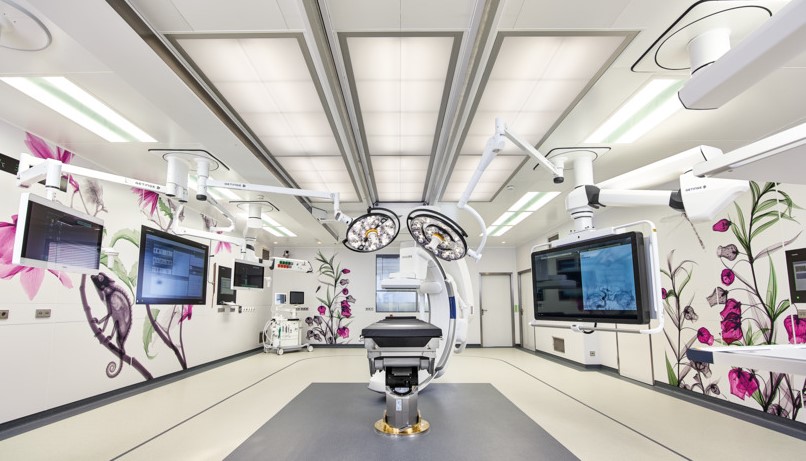 Flexibility for the future
Room design is a large capital expense. How can you be certain that you'll get the most out of your investment? With a modular wall system that can grow and adapt as your needs change.
Benefits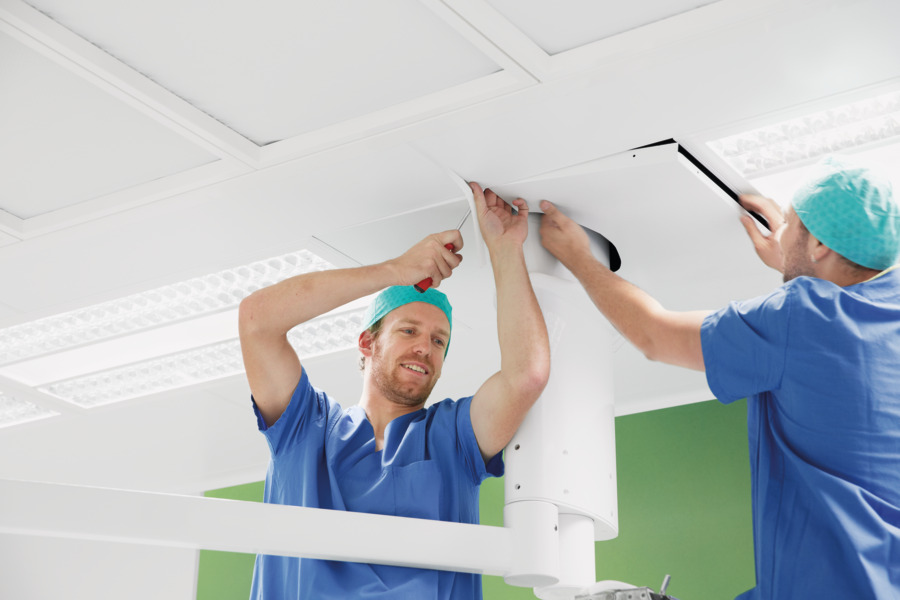 Flexibility to modernize​
The modernization process with Getinge IN2 is faster and more cost-effective than conventional construction and allows for more flexibility in the future, maximizing long-term ROI. ​
Each room is manufactured to meet your individual needs for remodeling or new construction. Removable wall and ceiling elements add future-proof flexibility for service, maintenance, or modernization. ​
Hospital technicians can remove the modular panels for access for service, maintenance, or upgrades – no special tools are required.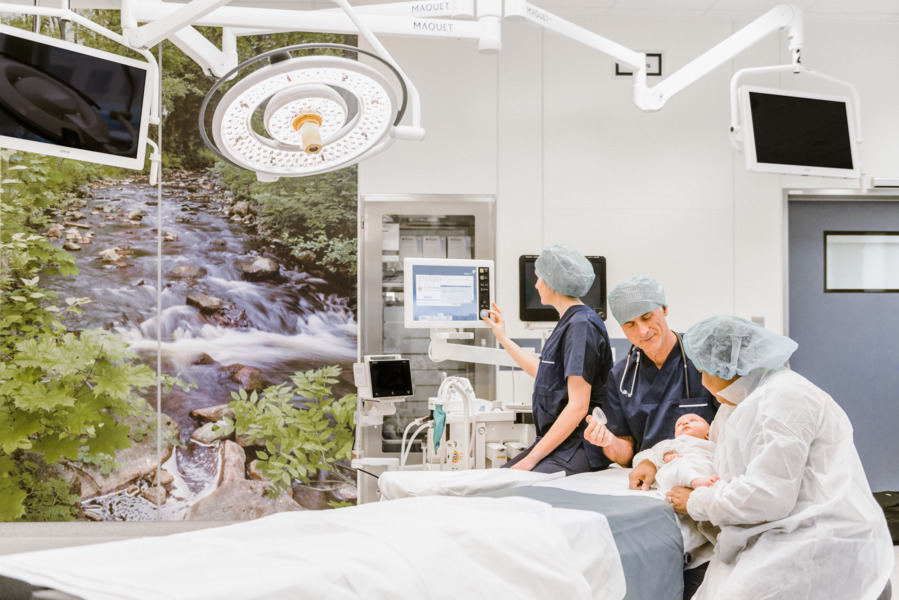 Getinge IN2 components are built to last​
The design allows for elements to be reused and repurposed, reducing your facility's overall carbon footprint and maximizing the return on your investment. ​
Getinge's sustainability work is an integral part of our passion for life. We help our customers save lives with a commitment to conducting business that is socially, ethically and environmentally sound across the entire value chain. ​
By respecting our customers, employees, and the planet in everything we do, we make a positive impact on society, today and in the future. ​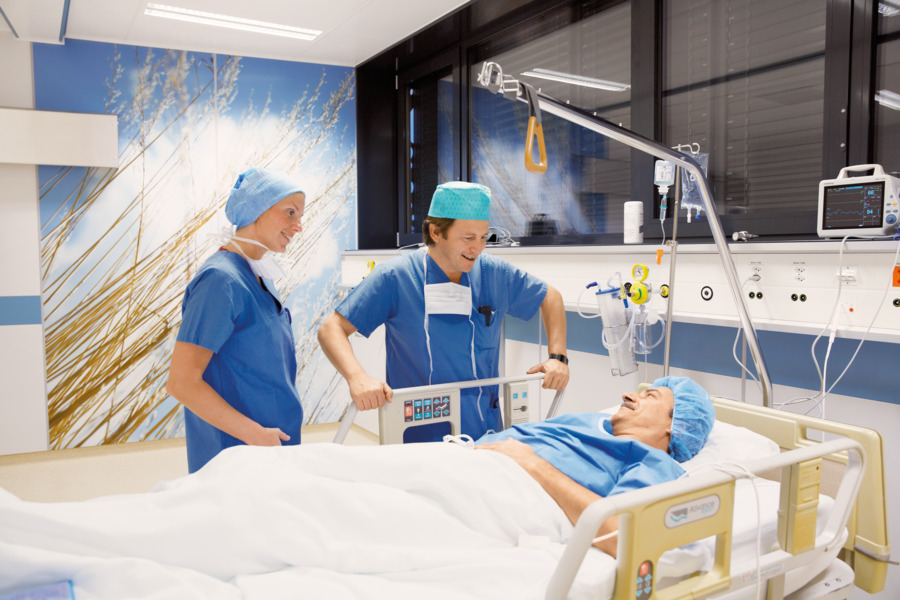 Attractive design for a healing environment​
Incorporating appealing colors, motifs, and design elements can create a pleasant environment that alleviates tension and workplace stress. The pleasant atmosphere benefits patients, their families, doctors, and staff. ​
Whether you prefer colored walls or artistic prints, Getinge IN2 offers a nearly limitless array of combinations of door leaves, walls, and ceiling elements. Create custom designs that bring calming energy to your facility.
A hygienic solution that meets your specific needs​
All Getinge IN2 OR elements are sealed down to the substructure, feature smooth surfaces, and flush integration of built-in elements to support an easy disinfection process. ​
Getinge IN2 elements are designed to form a large, easy-to-clean surface with few joints within the hospital workspace. This has a positive impact on the prevention of cross-contamination.
Getinge IN2 in comparison with average conventional construction
The prefabricated, modular components of Getinge IN2 are designed to assemble with ease, anticipating the evolution of cutting-edge technologies in the OR, CSSD, and ICU. Construction projects can be completed 40% faster than projects that utilize conventional construction materials. This keeps project timelines on track and on budget, with less downtime, noise, dust, and disruption.

Application areas​
The same customized, attractive, and hygienic solution can provide a durable modular design throughout your hospital – from the hallway to patient rooms or sensitive areas like OR, ICU or CSSD.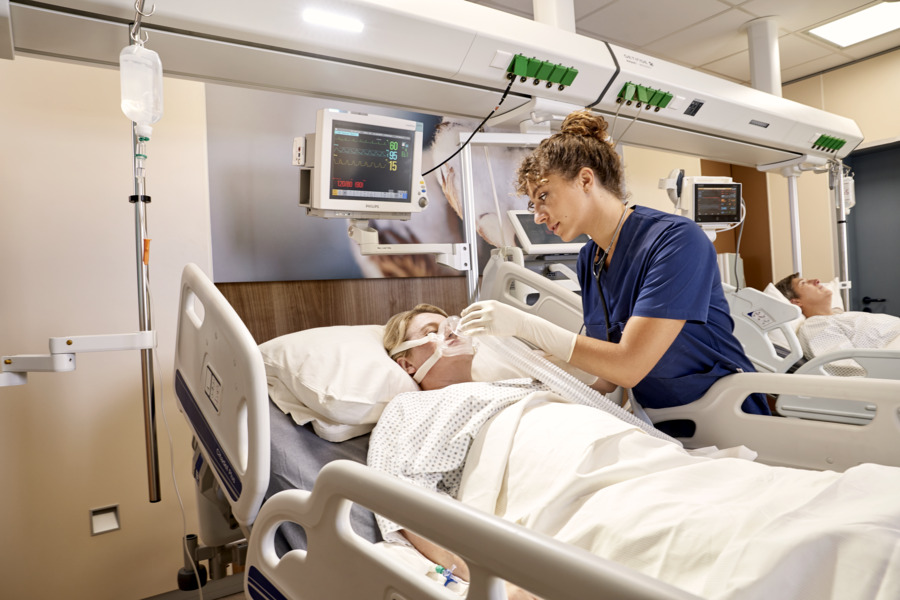 Getinge IN2 ICU
Getinge IN2 ICU ensures streamlined workflows to optimize patient care and offers:​
Modular elements that can be quickly installed with minimal downtime​
Aesthetically appealing designs​
Wide range of imagery and material options to support a healing environment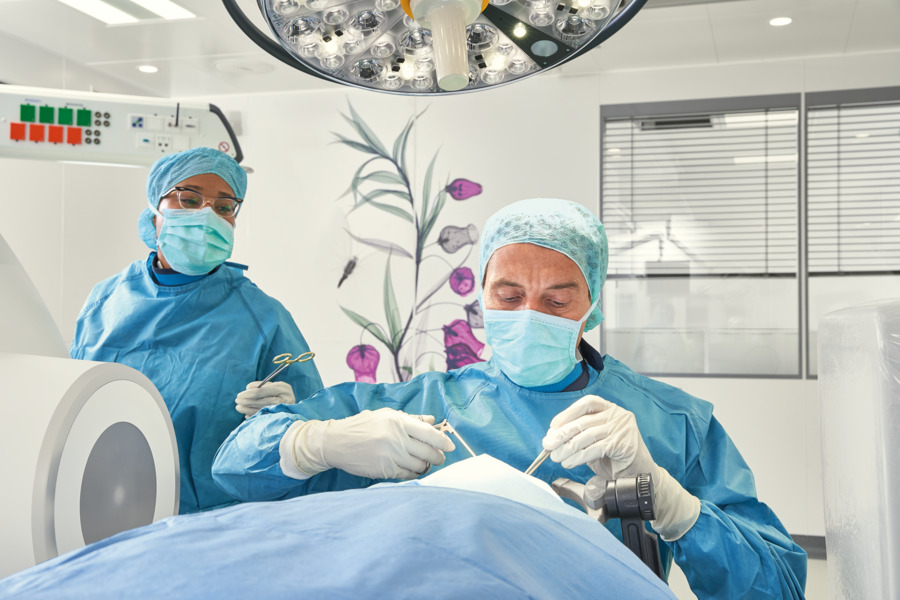 Getinge IN2 OR​
Getinge IN2 OR is designed to work within the high technology density of the OR and supports:​
Improved workflows and ergonomics​
All common official requirements​
A variety of design options to accommodate your customers' unique preferences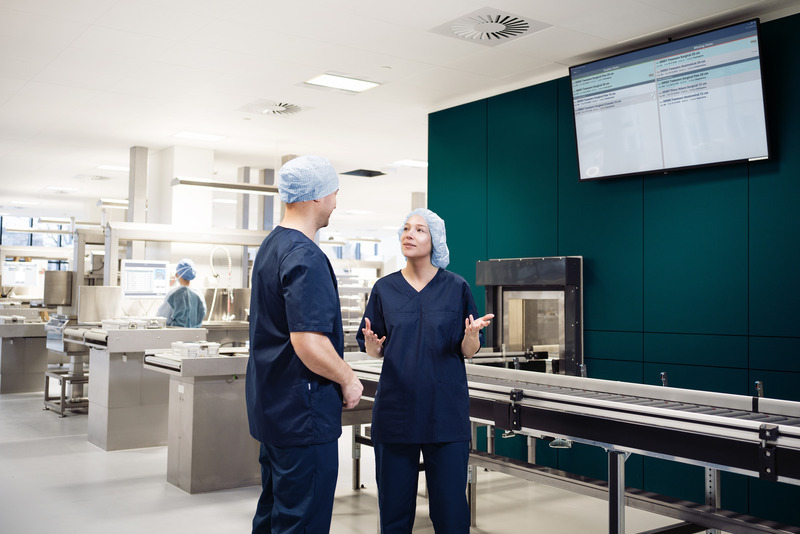 Getinge IN2 CSSD​
Getinge IN2 CSSD creates a clean and efficient workspace for sterile reprocessing and offers: ​
Elements sealed down to the substructure​
Smooth, powder-coated surfaces for easy cleaning​
Effective sound insulation to meet building requirements​
Cladding of infection control machines with stainless steel panels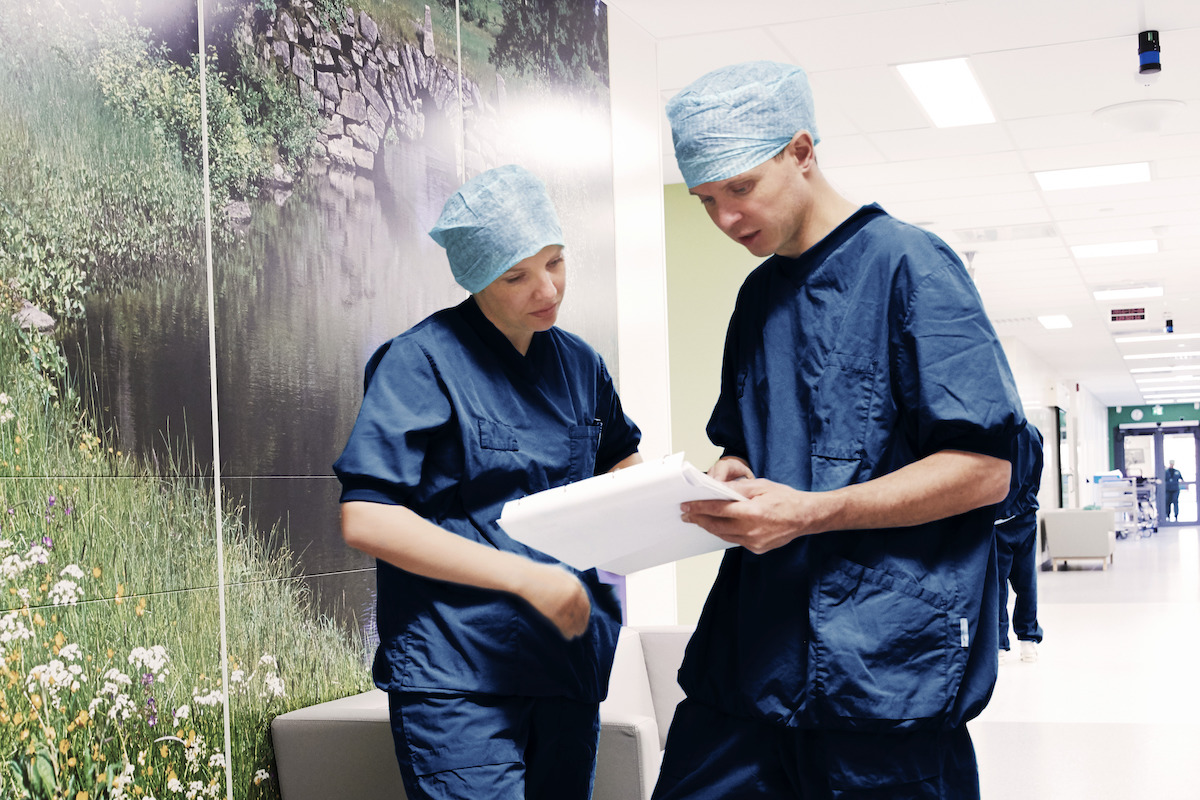 IN2 for other areas​
Getinge IN2 provides a durable and modular design for public-facing areas such as: ​
Recovery and preparation rooms​
Adjacent rooms (store rooms, scrub rooms, etc.)​
Wards​
Patient rooms​
Corridors​
Endoscopy rooms​
Cath labs
Complete room solutions
Getinge IN2 offers a diversified list of additional, customizable components that help to create a functional and safe working environment. ​
​
Options include:​
Door systems

​

Ceiling systems

​

Built-in elements such as windows, cabinets,

​ control panels, clocks, and

infobars
Dedicated wall materials for all hospital areas​
Getinge IN2 is designed to build a pleasant, safe and efficient work environment. ​The system offers dedicated wall materials that meet the requirements of different hospital areas.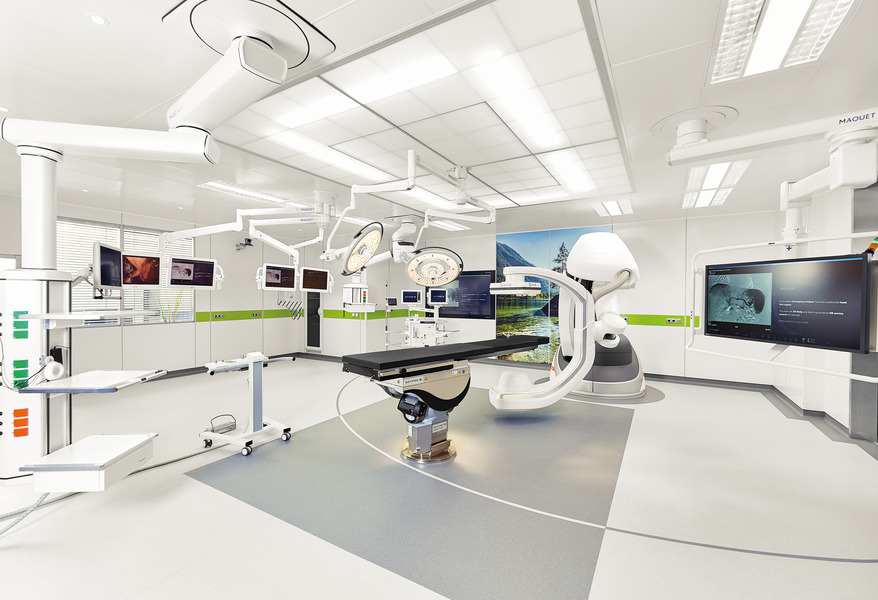 Stainless steel
Powder coated wall elements

(antibacterial technology)

​

Smooth surfaces for easy

cleaning

​

Standard 3-part elements allow

for full modularity and flexibility.

​

On-site cut-outs possible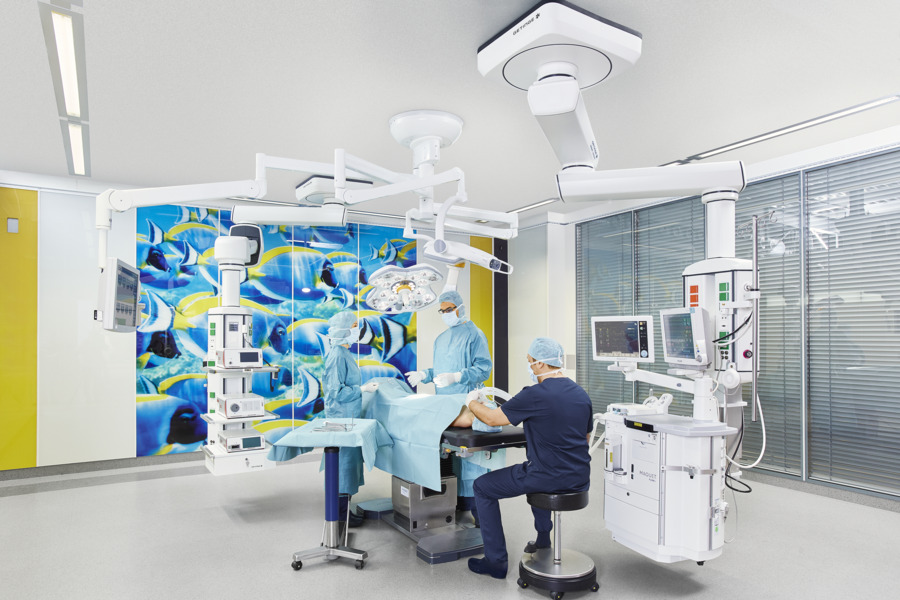 Glass
10mm single-pane safety glass

​

Durable and hygienic

​

Can simulate daylight or

provide ambient light when

backlit

​

Compatible with all existing

Getinge wall systems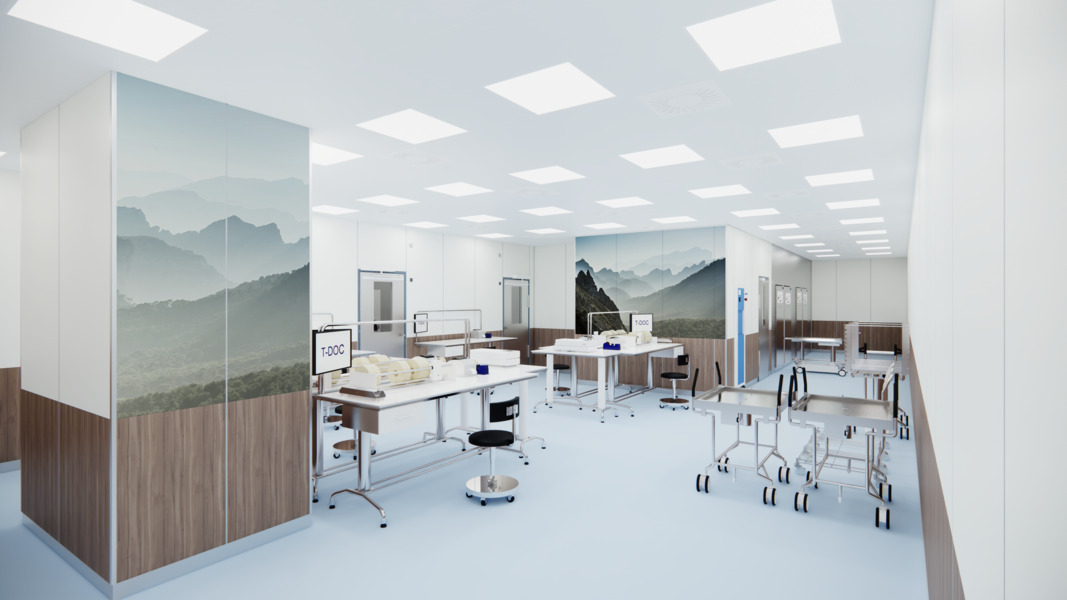 HPL
Affordable, attractive, and

hygienic option

​

Customized colors and modular

designs

​

1- or 2-part panels offer

streamlined installation

​

Flexibility for future modification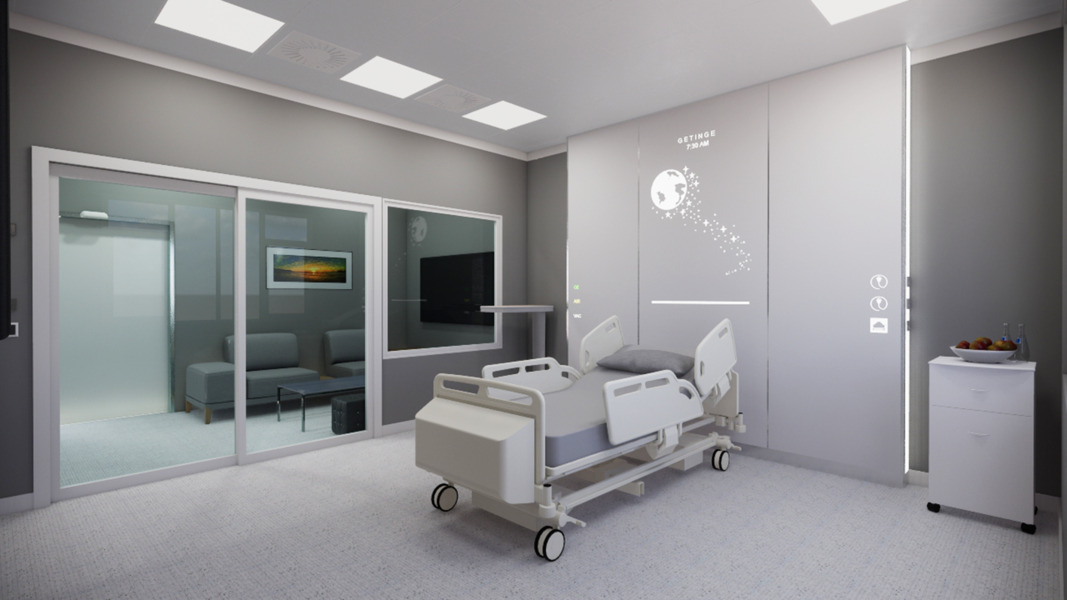 Solid surface
Long-lasting, highly resistant

and easy-to-clean

​

Innovative designs and multiple

color palettes

​

Engraved accent elements can

be backlit to reveal a

customized design, motif or

message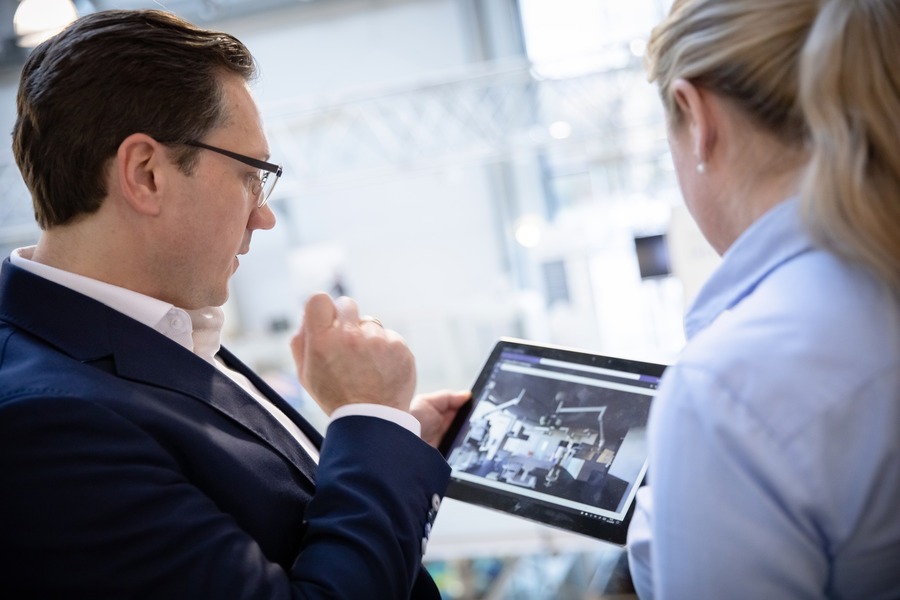 Tailored to you​
Don't settle for a one-size-fits-all solution.​
​Getinge specializes in offering complete, single-source concepts that are tailored precisely to your technical, economic, and local requirements. We will work with you to develop a flexible solution designed to evolve with the rapidly changing healthcare environment to maximize ROI. ​
Let us guide you through every stage, from consulting and planning through installation and initial operation.
Brochures
Getinge IN2 - Durable and versatile HPL walls with aesthetic appeal
Download PDF
Explore our products
Find the right products and solutions for you