Easy to control your bioreactor
Up to 6 Mass Flow Controllers
Less maintenance due to brushless motor
Powerful software features to simplify and optimize bioprocesses
Advanced user management enables you to create up to 21 users on 3 authorization levels. Back-ups, copies and predefined settings of configurations can simply be shared via USB. Extra flexibility is brought by additional analog and digital inputs / outputs.
The brushless motor requires virtually no maintenance, which saves you costs in the long term. It contains only one cable for the motor power and feedback and includes a motor controller. The ez2-Control comes with a motor support at the side of the device for easy operation.
Full control
Easily set, control and adapt your parameters, including pH, temperature, dissolved oxygen, agitation, foam, and level to optimize the bioprocess. It has total gas flow control to reduce shear stress for cell cultivations.
It is based on the same familiar Getinge Applikon control platform as the other controllers.
Advanced control strategies
The ez2-Control comes with selectable autotuning adaptive PID control for accurate control when process conditions change during the culture.
It has extended liquid additions options via (up to) 4 variable speed pumps. And it comes with enhanced gas addition strategies via (up to) 6 mass flow controllers.
Easy operation
The built-in web server allows the ez2-Control to be operated by any computer with a web browser: Microsoft Edge, Mozilla Firefox, Apple Safari or Google Chrome. Wireless devices like iPad, iPhone or Android tablets or phones can also be used to operate an ez2-Control.
Via the built-in web server enhanced parallel processing is accessible which allows the user to control multiple bioreactors in parallel.
The remote desktop support gives you access whenever and where ever you want.
Specifications
Sensors
pH Sensor
Traditional electrochemical or Single-use
Measurement range: 0-14 pH, accuracy 0,01 pH
DO sensor
Traditional Polarographic, LumiSens or Single-use
Measurement Range: 0-100% saturation, accuracy 0,1%
Redox
Traditional electrochemical
Range 2000 mV, accuracy +/- 1 mV, resolution 1 mV
Temperature
Pt-100
Measurement Range: 0-150 °C accuracy 0,1°C
Foam/level
Resistive based measurement
Weight
Balances
Optional
Biomass (Capacitance or optical density), offgas measurements, pressure
Additional I/O
Up to 8 Analog in and 4 Analog out
Up to 8 Digital In and 8 Digital out
Actuators
Gas
Up to 6 MFC's with solenoid valves or
Up to 4 rotameters with solenoid valves
Liquids
Up to 3 internal fixed speed pumps
Up to 4 external variable speed pumps
Stirring
0-2000 rpm with feedback, accuracy 0,1% FS
Temperature
Heating blanket or internal Thermocircuilator
Cooling with cold water water valve
Control
Control hardware platform
Applikon proprietary
Control software platform
Applikon Firmware
Certifications
CE certified, GAMP compliant
21 CFR part 11 compatible
Yes
Communication & SCADA
Lucullus PIMS, DeltaV
Applikon OPC server available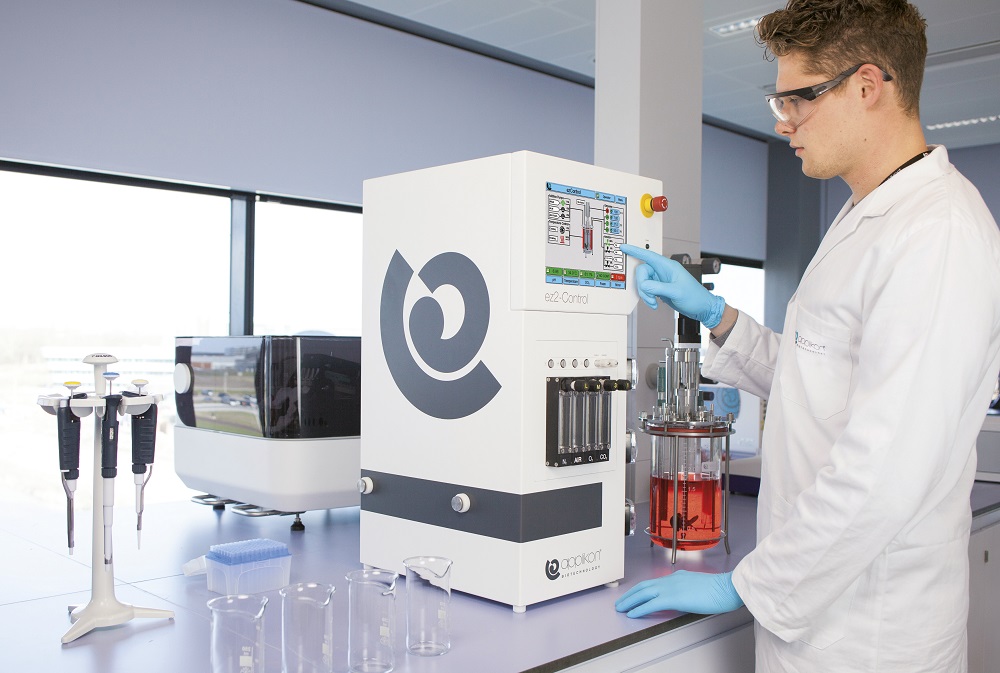 The Applikon ez2-Control is ideal for the following applications:
Microbial and cell cultures
Batch, Fed-Batch, Perfusion, and Continuous cultivation
Autoclavable bioreactors up to 20 liter volume
Single-use bioreactors
Steam-in-place bioreactors