From physics to pharma: The origins of the original DPTE®
Part of Getinge since 2005, La Calhene has been a pioneer in containment and aseptic transfer technology for nearly six decades.
Today, we all recognize the importance of protecting people from radiation. However, it was not until the dawn of the nuclear age in the 1940s – nearly half a century after Wilhelm Roentgen discovered x-rays – that we began to understand the deadly effects of radioactive materials. As researchers and engineers looked for ways to keep people safe, their top priority was to create a containment solution with a 100% leaktight seal.
In the 1960s, La Calhene began working with the French Atomic Energy Board (CEA) to develop remote handling systems as well as special containers for radioactive waste. Together they also co-patented the world's first mechanical containment system: DPTE® which stands for "Double Porte de Transfer Etanche" (in English: Double Door for Leak-tight Transfer). It is known generically as a Rapid Transfer Port.
To create a seal that is 100% leaktight, the DPTE® system has two parts: an Alpha port and a beta container or flexible bag (DPTE-BetaBag®). The alpha port is installed in the wall of a barrier system and comprises a flange, a seal and a door. Docking and rotating the beta section 60 degrees creates a secure connection to a container, another isolator or a suitable device for transfers such as a bag.
For 30 years, La Calhene was the only manufacturer of this type of leaktight port with a secure lock that eliminates human error. They were also the first to realize that the DPTE® system could be adapted for use in other industries where protection is crucial.
DPTE® in the pharmaceutical industry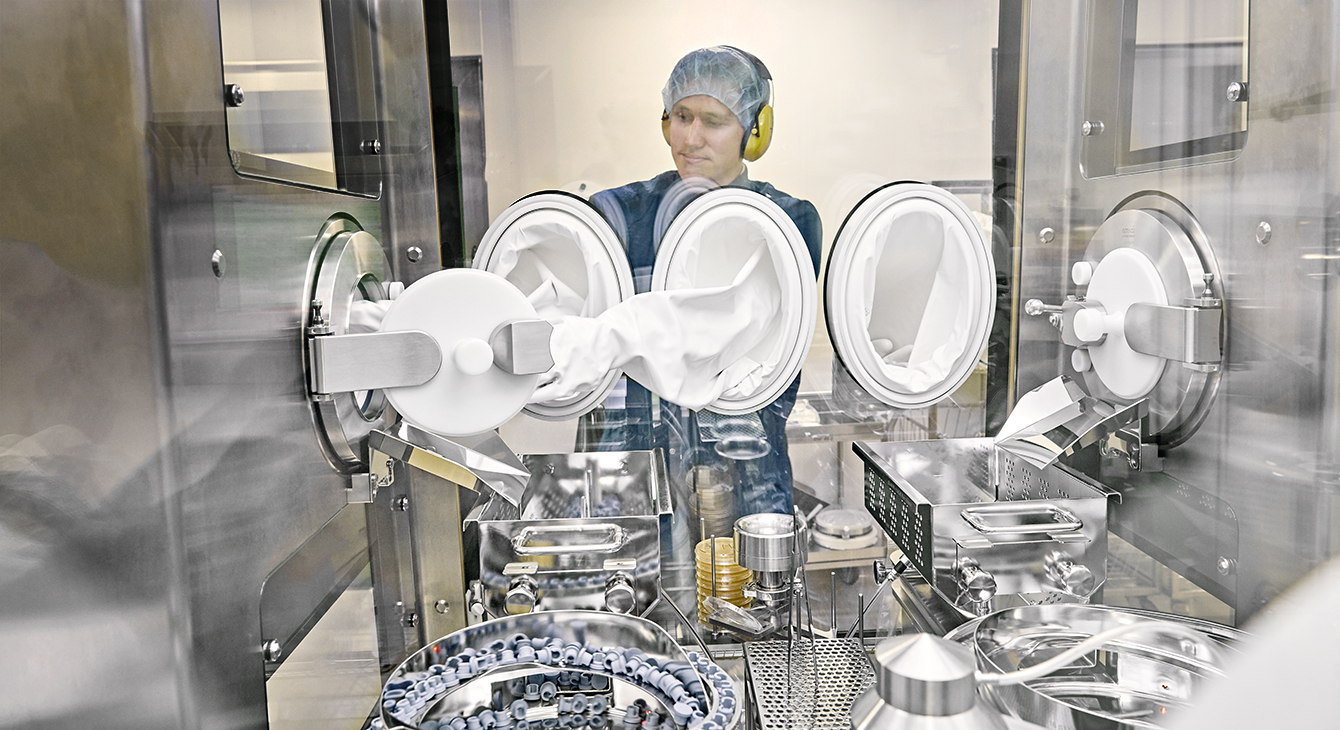 The concept of protecting the outside world from contamination led to a revolution in the production of injectable medicines. Within pharmaceutical manufacturing, the technology could be used with the opposite goal in mind – to keep patients safe by protecting the materials within the barrier system.
Containment solutions were a critical innovation within research and medicine. As new technologies were developed – from glove boxes in the 1930s to HEPA filters following World War II – the cleanroom we know today began to take shape. Operators, however, were still left with a significant challenge: how to transfer materials in and out of the 'sterile' environment of the aseptic process isolator without breaking sterility.
In the 1940s, isolators were made of stainless steel with small windows and were connected to a small autoclave, an expensive and inconvenient setup. In 1978, La Calhene developed the first pharmaceutical manufacturing unit within an isolator system for an Italian biopharm company. This powder filling operation unit was one of the first to use DPTE® outside of the nuclear industry.
In the mid-1990s, the design of filling lines was changed to accommodate DPTE®. Previously, the lines were placed in ISO class 5 cleanrooms, but adapting them to fit within isolators created a closed system with DPTE® ensuring full protection of the product within the sterile process as well as the people in the environment.
Single-use innovation
Today, DPTE® innovation continues to further enhance patient safety by reducing the risk of contamination through the single-use, ready-to-use DPTE-BetaBag®. Supporting even greater efficiency and safety across many applications, the DPTE-BetaBag® range is manufactured in ultra-clean conditions (ISO 7 and ISO 5) and can be pre-sterilized and even supplied pre-filled with components from manufacturers, eliminating the need for special processing departments.
Developed to enable continuous high throughput on a long sterile filling line for ophthalmic products for MSD (Merck France) in 1994, the flexible bags are connected to DPTE® Alpha ports to provide a secure supply of sterilized components. The question of how to sterilize and insert plastic components into a high-speed aseptic filling line was resolved by inserting the items inside a DPTE-BetaBag®, which is then gamma, sterilized before it arrives at the production suite. The DPTE® system ensures safe, leaktight transfer with no loss of containment.
It all adds up to an incredible heritage that Getinge continuously builds on, ensuring our customers flexible, optimized and cost-effective production along with the highest level of process and patient safety.
Learn more about the original DPTE® and other Getinge isolation and sterile transfer solutions.