One solution for all surgical needs
The superb Maquet Magnus Operating Table System is the result of systematic improvements to offer the best support for the patient and surgical team. Maquet Magnus offers unique X-ray conditions and ensure clear access to the operating field.
Extreme flexibility and stability
Extreme modularity
Ergonomic working conditions
Innovative transfer concept
User-friendly control units
How to use the Maquet Magnus table
With inclination angles of up to 80° and tilt angles of up to 45°, which can also be combined, Maquet Magnus enables extreme positioning possibilities. In addition to that the lifting range from 535 to 1235 mm (21 to 48.6 in) with the stationary column, accomplished the offerings and grants for an ergonomic workbench.
Maquet Magnus is also setting standards in stability. It bears patient weight up to 250kg (550 lbs) and in certain circumstances even up to 380kg (838 lbs).
Extreme flexibility and stability
The Maquet Magnus Table Column enables extreme positions and optimum access. Its slope saddle technology allows for inclination angles up to 80° with simultaneous tilt angles of up to 45°. It ensures stable lateral tilt and provides optimum radioscopy conditions as well as free access to the surgical field, with a corresponding working radius.
Extreme modularity
Thanks to a wide variety of modules, the Maquet Magnus OR Table System can be set up easily for all kinds of surgical interventions. Due to its extreme working radius, Maquet Magnus achieves a position where the patient is almost "floating", providing optimum radioscopy possibilities and free access to the surgical field from all directions.
Ergonomic working conditions
With its extreme height adjustment, Maquet Magnus contributes to relaxed working conditions while standing or sitting, even during longer operations.
Innovative transfer concept
Thanks to battery equipped transporter the patient can be arranged in treatment position in the induction area on the operating table top, and transferred directly into the OR.
User-friendly control units
The hand control fitted with a display and self-explanatory icon keys. Up to ten different patient positions can be stored and recalled from the integrated program memory. The display, which is available in various language versions, provides useful status information and indicates possible operating faults. The backlit key panel ensures comfortable and safe working in a darkened operating theatre.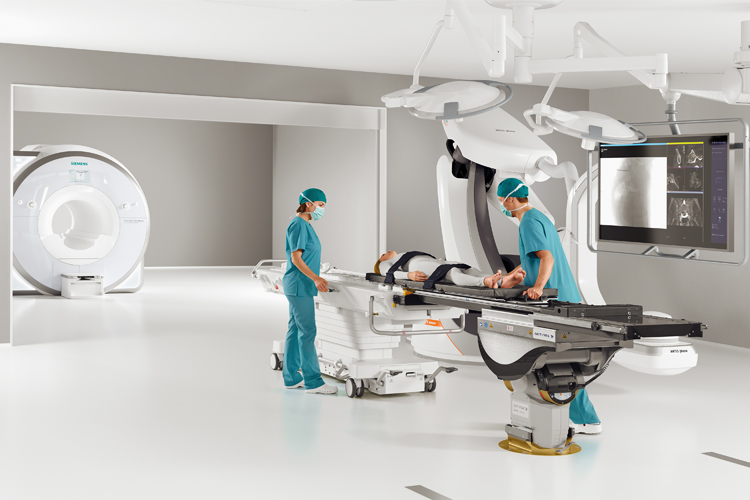 Seamless transfer without repositioning
Maquet Magnus is part of the new transport system PILOT. This patient-centered transfer system eliminates the barriers to using intraoperative whole-body angio, CT, and MR imaging at any point during the procedure. The patient can be transferred seamlessly throughout the entire hospital and between imaging modalities without repositioning.
Carbon fiber table tops
In addition to the modular universal table top, the Maquet Magnus product range also includes the carbon fiber table tops. These plates are made of radiolucent carbon fiber composite material, which allows a 360 ° imaging without metal elements that could influence the image. Depending on the model, the longitudinal adjustment can give up to 2150 mm of available, radiolucent length, (including radiolucent head rest, 300 mm long). With the motorized lateral adjustment, also used in direct combination with the motorized longitudinal adjustment, body structures can be monitored in the image intensifier without having to change the C-arm, e.g. for angiography. The carbon fiber table tops of Maquet Magnus are ideally suited to the Hybrid OR. Synchronized movements of x-ray equipment and Maquet Magnus improve radiological results due to the retention of the isocentre.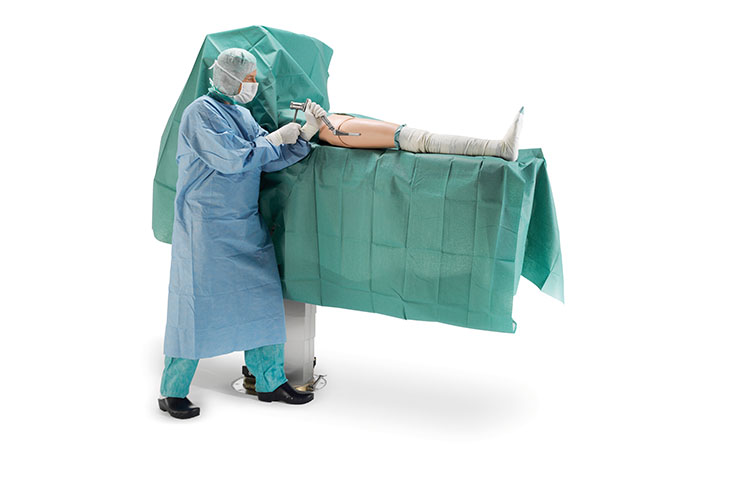 Maquet Magnus is made for perfect positioning
Maquet Magnus is suitable for all surgical interventions. Because of its perfect height adjustment, the operating table helps surgeons to relax during their work, whether sitting or standing. Wide adjustment ranges, especially for Trendelenburg and lateral tilt, simplify and optimize patient positioning.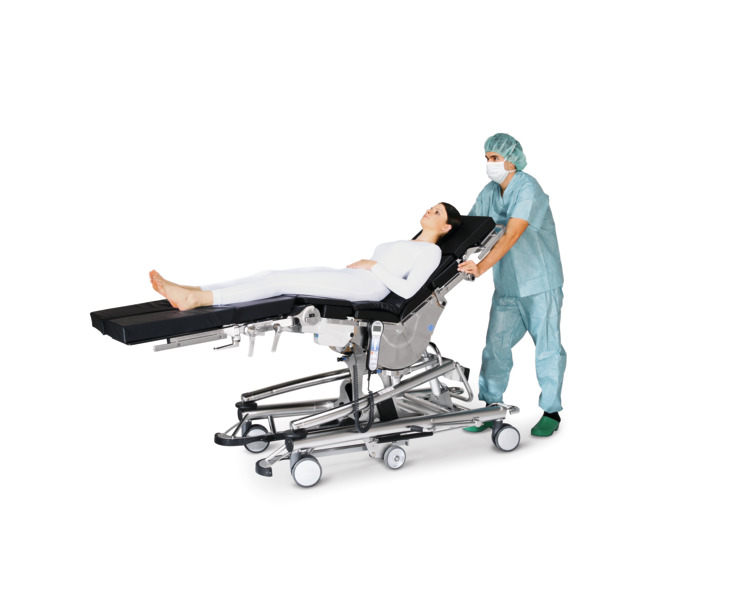 Innovative positioning concept
The patient can already be positioned on the table top in the induction area. Thanks to battery equipped Maquet Magnus Transporter the patient is transferred in treatment position on the table top directly from the induction area into the OR.
Carbon fiber plate for lithotomy position
The carbon fiber lithotomy plate extends the use of the Maquet Magnus Operating Table, supporting minimally invasive surgery (MIS) in the lithotomy position. With a large imaging range, the lithotomy plate improves visibility throughout the abdomen, from the pelvis to the liver.
Enhanced intraoperative visibility can improve patient outcomes for gynecology, urology, and oncology procedures. A cut out area improves access to the pelvic area for easier access during surgery, improving ergonomic positioning for the surgical staff. Existing Getinge accessories are compatible with the lithotomy plate.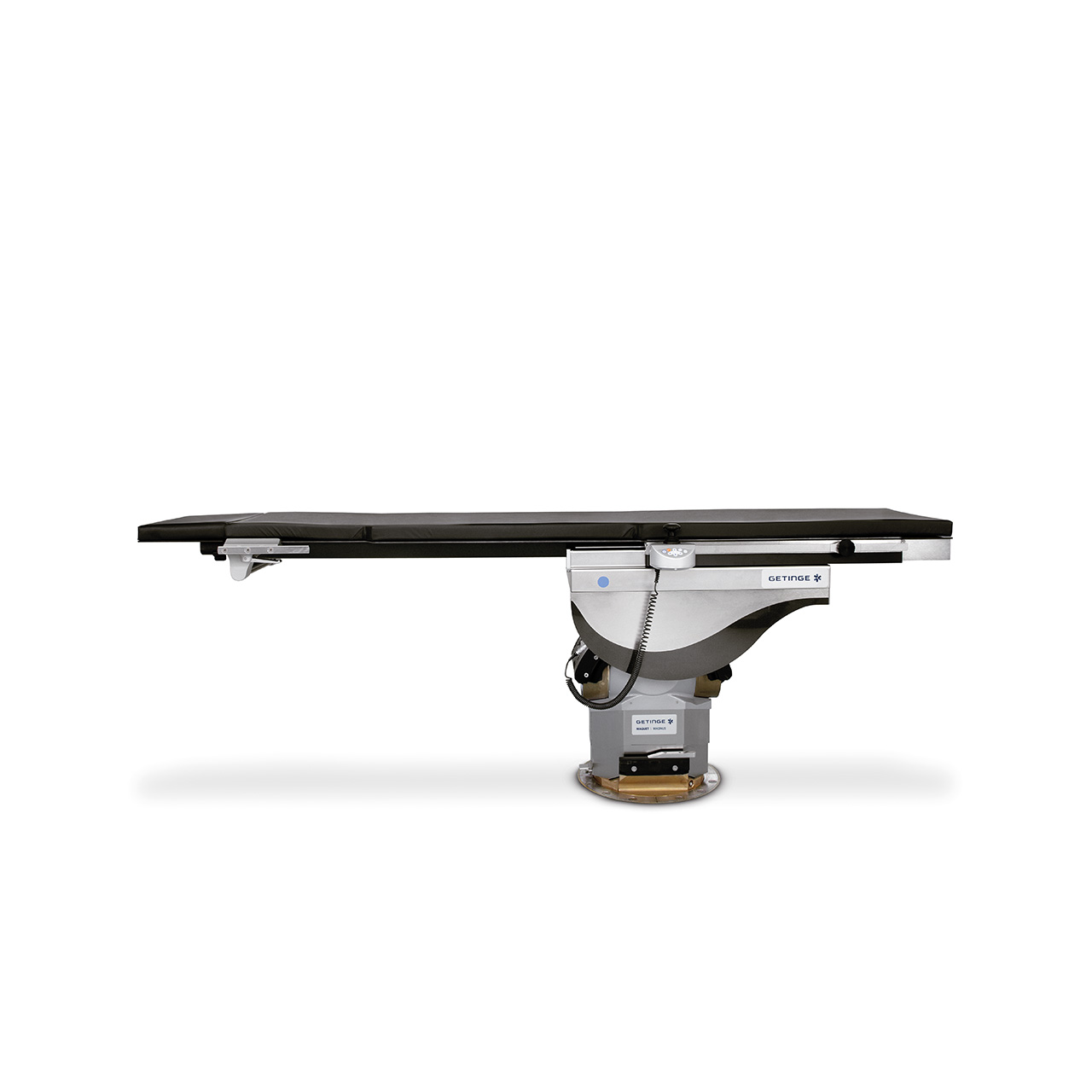 Interventions in the Hybrid OR
The carbon-fiber table top of Maquet Magnus supports interventions in endovascular and cardiovascular surgery as well as in interventional radiology, orthopedics and traumatology. The table top provides 360° radiolucency and therefore gives optimum X-ray access. When deployed for interdisciplinary use, the diagnostic requirements of neurosurgery, orthopedics and traumatology are also covered. Available interfaces to common imaging partners offer perfect synchronization with imaging equipment.
Patient positioning with Maquet Magnus
Optimal combination of functionality and comfort for all surgical interventions
The modular design of the Maquet Magnus OR Table System makes it the perfect choice for any surgical setup. Its functionalities, accessories and broad range of positional options make both micro-surgical and complex interventions significantly easier and more f lexible. Its perfect height adjustment, precise and controlled table movements, slope and tilt function, and large working radius offer you maximum comfort and access while operating.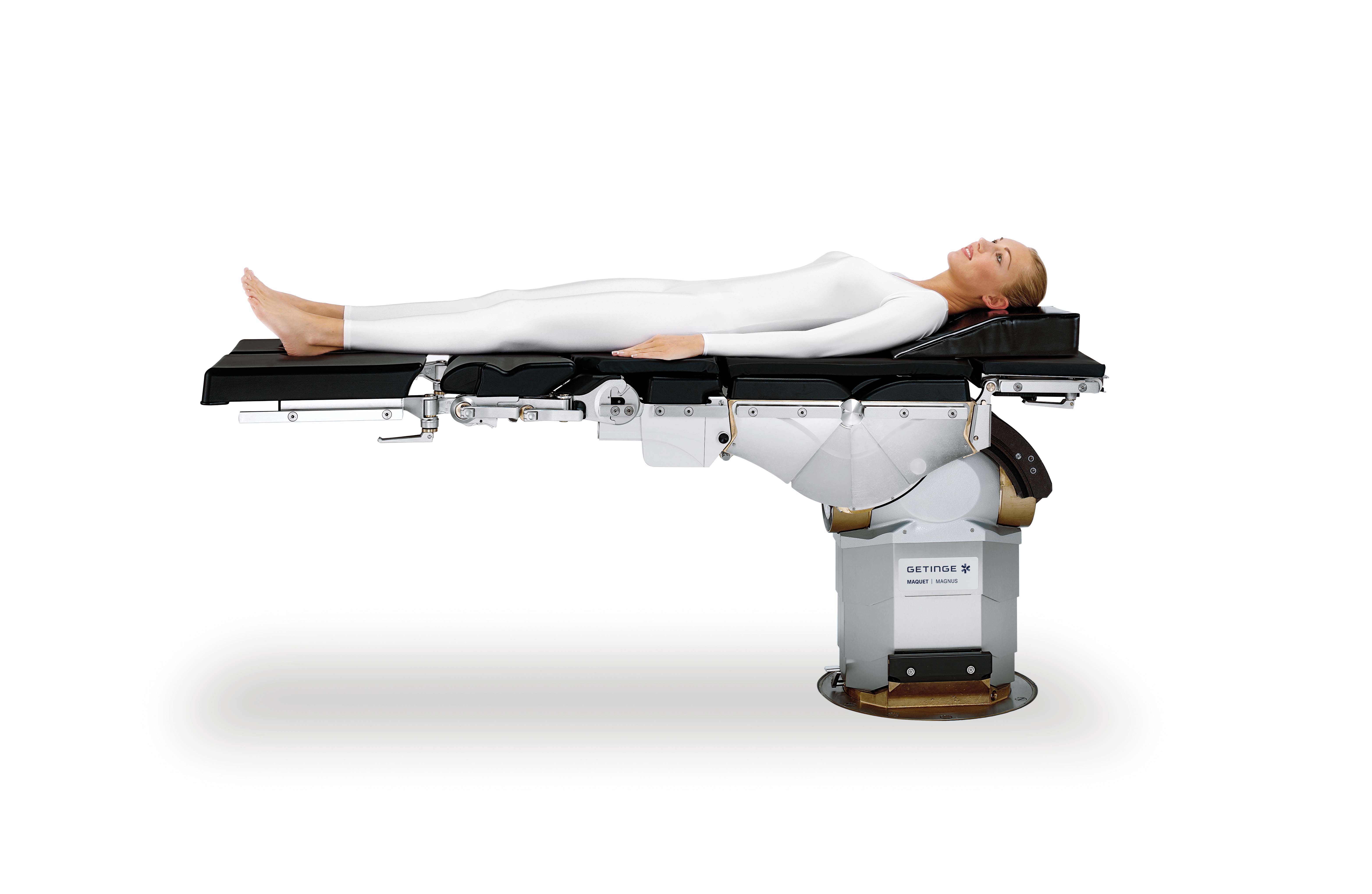 Supine position with maximum caudal working radius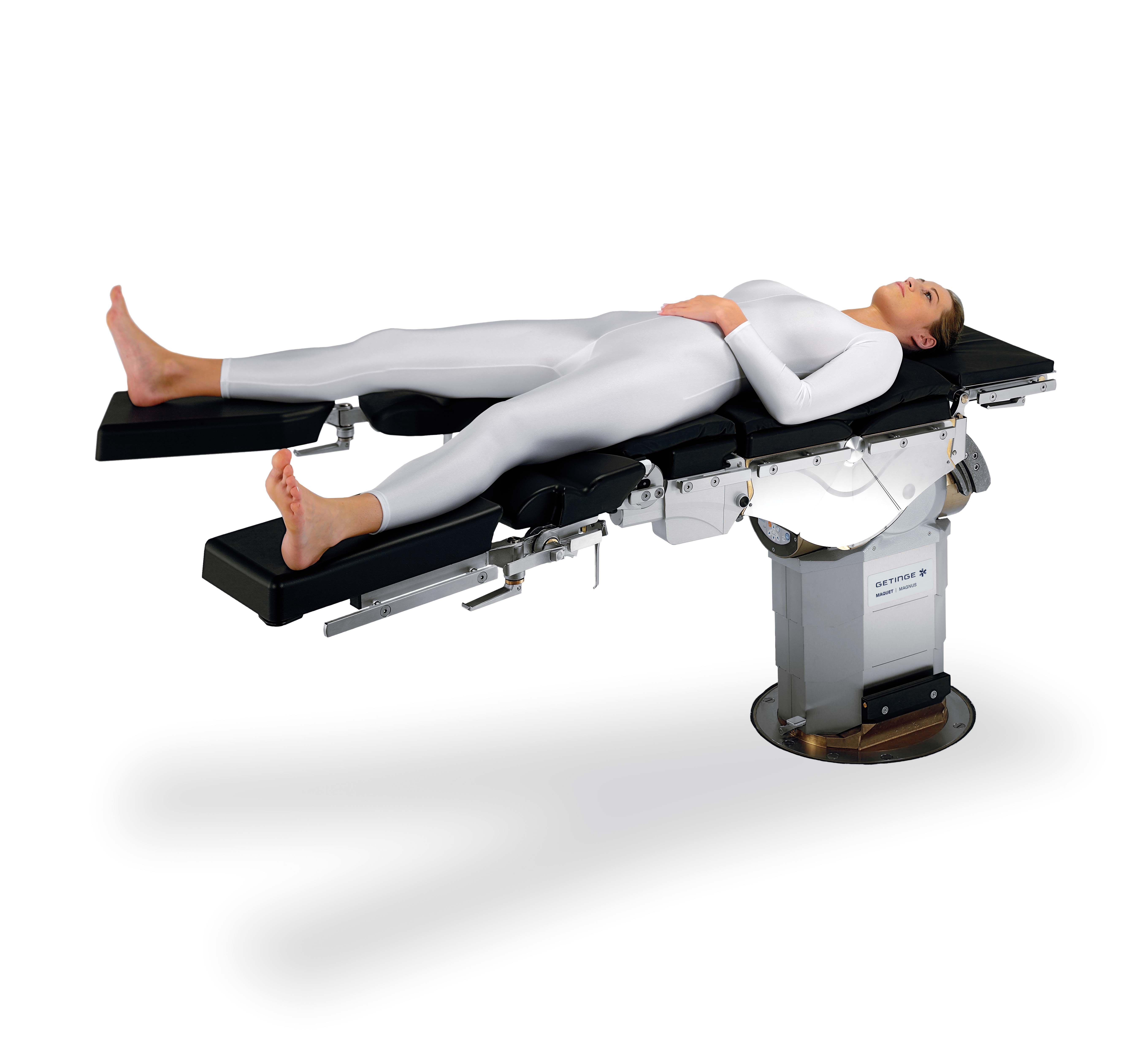 Laparoscopic and conventional cholecystectomy: optimum access to the operating field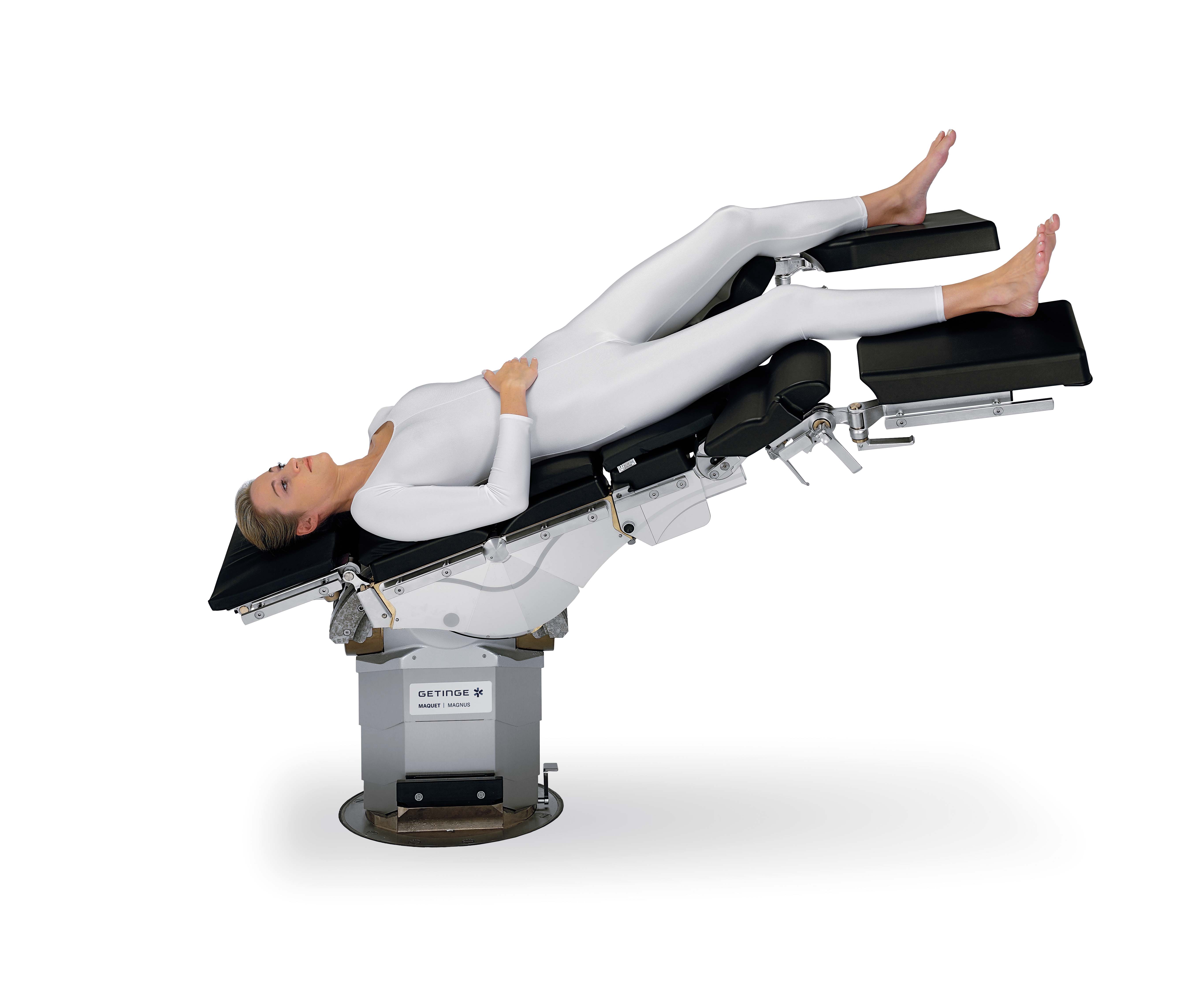 Maximum head down position up to 80° with simultaneous lateral tilt up to 45°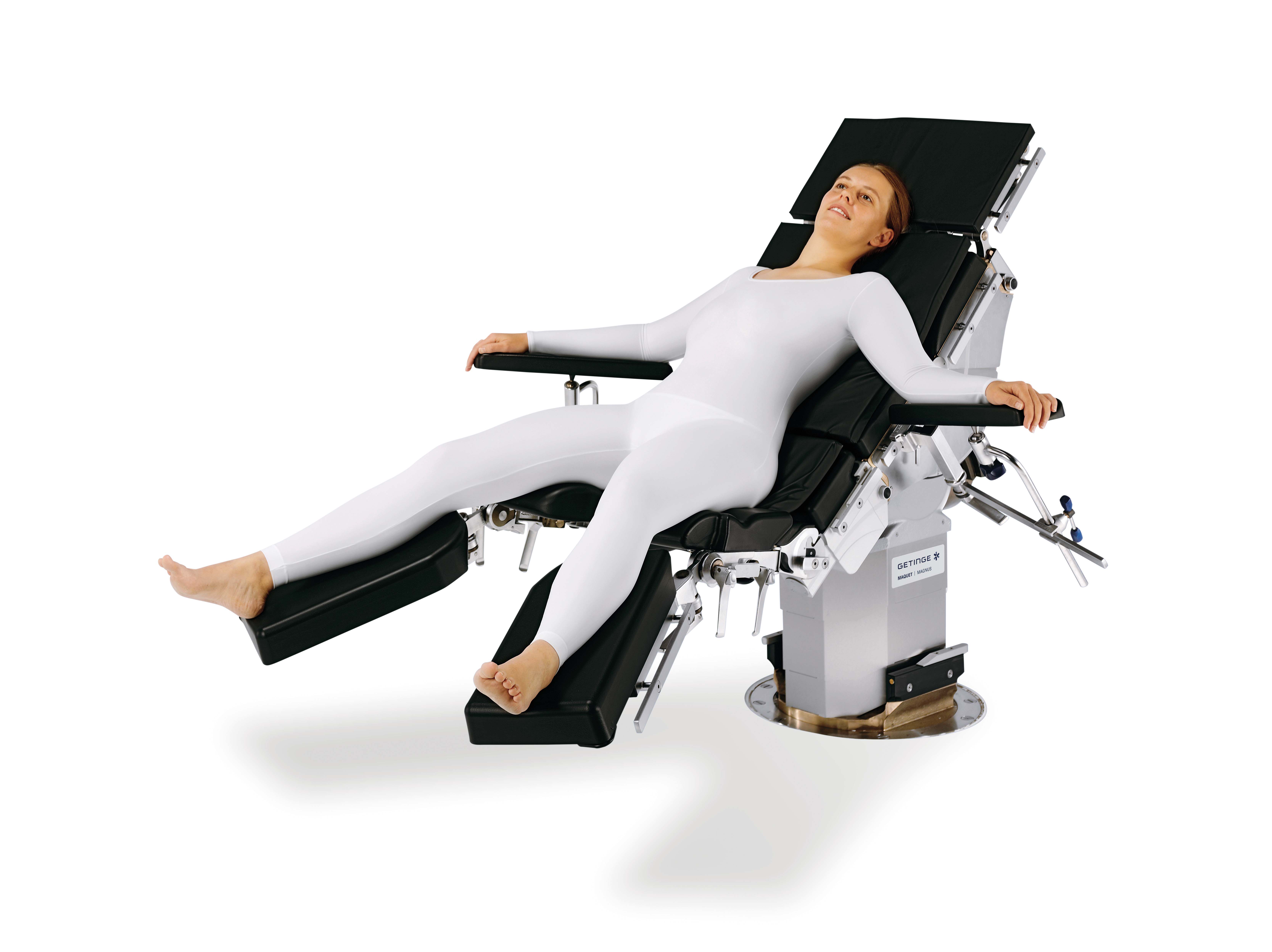 Position with optimised gravity, e. g. for bariatric surgery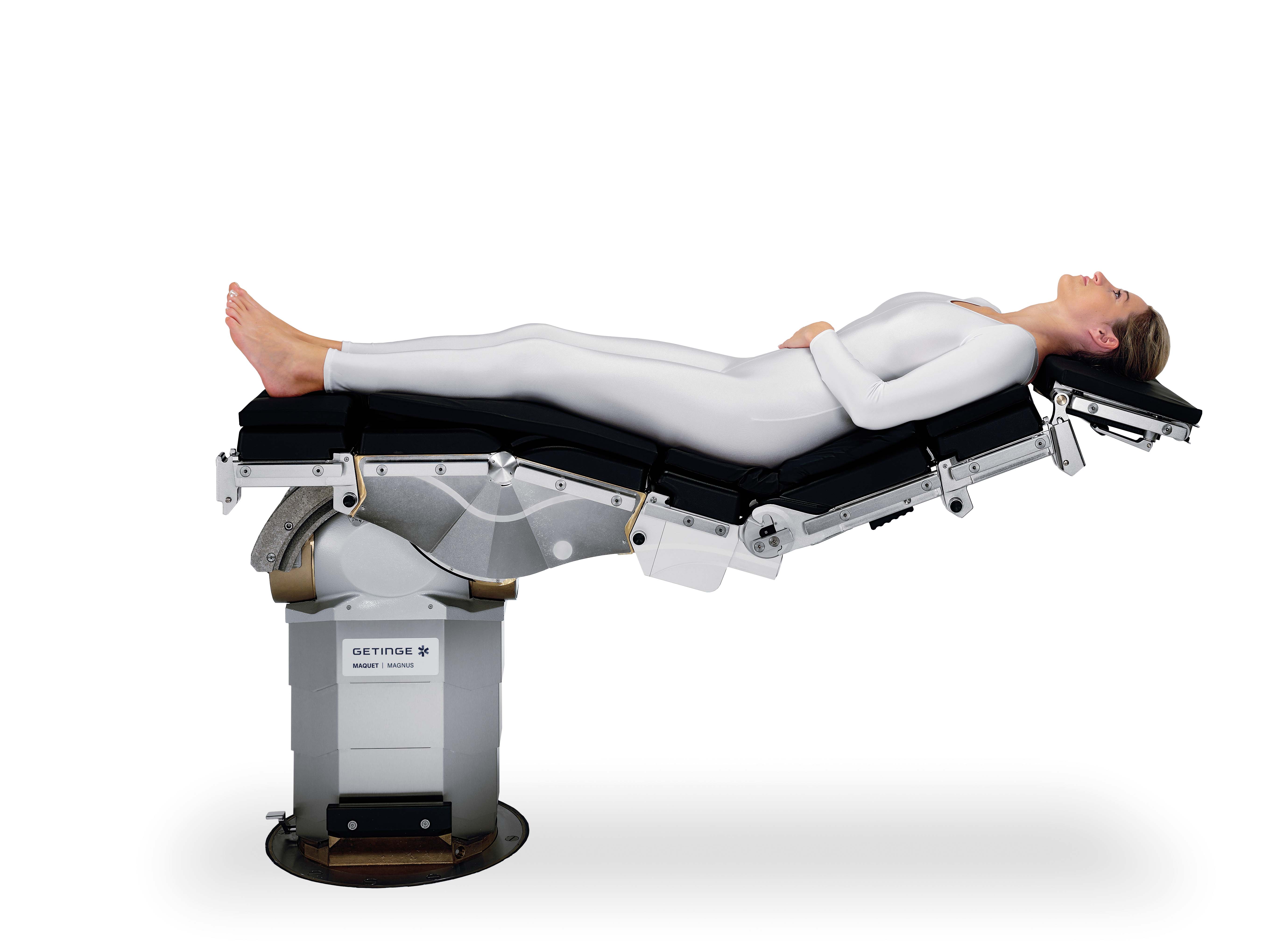 Thyroid surgery with well exposed neck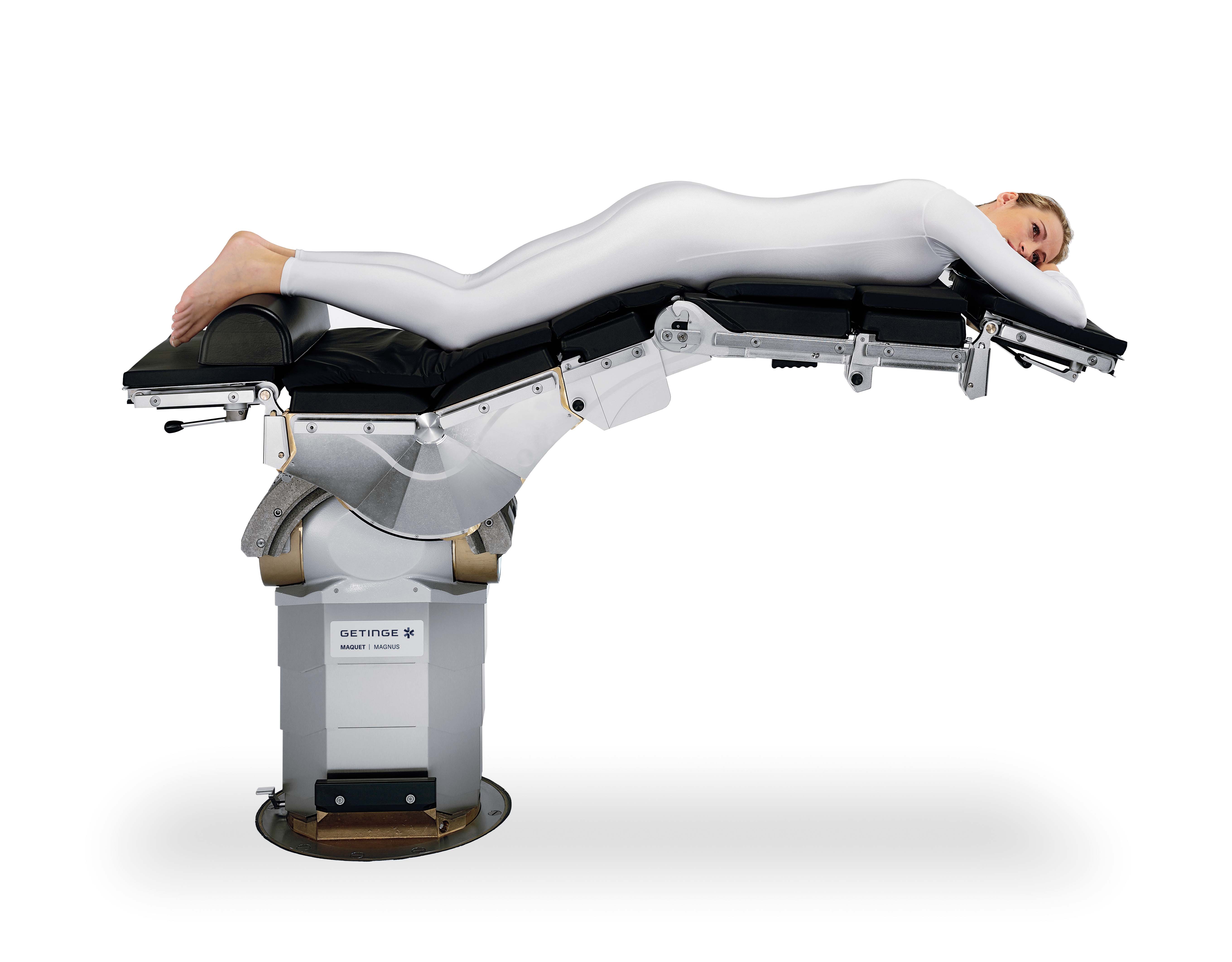 Spinal surgery in prone position with optimum access for the c-arm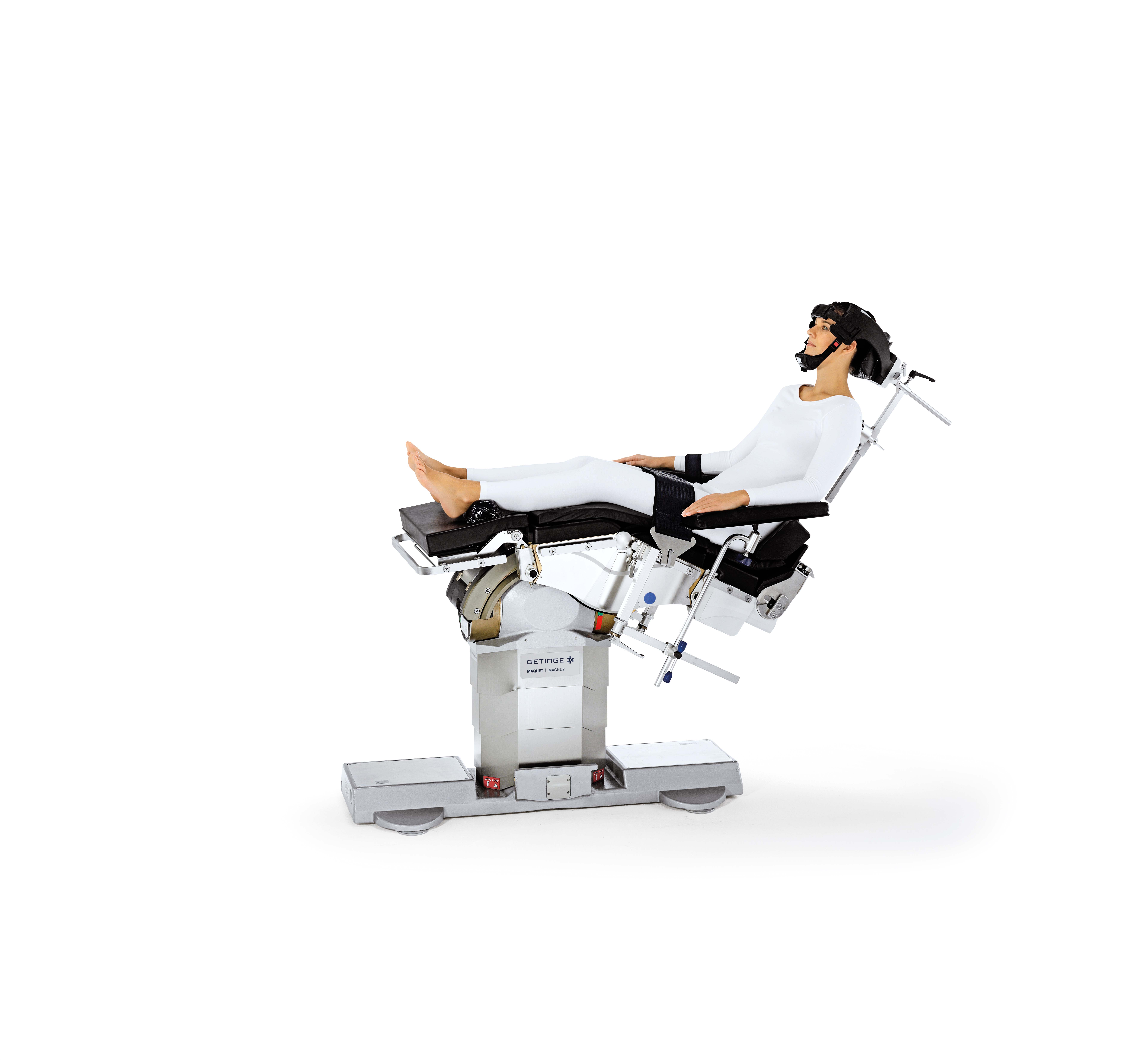 Shoulder surgery in beach chair position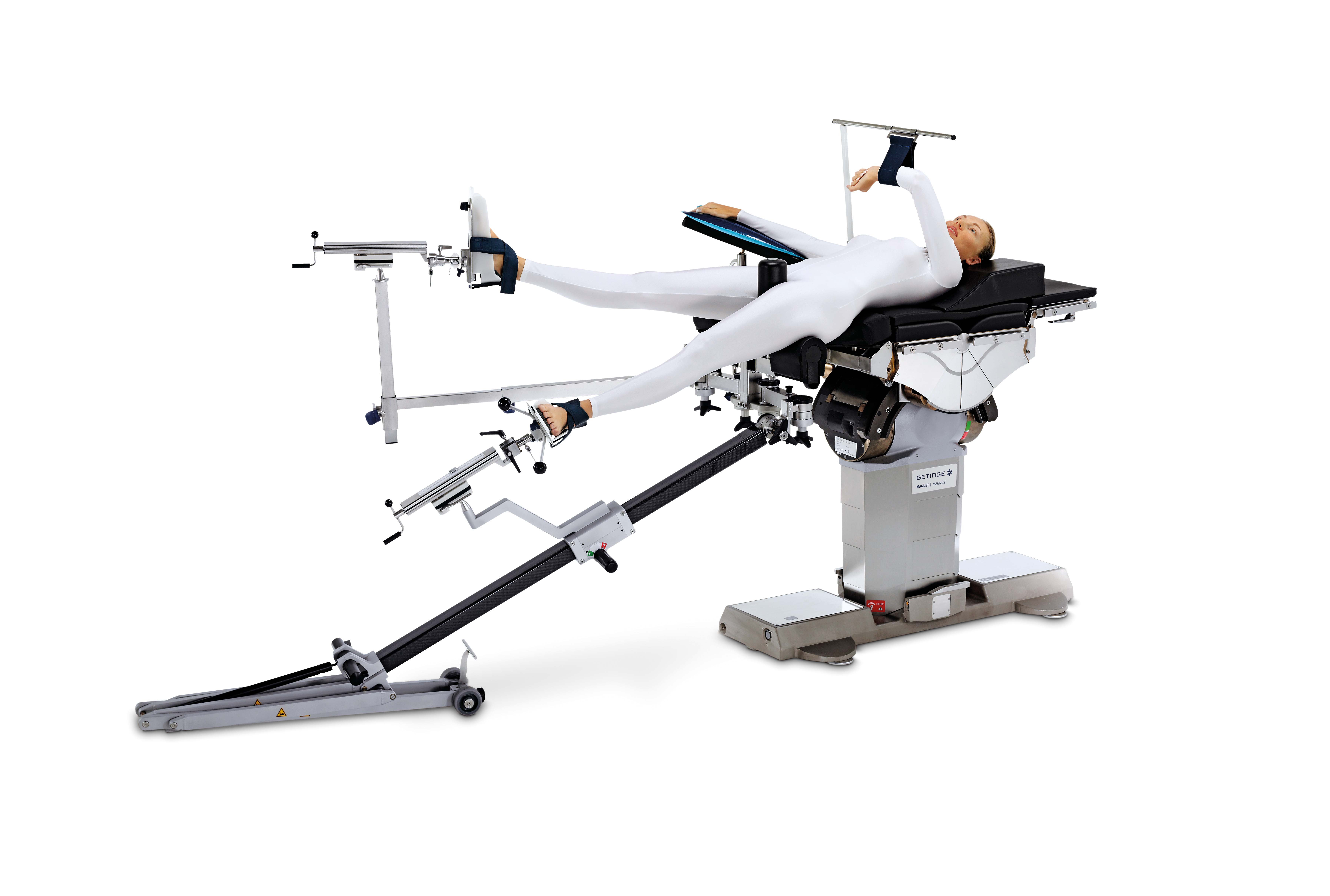 Minimally invasive total hip replacement with extension device
Marketing Sales - Brochures
Maquet Magnus Brochure providing tailored information to care givers (such as medical experts)

Maquet Magnus Brochure providing tailored information to care provider(such as Purchasing experts)

Maquet Magnus Brochure providing tailored information to care supporters (such as Biomedical experts)