Consistent illumination to improve patient safety
The belief that better illumination results in better patient outcomes led to the development of the Maquet PowerLED II surgical light.
Maquet PowerLED II operating lights ensures the clearest and brightest light for surgeons, without distractions from glare. Built on the proven PowerLED surgical light that you've trusted for a decade, we've integrated innovative solutions that improve working conditions in your operating room.
Maquet PowerLED II Surgical Light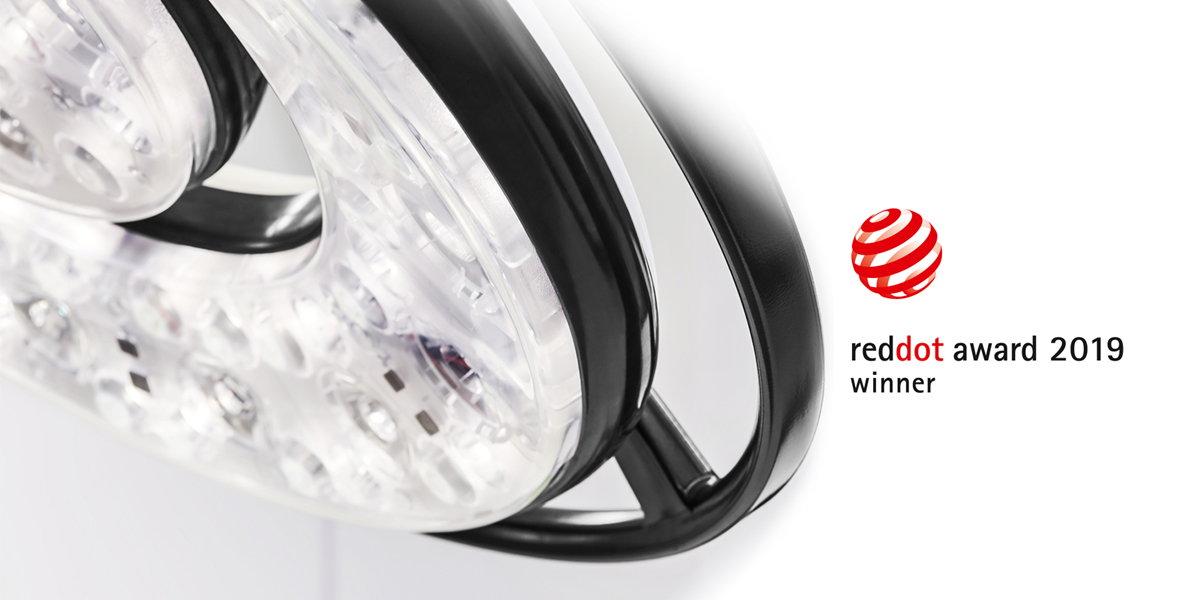 Red Dot Award: Product Design 2019
The Red Dot Award: Product Design is one of the world's largest design competitions. In 2019, designers and manufacturers from 55 countries entered more than 5,500 products in the competition.
During an adjudication process that spans several days, they try out the products, discuss them and ultimately reach a well-founded decision regarding the design quality of the entries. True to the motto "In search of good design and innovation", their assessment focuses on criteria such as the level of innovation, functionality, formal quality, longevity and ergonomics.
Reducing visual fatigue to minimize errors with Comfort Light
Visual fatigue affects work performance. Poor visual conditions can have dire consequences in the OR. However, reducing the contrast between the surgical site and surrounding areas improves comfort and visual performance.
Thanks to the Comfort Light feature, Maquet PowerLED II operating light improves visual performance, reduces the sensation of glare and increases the feeling of wakefulness leading to a better working environment for the surgeons. The number of mistakes at the color vision test is reduced by 13%, the sensation of glare by 7% and sleepiness by 15% whereas the visual acuity is improved by 11%.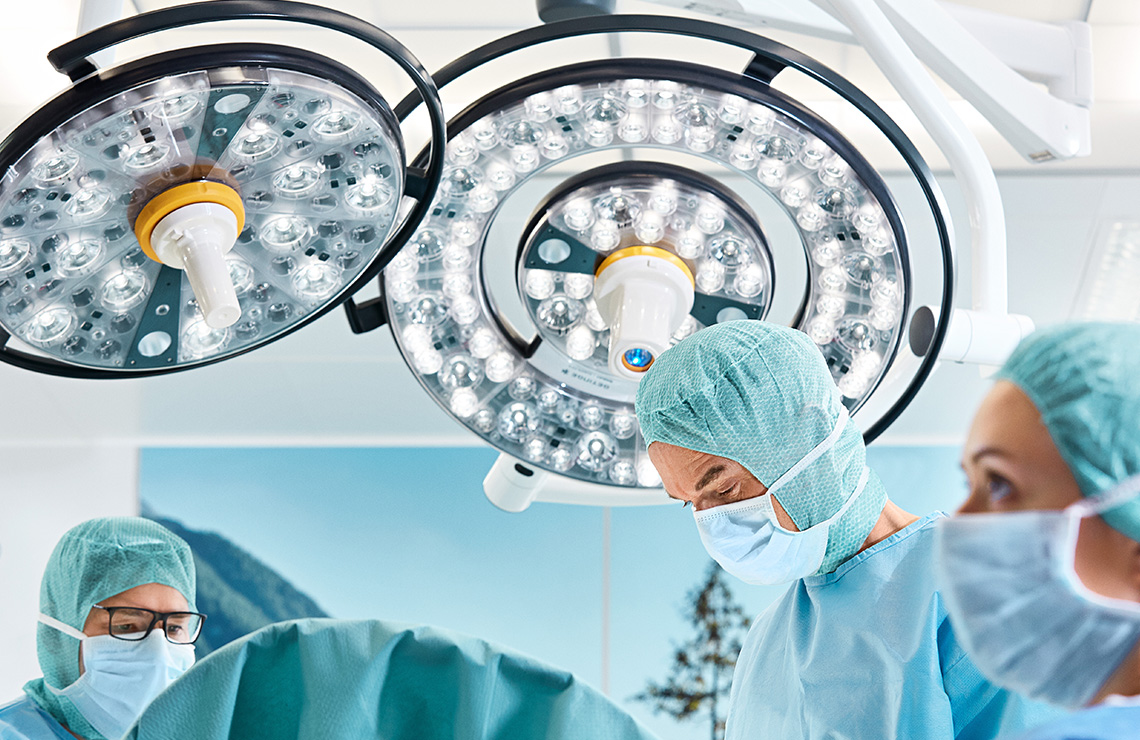 Stable and constant illumination
High-quality illumination helps to relieve strain, ensure confident assessment, and minimize distractions to return the surgeon's full attention to the patient. When surgical lights are properly positioned, no time or attention is lost in adjustments.
Maquet PowerLED II operating light offers features to ideally position lighting which facilitates surgical procedures.
Adjustment of the light patch diameter
Match the light patch to the wound size, delivering light exactly where it's needed. Maquet PowerLED II's light patch is electronically adjustable from 13 to 27 / 5.11" to 10.6" to meet the incision size, preventing peripheral glare.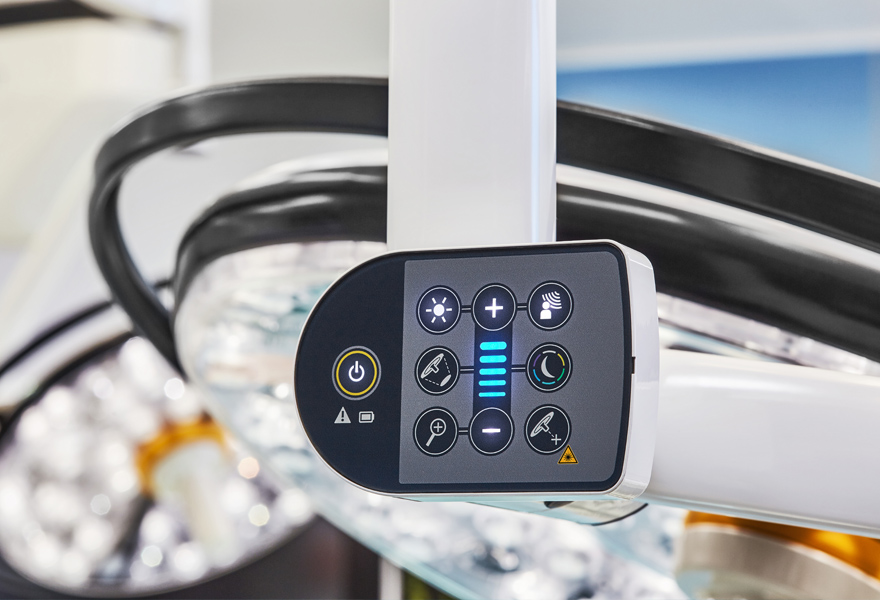 Improving OR hygiene
Hospital-acquired infections contribute to the high cost of healthcare, and delay patient recoveries. Getinge has taken steps to minimize the risk of complications from nosocomial infections throughout the OR by developing an antibacterial coating on high touch surfaces such as touchscreens, keypads and external handles. This coating helps to reduce the risk of cross contamination and hospital-acquired infection to keep patients safe.
Laser positioning for optimal lighting parameters
A laser guide is available on Maquet PowerLED II surgical light to easily position the cupola at the right distance and place for optimum working conditions.
Class II laser: risk of injury. A long eyes exposure to laser can lead to ocular injuries. Do not point a laser beam in unprotected patient eyes. Do not look directly into the laser.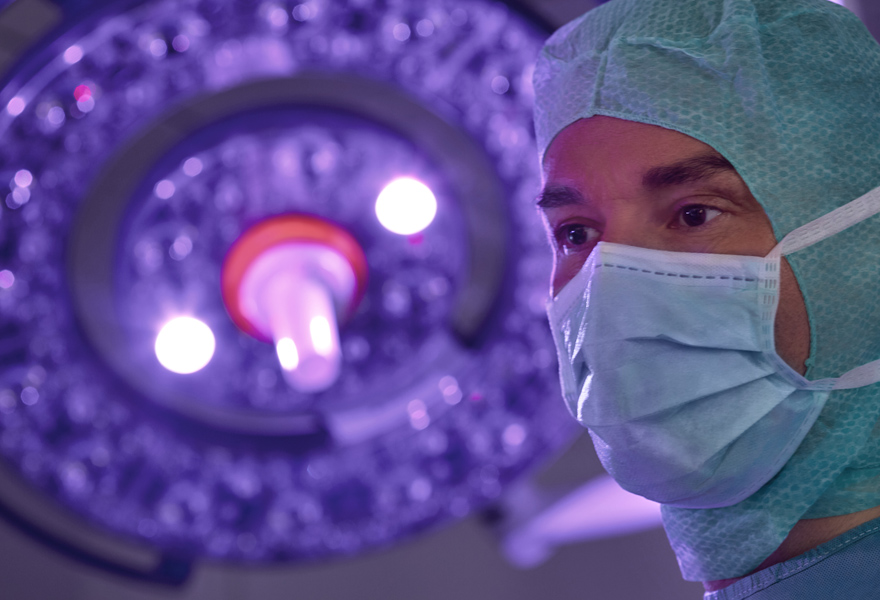 Multiple colors of ambient light
Maquet PowerLED II surgical light offers an ambient light offering surgical staff the flexibility to choose their preferred color (from white to yellow), limiting glare on the monitors and improving contrast. This improves clarity and helps set a friendly and peaceful mood for surgical staff.
Quick Lock System
The quick lock system allows accessories such as HD cameras to be quickly and easily connected and disconnected without special tools. This minimizes
setup time between procedures, and allows easy pooling of accessories, with cameras shared throughout the surgical suite.
Marketing Sales - Brochures
Driving surgical efficiency to the next level
Marketing Sales - Sales Flyer
Laminar Air Flow Compliancy
Product Environmental Profile