From Alpha to Beta: The benefits of the complete DPTE® system
The original DPTE® system from Getinge is the world's leading sterile transfer solution.
In basic terms, there are two parts to the DPTE® system. The Alpha part comprising the fixed part of the system is typically mounted to the wall of an isolator, restricted access barrier system (RABS), or to a clean room wall. The Beta part is then connected to the Alpha part enabling the safe transfer of materials minimizing the risk of contamination. The materials can be moved either directly from one sterile zone to another or from one non-sterile zone to another in the case of toxic applications with either the reusable DPTE® Beta containers or the single-use DPTE-BetaBag®.
Driving down costs – and risk
The most important advantage of using both DPTE® Alpha and DPTE® Beta components is that as one complete system it is validated by Getinge. Installing a complete DPTE® system removes the need for customers to invest their own resources and time in attempting to validate a unique combination of Alpha and Beta parts which means a sizeable reduction in the overall project cost, while also guaranteeing product and/or operator safety. Additionally, this significantly reduces the risk of large production batches being contaminated, as may be likely when using Alpha and Beta parts from different providers.
"As part of our production activities, every DPTE® Alpha and DPTE® Beta component is 100% tested before it leaves our factory to ensure it meets the highest performance standards for leak-tightness and functionality," says David L. Milligan, at Getinge. "If a customer chooses a DPTE® Alpha port from Getinge with Beta components from another provider or vice versa, they will have no assurance that this unique combination will be leaktight and can ultimately be validated on site."
The single-use revolution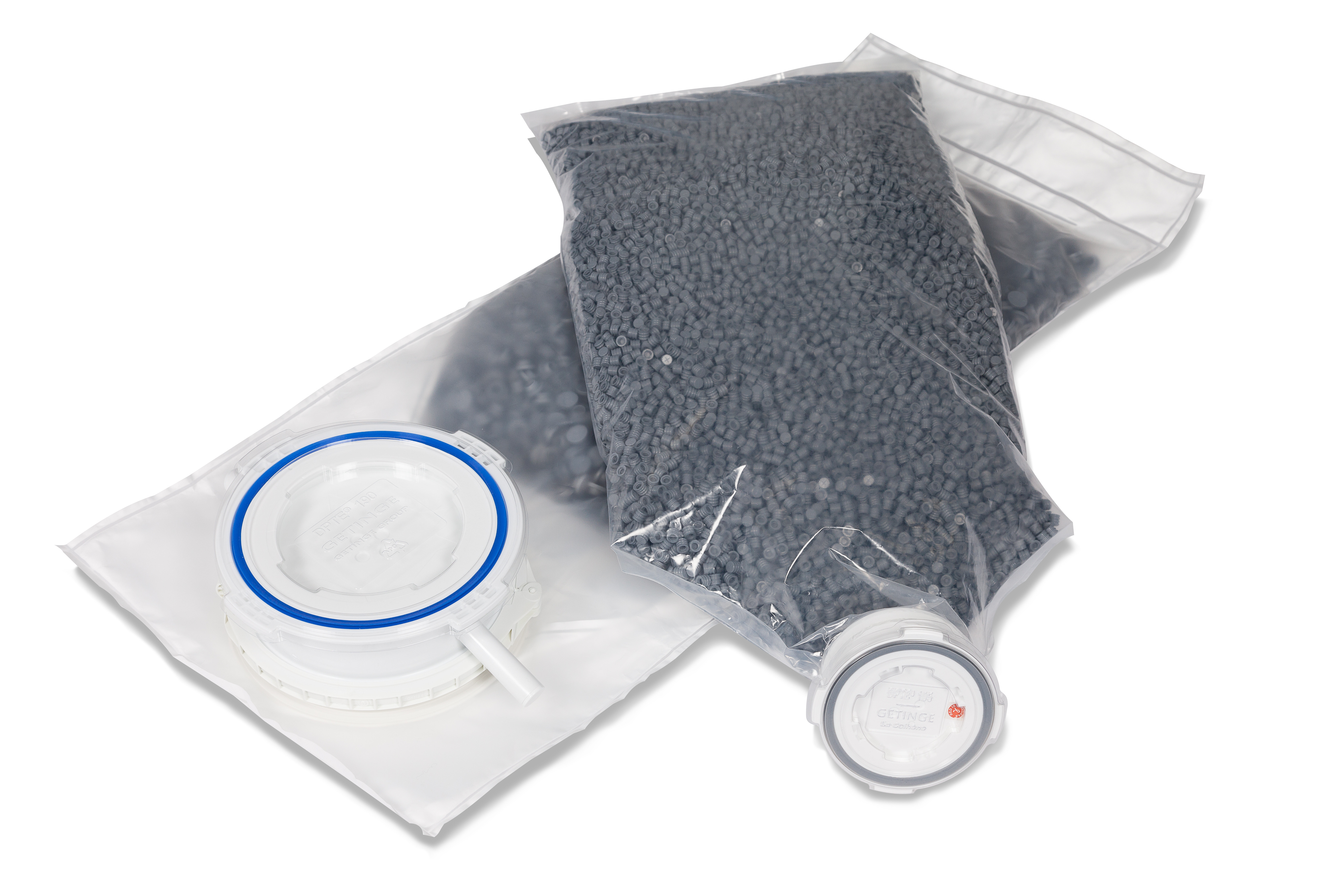 Getinge works to reduce costs for customers with its single-use DPTE® solution, the DPTE-BetaBag®. In the past, customers would have had to clean, sterilize, process and validate all their equipment and materials in-house. Thanks to single-use solutions all these steps can be outsourced to Getinge and its sterile transfer partners. The result not only speeds up production and reduces initial investment, it also minimizes operating costs over time.
"The move away from reusable solutions is a fundamental shift for the Biotech and Pharmaceutical industries," says Milligan. "As part of their cost reduction strategies, customers are outsourcing to their suppliers and the suppliers have evolved and improved their processes and solutions to meet that need." However, with these new options there are also risk factors that must be considered. Partnering with suppliers demands a high level of trust, as Milligan explains: "These are long-term relationships, typically decades long, because once a customer has had their production approved by a regulatory agency, they don't want to create unnecessary risk by changing it. So most importantly, they're looking for a supplier that is going to be around 15+ years from now and also has a long-term history of commitment to the Biotech and Pharmaceutical market segments."
The need for trust has led Getinge to be very careful in their choice of partners. Across the many applications Getinge's partners provide, including the transfer of stoppers and plungers, liquid, environmental monitoring materials, cleaning supplies and others, each one is among the leaders in their market space – all with very strong validation and testing capabilities. The range of partners Getinge can offer is also far wider than other providers, and is constantly growing, says Milligan: "Getinge has consistently maintained a completely open platform in order to provide the customer with their desired solution."
Within Getinge the range of expertise and depth of knowledge is also a key differentiator from other providers who may offer alpha and beta solutions, but not the validation expertise, tailor-made solutions, or quality assurance that Getinge brings as the result of over 40 years in the Biotech and Pharmaceutical industries.
"We take a very consultative approach," says Milligan. "It's about asking the customer about their process. What do you need to do and what are your restrictions? Then we can propose existing solutions or create new solutions based upon those application needs. We can bring many types of resources, whether they are commercial experts, application specialists, or validation experts. As part of our collaboration and support, we can provide capabilities, knowledge, and experience that is unique."
Advancing the future of sterile transfer
As the global leader in sterile transfer solutions, Getinge has over 40,000 DPTE® Alpha units currently in operation worldwide, and has sold more than 1 million DPTE-BetaBag® units. "The Getinge DPTE® system has set the standard for over 40 years," says Milligan. "And through a process of continuous improvement, Getinge continues to move the standard forward."
Among the many focus areas of this evolution, one "hot topic" at the moment is particulate reduction, says Milligan. "Many biotechnology products are very susceptible to any type of particulate contamination even if the environment is sterile, so we're finding ways to produce cleaner bags for those purposes. In addition, we're continuously adding partners and new applications. We're also seeing more applications that require ethylene oxide sterilization, rather than steam or gamma sterilization. These shifts will be driving new innovations and improvements in what we deliver in the future."
David L. Milligan is Sales Director, Transfer Systems (Americas) at Getinge. David has both a B.S. & M.S. in Chemical Engineering. Milligan has been working with DPTE® for more than 20 years, first within isolator systems and most recently focusing on transfer systems over the past 15 years.