Built for your needs and application
Complete turnkey system with automation
Wide choice of controllers with many PLC and DCS options
Design, fabrication and automation based on collaborative approaches and project managed with your inputs at every stage
The processing steps towards building the most optimal cultivation system can be complex, requiring tailor-made systems. Using modern design technologies, we will guide you through the process - from concept stage to installation. Our systems can be configured to various applications, whether microbial or cell cultures, and can be customized to specific requirements like custom volumes, cleaning solutions, access platforms, control solutions and materials.
Choose the best options for your goals; skids on wheels or permanent mounts, mobile or stationary Clean-In-Place with or without automation. Complementary media prep, harvest and inactivation systems can be supplied as well. Design any system to suit your needs.
Essential in producing vaccines and medicines
Bioreactors play a key role in producing life-saving vaccines and medicines. This complex process requires highly optimized, state of the art systems. With the Applikon BioProduction, we provide ease and flexibility of customizing the vessels to handle any type of application needs.
Watch the video to view the stainless steel bioreactors being used in bioprocesses.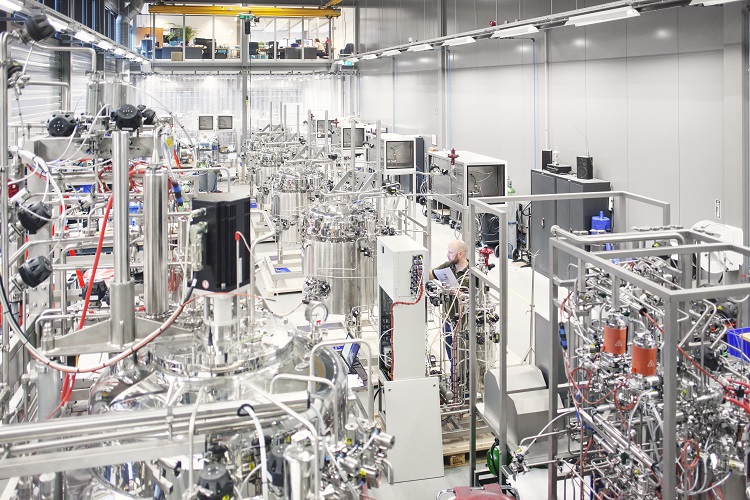 Do you know...
we have supplied stainless steel bioreactors for over 30 years
GMP stainless steel bioreactors are one of our specialties
we have supplied hundreds of production bioreactors worldwide
you can combine add-on packages to upgrade your bioreactor
Developing life-saving biological drugs requires production bioreactor systems that meet strict GMP regulatory requirements to ensure the highest quality drugs for human and animal use. Getinge supplies production scale GMP bioreactor systems that provide full automation, cleanability and traceability so that patients around the world receive safe and effective medicines in a timely manner. Our reactor manufacturing environment (Delft, NL) strictly follows GMP and ICH guidelines. With full control and automation and GMP documentation, whether you require a single bioreactor from 15 to 5000 L or an entire seed train that fits perfectly in your facilities, we have the right system for you.
#GrowWithUs
Easy to validate
The stainless steel bioreactors and fermenters are built to the latest standards on hygienic processing, meeting cGMP and GAMP requirements, and can be supplied with an extensive documentation package to support efficient validation.
Easy to operate
Stainless steel bioreactors minimizes the risk of contamination as there are no consumables to be replaced for every single run. Furthermore, these Sterilizable-in-Place bioreactors are supplied with magnetic coupled agitator connections. Whereas the agitator shaft continues from the outside to the inside of the bioreactor with traditional connections (lipsealed or double mechanical seal), here the connection is established via magnets. Since there is no connection with the outside world, there is no risk of contamination.
The open frame construction gives easy access for maintenance and operation.
Easy to clean
The Applikon stainless steel bioreactor range is completely fabricated using pharma-grade 316L stainless steel and supplied with a surface finish of Ra < 0.4 micron. This smooth surface ensures that biofilms and debris will not stick to the internals of the bioreactors. This greatly simplifies the cleaning procedure and creates ease of mind knowing that the bioreactors will always be reproducible clean.
Specifications
Total volume
Custom built bioreactor systems are available up to 5,000 liter total volume
Drive system
Magnetically coupled, mechanical seal, bottom or top mounted agitator options available
Maximum agitator tipspeed (m/s)
up to 5 m/s
Impellers
Rushton, marine, hydrofoil and more
Gas sparger
Porous sparger, L-Sparger or Ring-type sparger
Gas overlay
Optional gas overlay line
Exhaust gas
Water cooled exhaust gas condenser with internal spiral and/or jacketed
Sampling
Resterilizable sample system; manual or fully automated SIP and CIP possible
Draining
Resterilizable bottom mounted drain; manual or fully automated SIP and CIP possible
Additions
Sterilizable additions (push valves) and resterilizable addition ports; fully automated SIP and CIP possible
pH
Measurement: 12 mm classic pH sensor in DN25 port in lower side wall, redundant pH sensor possible
Control: via acid pump or CO2 gas (rotameter or MFC) in combination with alkali pump
DO2
Measurement: 12 mm polarographic DO2 sensor in DN25 port in lower side wall, redundant DO2 sensor possible
Control: via a combination of N2, Air, O2 (Rotameter or MFC) and/or agitation
Temperature
Measurement: Pt-100 sensor in DN25 port in lower side wall
Control: cooling and heating jacket via bioreactor wall via tap water, chilled water, indirect steam or direct steam injection
Foam
Measurement: Height adjustable conductivity based foam sensor and/or radar foam detection
Control: via antifoam pump, mechanical foam breaker and/or foam centrifuge removal
Level
Measurement: Height adjustable conductivity based level sensor, radar level detection and/or loadcells under bioreactor (frame)
Control: pump for liquid addition or removal
Above mentioned options are options we can apply and have applied on our BioProduction systems in the past. Is your desired specification not listed? Please contact us and we will check options to support you building your optimal bioreactor system.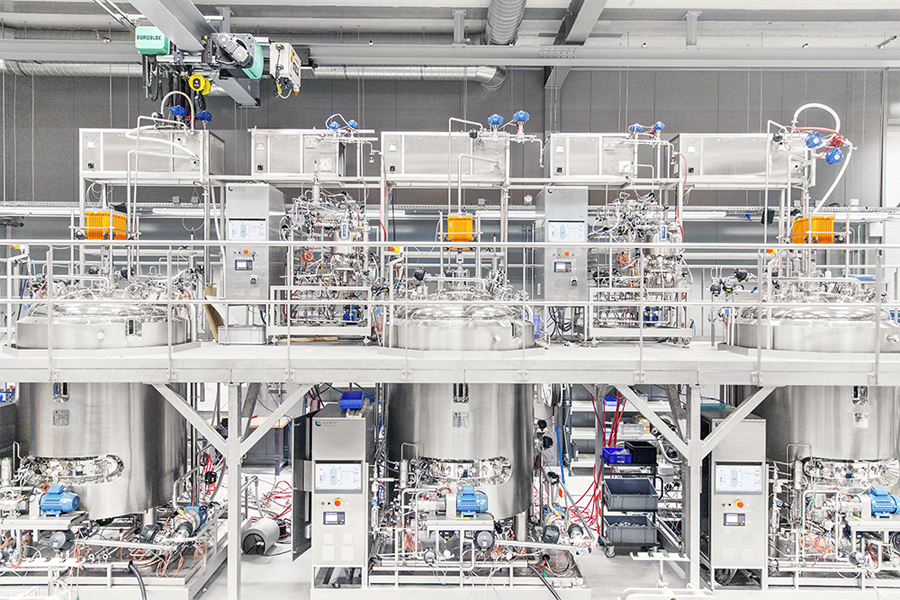 The Applikon BioProduction is ideal for the following applications:
Microbial and cell culture
Batch, Fed-Batch, Perfusion and Continuous cultivation
Marketing Sales - Brochures
Stainless steel bioreactors for biopharmaceutical development and production