Loading Equipment for Getinge Lancer Ultima Laboratory Washers
Repeatable results with maximized throughput
The proper loading equipment is critical to successful cleaning and throughput, maximizing the value of your laboratory washer. A broad range of loading accessories are available for Lancer Ultima Laboratory Washers; these racks, baskets, and loading trolleys ensure proper cleaning of labware such as flasks, bottles, beakers, bulbs, tubes, and pipettes.
Our innovative wash rack will simplify your bioreactor cleaning process
The programmable labware washer with specialty wash rack for the multi-use bioreactor assures thorough cleaning, better reproducibility and reduced labor.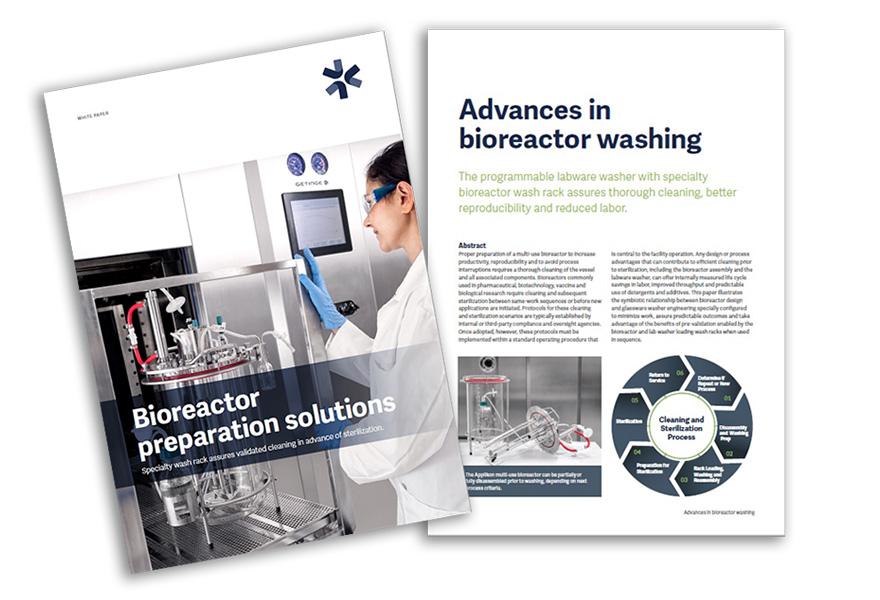 Preparation of multi-use bioreactor
Proper preparation of a multi-use bioreactor will increase productivity, reproducibility and avoid process interruptions. This requires a thorough cleaning of the vessel and all associated components.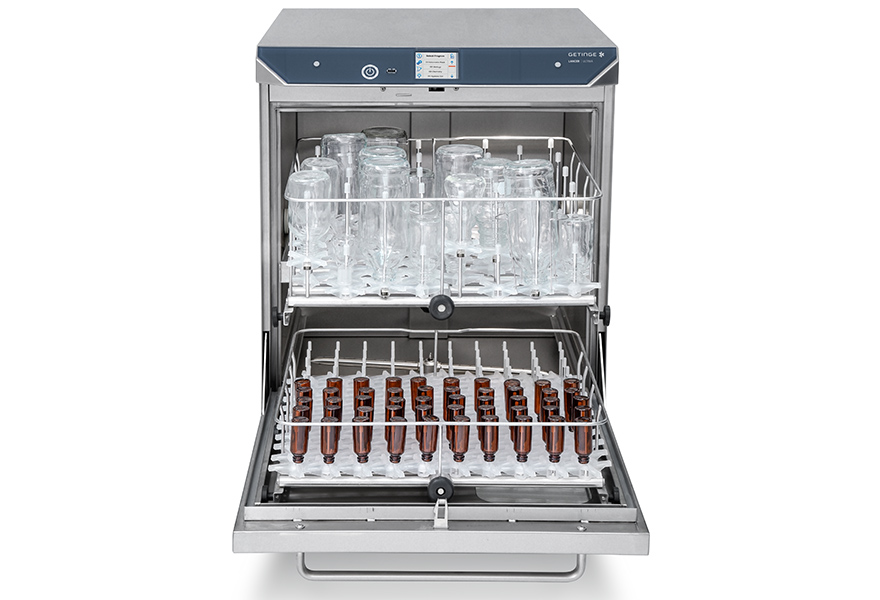 Interchangeability means flexibility
The Lancer Ultima Rack System is interchangeable among 4 models ranging from 810 LX up to 1300 LX. The most common racks fit on any of the wash levels without the need for adjustments. This allows for great flexibility and limits the need for additional accessories, reducing costs of ownership.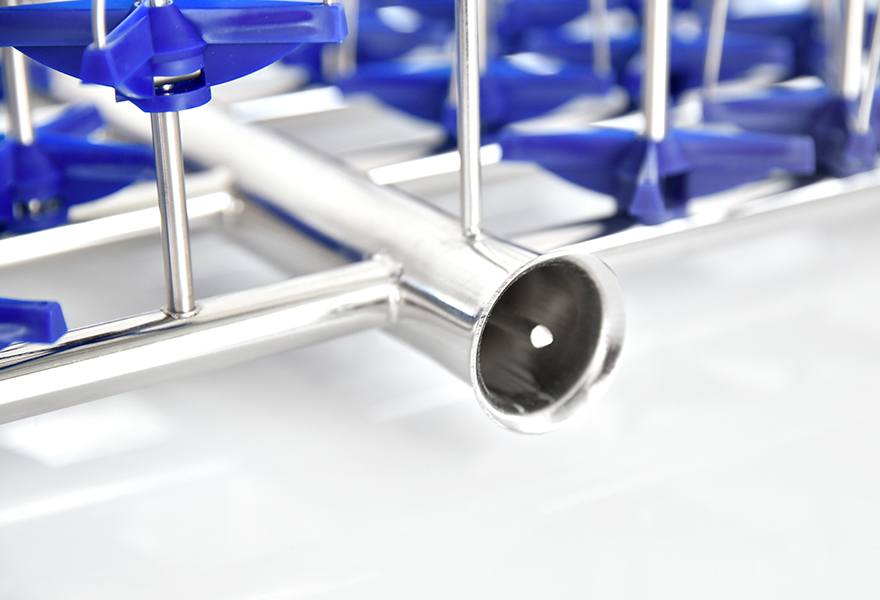 Designed for optimal cleaning
The hydraulic design maximizes flow and pressure through a single, direct fluid path. Each individual rack is connected to the hydraulic circuit without any intermediate accessories. This design ensures efficient and balanced high-pressure water distribution to remove soil for optimal cleaning.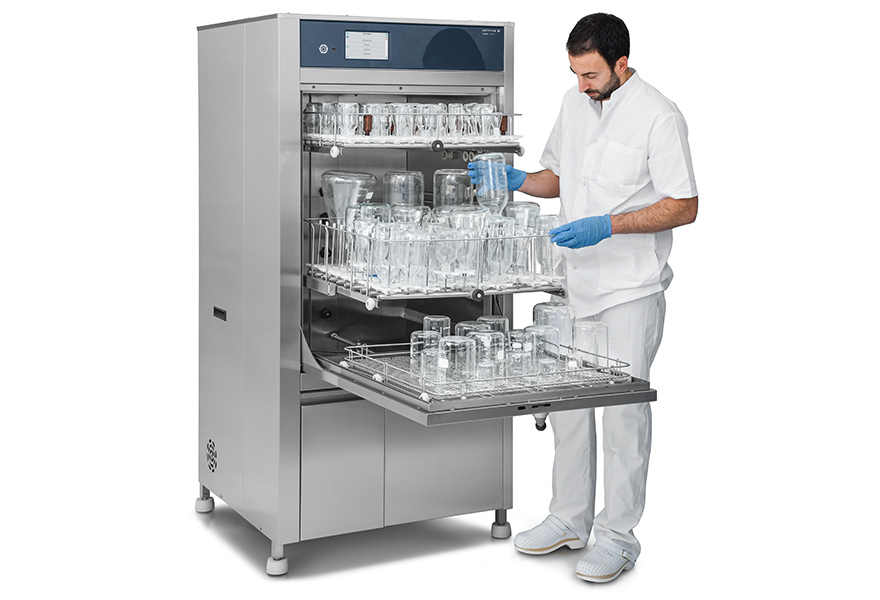 Maximize throughput
Efficient throughput depends on optimal use of the interior chamber volume in each cycle. The comprehensive range of Lancer Ultima Loading Equipment meets loading requirements for a wide variety of laboratory items and capacity needs. Rack connections located in the back of the chamber allow for the total rack surface and maximum chamber volume to be used. Multipurpose racks accommodate mixed loads, enabling utilization of the entire rack surface in situations where fewer items of various types must be processed.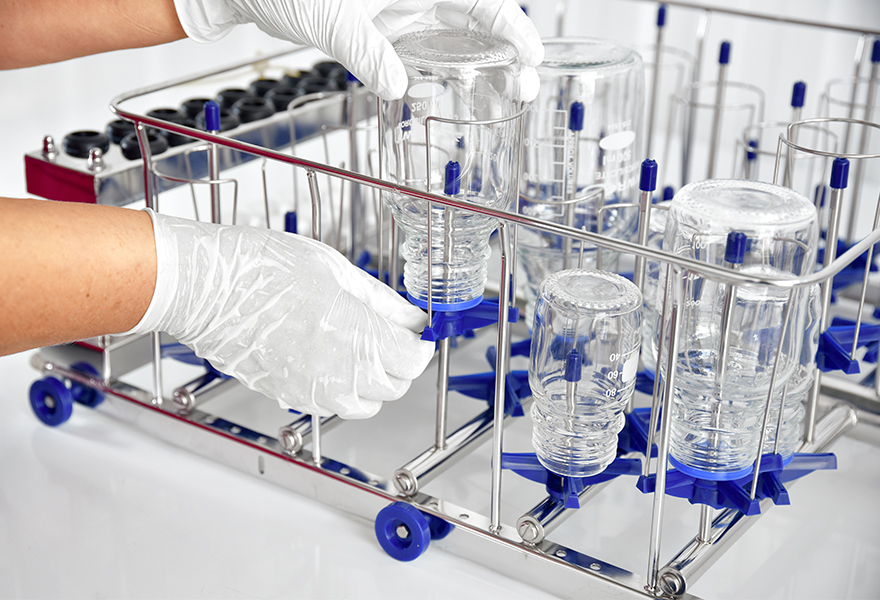 Positioned for effective cleaning
Height-adjustable polymeric supports on the injectors ensure correct placement of goods for proper water flow and cleaning inside the glassware. Wire holders keep the glassware centered over the injector and prevent scratching against the injector tip.
For smaller items such as test tubes or bottle caps, small mesh baskets with covers ensure proper placement for complete coverage of water and liquids during the wash cycle.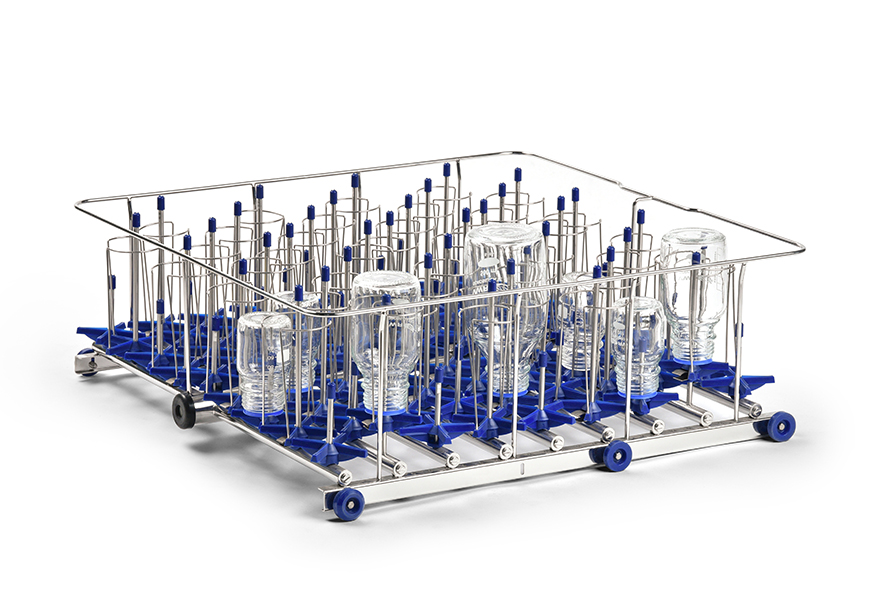 Injector racks for narrow parts
The Injector rack (IX) allows effective washing of parts with narrow necks. An injector can be designed with spherical spreader for the washing of large containers. Height and diameter of the injector must be adapted to the part geometry to ensure an optimum cleaning result. The racks can be equipped with different sizes and numbers of injectors:
Needle injectors
Short injectors
Long injectors
Mixed injectors – Racks can include both long and short injectors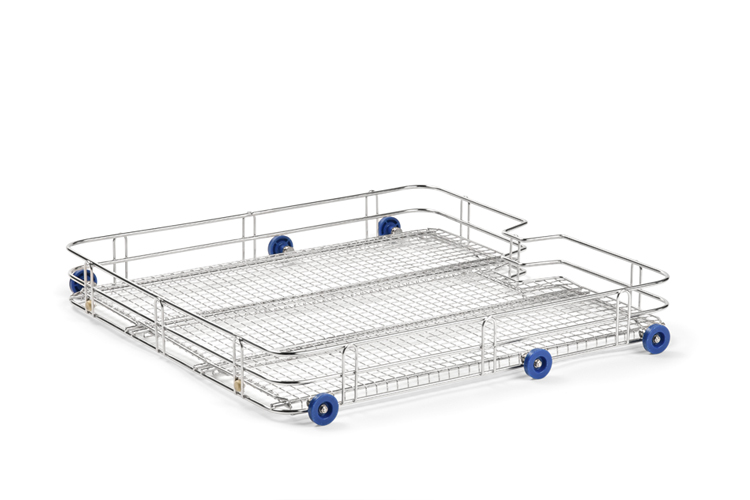 Basic racks for beakers
The basic racks (PST) allow washing of beakers which can be placed with opening down directly on the rack. This basket is only used on the lower level of the washer to benefit from the spraying of the lower chamber washing arm.
The basic basket and washing arm (PSBT) are designed the same way as the PST but fitted with a washing arm. It is designed for use in the upper level of the chamber.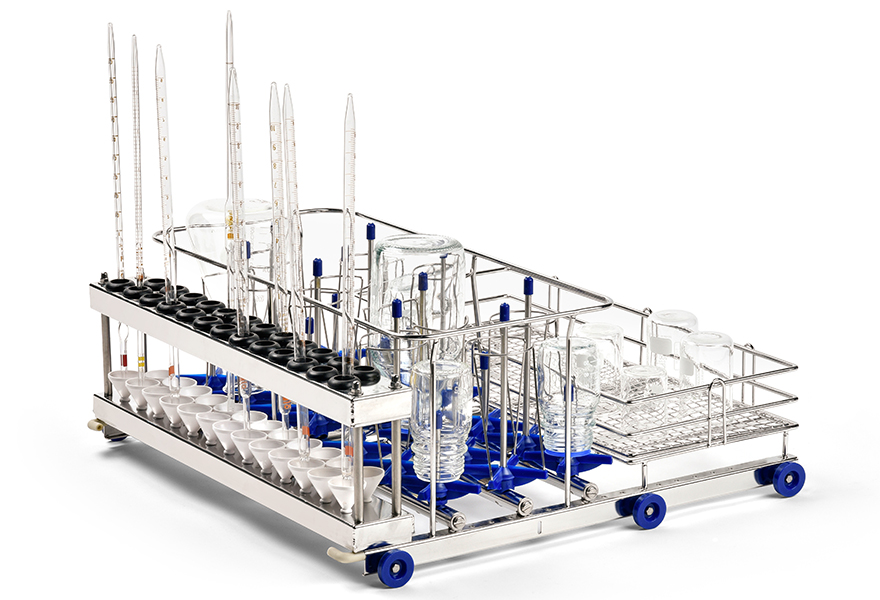 Multipurpose racks for mixed loads
Improve utilization of the chamber volume with multipurpose racks. The racks feature different sections, such as the PIP/PS/IXLC to accommodate beakers, narrow neck glassware, and pipettes. These racks are ideal for maximizing throughput when washing mixed loads.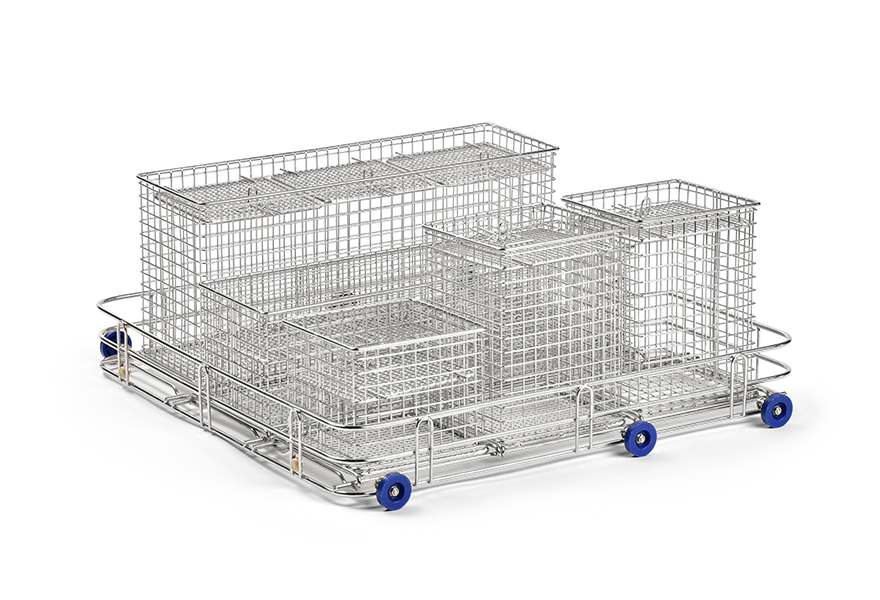 Baskets and covers for small items
Small mesh baskets (LTC/STC) can be placed on standard racks for washing of smaller items such as bottle caps, ferrules, plugs, stoppers and test tubes. The baskets include top covers to keep the items in place within the basket
Injector rack covers are available in full, 1/2 and 1/3 sizes to secure small or lightweight labware during the wash cycle.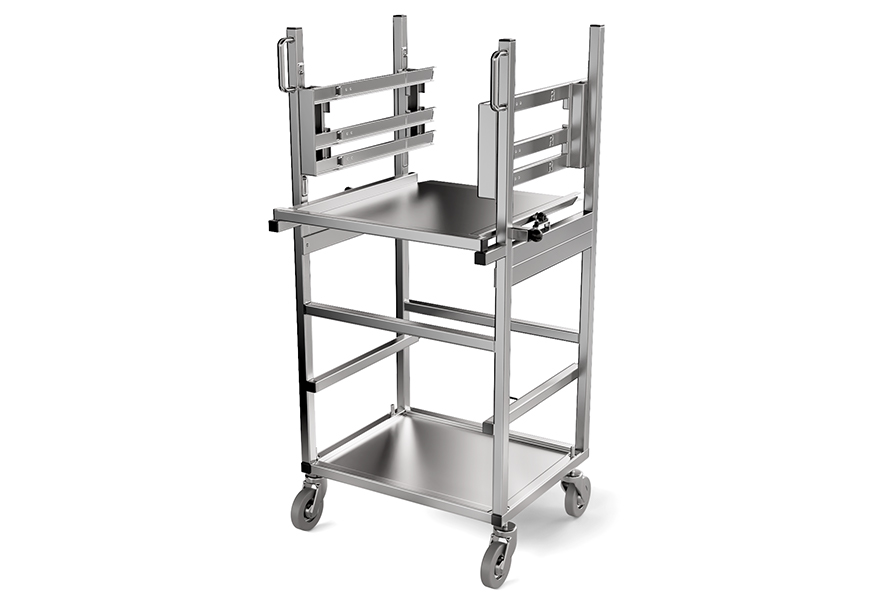 Safe, ergonomic transport and storage
Up to 5 racks can be stored on an accessory storage, providing a convenient place to store accessory racks and baskets when not in use. A 5-level transport trolley allows for safe and ergonomic transportation of racks, e.g. from workbench to washer.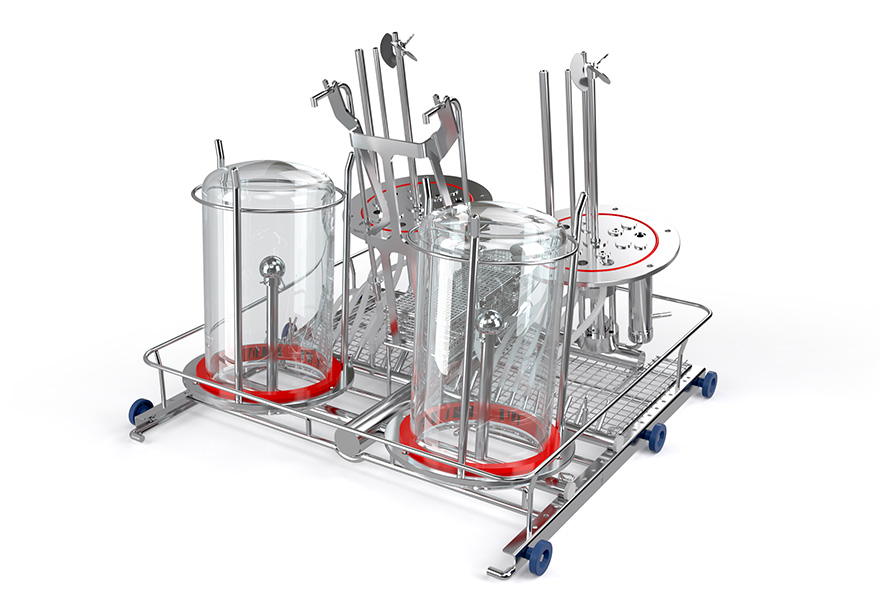 Specialty wash rack
This dedicated wash rack, for multi-use bioreactors volume 1-3 liters (0,26-0,79 gal), establishes a highly reproducible system.
The design features an injector system to clean ports on the bioreactor headplate.
Pre-validated cleaning performance ensures accurate and repeatable results.
Marketing Sales - Brochures
Undercounter series

Freestanding series
Marketing Sales - Sales Flyer
Multi-Use bioreactor washing and sterilization