The Circle for Life
Getinge is the expert in creating a seamless workflow of instrument reprocessing. We can help you develop a streamlined and cost-effective process, from the moment the instruments have been used, to the moment when they are safe and ready to be used again. When you need to deliver the safest surgery for your patients, we are with you every step of the way. Optimizing sterile reprocessing is about timing and control. Through innovation and experience, we share our services, expertise, and integrated solutions that help improve your workflows. So that you can keep saving lives. In a never-ending process – A Circle for Life.
Our solutions to your needs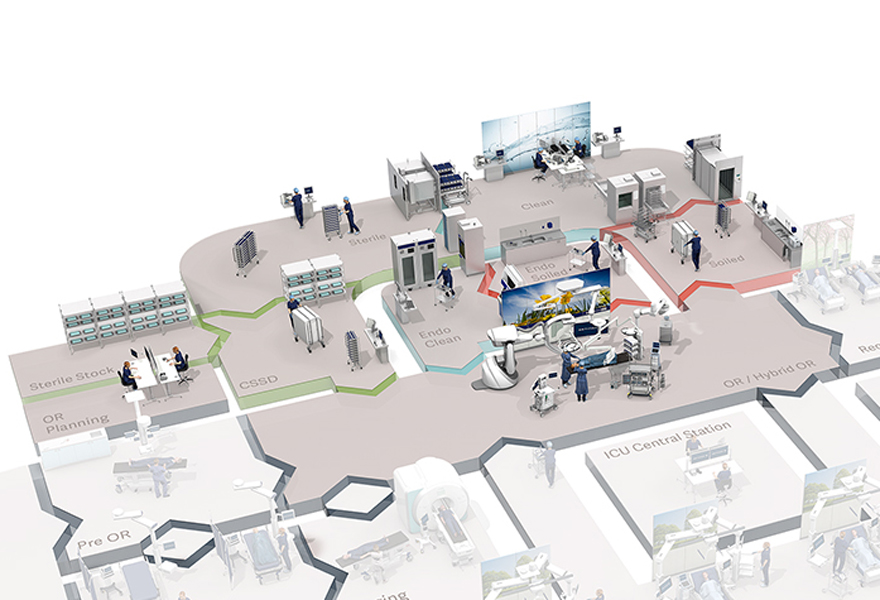 Post operation and pre-cleaning
Unclean items from the OR, wards, outpatient and other departments arrive at the reception area. After visual inspection, items can be put straight on racks and loaded into the washer-disinfectors. Instruments can also be manually cleaned by soaking, spray-gun rinsing and/or ultrasonic cleaning, before being loaded into the washer-disinfector.
Cleaning and disinfection to inspection and packing
The clean and disinfected goods enter the area for sorting, inspection and packing. They can be unloaded manually or by an automated system. Once sorted, inspected and packaged, the goods are ready for sterile processing.
Sterile instruments ready to be used again
Once sterile, the goods can either be stored in a dedicated storage area, where they are kept until they are needed again, or transported directly to the next surgery waiting for them to arrive in time.
Ambulatory Surgery Center (ASC)
Clinics and ambulatory surgery centers have unique needs. That's why Getinge has built a team of experienced project specialists who can help you design an efficient facility using high-quality medical products. We use our expertise to build new or re-equipped facilities to meet your unique requirements.
Sustainability
In collaboration with customers worldwide, we have created a handbook on How to make Sterile Reprocessing more sustainable. We have carefully listened to the customers' thoughts and experiences of sustainability within Sterile Reprocessing to deliver customer-centric, tangible communication.