From examination to surgical lighting
Modern medical centers face an increasingly complex set of challenges:
Each facility must support effective diagnostics and complex procedures while simultaneously containing costs and minimizing their environmental footprint. Maquet Lucea examination and surgical lights support the needs of all medical departments. Maquet Lucea examination and surgical lights provide consistent, high-quality illumination in a modern, sustainable design.
Maquet Lucea model range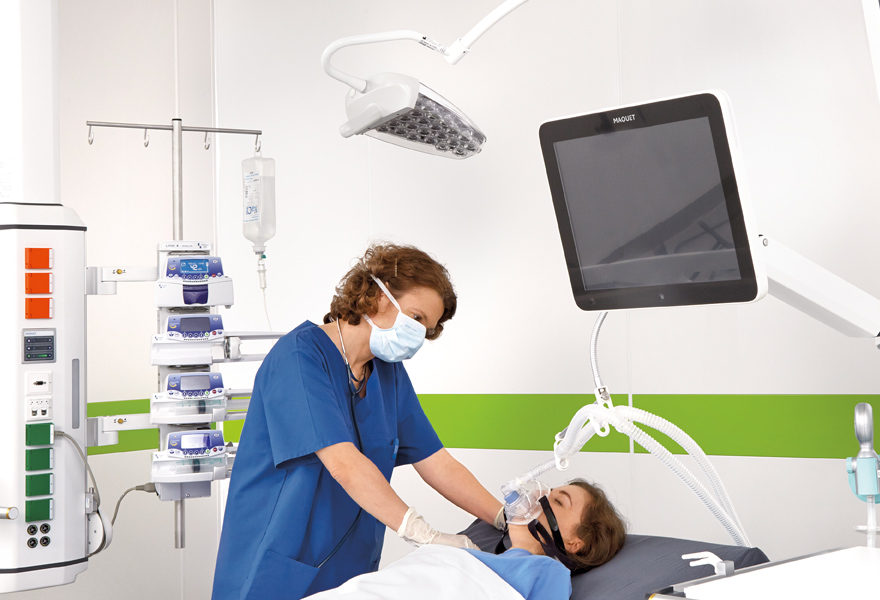 Maquet Lucea 10 and 40
Accurate lighting solutions for medical examination and observation
The Maquet Lucea 10 examination light provides ideal illumination for all medical specialties and all work environments. It is particularly well suited to dermatology. The Maquet Lucea 40 light is designed for hospital induction, shock treatment, and recovery rooms.
Both models of examination light are available in mobile and wall-mounted versions (ceiling version only available for Maquet Lucea 40 examination light) which free the floor space and facilitate cleaning. The easy-to-clean surface has no openings and is designed with the intent to reduce the risk of cross-contamination and hospital acquired infection.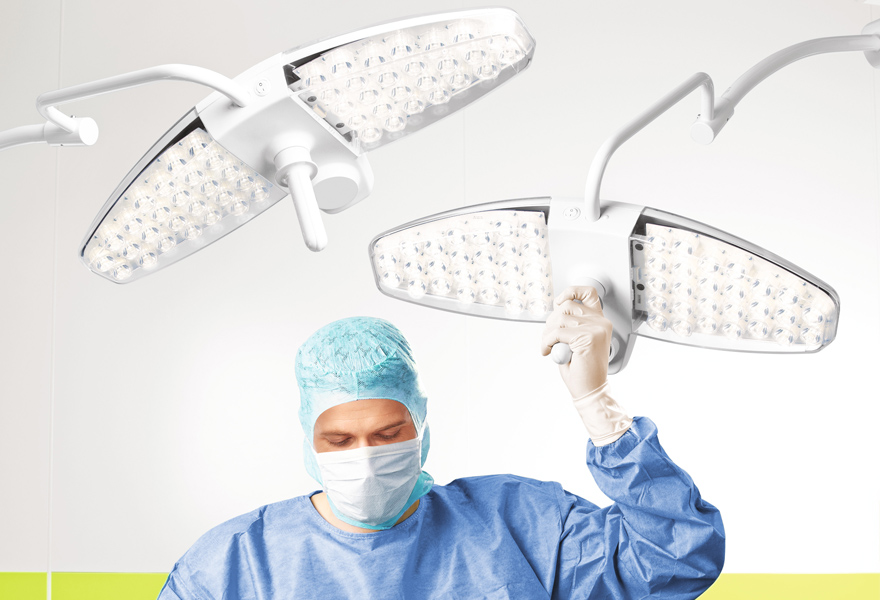 Maquet Lucea 50 and 100
LED technology touches every operating room
The Maquet Lucea 50 and 100 surgical lights have been specifically developed to provide any operating room with Led technology to support minor surgical procedures.
The innovative design and functional shape offer an efficient product to the surgical staff.
Maquet Lucea 50 and 100 surgical lights are available in mobile, wall and ceiling-mounted versions.
Stable illumination
LEDs can lose up to 20% of their intensity after just two hours. With the Flux Stability Program (FSP), smart electronics increase the current to maintain consistent light output throughout the procedure.
Uniform and concentrated light patch
From 50,000 lux at 50 cm for Maquet Lucea 10 to 120,000 lux at 1 meter for Maquet Lucea 100.
Tissue differentiation (superficial and deep structure)
Color rendering index fixed at 95.
No heat dissipation
Improved patient comfort and safety.
Designed to reduce risk of cross-contamination
A sleek and curved surface to facilitate cleaning.
Angled shape for easy positioning
The narrow design can be easily positioned in a crowded surgical theater.
Perfect light head stability
Ergodisc spring arm*
*Only Maquet Lucea 40, 50, and 100 SF versions
A versatile, multipurpose design
Maquet Lucea examination and operating lights have an innovative design that integrates seamlessly into any department. An ergonomic handle makes it easy to direct the lightweight, triangular-shaped light head towards a wound or surgical site for diagnosis or treatment. The unique shape supports flexible positioning, and maintains a perfectly round light field with maximal light output and excellent shadow dilution.
The design uses lightweight, versatile, durable, and recyclable components as well as low-energy Led bulbs to support your facility's sustainability programs.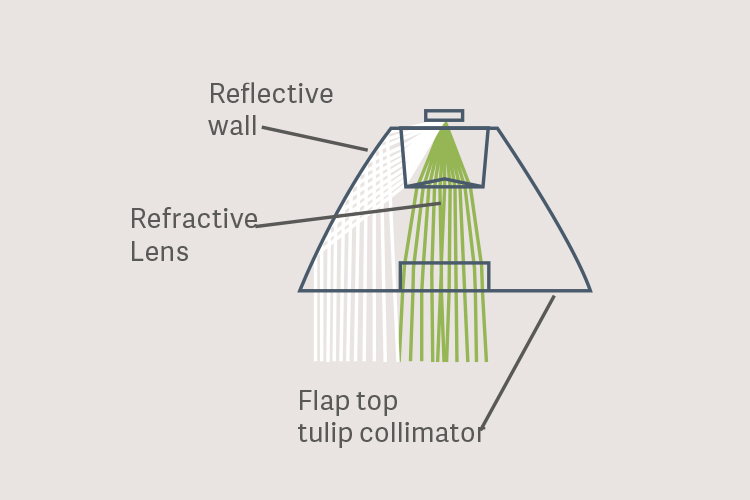 Shadow-free visibility
White "HECOL" Leds eliminate cast and colored shadows that can interfere with diagnosis and treatment.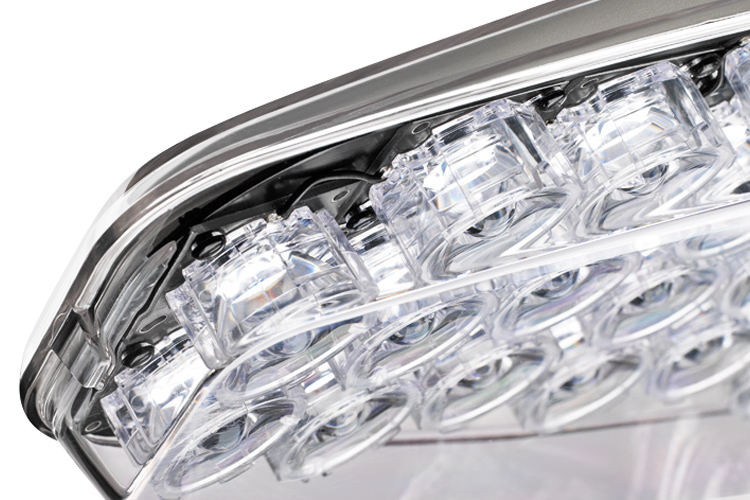 Long bulb life minimizes maintenance
Spend more time with patients and less time with maintenance; Led life is more than 60,000 hours.
Freedom of movement
The maneuverable handle is directed towards the wound for accurate positioning.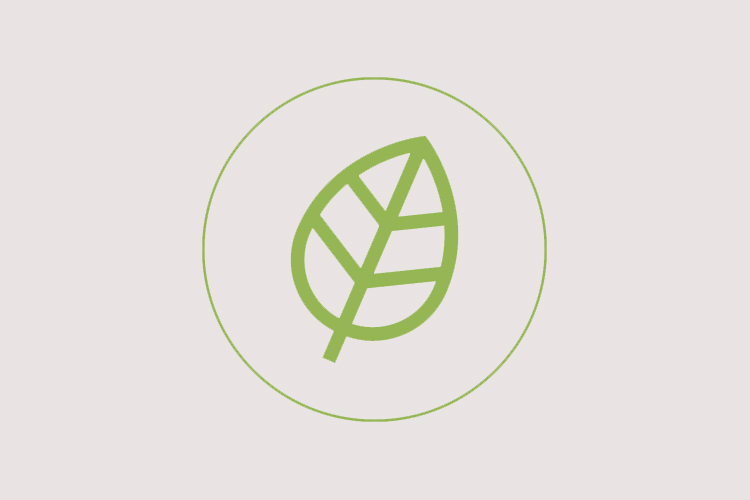 A small environmental footprint
Maquet Lucea examination and surgical lights contain only environmentally friendly products and 80% recyclable material. Optimized, compact and recyclable packaging reduces waste.
Marketing Sales - Brochures
Improving visibility in all hospital departments
Marketing Sales - Sales Flyer
Maquet Lucea 100 Surgical Light

Our Product Environmental Profile is part of our Life Cycle Assessment and is a methodology for assessing environmental impacts associated with all the stages of the life cycle of a product.