Where patient and clinical safety matter most
The Statlock Stabilization Device for IAB is designed to securely attach both the sheath seal and "Y" suture pads of the Maquet Intra-Aortic Balloon Catheters to a patient's thigh when IAB therapy is indicated.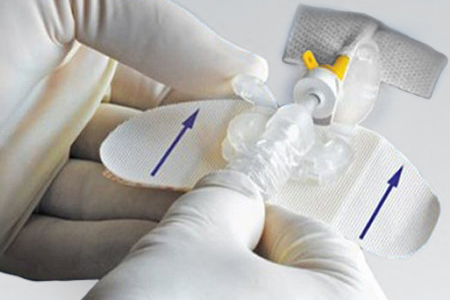 Dual Adhesive
The slow set center adhesive pad allows for repositioning of the device. The hydrocolloid adhesive is more resistant to moisture.
The fast set wing adhesive pads lock the device into position with an acrylic adhesive.
Both adhesives must be removed with alcohol.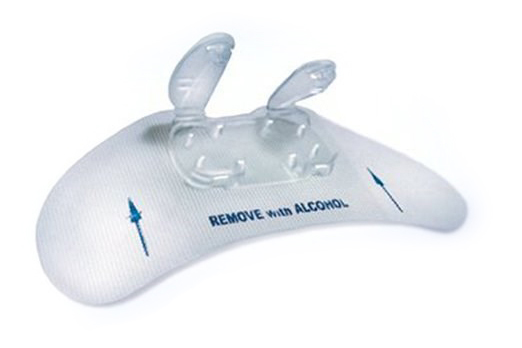 Patient Friendly Materials
Tricot-woven polyester anchor pad
Proven acrylic and hydrocolloid adhesive formula
Molded polypropylene copolymer retainer
No components or packaging contain latex
Suture Complications incurred with using suture can include the following:
Suture wound oozing and infection
Increased occurrence of catheter-related bloodstream infections
Possibility of Healthcare Provider needle stick and resulting infection
Standards of Practice Compliance
CDC (2002 Guidelines) – "Sutureless securement devices can be advantageous over suture in preventing catheter-related blood stream infections (CRBSI's)"
OSHA (2004 Fact Sheet) – "As part of their annual review of methods to reduce needle sticks, employers must review options for securing medical catheters and consider appropriate engineering and work practice controls"
INS (2006 Guidelines) – "Whenever feasible, using a manufactured catheter stabilization device is preferred"
Benefits of using Statlock IAB Stabilization Device
Eliminates suture-wound complications
Increases patient comfort
Provides proactive healthcare provider safety
Reduces complications that may lead to catheter-related blood stream infections
Statlock is a registered trademark of C. R. Bard, Inc.
Improve your knowledge with our eLearning and training courses
At Getinge Educational Institute, we have dedicated material for topics related to Intensive Care, Cardiovascular Procedures, Operating Room and Sterile Processing. We can support you with information about current technologies and best practices to boost your performance and productivity.
For more information about our onsite events or remote trainings, you can also contact your local sales & service representative.