Expand your opportunities with Maquet Otesus
Maquet Otesus surgical table features a number of key enhancements developed in collaboration with OR teams, while retaining many tried-and-trusted features of its proven predecessor – minimizing the need for training.
A flexible solution
A future-proof investment
Broad positional flexibility
Explore new possibilities
Maquet Otesus combines trusted quality with modern features. With this operating table system, Getinge has applied its knowledge, resources, and expertise to optimize OR utilization and improve patient safety.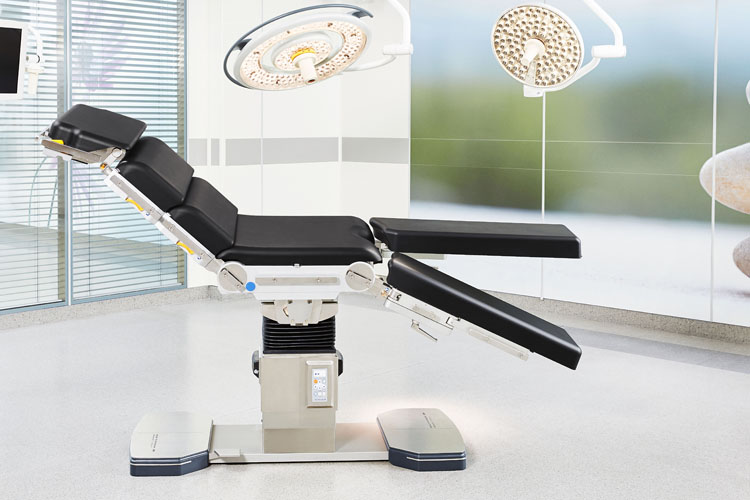 A flexible solution
The modular operating table system includes a column, a hand control, a user-friendly transporter, and a wide variety of table tops and accessories. Surgical staff can tailor the table to each surgery and patient by simply swapping a few modules.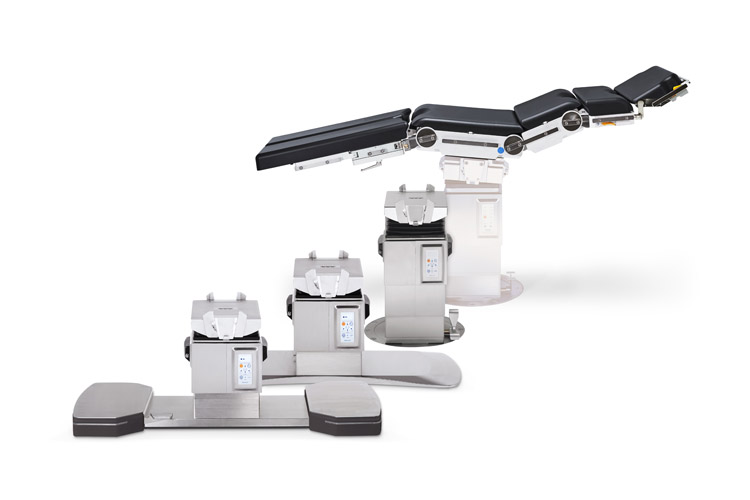 A future-proof investment
As today's hospitals are under increasing cost pressure, replacing an entire surgical table system is not always a viable option. The compatibility of Maquet Otesus OR table allows to completely renew or gradually replace equipment without straining budget.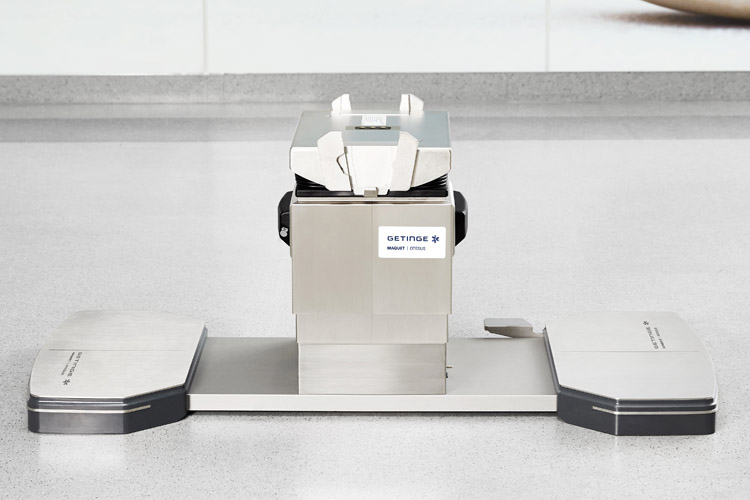 Broad positional flexibility
The Maquet Otesus surgical table Column provides broad positioning flexibility to meet the ergonomic needs of different surgeons for different procedures. With four columns to choose from, hospitals can customize the table solution that works best for their unique needs.
Maquet Otesus Table Tops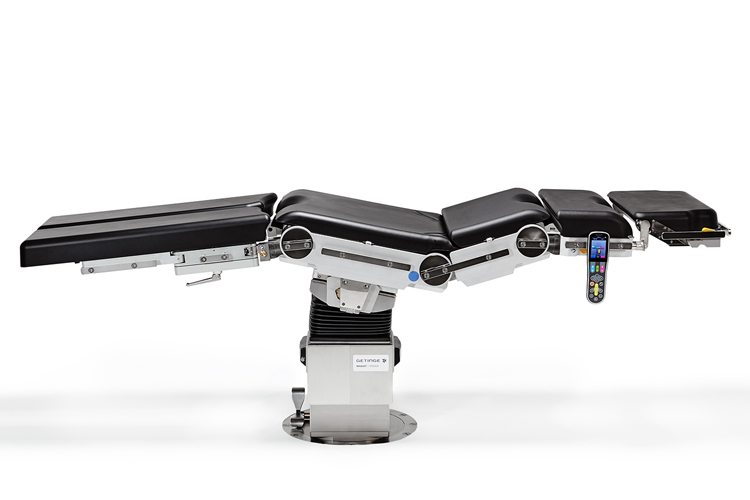 Maquet Otesus 1160.30 Table Tops
Universal table top with three pairs of motors.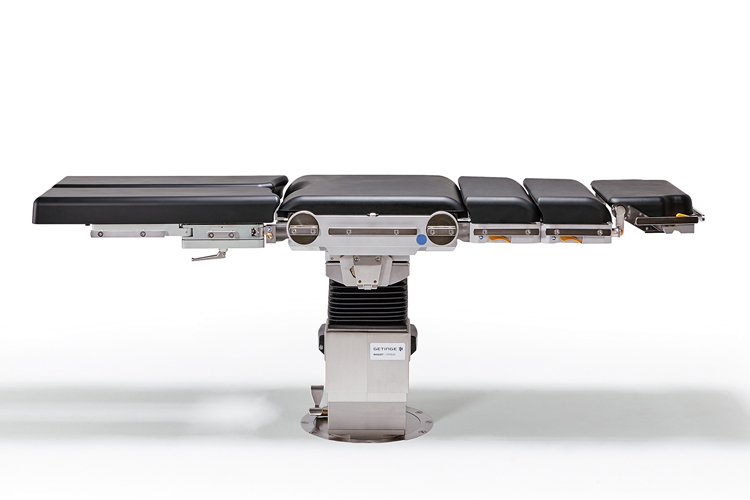 Maquet Otesus 1160.10 Table Top
Universal table top with two pairs of motors.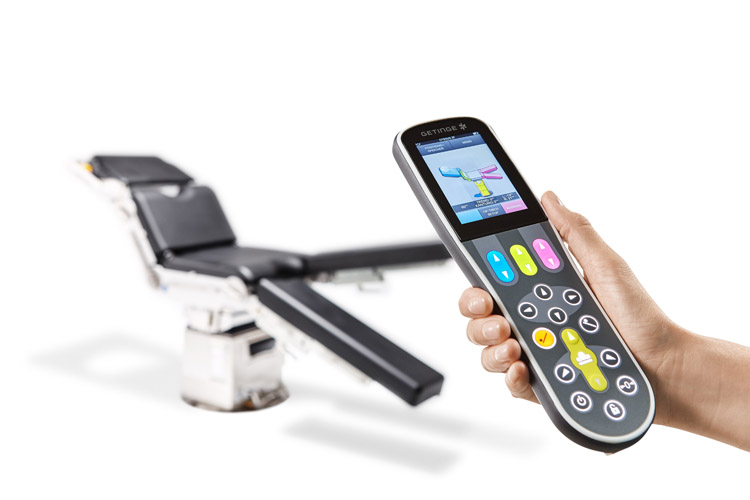 Smart Control
Efficient table top operating with the new Smart Control Remote
Increasing comfort for surgical staff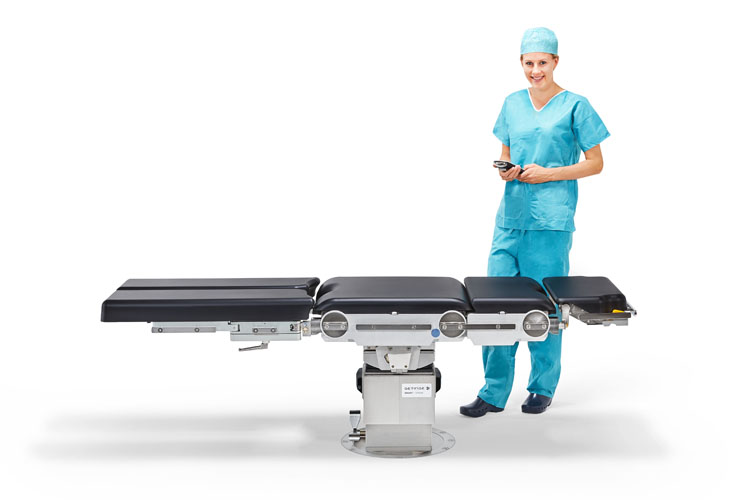 Comfortable work while seated...
With a broad range of heights, Maquet Otesus can reduce surgeons' fatigue, and improve access in procedures requiring very low positions – such as spine or nephrology procedures.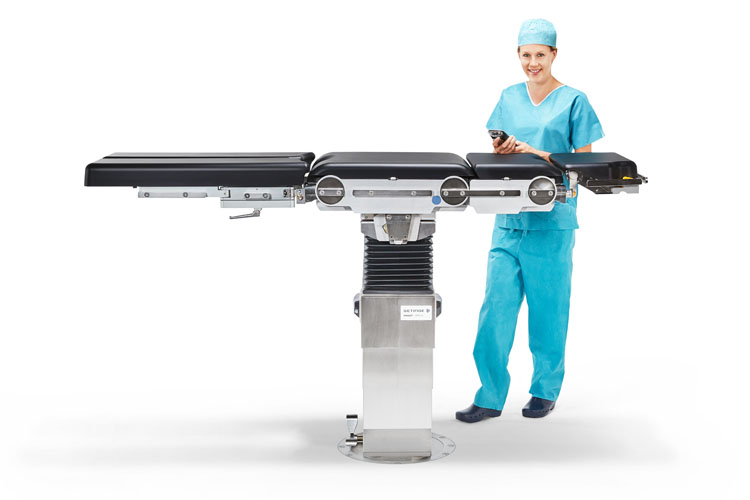 ... or standing
Very high table settings improve access in orthopedic procedures like femur fracture repairs.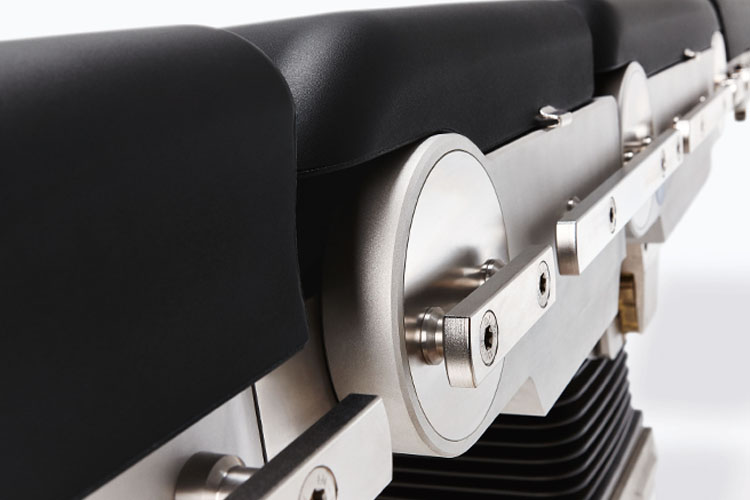 Ergonomic working environment
Continuous flush arrangement of the side rails of the Maquet Otesus Table Tops contributes to an ergonomic working environment.
Maximize the efficiency of your surgical theater
In the OR, time is money. Improvements in efficiency can have a dramatic impact on the hospital's bottom line. With the Maquet Otesus Operating Table System, you can optimize your workflow and improve throughput to maximize the efficiency of your OR.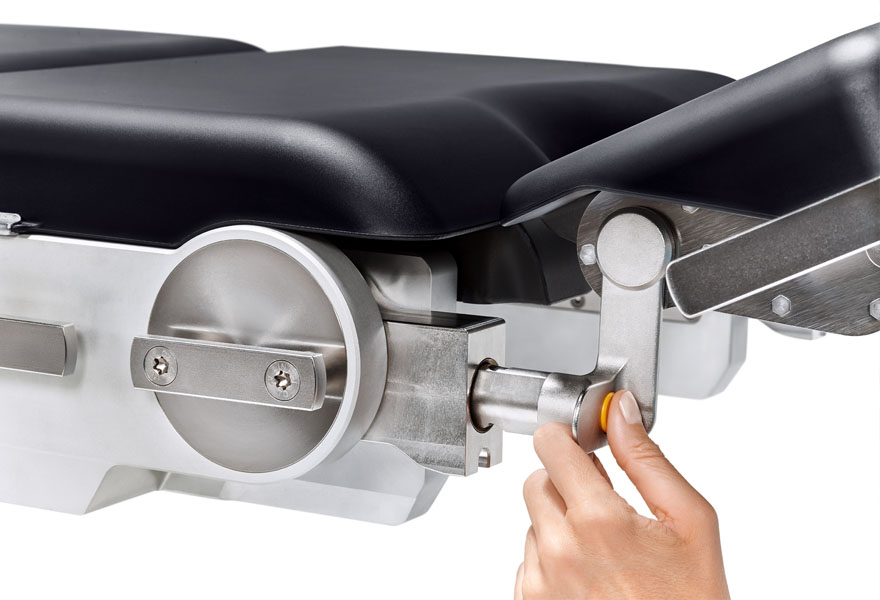 Patient transfer area
With Easy Click interfaces, it's easy to reduce setup time. Simply click the elements into the surface to configure the table top to the surgeon's specifications. Bracket interfaces allow for easy setup of table components. After a quick and simple configuration of the table top, your patient can remain on the table top throughout the whole procedure without repositioning.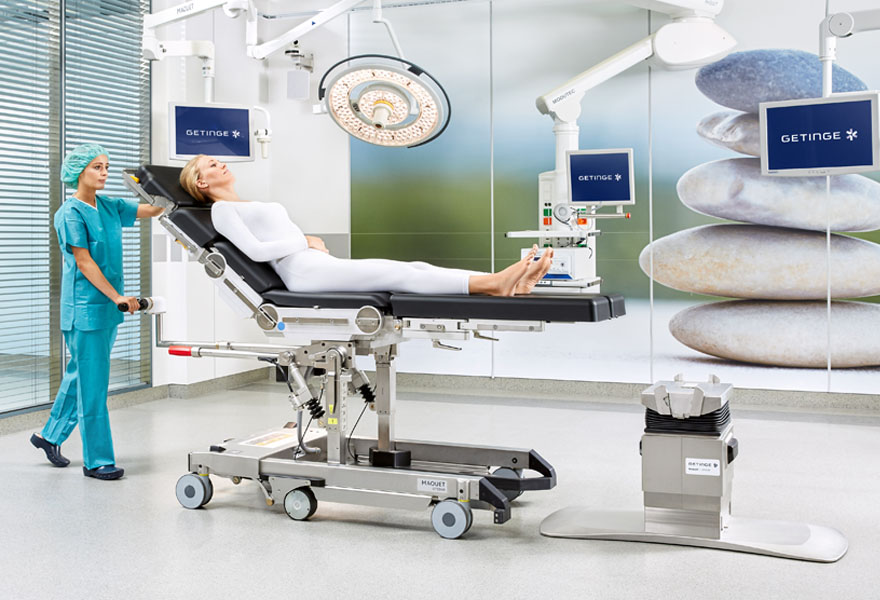 Between rooms
The Maquet Otesus Transporter allows surgical staff to maneuver patients with minimal physical effort. It simplifies the reconnection and disconnection of the table tops to the Maquet Otesus Column to streamline the workflow in the surgical theater.
The versatile, motorized Ergo Drive transporter is a safe, efficient, user-friendly solution that reduces the strength needed during manual transport and transfer.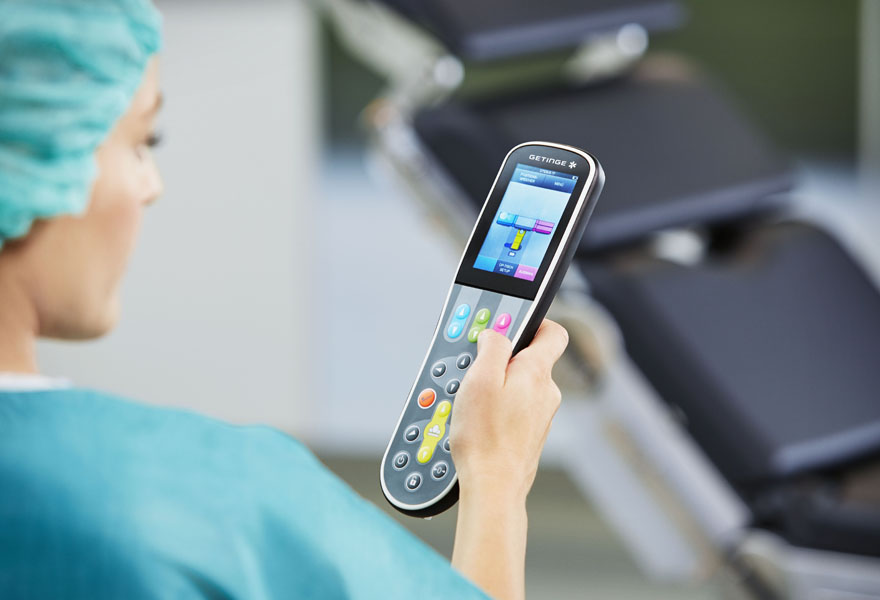 Inside the OR
Bidirectional communication with the column provides real-time information on the current table configuration. The Smart Control continuously receives the table set up informations and automatically displays them, which saves time, enhances safety and simplifies documentation.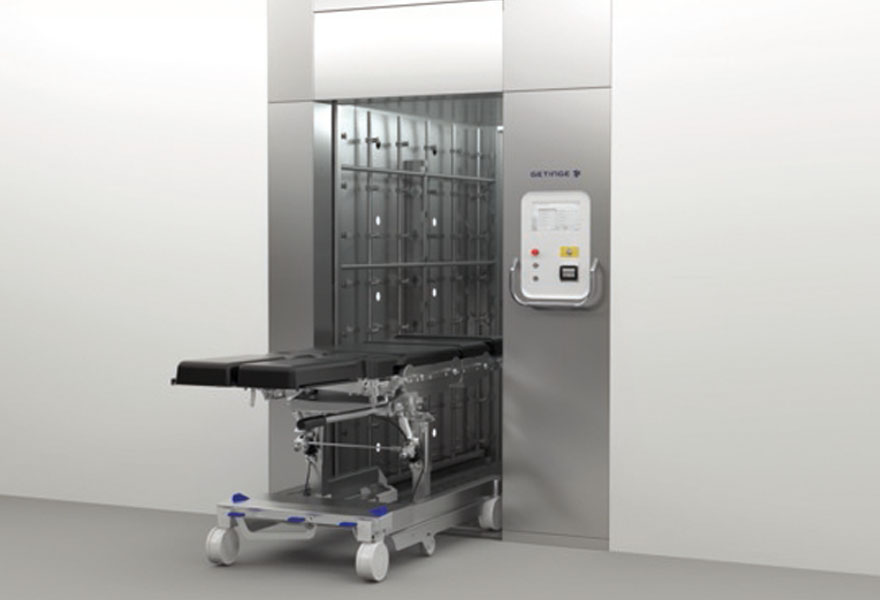 In the CSSD
To minimize hospital acquired infections, efficient and thorough cleaning is essential. Maquet Otesus is designed with smooth column surfaces and Velcro-free table top cushions. The highest hygiene standards can be implemented with our machine-washable accessories, transporters and table tops.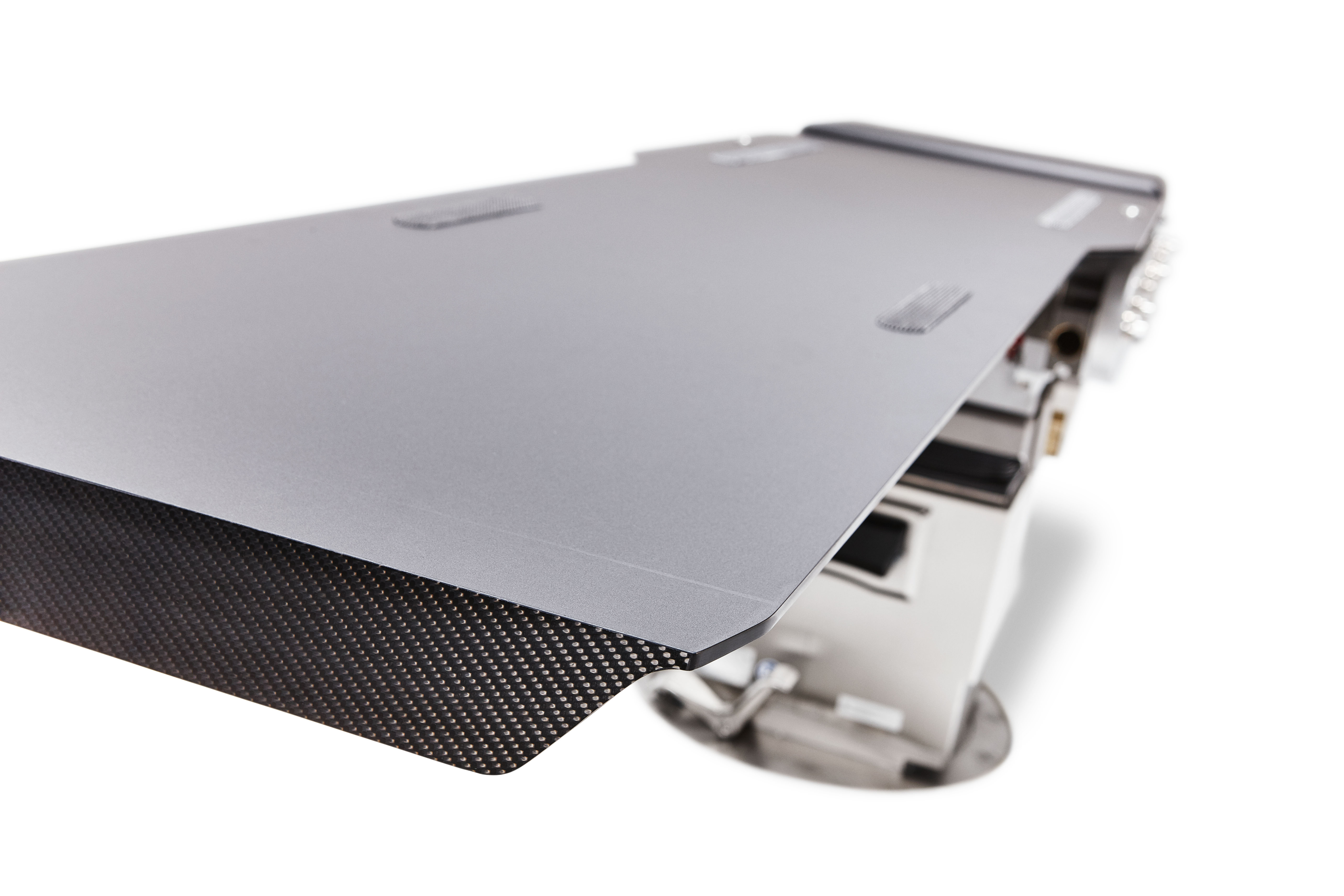 Carbon fiber plate for Maquet Otesus
Intraoperative imaging can improve outcomes for patients, giving surgeons clear insights during the procedure. But imaging technologies require specialized infrastructure to support precise visualization. That's why Getinge has developed a carbon fiber (CF) plate to provide unrestricted radiolucency for pelvic, cardiovascular, orthopedic, and traumatology procedures.
The CF plate has interdisciplinary functionality, expanding the capabilities of your surgical suite. With an X-ray range of up to
1,200 mm, the C-arm can be positioned to create an imaging window at nearly every angle.
Keeping patients safe
The OR table can play a critical role in patient safety initiatives. From effective pressure distribution to gravity-assisted surgical techniques, the right table design improves outcomes and prevents complications that delay recovery.
Maximum Trendelenburg / tilt combination
Maquet Otesus provides a great Trendelenburg / tilt combination that allows gravity to assist the surgeon, naturally moving organs out of the way in procedures like laparoscopic colon surgery. This flexibility enables a broader range of surgical options that deliver better patient outcomes and faster recovery.
Recognition of table set-up
Very precise table movements protect patients and improve accuracy during intraoperative re-adjustments. A wrong interpretation of the table set up (normal vs reverse) can be prevented with the Smart Control that identifies reverse and normal positioning, and adapts the intended table movement automatically.
Collision prevention
Collision dangers exist in any scenario with moving parts. Transponders can help prevent collisions and protect both your equipment and the patient. Maquet Otesus tracks the transponders, and issues a warning when the accessories are on a collision course with the column or floor – even if the table top is positioned in reverse.
Supported patient breathing
Patients with respiratory conditions benefit from upright transport that limits the body weight pressing on the lungs and support and stabilize circulation. With the Maquet Otesus Table Tops, patients can be positioned in a more comfortable upright position during transportation and recovery.
Improved imaging
Advanced intraoperative imaging techniques require a table that's user-friendly and radiolucent. The extended longitudinal shift" and carbon fiber elements make the Maquet Otesus able to generate crucial diagnostic images.
Comfortable, hygienic pads
Soft Integral Protective Comfortable (IPC) cushions offer pressure relief performance that is comparable to Soft Foam Core (SFC) cushions. The hygienic, Velcro-free pads are waterproof. Certain variants of the pads can be mechanically decontaminated and disinfected.
Patient positioning with Maquet Otesus
A broad range of angles and tilts increase patient positioning options
Maquet Otesus expands the patient positioning possibilities by offering optimal reverse or normal configuration together with a wide range of angles and tilts. This delivers increased access in various surgical positions.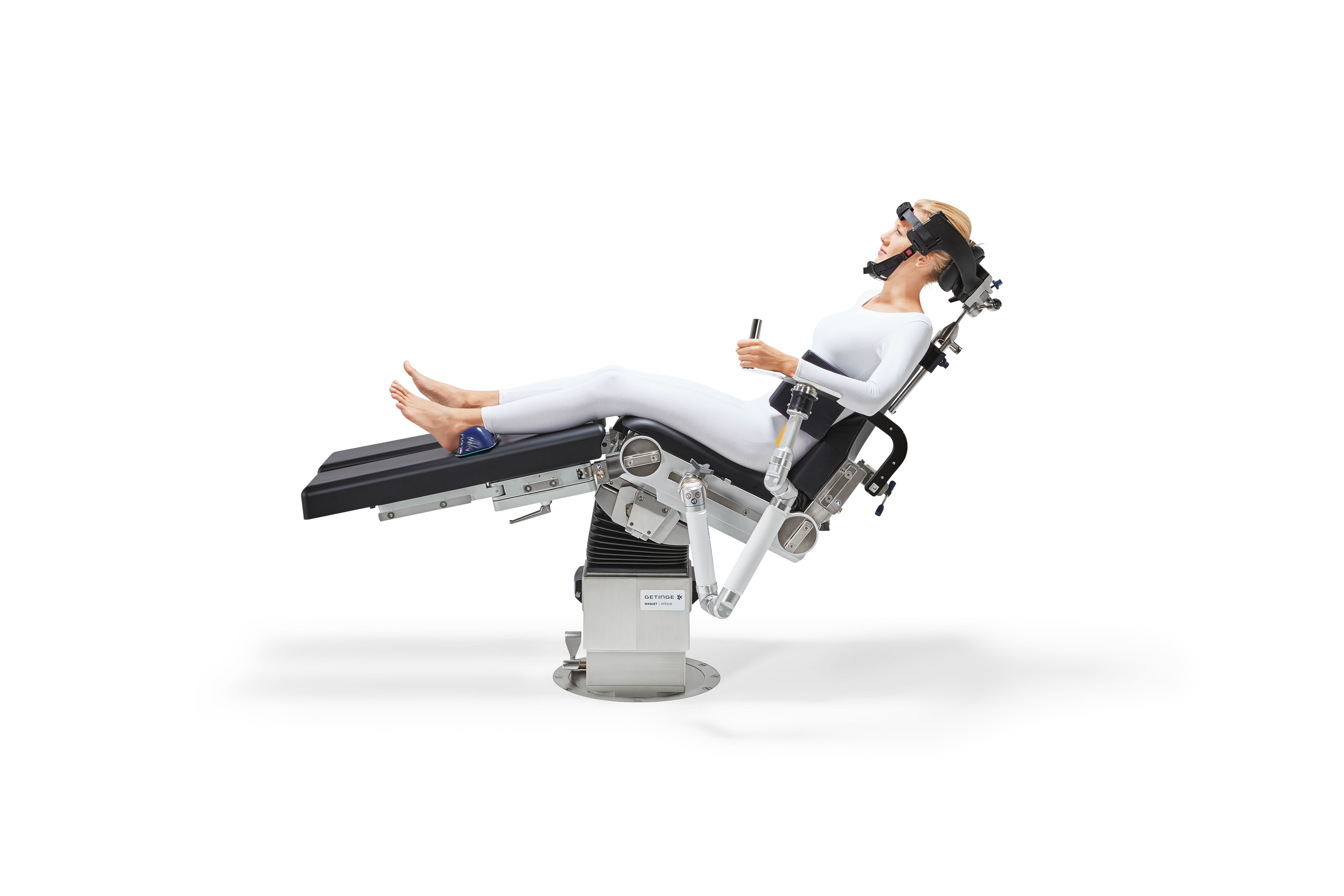 Shoulder surgery in beach chair position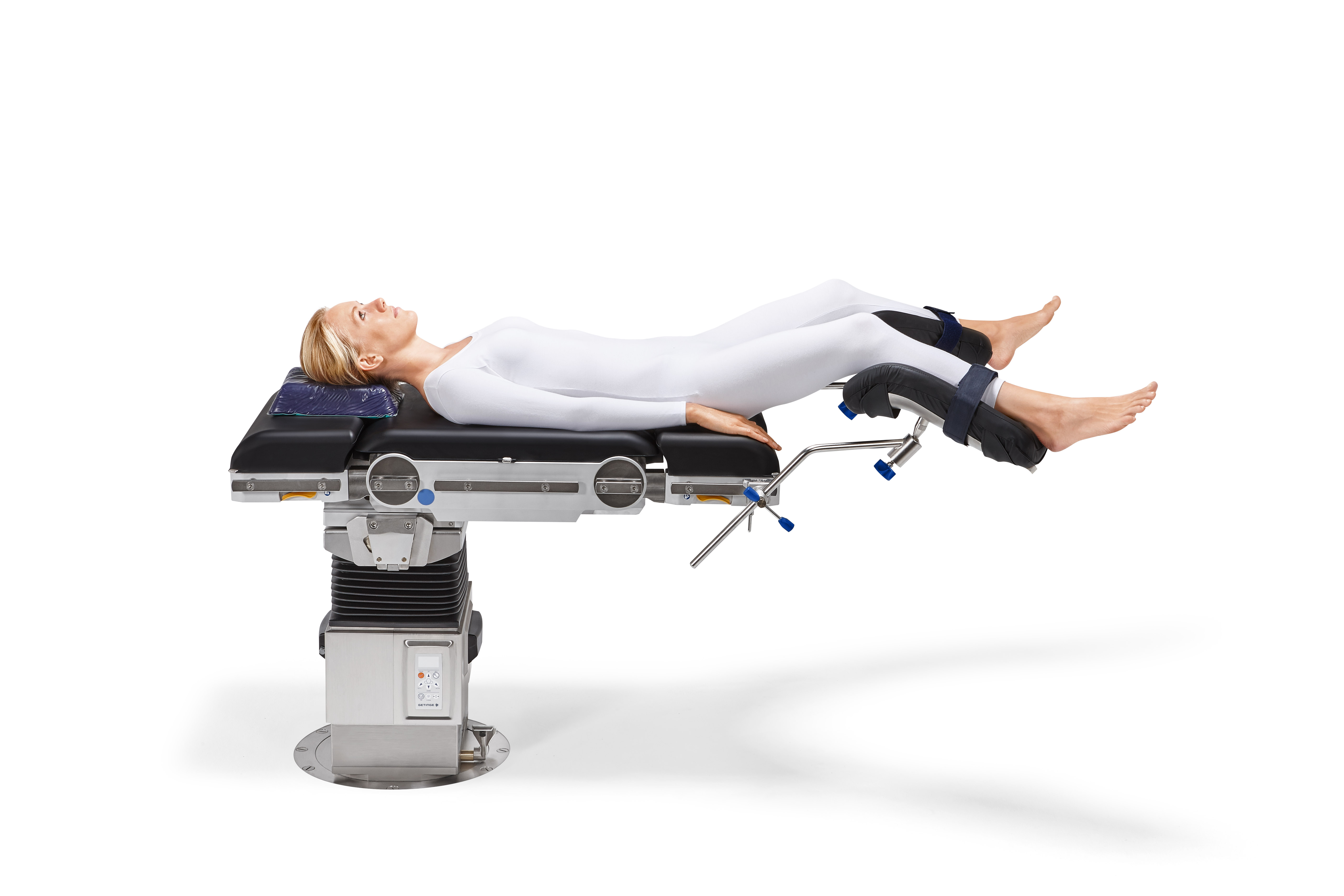 Gynaecological and urological surgery in lithotomy position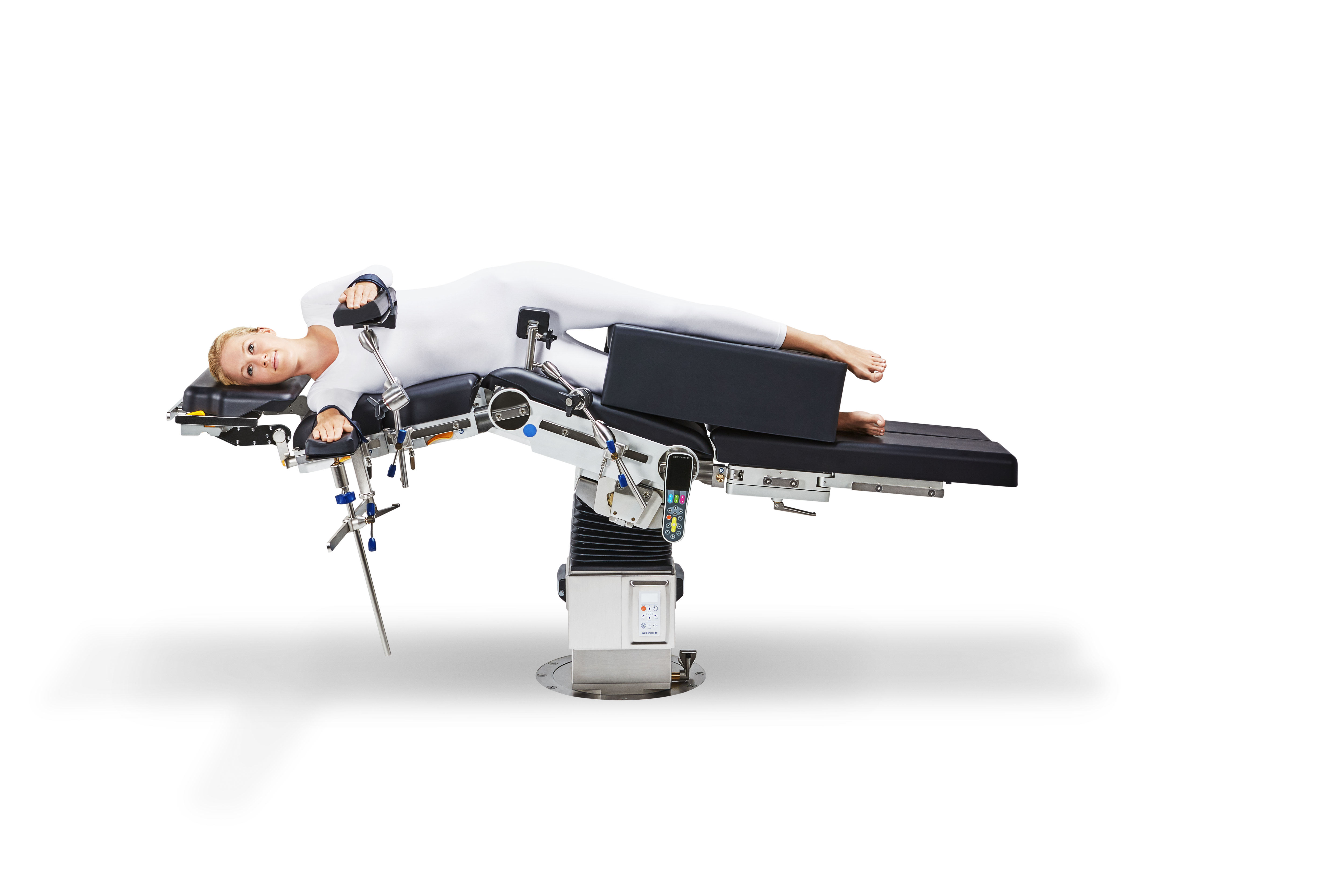 Kidney procedure in lateral position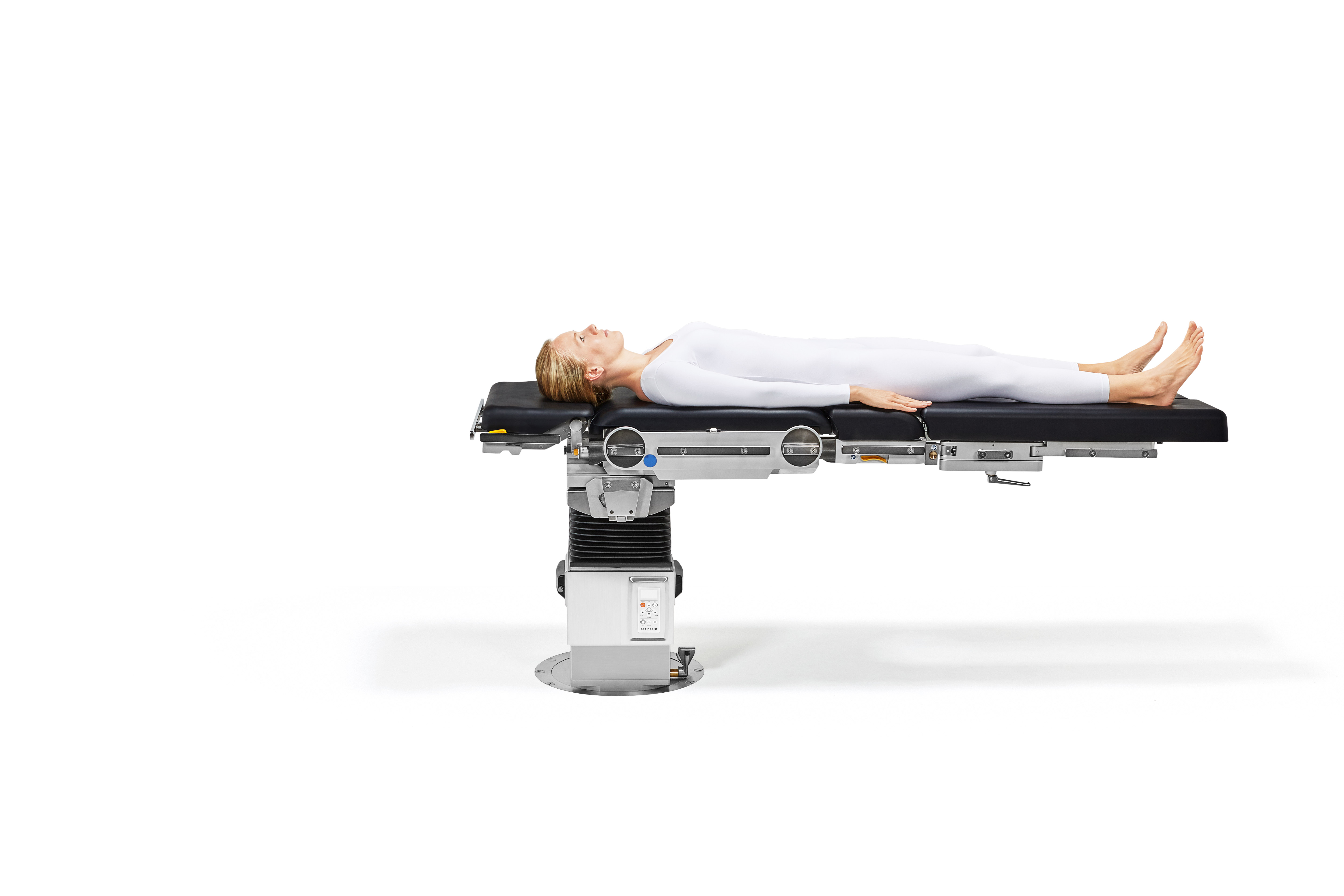 Extended longitudinal shift improves intraoperative imaging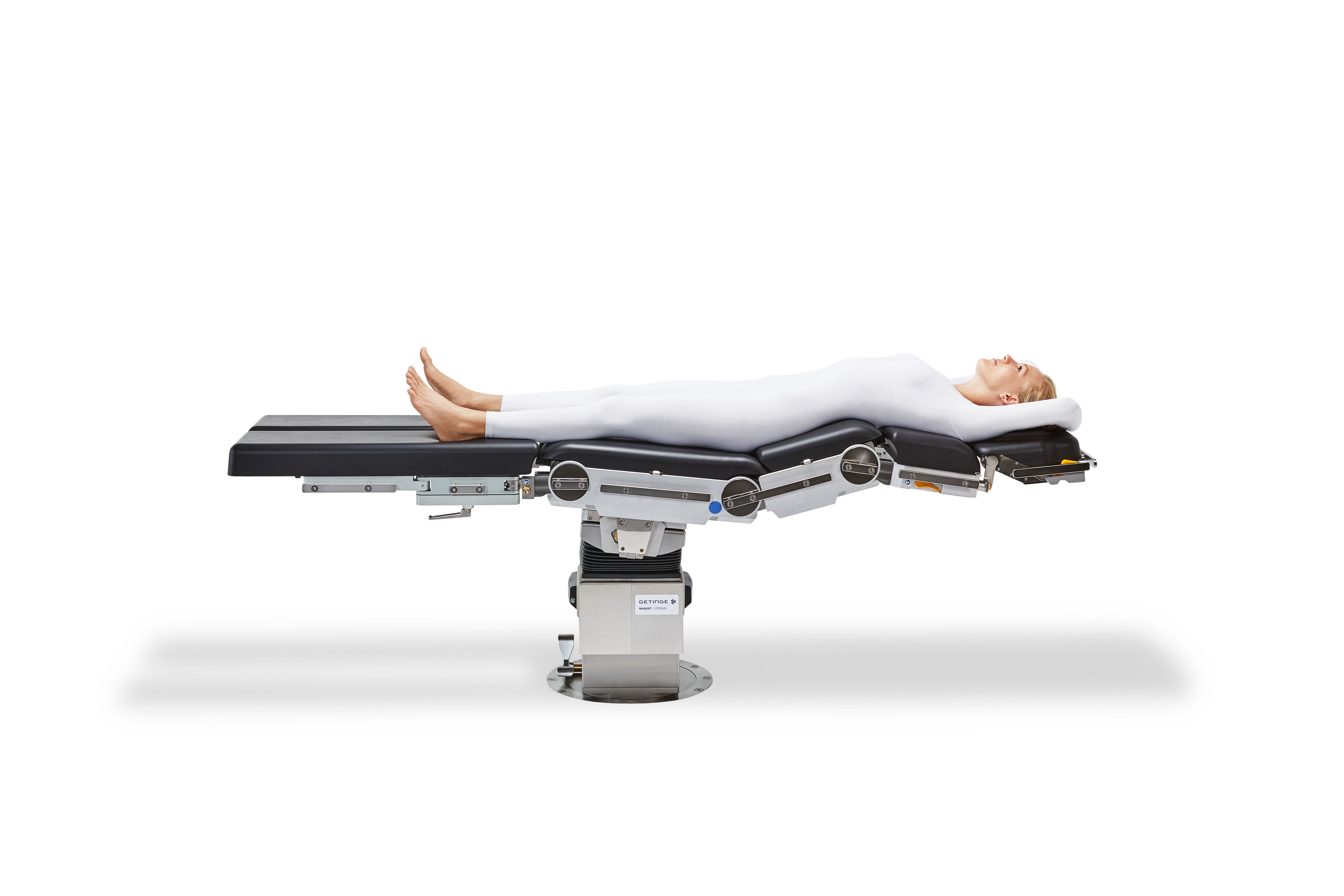 Conventional cholecystectomy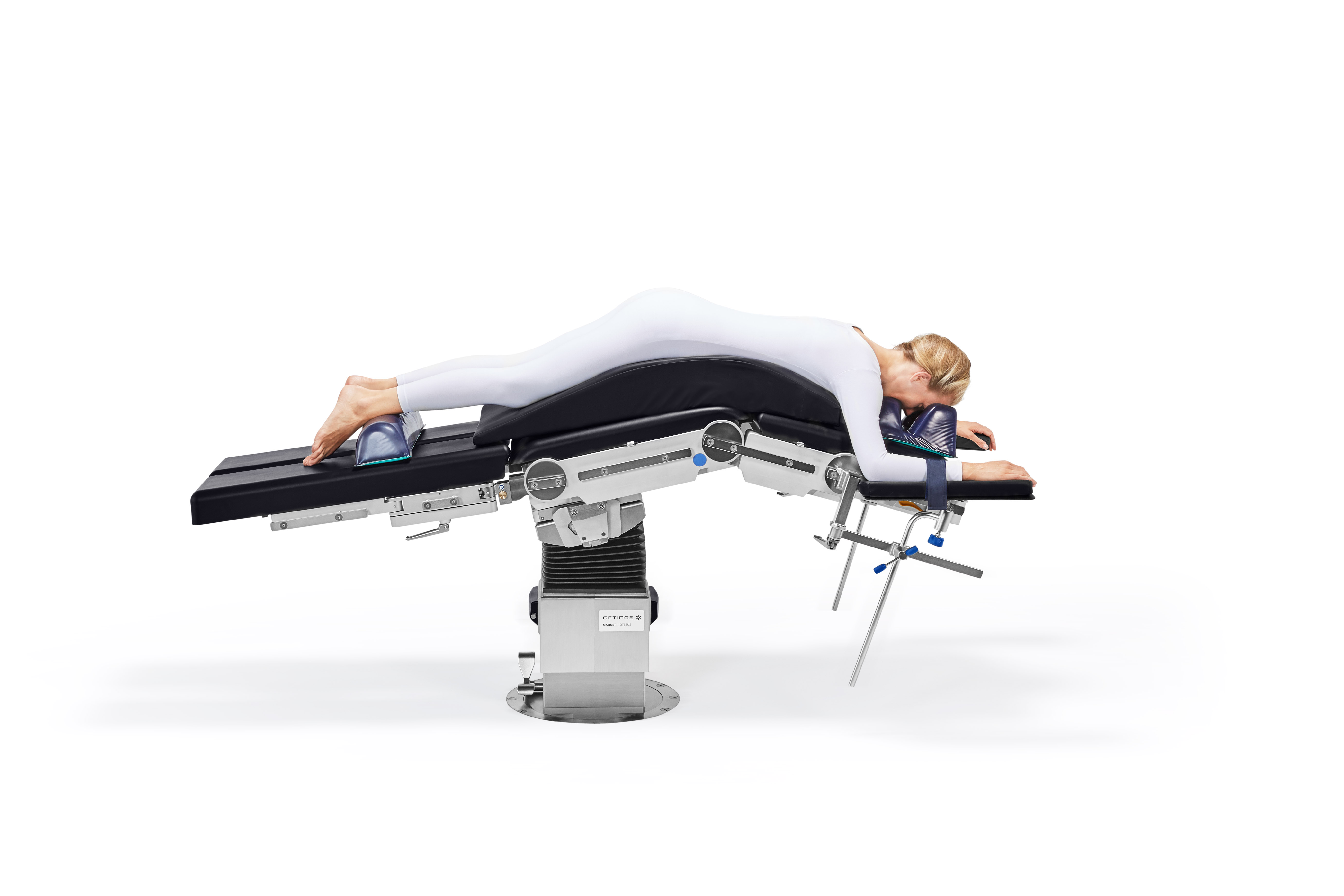 Kidney procedure in prone position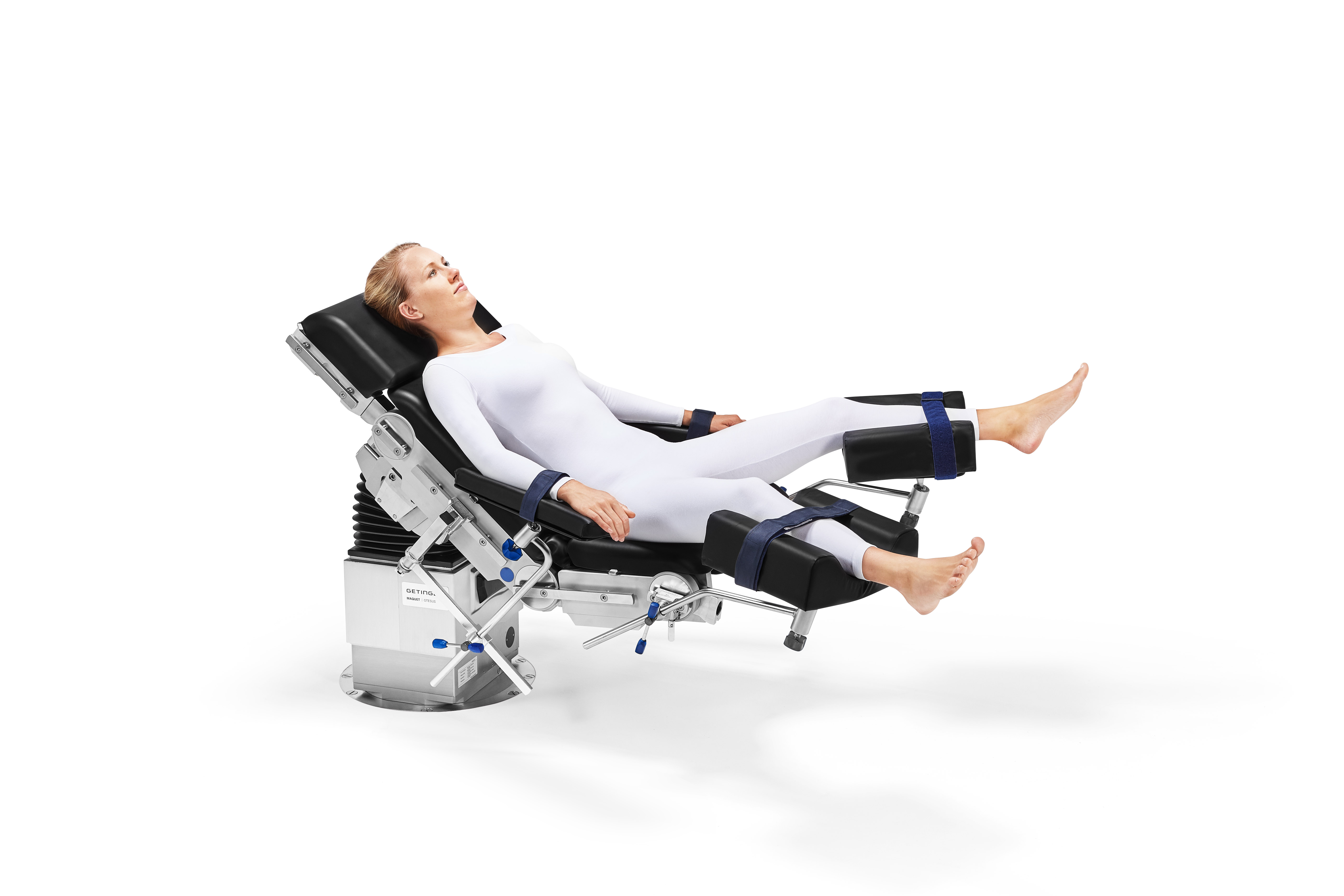 Laparoscopic bariatric surgery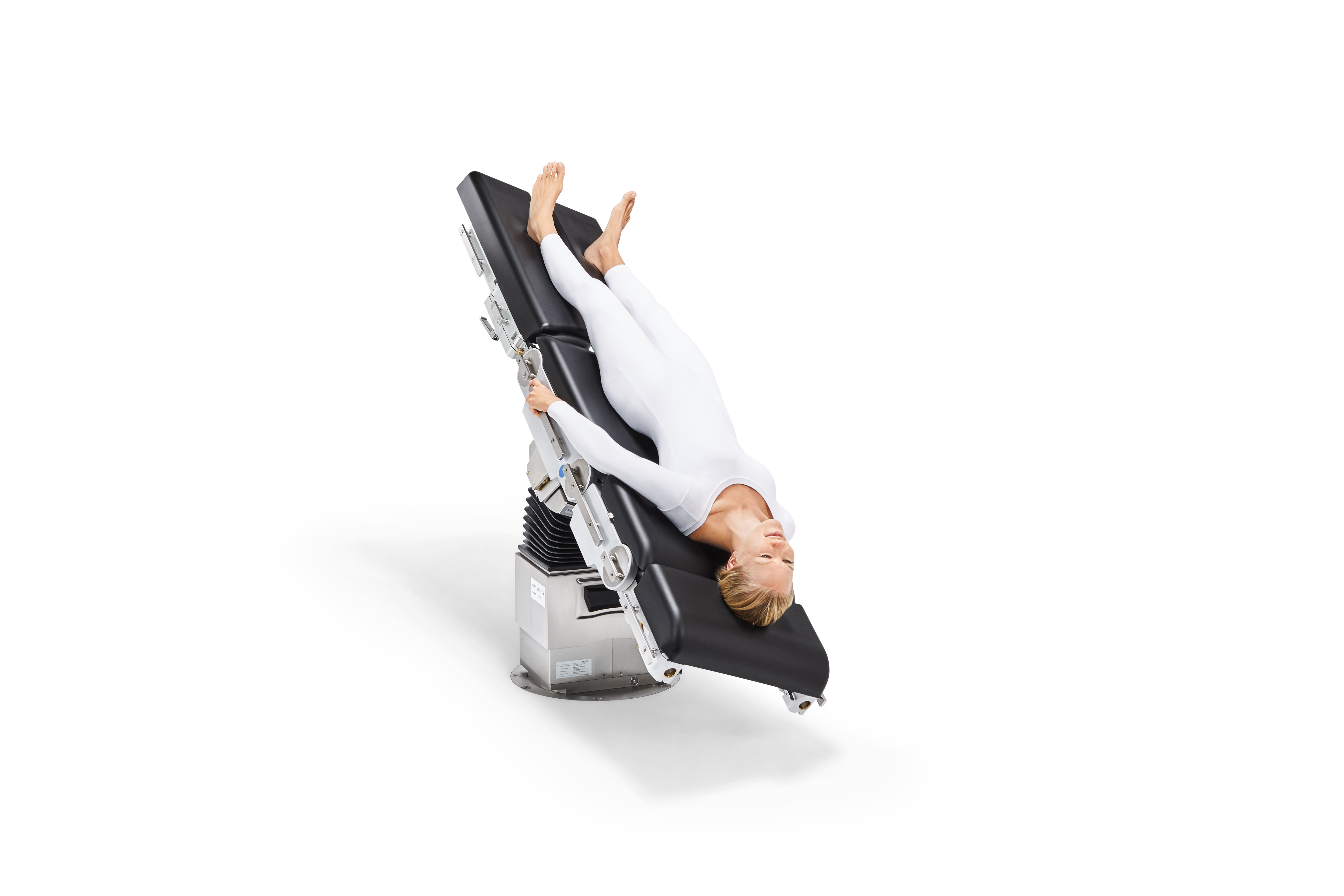 Laparoscopic bariatric surgery
Accessories for Maquet Otesus
Marketing Sales - Brochures
A reliable operating table system that improves OR utilization
Marketing Sales - Sales Flyer