A multi-functional system
Highly portable, the Cardiohelp System can be rapidly deployed for transport of patients requiring respiratory and / or circulatory support.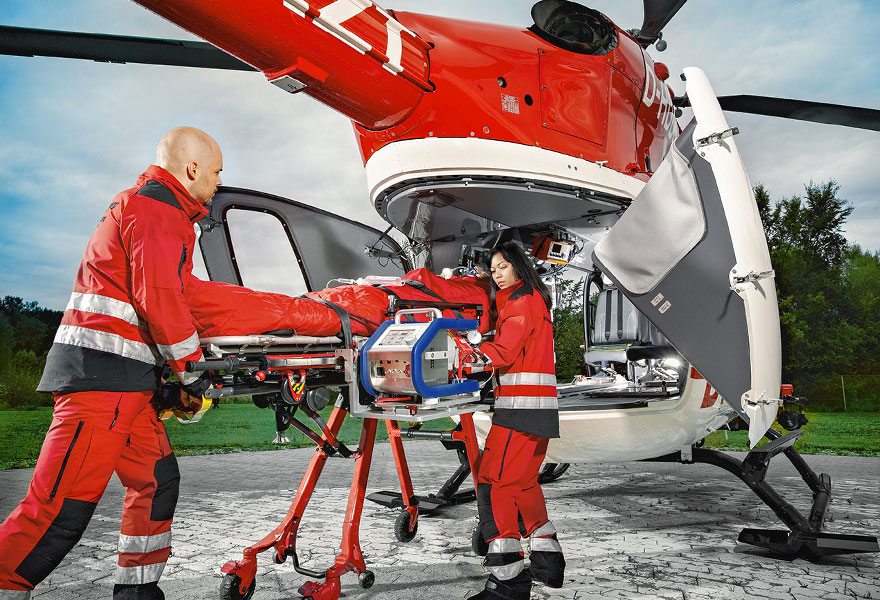 A portable mechanical life support system
Anytime, anywhere
The Cardiohelp System can be easily and rapidly deployed at the bedside or in the field, offering patients portable, seamless heart-lung support.
For use in multiple settings
The Cardiohelp System can be used for intra-hospital and interhospital patient transportation in vehicles such as ambulances and aircraft as well as for emergency use outside a clinical environment.
Key features include:
Secure installation in any ambulance and various helicopter types
Integrated lithium-ion batteries provide at least 90 minutes of operating time when fully charged
A broad variety of transport-specific accessories are available, including mobile holder and base plate for secure fixation of the device or trolley system.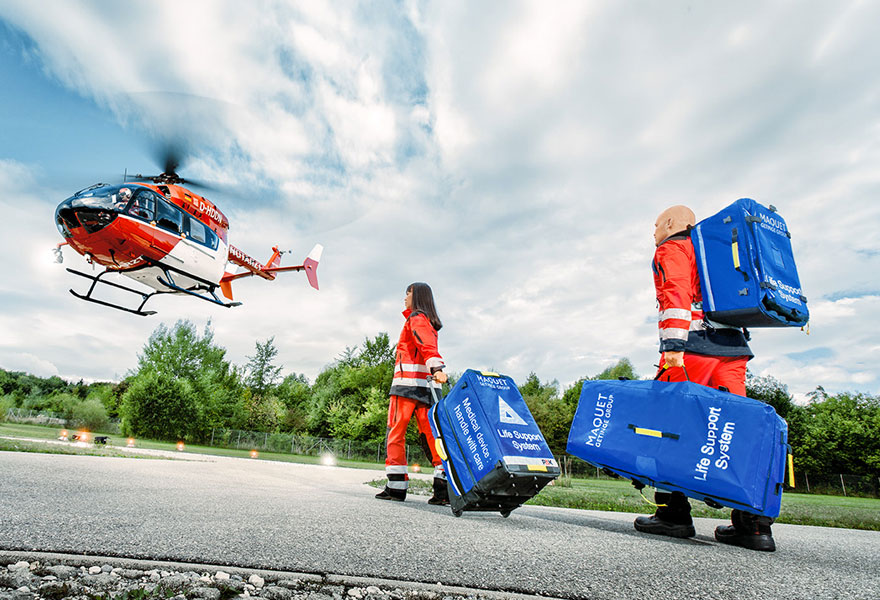 A multi-functional system
A multi-functional system
1. Display
User-friendly touchscreen
2. Battery pack
For at least 90 min
3. Cardiohelp Emergency Drive Holder
4. Protective frame
Protects the Cardiohelp Device against crushing
5. Adjustment of flow and speed
-
6. USB port type A and USB port type B
10. Main power supply
Together with the DC device socket, the Cardiohelp device can be used with common voltages and currents worldwide.
11. Alarm output
e.g. ward call
Application
Circulatory Support
Pulmonary Support
Disposable
HLS Set Advanced 5.0
HLS Set Advanced 7.0
HLS Set Advanced 5.0
HLS Set Advanced 7.0
Place
Cath Lab/ER/OR
ER/OR
Duration of Use
Up to 6 Hours
Up to 6 Hours
Flow
HLS 5.0: 0.5-5.0 l/min
HLS 7.0: 0.5-7.0 l/min
HLS 5.0: 0.5-5.0 l/min
HLS 7.0: 0.5-7.0 l/min
Transport
Air/ground
Air/ground