One Solution for All Surgical Needs
The superb Maquet Magnus Operating Table System is the result of systematic improvements to offer the best support for the patient and surgical team. Maquet Magnus offers unique X-ray conditions and ensure clear access to the operating field.
Remarkable flexibility and stability
Utmost modularity
Ergonomic working conditions
Innovative transfer concept
User-friendly control units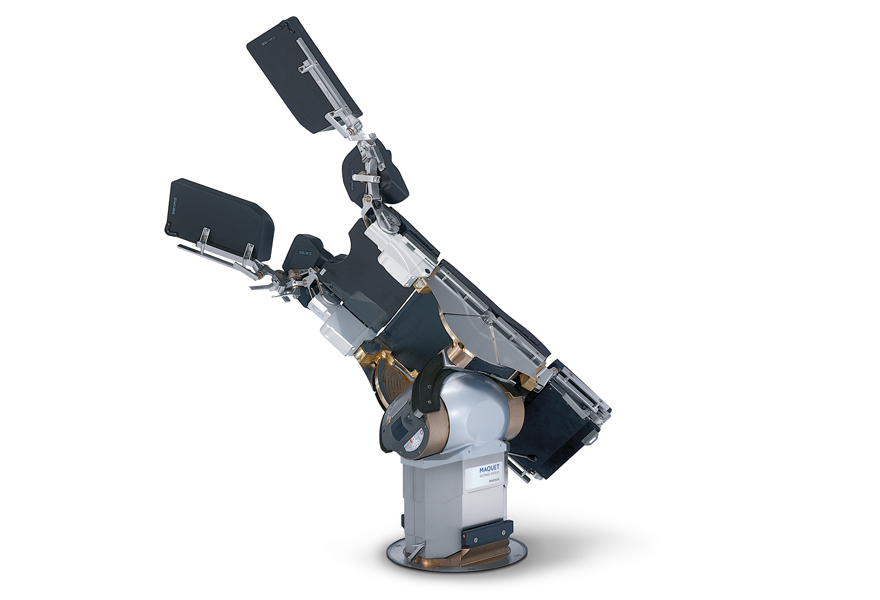 Positioning Possibilities
With combinable inclination angles of up to 80° and tilt angles of up to 45°, Maquet Magnus enables extreme positioning possibilities.
In addition, the lifting range from 21 to 48.6 in (535 to 1235 mm) with the stationary column provides an ideal working height for the surgical team.
Extreme flexibility and stability
The Maquet Magnus Table Column enables extreme positions and optimum access. Its slope saddle technology allows for inclination angles up to 80° with simultaneous tilt angles of up to 45°. It ensures stable lateral tilt and provides optimum radioscopy conditions as well as free access to the surgical field, with a corresponding working radius.
Extreme modularity
Thanks to a wide variety of modules, the Maquet Magnus OR Table System can be set up easily for all kinds of surgical interventions. Due to its extreme working radius, Maquet Magnus achieves a position where the patient is almost "floating", providing optimum radioscopy possibilities and free access to the surgical field from all directions.
Ergonomic working conditions
With its extreme height adjustment, Maquet Magnus contributes to relaxed working conditions while standing or sitting, even during longer operations.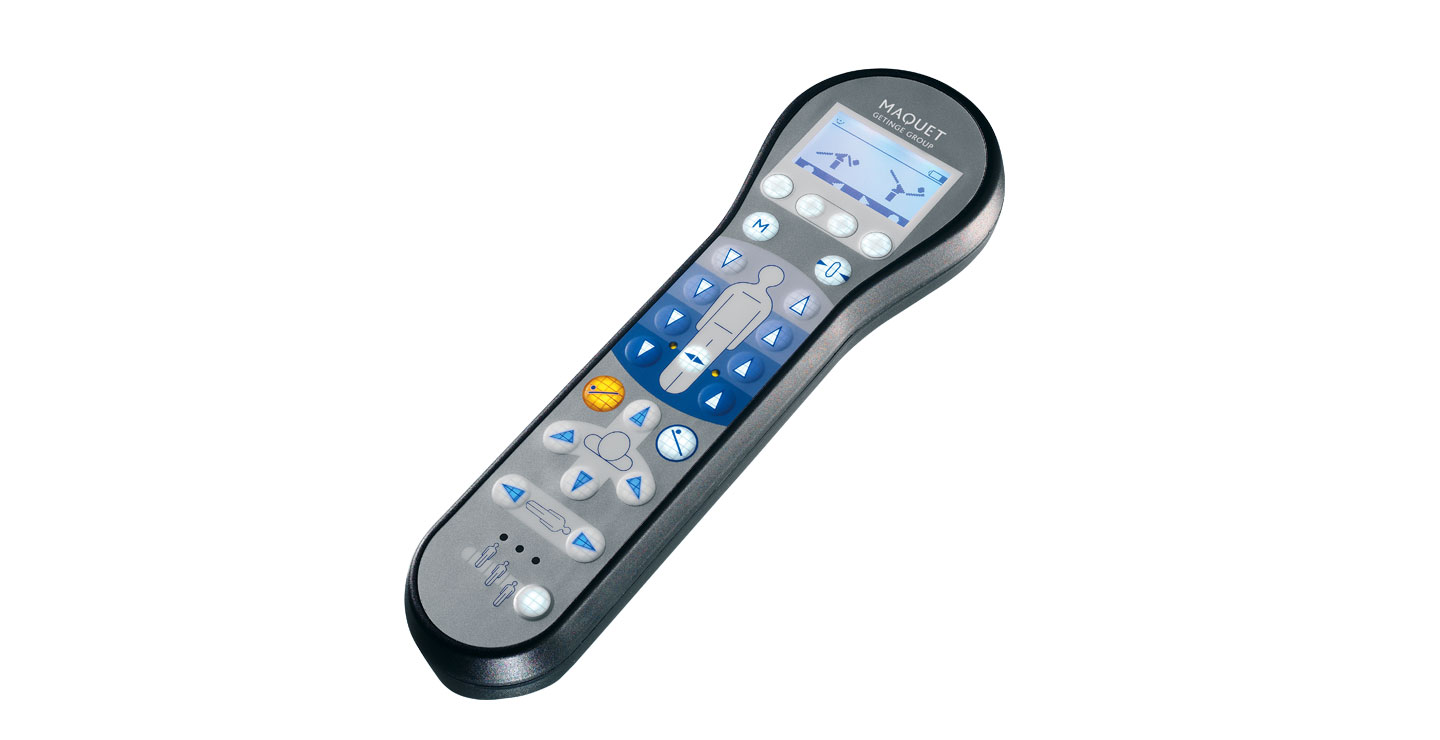 User-friendly handheld control
The hand control is fitted with a display and self-explanatory icon keys. Up to ten different patient positions can be stored and recalled from the integrated program memory. The display, which is available in various language versions, provides useful status information and indicates possible operating faults. The backlit key panel ensures comfortable and safe working in a darkened operating theatre.
Carbon fiber table tops
In addition to the modular universal table top, the Maquet Magnus product range also includes the carbon fiber table tops. These plates are made of radiolucent carbon fiber composite material, which allows a 360 ° imaging without metal elements that could influence the image. Depending on the model, the longitudinal adjustment provides 84.6 inches of 360 degree imaging. With the motorized lateral adjustment, also used in direct combination with the motorized longitudinal adjustment, body structures can be monitored in the image intensifier without having to change the C-arm, e.g. for angiography. The carbon fiber table tops of Maquet Magnus are ideally suited to the Hybrid OR. Synchronized movements of x-ray equipment and Maquet Magnus improve radiological results due to the retention of the isocentre.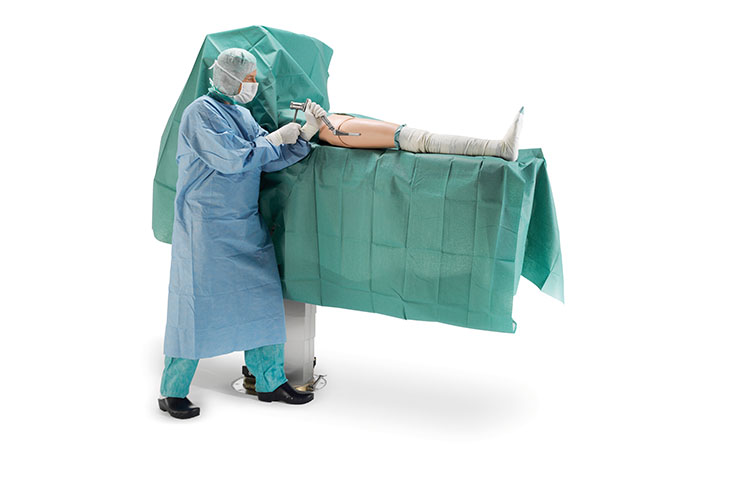 Maquet Magnus is made for perfect positioning
Maquet Magnus is suitable for all surgical interventions. Because of its perfect height adjustment, the operating table helps surgeons to relax during their work, whether sitting or standing. Wide adjustment ranges, especially for Trendelenburg and lateral tilt, simplify and optimize patient positioning.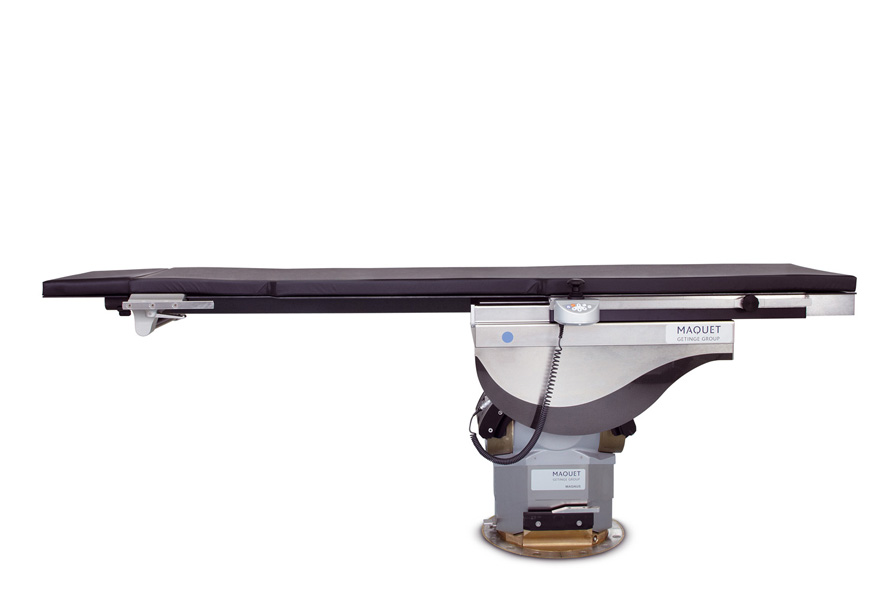 Interventions in the Hybrid OR
The carbon-fiber table top of Maquet Magnus supports interventions in endovascular and cardiovascular surgery as well as in interventional radiology, orthopedics and traumatology. The table top provides 360° radiolucency and therefore gives optimum X-ray access. When deployed for interdisciplinary use, the diagnostic requirements of neurosurgery, orthopedics and traumatology are also covered. Available interfaces to common imaging parties offer perfect synchronization with imaging equipment.
For more information, please see Hybrid Operating Room Solutions.