On your side to improve patient care
We support you to spend less time focusing on equipment and more time on what matters most – caring for patients. We help you deliver world-class care with a range of new and innovative procedures. Our comprehensive offering is based on decades of real-world experience in operating rooms. Strong customer relationships and a deep understanding of OR environments have helped us deliver easy-to-use solutions for your OR.
Our solutions to your needs
Ambulatory Surgery Center (ASC)
Clinics and ambulatory surgery centers have unique needs. That's why Getinge has built a team of experienced project specialists who can help you design an efficient facility using high-quality medical products. We use our expertise to build new or re-equipped facilities to meet your unique requirements. From project planning and process optimization through commissioning and maintenance, Getinge delivers exactly what you need: perfectly coordinated equipment and reliable service from a single source. Let us help you provide excellent medical care.
Hybrid Operating Room
A single surgical workspace that combines imaging equipment with a multifunctional surgical table. It allows clinicians to diagnose and treat in a single location, helps reducing risk and delays, participate in improving patient safety, and ultimately reducing costs. The surgical table top not only meets the needs of multiple surgical disciplines but also balances the need for panning when used for advanced imaging.
Fluorescence Imaging
FLUOPTICS® opens new applications for fluorescence imaging. Our solutions combine autofluorescence and fluorescence imaging to provide surgeons with an unprecedented information of autofluorescent tissues location and perfusion assessment. Surgeons are guided with greater precision, efficiency and safety. FLUOPTICS® products are developed and validated by international clinical teams in response to their patients' needs and health challenges.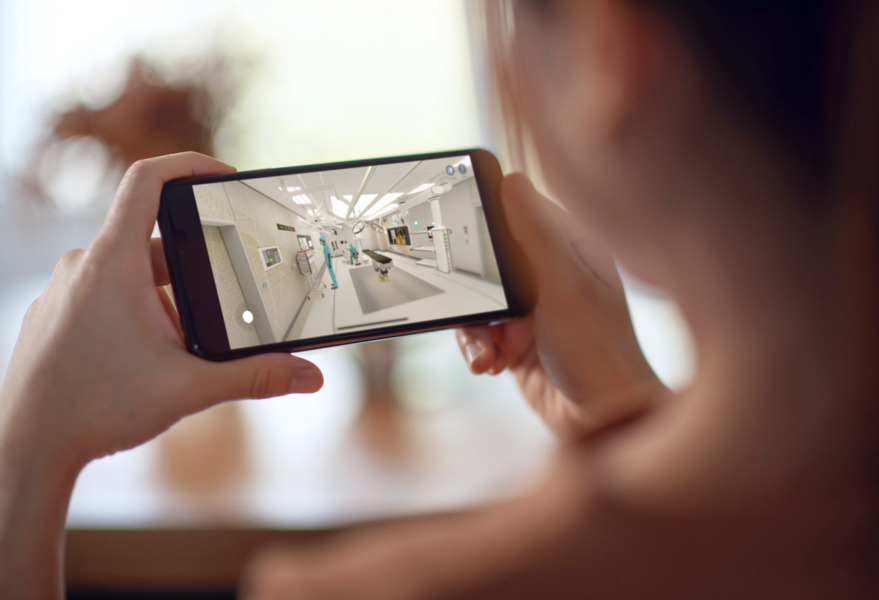 Freedom to explore operating room solutions: Getinge Virtual Hospital
Did you ever wonder how technologies move, respond, and work together in a hospital environment? The innovative Getinge Virtual Hospital allows you to move freely throughout the hospital, exploring what matters most to you. You can move items, rotate for comprehensive views, or click for detailed product information. It's the next best thing to a real hospital experience.
Getinge offers a broad range of products and services to support your hospital staff and improve patient care. Whether you're interested in equipment, software, or a comprehensive overhaul of your facility, Getinge Virtual Hospital will show you product details in a broader context.
Use this tool to learn how Getinge can improve your workflows and help you deliver better patient care.