The Vasoshield Pressure Controlling Syringe helps protect vessels from overdistension and potential endothelial damage during standard surgical preparation steps.
The internal "flushing" pressure is limited when harvested vessels are irrigated with Vasoshield in preparation for use in coronary artery bypass graft (CABG) surgery.
The Vasoshield Pressure Controlling Syringe delivers the benefits of controlled vessel distension, while minimizing the risk of endothelial damage.
The Vasoshield Syringe provides the flexibility of three pressure settings – 150, 250, or 350 mm Hg. Starting with the lowest pressure setting, users can adjust pressure in controlled increments to accommodate any situation or vessel type.
As the plunger is compressed, a small amount of solution may escape from the back of the Vasoshield syringe.
Each order contains 5 Vasoshield Syringes per package.
Uncontrolled pressure can cause overdistension that jeopardizes conduit quality.
Vessel flushing is a common procedure that both harvesters and surgeons perform while preparing a conduit for coronary artery bypass graft (CABG) surgery. When a vessel is prepared for use as a bypass graft, it is typically distended manually with a simple syringe. This method does not permit control of the pressure inside the vessel, which can sometimes reach as high as 600 mm Hg. Although some distension may be beneficial, flushing with uncontrolled pressure can result in injury to the endothelium – and the resulting injury correlates directly with the risk of graft failure[1], [2].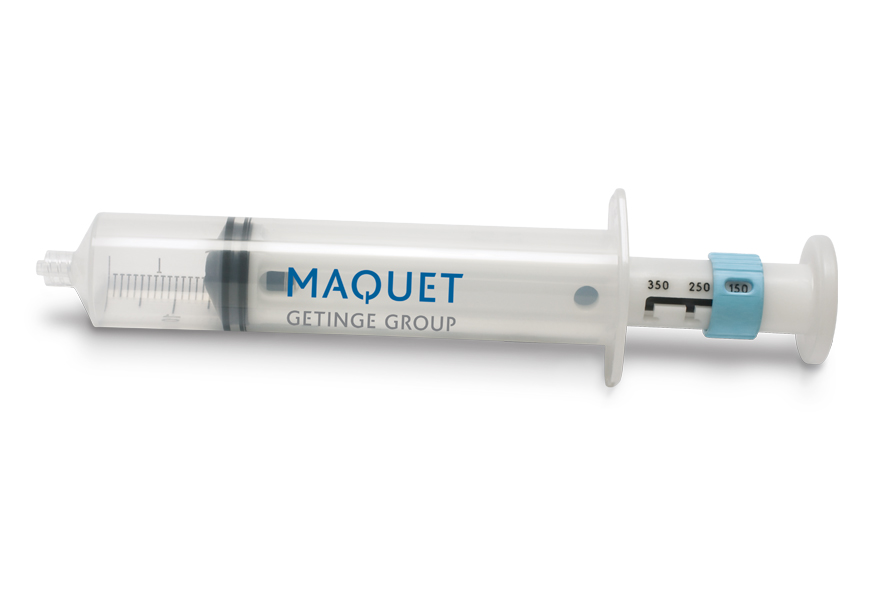 Conduit quality
More control over vessel distension enables the surgical team to have more control over conduit quality.
Although many clinicians recognize the risks of overdistension and use techniques to minimize its occurrence, it is very difficult to detect the actual pressures being used. Methods for histologic measurement of vessel integrity cannot provide the real-time data needed[3].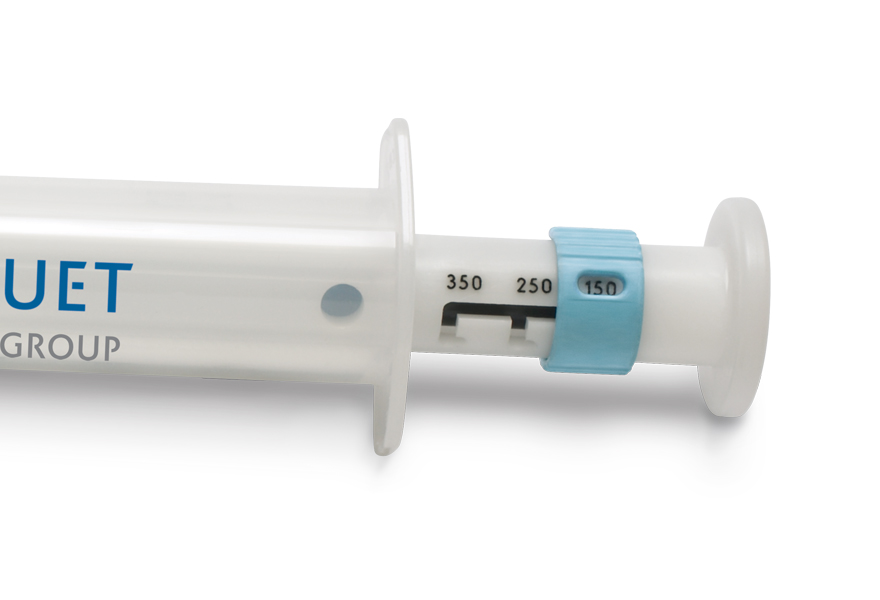 Vessel integrity
Avoiding excessive pressure and limiting distension helps to maintain internal vessel integrity, which has been demonstrated to be an important factor affecting conduit quality and long-term graft patency.
Vessel flushing with uncontrolled pressure can result in injury to the endothelial lining of the conduit[1], [2]. Maintaining endothelial integrity preserves functions that enable vessels to maintain blood flow and resist occlusion[3], [4].
Now harvesters and surgeons can have consistent control over vessel distension – at any stage of the preparation process. Designed specifically to deliver the benefits of vessel flushing while controlling pressure, the Vasoshield Pressure Controlling Syringe effectively minimizes the risk of overdistension.