Ensuring product, process and operator safety
Automated rapid transfer port with external opening
Improved operational efficiency
Greater degree of connectivity and transparency
Complete traceability and data analysis
New levels of flexibility
Easy to use, user-friendly

Supporting the pharma industry transition
Pharma 4.0 is changing the way goods are produced, and the pharmaceutical industry is now increasingly shifting to integrated, automated, and gloveless production systems. The DPTE-EXO is an externally operated rapid transfer port and provides a secure, reliable, and automated transfer solution.
Watch the full video and discover how the DPTE-EXO with Sleeveless DPTE-BetaBag supports your efforts to build a safe, automated, and compliant filling line.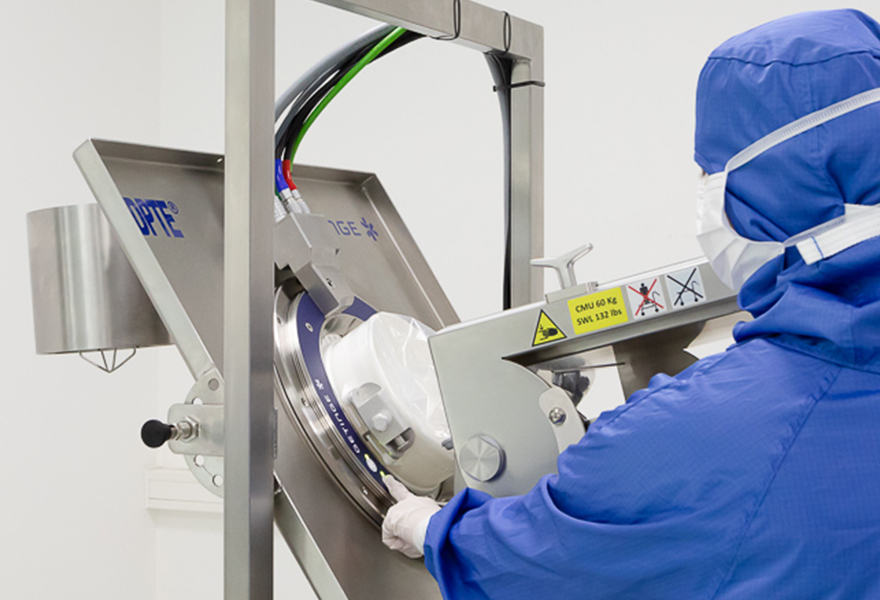 Automated processes improve operational efficiency
Operational efficiency with reduced manual intervention.
External gloveless transfer reducing risk of contamination.
Full control of all movements.
Configurable opening angles and funnel positions to your needs.
Repeatable movements for better control of the line and process environment.
Be certain with full data traceability
Track operational quality and monitor RTP's status, operating hours, faults, and other events to provide a comprehensive view of operations for auditing and preventive maintenance.
Configured to receive information from the filling line such as an emergency stop and/or safety light curtains.
Full connectivity with a connection to the filling line's HMI.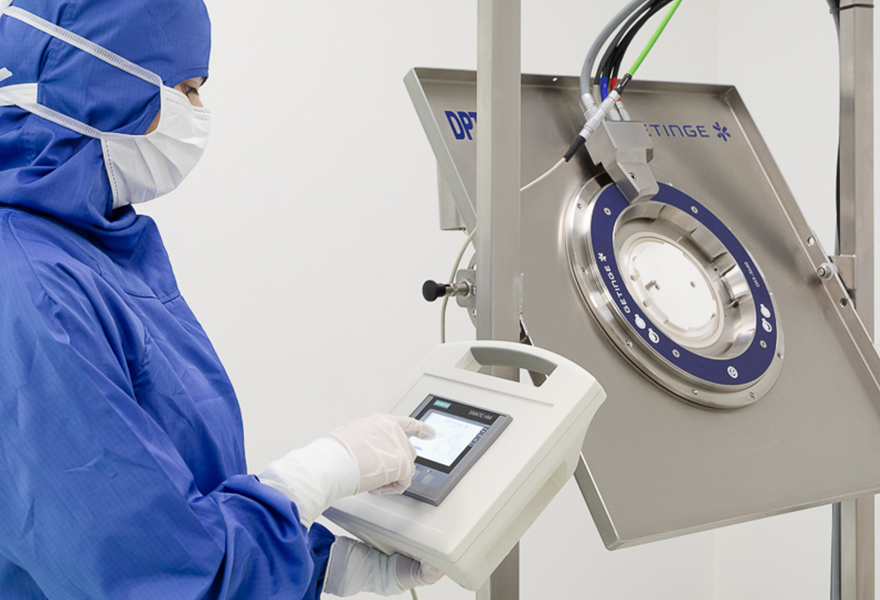 Creating new levels of flexibility
With the Portable Maintenance Display:
Gain full command of the fine-tuned door and funnel positioning.
Adjust the DPTE-EXO's movements (speed, angles) according to your specific needs.
Switch the alpha port from automatic to manual mode for corrective or preventive maintenance or in case of an emergency.
Externally operated and automated rapid transfer port
1. Easy to use buttons
• Requires minimal training for your operator to take advantage of its full potential. <br> • Buttons are duplicated on the left and on the right for better ergonomics and adaptation according to the selected configuration.<br> • Buttons are equipped with bicolor LEDs to indicate the different status and alarms.
2. Specific programs
Specific pre-set button combination allows for appropriate positioning of: <br> • the door for the bio-decontamination cycle, <br> • the funnel for its dismounting for the sterilization process.<br> Door and funnel positions are adjustable with the optional portable maintenance display.
3. Increased safety
• Designed for product, process, and operator safety. <br> • Prevents unauthorized or accidental access. <br> • New patented safety feature to reduce the risk of contamination: each of the 4 lugs of the Beta flange will be individually detected during the connection to avoid any improper connections. <br> • In the event of a material obstacle, automatic movements are interrupted.
4. Optional dismountable funnel
• Protects the alpha/beta seals. <br> • Patented FAST system (Funnel Add-on for Smooth Transfer) for efficient component transfer to the process area. <br> • Easily, safely, and quickly released with one hand. <br> • Assembly fully autoclavable. <br> • Predefined funnel fittings to either open the Alpha inner door from the left or from the right side.
Extensive validation to ensure compliance
Thorough validation process including:
leak testing,
endurance testing,
shipping testing,
particle generation,
and H₂O₂ resistance testing.
Designed to be integrated into an architecture in accordance with:
FDA 21 CFR part 11
Annex 11
GAMP 5 Compliant
Supporting the need for gloveless processes
Getinge has developed a sleeveless DPTE-BetaBag reducing human intervention in the aseptic environment. The sleeve has been removed and its protective functions are now replaced by the funnel.
The DPTE®-EXO with Sleeveless DPTE-BetaBag® is a fully validated and interlocked system. Together with the dismountable funnel, it offers a total transfer solution from the outside of the aseptic filling area to the processing area.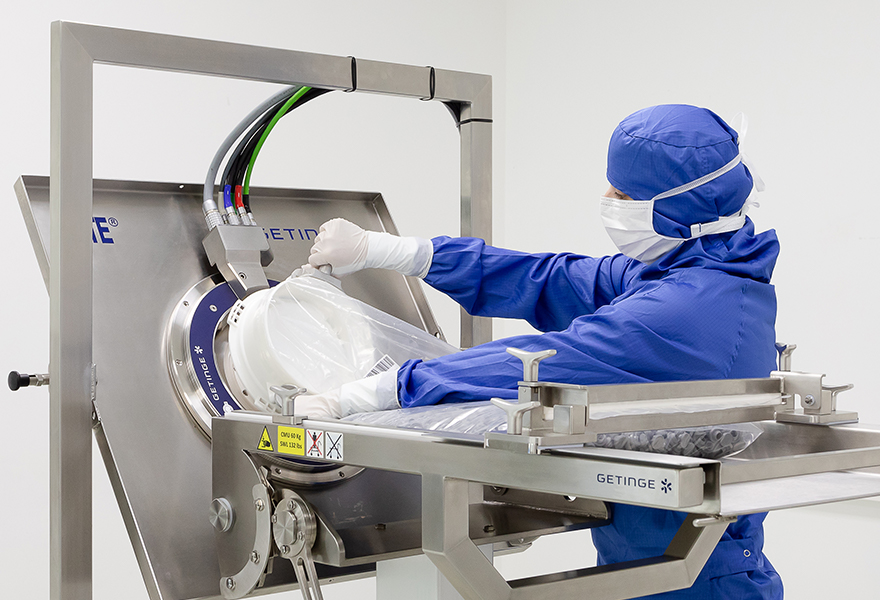 Sleeveless DPTE-BetaBag
Beta and alpha ports join to form a single validated unit when connected by rotation. The FDA-compliant silicone lip seals form a secure connection, allowing the door to be safely opened without breaking sterility or containment. The manually connected sleeveless DPTE-BetaBag comes in RTS (Ready to Sterilize) or RTU (Ready to Use) depending on the bag material for minimum human intervention, increased efficiency, simplified component transfer, and reduced risk of contamination.
Optional dismountable funnels
The DPTE-EXO is the first and only RTP (Rapid Transfer Port) with a fully integrated funnel. To meet specific needs we offer a long and a short funnel. The funnel protects the alpha/beta seals and its patented FAST system (Funnel Add-on for Smooth Transfer) allows efficient component transfer to the process area (feeder/bowl). It can be positioned above or below the DPTE door. The dismountable funnel can be easily, safely, and quickly released with one hand, and the assembly is fully autoclavable.
Marketing Sales - Brochures
Automated and externally operated alpha port for secure and optimized aseptic transfer

The original Rapid Transfer Port