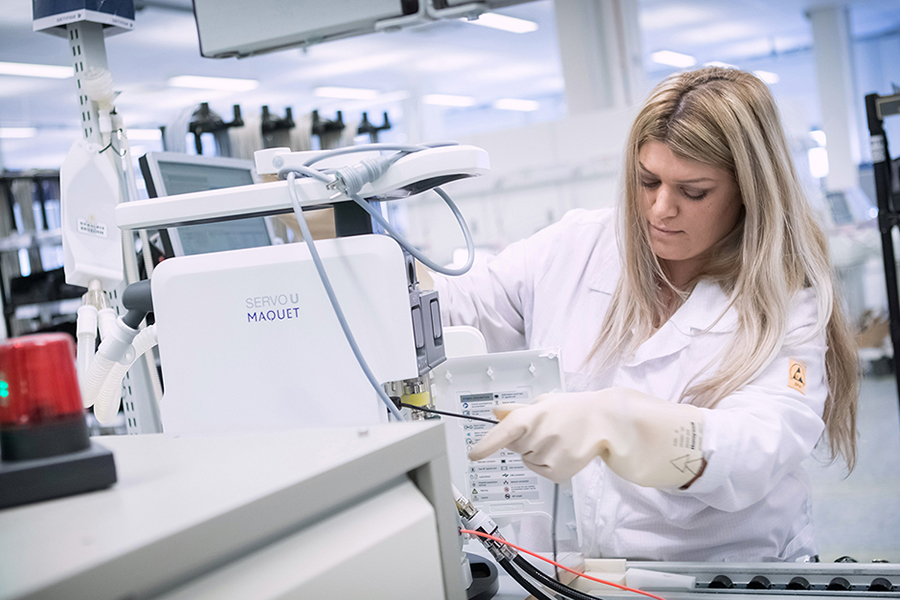 On a mission to build ventilators that save lives
When her sister-in-law suffered multiple organ failure and couldn't breathe on her own, Gabriella Gabrielsson decided she somehow had to get into the lifesaving business. Meet Getinge's operator whose mission it is to build ventilators that provide life support for critically ill patients, every single day.
It was one day in the morning, seven years ago, that Gabriella Gabrielsson got the call: her dear sister-in-law had suddenly gone into a coma due to multiple organ failure.
"Only five percent of her heart functionality was working properly. She was treated with extracorporeal membrane oxygenation (ECMO) therapy and was on ventilation since she couldn't breathe on her own," recalls Gabriella.
The coming two weeks were some of the hardest in Gabriella's life, going back and forth between hope and despair.
"Without that machine, the ventilator, she would not have survived. It came to mean a lot to all of us, and I realized how crucial it can be to maintain human life," explains Gabriella.
And it did make a difference, a huge difference. Gabriella's sister-in-law finally woke up from coma.
"She still had to go through many steps of illness and recovery as they found out the multiple organ failure was caused by a rare and difficult disease. But one critical part was over," says Gabriella.
A few years later, when there was a job opening position at Getinge's factory in Solna, Sweden, Gabriella didn't hesitate.
"This is where the critical care ventilators called Servo are being built, with models covering all types of patient categories. I love challenges and applied for the job. Luckily I got it!"
Today, Gabriella has worked at Getinge for more than three years, and she loves what she is doing.
"We build machines from start to finish that save people's lives. Considering that, I have the best job in the world. When I assemble the ventilators I always have my sister-in-law in mind, how she fought for her life with the support of the machine. It saved her, and today she is doing well."
Gabriella adds:
"The ventilators can help so many people, and right now in the troubling times of the coronavirus when people are in need of intensive care, this job is even more crucial. There is a big demand for ventilators and we do all we can to keep the speed up and get the job done here in the factory, so that more people can get the help they need in order to survive."
Learn more about Getinge's easy to use critical care ventilators