Optimizing patient transfer
Effective patient transport requires staff to safely maneuver operating tables in
tight spaces and crowded and long hospital corridors.
Conventional solutions require staff to use their own physical strength to move patients and which can lead to physical pain.
To answer to those challenges Getinge has developed a motorized table top transporter.

Technical specifications and adjustment options
Height (working height to upper surface of hard paper plate)
570–740 mm / 22–29"
Trendelenburg / Reverse Trendelenburg
+15° / -15°
Operation
Sensor Drive Handle
Compatibility columns**
1160.01A0 / B0 / C0 / D0
1150.01AX  / BX / CX
1150.02A0  / B0 / C0
Table top compatibility*
All 1140 / 1150 / 1160 table tops
Maximum overall load
Up to 380 kg / 838 lbs
Lithium-ion battery capacity

Approx. 3 working days
(depending on the number of surgical procedures per day)

Velocity
0–4 km/h
Castors diameter
150 mm / 5.9"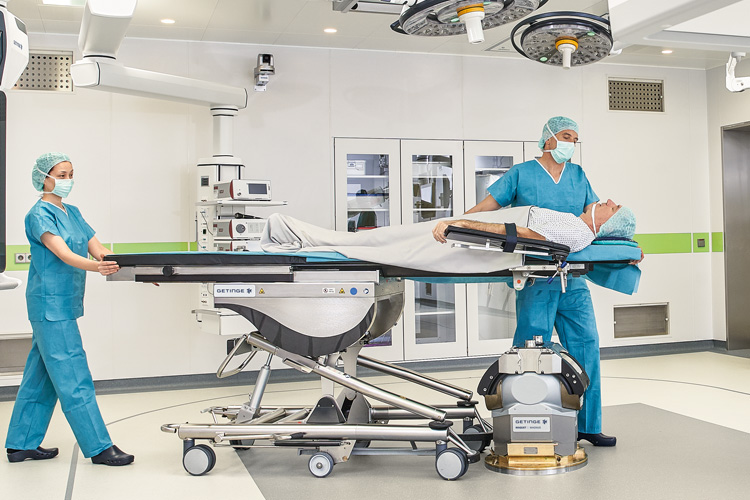 Maximum maneuverability with minimum effort
Rotating the transporter handle engages the drive, and the degree of rotation adjusts the speed, allowing for precise, controlled movements. The transporter comes to a halt when the handle is released. Easy to use, as it requires just one hand to operate. A lateral force sensor registers the user's arm movements, and recognizes the desired direction of travel. The transporter is also compatible with various mobile columns**, and its telescopic handle can be adjusted for table tops of varying lengths.*
Marketing Sales - Brochures
Maquet Operating Tables Solutions