Complete data management for your bioprocess
Optimize your workflow via the integrated planning tool and Design of Experiments module
Combine all data, derived from various connected analytical devices, in one single software tool
Connect multiple laboratories to a central database to simplify process data comparison
Data management and data analysis is key for the future of R&D and process development in the pharmaceutical industry. Lucullus® PIMS software allows the user to monitor and control bioprocesses and offers an extensive toolbox for analyzing process data across platforms. Process information can be gathered based on data generated in different brands of bioreactor types and in a wide range of different cultivation volumes. The combination of the software with the broad range of Getinge bioreactor systems offer the user a unique system for validatable fast track development and basic research.
One integrated software solution for the whole bioprocess workflow
One integrated software solution for the whole bioprocess workflow
1. Idea & Recipe
Create your instruction sequences for simple or advanced processes and use them within multiple processes. Integrate sequential calculations in your instructions based on time and events. And receive notifications, emails, or SMS alarms in case your process deviates from your predefined limits.
2. Planning
Make optimal use of your shared resources using integrated scheduling tools. Maximize your experiment efficiency by integrating third party DOE modules into your planning process. Manage samples efficiently with overall strategies to coordinate sampling, sample tube preparation and barcoding. And retrieve data automatically from at-line analyzers.
3. Preparation
Automate culture media creation and keep track of the availability of culture media in your storage. Optimize the availability of raw materials in your storage and get more insight by keeping track of raw media components used in your culture runs.
4. Execution
Execute a process based on a predefined recipe or planning. Start several bioreactors in parallel and monitor them simultaneously. Store process data in a safe and industry standard Oracle database and make well informed decisions by comparing multiple processes simultaneously. Evaluate running processes via 3D graphs and tables.
5. Evaluation
Visualize process results by creating advanced graphs and tables. Deepen your insight by using overlay graphs for a set of processes and turn data into useful information using advanced data analysis tools. Automatically verify your process model against your experimental data. Save time and achieve consistency by generating reports automatically.
Flexibility in architectures
Lucullus® PIMS can be supplied in three different architectures:
Stand-alone edition
Used for up to 8 different bioreactors or one multi-bioreactor system on one computer. Access can occur via the local computer or via a remote network link to this computer
Client Server edition
Used for larger Lucullus® installations, when different labs use the software. Data can be stored in a safe location while front end user interfaces are located where they need to be, near the bioreactors
Enterprise edition
Used for even larger Lucullus® installations at different sites. Authorized users can view and compare data between different process development and / or production sites, even in different countries.
Parallel processing
The ever increasing amount of process data generated by more sensors in smaller parallel bioreactor systems needs advanced software to turn this data into useful information. Since all data is stored in one Oracle© database, Lucullus® saves the scientists time. No more need for data export and import between different solutions. Easily run multiple experiments in parallel and generate lots of data.
Digitalization
Lucullus® integrates all data from disparate sources into one platform. The digital warehouse simplifies information management, like sample and media management. It enables advanced process control and paperless documentation.
Specifications
Lucullus® Lite

Lucullus® Standard

Lucullus® Advanced

Lucullus® Expert

General
Operating system
Linux, Windows 7 (64-bit), Windows 10
Communication drivers include
my-Control, in-Control, ez2-Control, i-Control, SUB-Control
Optional Controller drivers
no
Sartorius controllers, Eppendorf Controllers, NBS controllers,
Infors Controllers, Siemens PLC, AMBR, Shaker/Incubators
Optional drivers for analytical instruments
no
Vicell, Nova Flex, Nove pHOx, Flownamics and more
Design of Experiments
no
no
yes
yes
Media preparation planning
no
no
no
yes
Analysis planning
no
no
no
yes
Resource planning (reactors)
no
no
yes
yes
Material Management
no
no
no
yes
Lot preparation
no
no
no
yes
Filling
no
no
no
yes
Storage management
no
no
no
yes
Data Acquisition
yes
yes
yes
yes
Process Control
no
yes
yes
yes
Monitoring and Alarms
no
yes
yes
yes
Sampling planning and management
no
no
yes
yes
Data Retrieval from Analytical Devices
no
yes
yes
yes
Interactive Data Analysis
no
yes
yes
yes
Performance Analysis
no
yes
yes
yes
Automatic report generation
no
yes
yes
yes
21 CFR part 11 compliant
no
optional
optional
optional
GAMP compliant
yes
yes
yes
yes
ISA S88 standard
yes
yes
yes
yes
Password protection
no
no
yes
yes
User definable access rights
no
yes
yes
yes
Remote Access
no
yes
yes
yes
Interactive Synoptic
no
yes
yes
yes
Data management
Data storage system
Oracle database
Oracle database
Oracle database
Oracle database
Minimum sampling frequency
1 second
1 second
1 second
1 second
Sample frequency selectable per parameter
yes
yes
yes
yes
Data reduction definable per parameter
yes
yes
yes
yes
Data export to Excel
yes
yes
yes
yes
Data export in ASCII format
yes
yes
yes
yes
Graph export in graphics format
yes
yes
yes
yes
Dynamic Data Link to other programs
no
yes
yes
yes
On-line calculations
using on-line and off-line data
no
yes
yes
yes
Data display
Line graphs
yes
yes
yes
yes
Maximum number of y-axes per graph
8
8
8
8
Synoptic (P&I diagram)
no
yes
yes
yes
Procedure flow chart
no
yes
yes
yes
Combination of current and
historic data in graphs
yes
yes
yes
yes
Combination of different
active batches in graphs
yes
yes
yes
yes
Measured data table display
yes
yes
yes
yes
Scatter plots
yes
yes
yes
yes
Storage of predefined graph settings
yes
yes
yes
yes
Supervisory control
Programming of time based actions
no
yes
yes
yes
Programming of event based actions
no
yes
yes
yes
Profiling of setpoints
no
yes
yes
yes
Manual setting of local control setpoints
no
yes
yes
yes
Recipe definition
no
yes
yes
yes
Other
Notebook for process and
equipment remarks
yes
yes
yes
yes
Event viewer for system comments
yes
yes
yes
yes
Audit trail
no
optional
optional
optional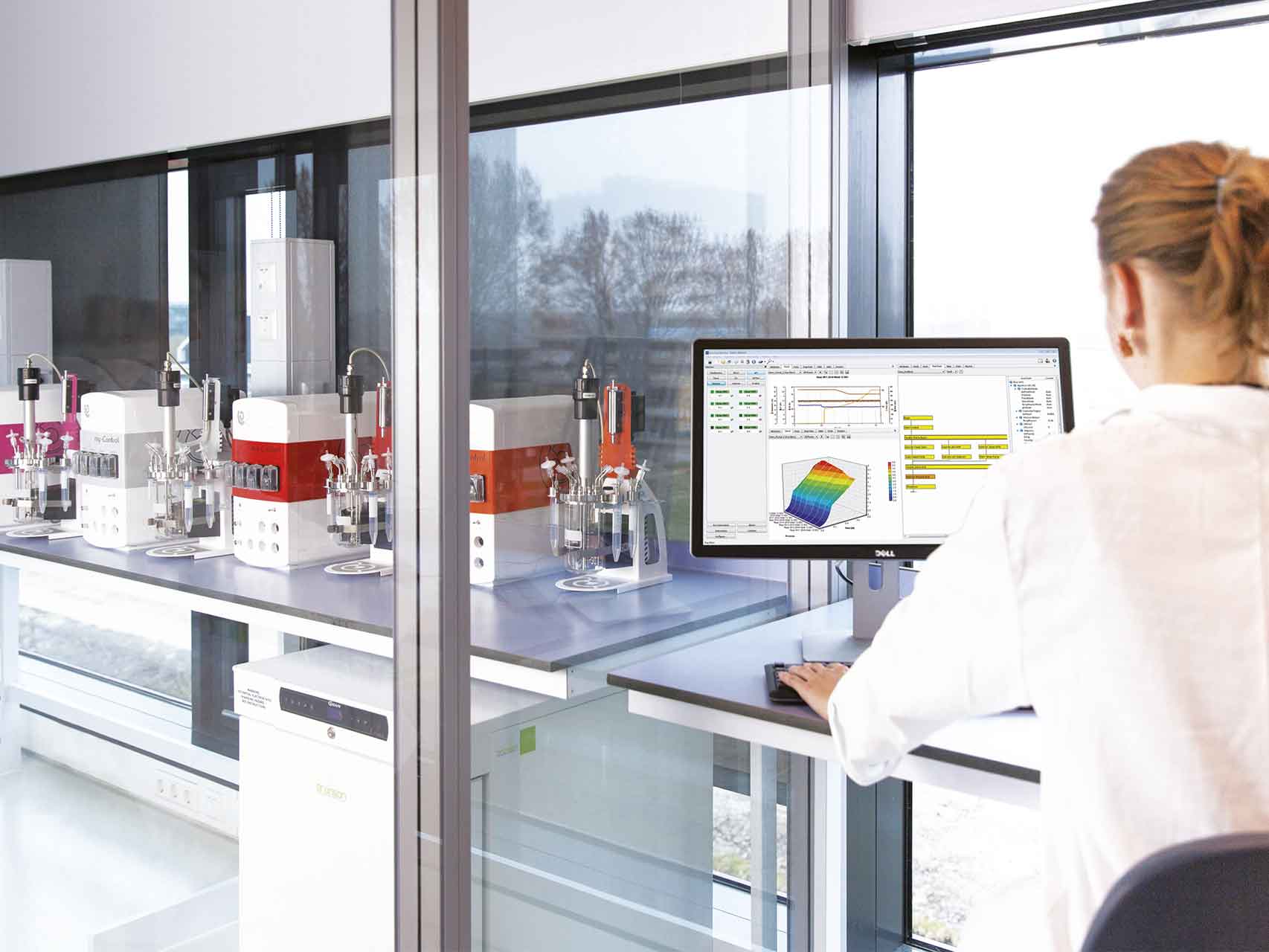 Lucullus® PIMS is ideal for the following applications:
Microbial and cell culture
Batch
Fed-Batch
Perfusion
Continuous cultivation