Optimizing the planning process for designing and commissioning the single-discipline, multidisciplinary and multi-modality Hybrid OR.
Must-ask questions for a successful project
The who, what, where and when of effective Hybrid OR planning determines just how future-proof your implementation will be. And it all starts by asking the right questions to help you achieve your short- and long-term goals, such as "what is the anticipated impact of room design on future workflows and collaboration?" and "how will hygiene and sterility be ensured during surgery?". These are just a few examples of questions that should be raised.
Set expectations: 15 to 30 months of planning
The complexity and duration of Hybrid OR planning and implementation require the timely free flow of information among key stakeholders in each of the three phases of your Hybrid project. You may not have considered all of the individuals whose perspectives and professional self-interests are vital to ensuring long-term project success. The Hybrid OR guide shows you how to set realistic timelines and expectations and find out who should be involved each step of the way.
Phase 1 - Successful projects start with planning
Phase 1 of the Hybrid OR project planning process typically involves a period of analysis and evaluation from three to six months. During this time, clinical needs of various disciplines are defined, hygiene requirements are evaluated, usability and ergonomics are discussed and workflows are established. Discussions are focused on the selection of the appropriate imaging modalities and OR table systems that are best aligned with these requirements.
Setting a strong foundation for success
The inter-relationship between surgical and imaging equipment dictates that the performance of any Hybrid OR will be limited by the effectiveness of its weakest link. A single mistake early in the planning process can have serious consequences in subsequent project phases. Effective planning should take into account anticipated utilization of the Hybrid OR over the next three to five years. In addition, establishing a Hybrid OR within the hospital's existing structural footprint may add further challenges.
Start with imaging technology
One of the most critical decisions in planning an effective Hybrid OR is selecting one or more imaging systems that best can enhance the quantity and quality of diagnostic data throughout each step of the image-based procedure – planning, guidance and final check-up. Find out more about the diagnostic advantages of different imaging modalities in the Hybrid OR guide.
Picture the possibilities in 3D
Stakeholders are typically challenged to envision the relationship of the Hybrid OR's footprint to the installed array of equipment. Vendor-specific software generates lifelike 3D renderings of the proposed room design populated with staff and equipment selections that provide an accurate visualization of the room. 3D software also helps visualize avoidable conflicts (collisions) while verifying that proper hygienic measures have been incorporated.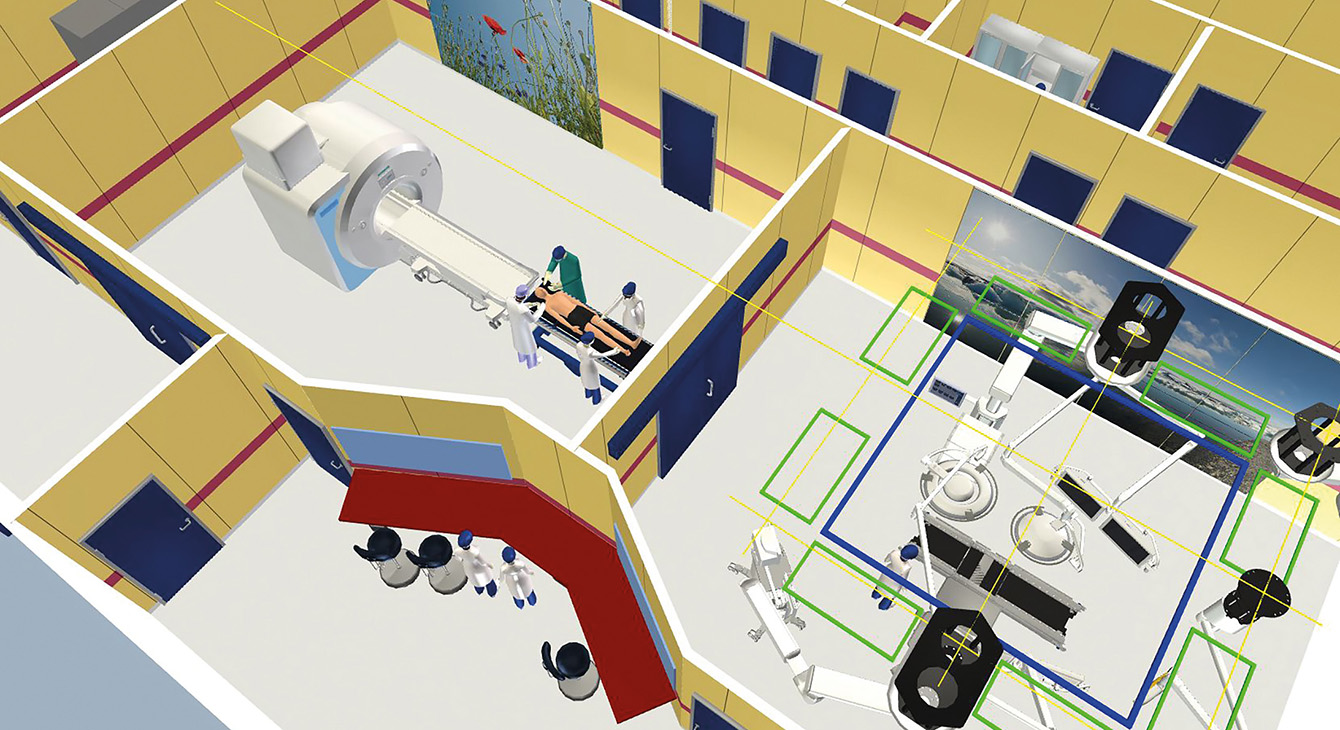 Flexible tables accommodate multiple specialities
Hybrid OR utilization continues to evolve, especially as the frequency and complexity of minimally invasive surgeries increase over a wider range of specialties. That's why surgical tables should incorporate two or more interchangeable carbon fiber and universal table tops that quickly can be configured to accommodate a wide range of procedures. In the Hybrid OR guide we've compiled a set of important requirements including the need to achieve safe and flexible patient positioning.
Efficient workflows for staff and patient safety
In the Hybrid OR, room design and equipment placement must be flexible enough to accommodate increased numbers of people and their need to have an unimpeded view of imaging data without compromising workflow efficiencies. At the same time design and equipment placement play a significant role in helping your clinical staff prevent contamination and the risk of infections in the Hybrid OR. More people and equipment mean more opportunities for problems and unwanted staff movement.
Phase 2 - Understanding the costs
Phase 2 focuses on the wide array of budgetary considerations that determines total project costs. These calculations reflect equipment costs as well as the additional initial planning time that's required to ensure that all systems and platforms co-exist in harmony to avoid expensive remediation. Budgets should also take into account all safety, hygienic, usability and ergonomic considerations.
Budgeting for the Hybrid OR
Hospitals have a wealth of historical financial data to guide present-day calculations for funding a new traditional OR. For the Hybrid suite, administrators can expect to spend an additional 70-90% to populate the room with imaging equipment, integration software and the high-resolution monitors needed to manage the overwhelming flow of image-based information and patient data.
These calculations also reflect the additional initial planning time that's required to orchestrate these multiple interfaces. It has been found that a number of hospitals allocate a large portion of the cost differential associated with the imaging system to multiple cost centers, given the Hybrid OR's flexibility to schedule non-surgical radiology examinations. Budget approvals for a Hybrid OR have increasingly been justified on this basis as well as on the shared-use aspect of the room among multiple disciplines.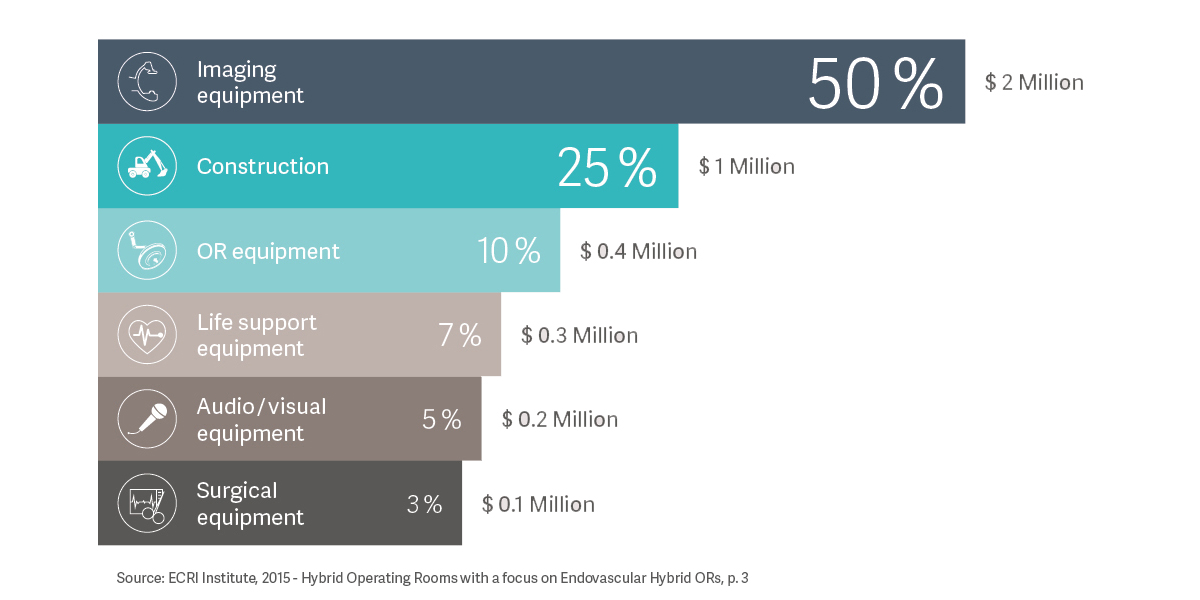 Phase 3 of the Hybrid OR project requires continuity of involvement by stakeholders who participated in Phase 1 and Phase 2. Successful installation and commissioning also require the elimination of uncertainty among staff members who face daily changes to their interactions with each other and their new Hybrid OR environment. Creating an effective training regimen is one of the most important elements of this final phase.
Careful planning avoids last minute surprises
After months of intensive coordinated planning, the Hybrid OR commissioning date is finally in sight. At this point in the process, successful installation relies heavily on confirming the room configuration, equipment specifications and exact placement of all Hybrid OR technology. Read more in the Hybrid OR guide to better understand the issues that could jeopardize project completion deadlines and view six important considerations for creating an effective training regimen.
Eight considerations that influence project success
Optimizing the design and commissioning of a single-discipline, multi-disciplinary and multi-modality Hybrid OR requires the implementation of key learning in all three phases of the planning process. Learn what the eight essential strategic considerations are that experience shows has the greatest potential impact on project success.