Compact efficiency in the busy OR
ICU-grade ventilation performance
Safe low-flow anesthesia
MAC Brain for informed dosing decisions
Active hypoxia prevention with O2Guard
Lung Recruitment Maneuvers to prevent postoperative complications
User-friendly workstation in the OR
Large drawer
With slots for spare vaporizers and an optional lockable compartment.
Cable management
Hoses and cables are neatly routed and covered by specially designed panels, contributing to improved hygiene and safety.
215 cm rails for flexible mounting
Despite its compact size, Flow-c has 215 cm multipurpose rails! Mount monitors, tables and accessories where it best suits you.
Disclaimer
The products, availability of the Flow Family anesthesia systems and SW version may be pending regulatory approvals to be marketed in your country. Contact your Getinge representative for more information. The assertions stated by the physician are strictly those of the physician and do not necessarily reflect the views of Getinge.
⚠ CAUTION: Federal (US) law restricts these devices to sale by or on the order of a physician. Refer to Instructions for Use for current indications, warnings, contraindications, and precautions.
Getinge US Sales, LLC, One Geoffrey Way, Wayne, New Jersey, United States, 07470
Legal Manufacturer · Maquet Critical Care AB · Röntgenvägen 2 SE-171 54 Solna · Sweden · +46 (0)10 335 73 00
Personalization breath by breath
User-friendly workstation in the OR
Developed in cooperation with clinicians, the compact Flow-c anesthesia machine offers a broad scope of options for configuration and patient safety. With an intuitive interface and emphasis on ease of use [7], our anesthesia solutions are designed to provide a streamlined workflow and efficiency in the operating room, allowing for enhanced cost control and resource management.
Our anesthesia workstation
Our anesthesia workstation
1. Open platform
Customize to match your needs
2. Convenient USB and light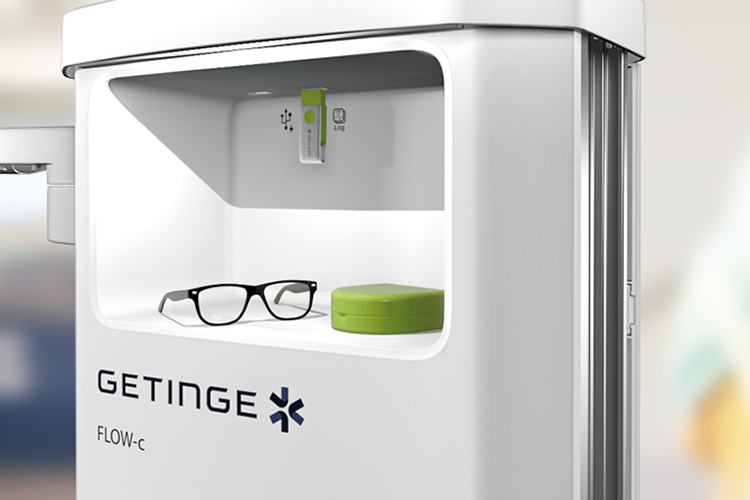 USB ports for data transfer are easily accessible. Three step dimmable LED lights up the workspace.
3. Intuitive and flexible control panel
The flexible and intuitive touch screen gives you one point of control for all functions. 15" tiltable and rotatable touch screen.
Read more
4. 215 cm multipurpose rails
Extensive and flexible mounting options
5. Auxiliary O2 and suction
6. Water trap
Visible and accessible
7. Snap on hooks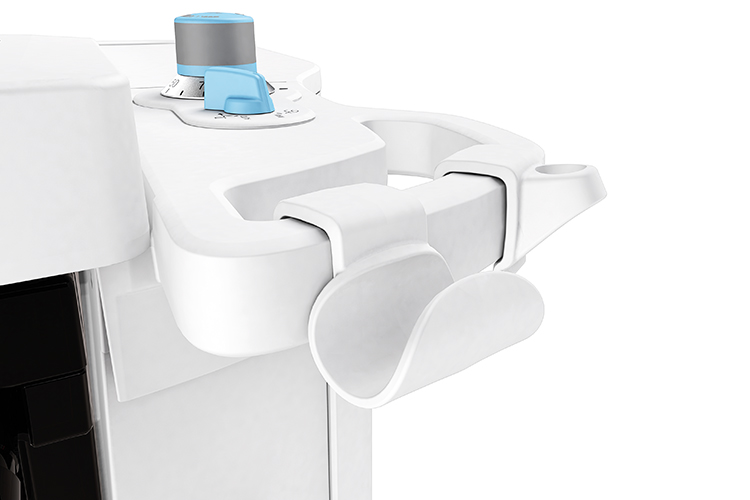 For convenient placement of tubes, manual breathing bags, suction tips and other accessories.
8. Large and flexible workspaces
Practical for your everyday needs
10. Electronic vaporizer
Precise and cost-efficient
11. Smart cable and hose management
Less clutter, easier cleaning and improved mobility
12. Large drawer
With slots for spare vaporizers and an optional lockable compartment.
Read more
13. Central 4-wheel brake
Brake and cable pushers. Enhances device mobility.
Marketing Sales - Data Sheet
Flow c Datasheet Version 4.7
Marketing Sales - Sales Flyer
Improve your knowledge with our eLearning and training courses
At Getinge Educational Institute, we have dedicated material for topics related to Intensive Care, Cardiovascular Procedures, Operating Room and Sterile Processing. We can support you with information about current technologies and best practices to boost your performance and productivity.
For more information about our onsite events or remote trainings, you can also contact your local sales & service representative.