Easy to load, operate and maintain
The Getinge 86-series Washer-Disinfectors are a premium resource for your CSSD. Each model is easy to load, operate, and maintain, improving employee workflows for increased efficiency.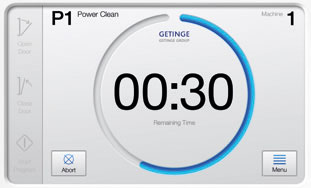 Easy to read
Status at a glance: easy-to-see the time remaining, even from a distance.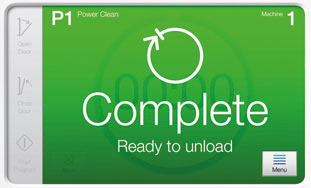 Clear, concise info
The user interface provides clear, uncluttered information – only what you need at any particular stage, nothing more.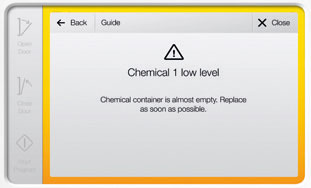 Help at your fingertips
Clear, easy-to-understand help for problem solving or accessing advanced features are available directly from the user interface.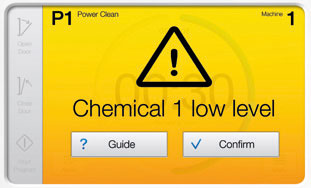 Alarms that guide users
Every triggered alarm comes with clear on-screen directions for what action to take.
Reduced water, detergent and energy consumption
The S-8668T uses the lowest possible amounts of water, detergent, and energy for a product of its size, reducing your overall environmental impact. A circulation pump with variable speed control can reduce water consumption and help your CSSD meet its sustainability goals.
Better use of space and time
The high-capacity washer-disinfector makes more efficient use of floor space in the CSSD.
Pre-programmed cycles ensure maximum efficiency without any wasted time or resources.
Optimized efficiency
With a load capacity up to 12 US trays (18 DIN trays) and the flexibility of removable shelves and spray arms to adapt to different loads with the same wash cart, Getinge ensures the greatest throughput and utilization of your washer and equipment.
Improved ergonomics
Smart load carriers and improved ergonomic design minimize the physical strain on CSSD staff.
Hands-free loading and unloading
Automating loading activities within your CSSD can reduce your overall operational costs. Getinge's optional flexible and easy-to-clean loading/unloading, AGS and return conveyor systems improve department efficiency and can be scaled to meet even the largest department's demands.
STAT Cycle
Getinge S-8668T is capable of delivering 23:30 process times with STAT Cycle.
Technical data
Measurements - internal
Model:
Getinge S-8666
(double door)
Getinge S-8668/S-8668T
(double door)
Wash levels
pcs
6
6
Chamber volume (gross)
L / Cu ft
430 / 15.18
480 / 16.95
Chamber volume (effective)
L / Cu ft
316 / 11.16
351 / 12.4
Chamber width (effective)
mm / in
650 / 25.59
650 / 25.59
Chamber depth (effective)
mm / in
730 / 28.74
810 / 31.89
Chamber height (effective)
mm / in
667 / 26.26
667 / 26.26
DIN 1/1* trays/load
pcs
12
18
SPRI I** trays/load
pcs
10
10
* = DIN 1/1 = 480x250x50mm
**=SPRI I=450x340x70mm
Measurements - external
| | | | |
| --- | --- | --- | --- |
| Model | | S-8666 | S-8668/S-8668T |
| Width | mm / in | 1,110 / 43.7 | 1,110 / 43.7 |
| Depth | mm / in | 910 / 35.8 | 990 / 39 |
| Height | mm / in | 1,870 / 73.6 | 1,870 / 73.6 |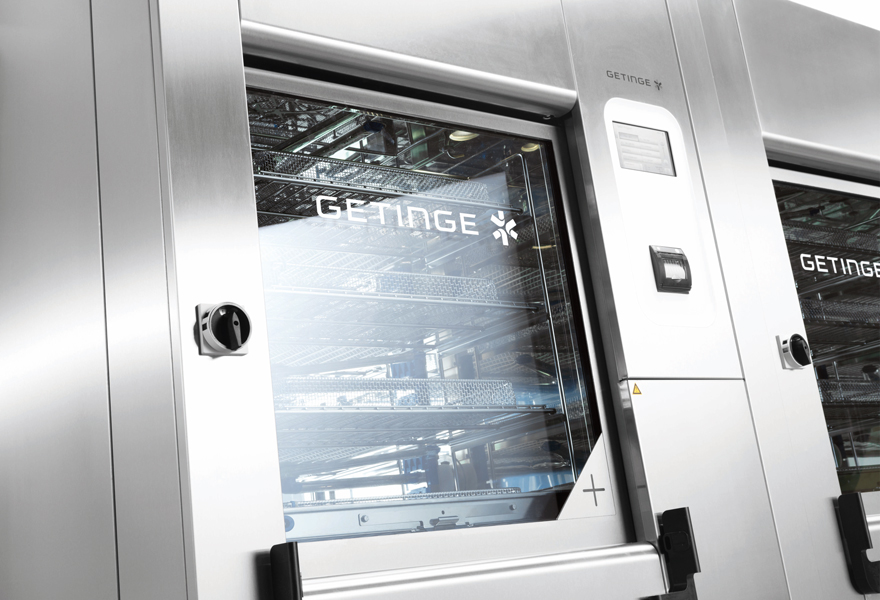 Higher throughput
Getinge S-8668T offers a smarter process: using the multitasking capability with our well proven turbo concept to reduce the non-productive time, to enable and secure the most effective process in any given application. The result - industry leading cycle times for both steam and electric powered washers.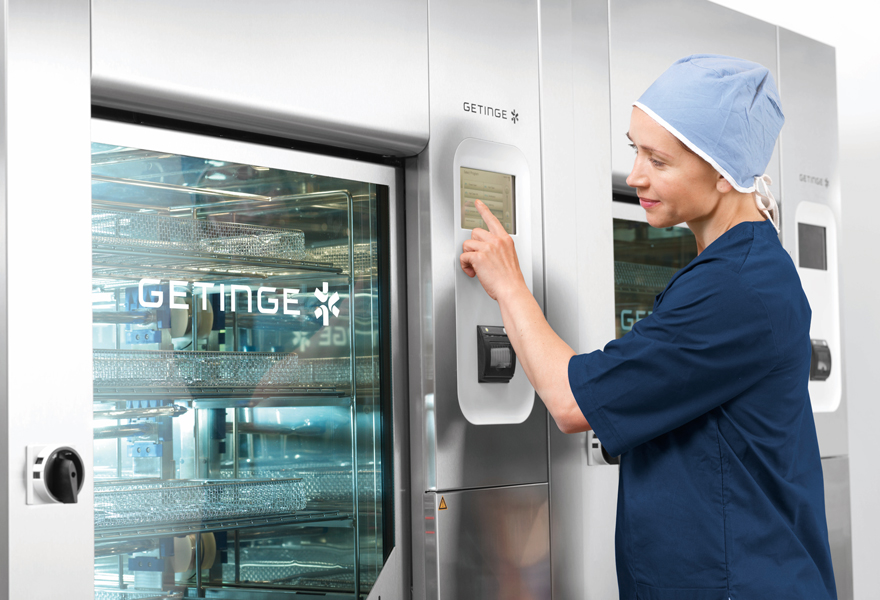 Highly intuitive user interface
The 86-Series Washer-Disinfectors feature our award winning, user-friendly interface, Centric. This interface is consistent with other current generation Getinge SPD equipment (washers, cart washers and sterilizers) promoting easy cross-training with the goal of reduced operator errors.
Pull-out service frame
For easy service access. Watch our video to learn more.
Marketing Sales - Brochures