Getinge Online is the enabler of Getinge Services that ensures the highest performance and availability of your Getinge equipment and access to valuable information via your personal web portal.
Avoid delays with notifications
With Getinge Online, you get immediate notification whenever your equipment requires attention. Notifications can come in the form of text message or e-mail and can cover a range of information, for example in case of equipment error or when a process is complete. Getinge Online ensures you can take immediate action and avoid costly downtime or the hassle of constantly checking to see if the equipment has finished.
When there is an issue with equipment, you can view detailed information about everything has happened and you can retrieve any of the last 30 process printouts for any piece of equipment. With Getinge Online, you can stop taping notes to your equipment and spending time scouring manuals looking for a resolution.
A robust reporting tool
Analytics and statistics are essential and valuable for modern hospitals with high demands on uptime and equipment utilisation. Getinge Online provides you with detailed statistics on the performance of your Getinge equipment and your throughput.
By analysing your equipment availability, utilisation and performance, you will be able to identify opportunities to optimise your workflow. Messages from the equipment can also help you identify training opportunities.
Remote Diagnostics capability
Based on Getinge Online's context-based help function, your local technician can easily determine the issue and guide an operator remotely. If the issue requires further skills, Remote Diagnostics ensures that Service can guide the local technician in resolving complex issues. Either way, you save valuable time that is normally spent waiting for skilled personnel to arrive on-site.
If on-site service is required, access to spare parts and detailed design drawings are available for the service engineer through Getinge Online. The remote diagnostics information ensures that the service engineer will bring the correct spare part, providing you with the important first-time fix and avoiding costly delays.
Hassle-free scheduled maintenance
Based on the data provided by your equipment, Getinge Online learns to foresee when a component needs replacement in order to avoid a breakdown. Combining Getinge Online with powerful analytics tools and methods enables Getinge to schedule a service visit before a breakdown occurs, thereby eliminating costly delays associated with out-of-service that is waiting for service. Scheduled maintenance of your equipment with Getinge Online ensures maximum uptime and optimises the throughput in your facility like never before possible.
Cockpit setup
Besides providing you with an overview of the equipment status in your department, Getinge Online also allows you to monitor multiple sites from one location. A cockpit setup with large monitors can provide a complete overview of hundreds of pieces of equipment on various sites and enables service technicians to perform both reactive and preventive maintenance via remote access.
Multi-site monitoring with Getinge Online reduces time spent on-site as all equipment statuses can be checked and issues can be identified from one location. Furthermore, it enables technicians to be prepared with the right knowledge and the right spare parts before making a site visit.
Getinge Online Customer Portal
Logging into the Getinge Online Customer Portal gives you instant access to extensive real-time information about your Getinge equipment. If there is any issue with a piece of equipment, the portal lets you view detailed information about what has happened. A context-based help function with time-saving suggestions on how to resolve the issue is also available on the Getinge Online Customer Portal.
The portal even allows you to communicate with your service technician and receive technical or maintenance guidance. When documentation is needed, the Getinge Online Customer Portal enables you to retrieve any of the last 30 process printouts for any piece of equipment and store or print them directly from the portal.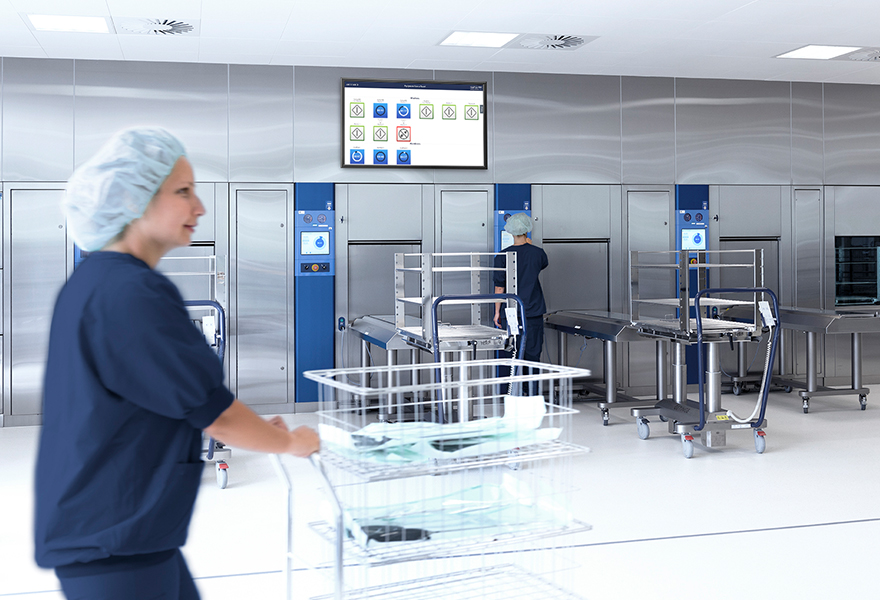 Increase workflow efficiency and throughput
Getinge Online provides you with extensive real-time information regarding your equipment at any time and no matter where you are. To support the workflow and save time in your hospital or life science facility, Getinge Online assists relevant personnel through instant alerts and required actions. Getinge Online is an invaluable tool that ensures the highest performance possible for your department by enabling you to always be one step ahead.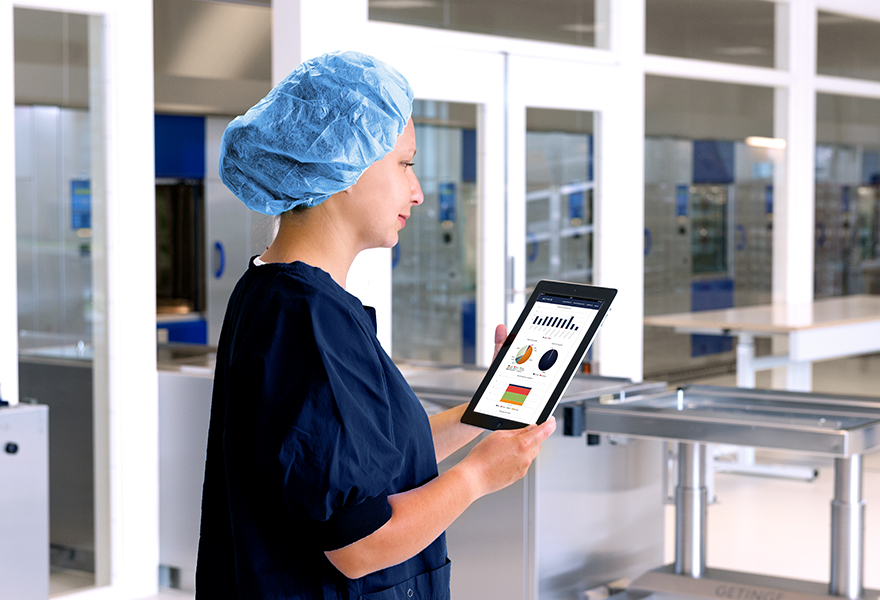 Get valuable data on department performance
By giving you access to valuable statistics and analytics, Getinge Online helps you optimise your workflow and equipment performance. For added flexibility and more extensive reporting, you can also export the information to your own business intelligence system for further analysis. Getinge Online also gives you monthly reports on the performance of your department along with access to relevant documentation and instructions in one central place.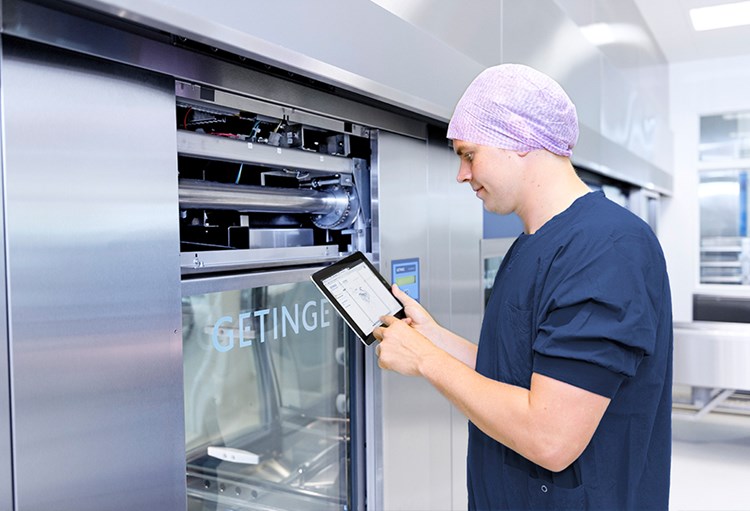 Ensure a high uptime of your equipment
Getinge Online is the first step in ensuring maximum utilisation of your equipment. In the event of technical issues, Getinge Online's user-friendly help function along with local technicians or, if necessary, a Getinge service technician, can guide operators remotely to resolve the problem.
Getinge Online not only provides fast handling for acute issues, it also offers the benefit alongside preventive maintenance. Comprehensive equipment monitoring enables Getinge to schedule a service visit before a breakdown occurs, bringing you peace of mind and minimising the costly downtime that occurs when equipment is out of order and waiting for service.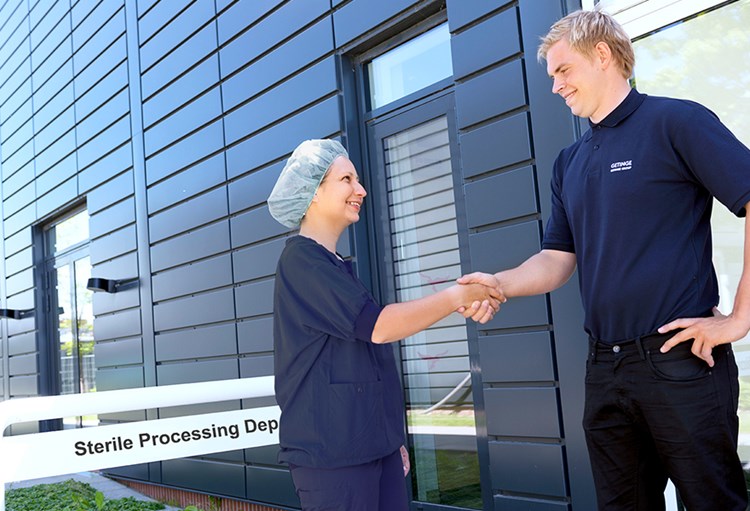 Automatic optimisation of your workflow
When you combine Getinge Online with any of our other service offerings such as detergents, wash monitors or sterilisation monitors, you can receive notifications when you need to order new supplies, or you can let us provide automatic replenishment. Getinge Online lets you optimise your workflow by eliminating time spent on ordering and manual stock assessment.
Marketing Sales - Brochures
Optimize utilization of your sterile reprocessing equipment

The Getinge Online web portal connects you to any Getinge device, getting access to valuable data that will support biomeds and clinicians in their daily work.