An answer to daily challenges
The Maquet Moduevo ceiling supply units range ensure vital utilities and equipment are easily accessible, streamlining workflows and improving efficiency. Simple to implement and use, they enable better organization of resources, increasing productivity – and consequently, decreasing costs.
Maquet Moduevo workstations are simple to install, intuitive to use, and swift to configure - benefits that translate into greater productivity, efficiency and flexibility.
Improving workflows in the OR
During surgery, every action counts. Healthcare staff want to focus on the patient – not on equipment and utilities. When developing its Maquet Moduevo line of ceiling supply units, Getinge put itself in the shoes of these professionals – and created a highly ergonomic, efficient solution that allows staff to concentrate on the patient and not the device.
Discover how Maquet Moduevo has improved Aarhus University Hospital's (Denmark) surgical procedures.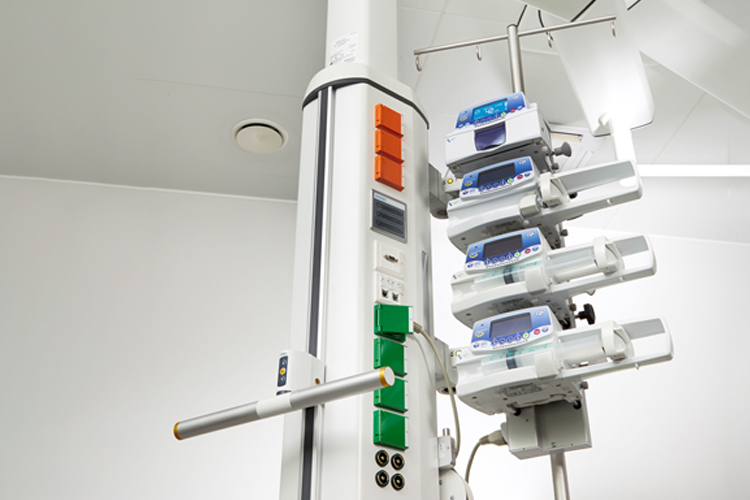 Ergonomic Positioning System (EPoS)
Components and accessories – even those requiring a power supply – can be added and removed in line with changing needs
They can be freely positioned on every face of the unit module, and at any height
Customized workstations can be created easily and quickly, ensuring everything remains within easy reach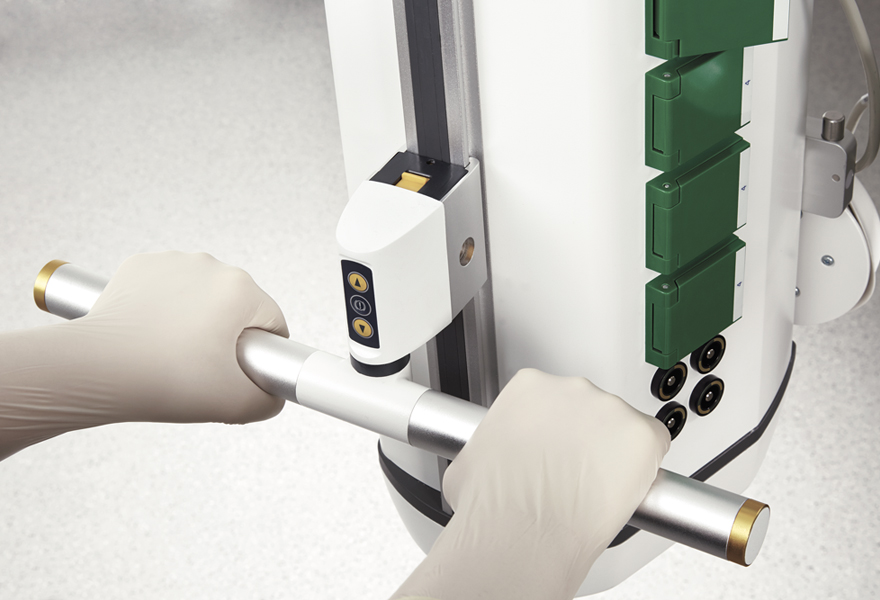 Grab & Move Handle
Breaks new ground in terms of intuitive positioning.
When grasped, its capacitive sensing technology releases the unit's brakes.
Enables staff to intuitively move the pendants to the desired position simply, with just one hand and minimal physical effort.
This design approach allows each configuration to evolve in line with the hospital's daily challenges.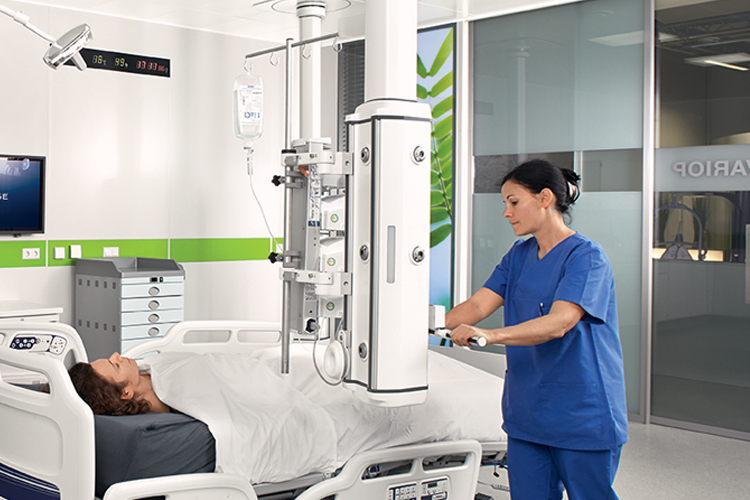 Electro-magnetic Brakes
Maquet Moduevo's pioneering electro-magnetic brakes are absolutely silent, enhancing patient comfort – and virtually no maintenance is required.
Staff can rest assured of seamlessly smooth, controlled movements, and enjoy Maquet Moduevo's broad range of movement.
Staff can reposition the ceiling supply unit without disturbing patients.
Mechanical solutions for anesthesia workstations
PLG-II Sky: Improving mobile medical device connectivity
Height-adjustable down to 400 mm, PLG-II SKY is an ergonomically friendly ceiling supply unit that can be easily adapted to different devices dimensions. Depending on medical staff heights, it also allows an easy access to sockets and outlets.
Easily maneuverable thanks to its external handle for proper positioning during procedures.
An optional built-in ambient light can be added in the bottom panel to provide illumination during minimally invasive procedures or to support anesthetist with the visibility needed to focus on the patient.
Compatibility with the Beam Plus option, allowing the cost effective addition of a monitor, an examination or even a surgical light without an extra anchor.
Motorized solutions for anesthesia workstations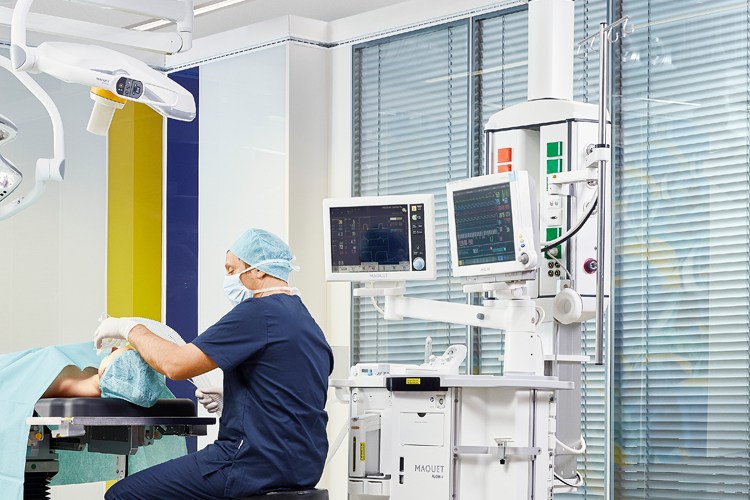 Lifting the anesthesia machine
Cargolift, Maquet Moduevo's lifting solution ensures that all anesthetic
procedures are carried out in an optimal workflow environment.
High standards for hygiene and ergonomics in the operating room: with
the equipment off the floor, air circulation in the OR is improved and
easy cleaning is made possible, therefore improving room turnaround.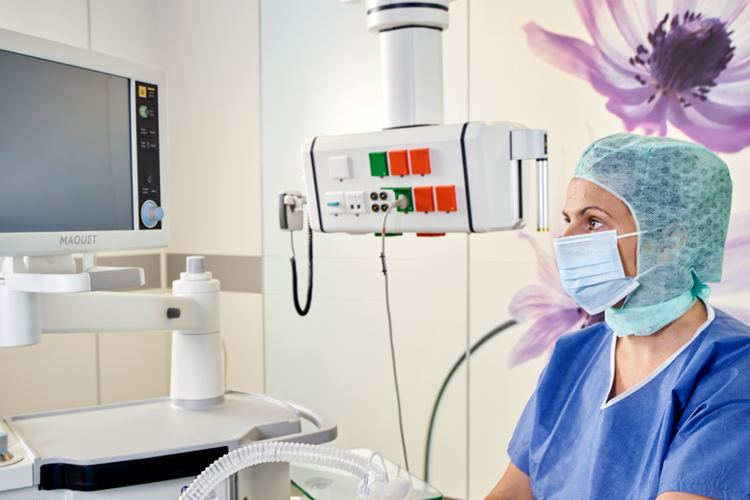 Energy motorized
Moduevo Energy's motorized arm allows an adjustment of the
distributor height for optimal working position.
Combined with Maquet Moduevo Sky distributor, it reduces footprint
while enabling medical staff to work in a larger environment. Available in
two versions (Advanced and Advanced with racks), they offer
up to three choices of panels lengths to suit your needs (470, 670 and
870 mm / 18.5", 26.4" and 34.3"). An underside ambient light in option is
creating a soothing atmosphere and facilitating the work and recording
of the medical staff.
MIS and Hybrid Room Solutions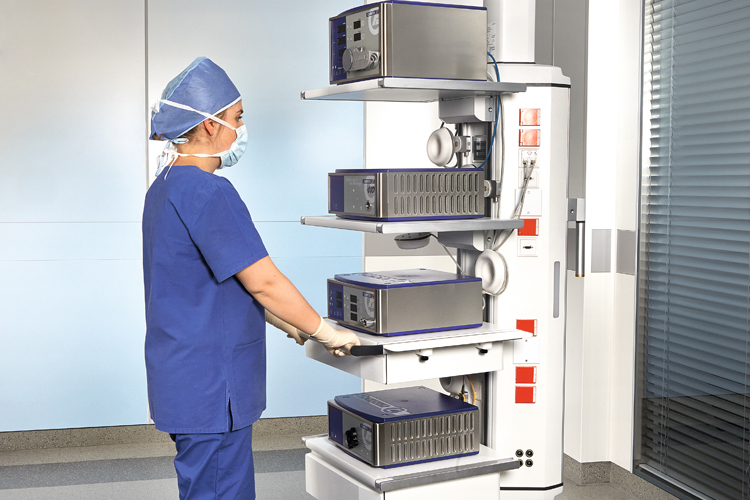 Architectural support for minimally invasive surgery
Minimally invasive surgery requires its own equipment and room lighting. With Maquet Moduevo's exceptional loading capacity and flexibility, the requirements for MIS can be easily met.
Up to 350 kg / 771 lbs loading capacity can carry all essential endoscopy equipment.
Mounted monitor arm to hold the video monitor.
Maquet Moduevo Screen Holder: provides accurate guidance and navigation throughout the intervention, increasing precision, better hand-eye coordination, while speeding up the procedure. Compatible with large format screens up to 66" and multiple screens up to 32''.
Ambient lighting on the sides, top, and bottom of the supply unit enables nurses and other medical staff to complete their tasks in the dark environment required for endoscopic surgery
Endoscopy solution with high load capacity of up to 350 kg.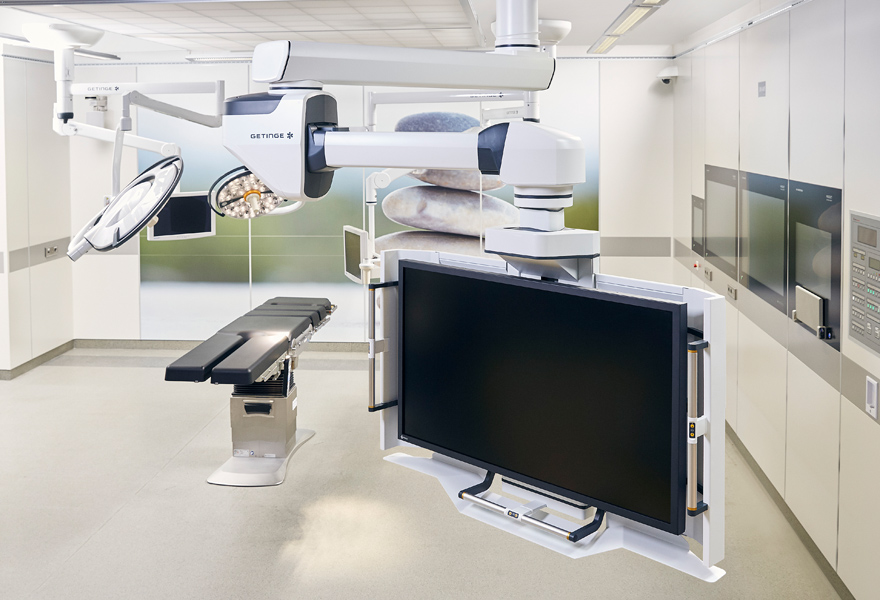 Enhanced vision for Hybrid Rooms
In Hybrid Operating Rooms, advanced imaging play a major role by enabling surgeons to see inside the human body in greater detail and higher resolution. Maquet Moduevo Screen holders range answers to this trend by offering flexible configurations. Compatible with large format screens up to 66" and multiple screens up to 32'', it can display any full-HD or 4K information such as X-rays and endoscopic pictures, vital signs and patient files.
Maquet Moduevo Accessories
Accessories to store
Accessories to position
Accessories to hold
Accessories to illuminate
Marketing Sales - Brochures
Improving healthcare environments

Discover our Moduevo range in an interractive pdf
Marketing Sales - Sales Flyer
Improving mobile medical device connectivity