Introducing the new Servo for personalized ventilation
Every patient is unique. That is why Servo ventilators are designed to let you personalize your lung-protective and weaning strategies for better outcomes. As a versatile ICU ventilator for everyday care, Servo-c is built on 50 years of close collaboration with intensive care specialists to improve our Servo concept and meet the latest standards. Equipped with a wider intuitive touchscreen, it features tools like Servo Compass® for monitoring, Open Lung Tool trends for recruitment, CO2 monitoring, Stress Index, and High Flow therapy for a precise flow of heated and humidified oxygen. Watch the film to experience how Servo-c combines the best parts and tools to shape the future of mechanical ventilation.
Introducing Servo-c - Care with confidence
Personalized ventilation tools for better outcomes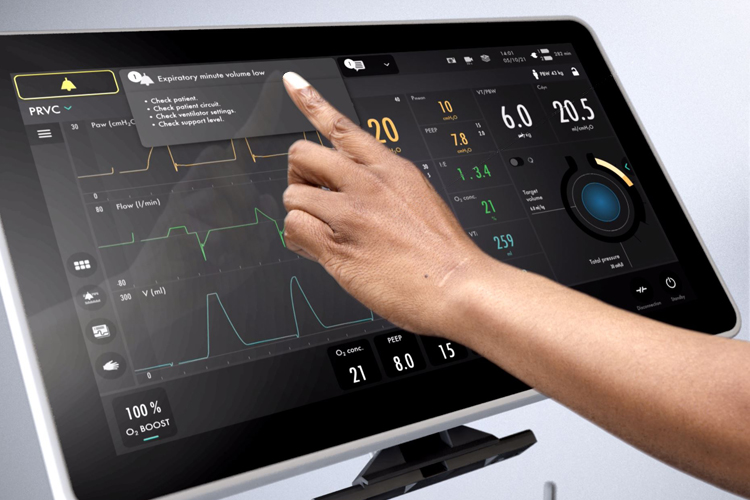 Designed for safety and ease of use in every detail
To make it simple to learn and easy to use Servo-c, we paid special attention to every design detail. The most notable feature is the wide 15" touchscreen with
its intuitive user interface. Contextual help, dynamic images, Servo Compass®, recommendations and prompts help staff to orientate quickly and follow guidelines. The patient unit and cart are also slim, lightweight and ergonomic.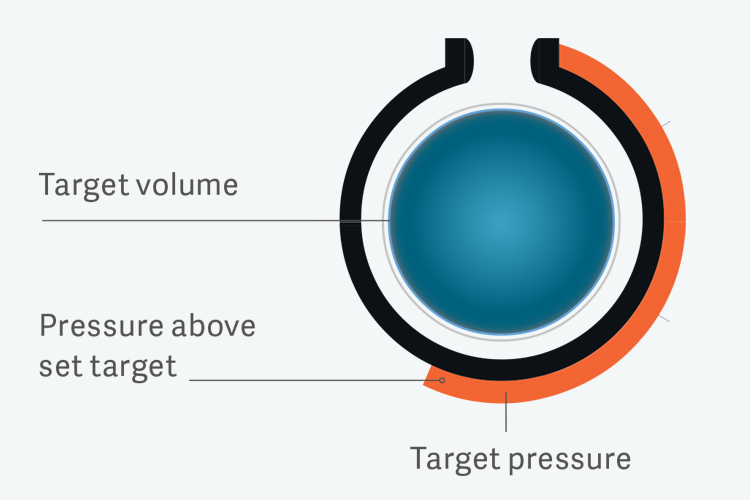 Personalized lung protection starts with better monitoring
The more you know about your patient's condition, the better your can personalize your lung protective strategies. With Servo Compass® monitoring, for example, you can visualize the patient's breathing within set targets for volume and driving or total pressure. Open Lung Tools trends then further assists you with lung recruitment by allowing you to personalize PEEP and driving pressure, breath by breath. Stress Index is also included.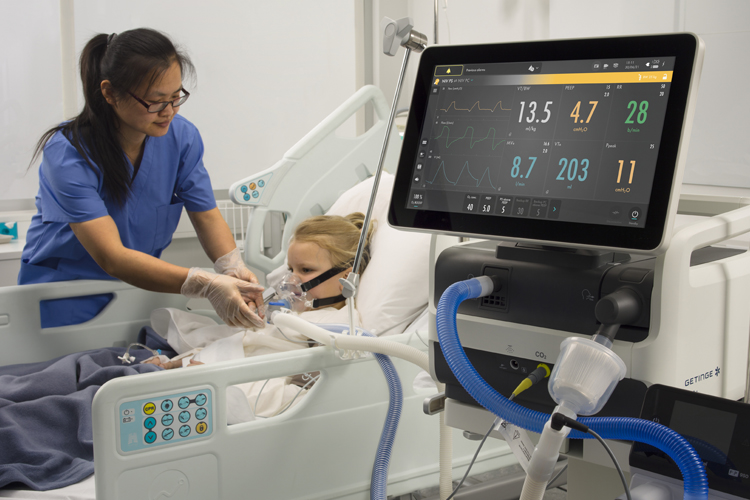 Deliver gentle and effective personalized weaning
Servo-c offers a range of tailored tools to help stablize your patients and gently ease them off the ventilator. For example, Automode helps your patients transition between controlled and supported modes depending on their work of breathing. And with High Flow therapy, integrated nebulization and other tools you can ease them off the ventilator safely and efficiently.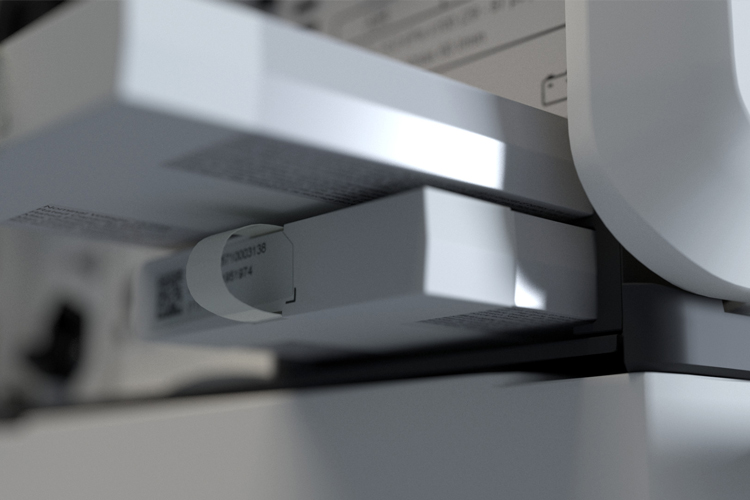 Long-lasting, hot-swappable batteries for continuous operation
Two hot-swappable batteries with a total of three hours of power ensure that you stay up and running during power outages or when moving patients to another ward. The batteries are always charging when connected to the main power supply. Their remaining power is displayed in minutes instead of the typical percent to give you a more accurate estimate.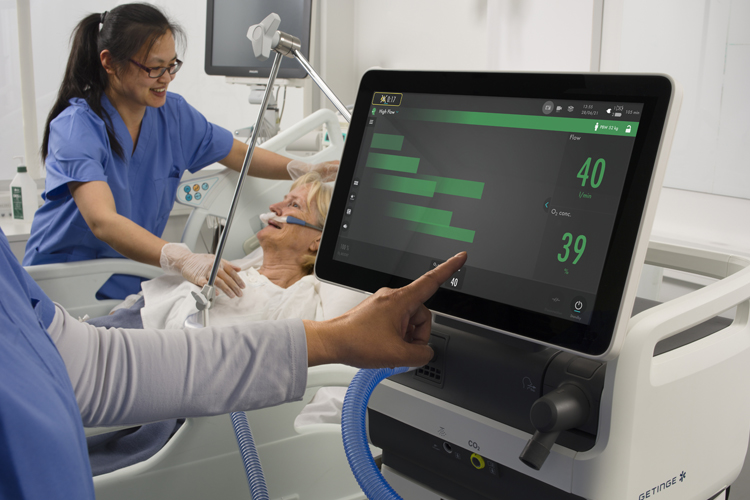 High Flow therapy for a gentle, uninterrupted flow of humidified air
In some ICU units, providing a gentle and precise flow of heated and humidified air requires a stand-alone flow generator and humidifier. This is not the case with Servo-c. High Flow therapy is built into the ventilator and can also be combined with integrated Aerogen® nebulization in both invasive and non-invasive modes of ventilation.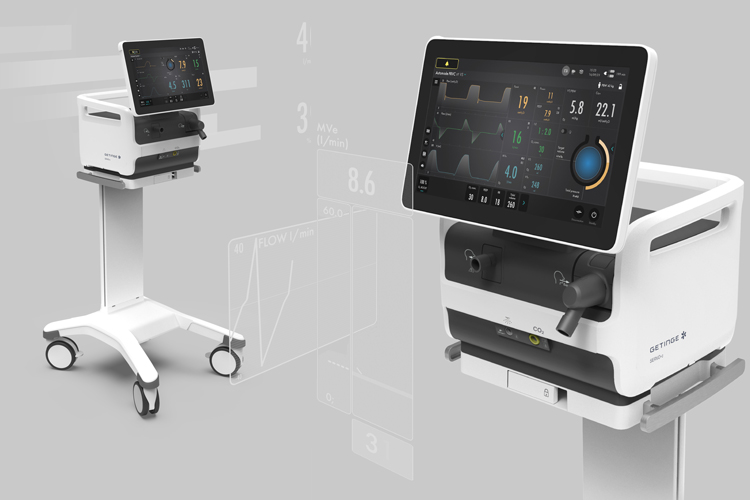 Avoid interruptions with safe and seamless transitions
With Servo-c, you can move seamlessly from invasive to non-invasive ventilation to High Flow therapy – without ever having to switch to another device. Built-in therapy tools can be switched on or off, as needed. Throughout the patient journey, Automode helps them transition to spontaneous breathing and eventually weaning with less need for staff intervention.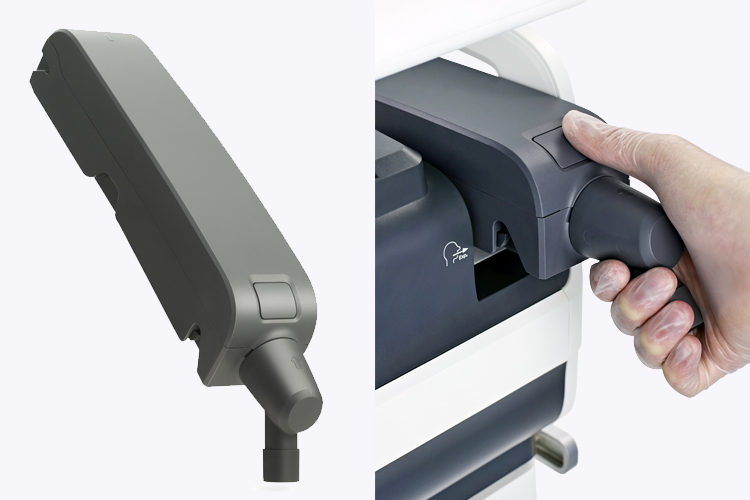 Sustainable solutions built on efficiency and responsibility
Servo-c was developed with our goal of achieving carbon neutrality by 2025 in mind. All parts are long-lasting, energy efficient, easy to clean, recyclable and sourced responsibly. They are also interchangeable with other Servos as part of a flexible, modular platform that supports uptime and can be easily upgraded for your evolving clinical needs. In other words, less waste, more productivity and a better environment for all.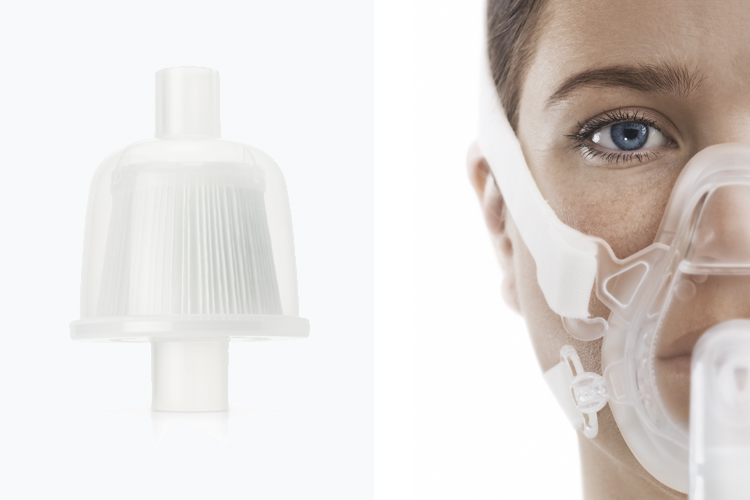 A wide range of consumables designed to secure performance
All consumables are not the same. Those made or approved by Getinge for Servo-c are designed to work with the ventilator and optimize your performance. With Servo-c, you can also choose from a wide range of consumables such as nebulizers, interfaces, face masks and tubing. It is strongly recommended to use original parts consumables designed for the machine.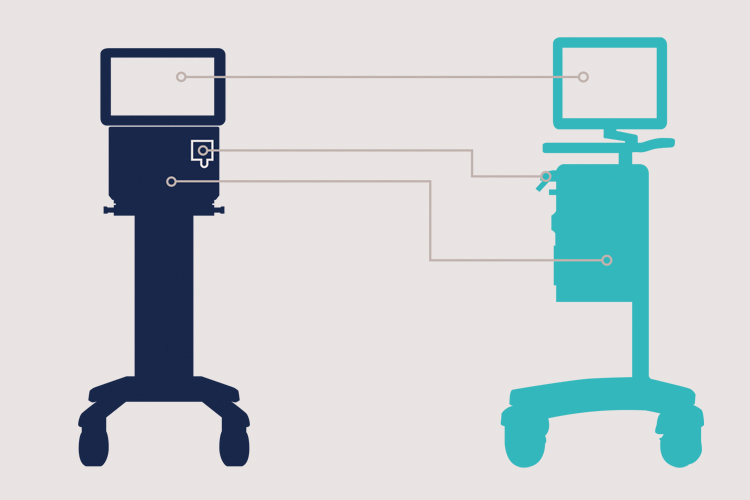 Smart fleet management to drive down costs and ensure uptime
The Servo-c adds efficiency, drives down maintenance costs and reduces waste. It shares many of the same parts, components and platforms as other Servos. Hot-swappable batteries, for example, and easyto-clean expiratory cassettes are interchangeable, meaning you can take one from any other Servo ventilator if a patient is waiting.
One versatile solution for both non-invasive and invasive care
Designed for everyday ICU needs, Servo-c helps support your patients at every stage of the respiratory journey – from non-invasive to invasive modes and onward to weaning. The whole idea is to help you avoid the interruptions that come with switching machines or patient circuits. In other words, one continous ICU workflow that lets you deliver personalized ventilation for better outcomes. Key tools such as Servo Compass®, High Flow therapy, Open Lung Tool trends for lung recruitment, Stress Index and CO2 monitoring make Servo-c a reliable solution for tomorrow's ICU needs. All so you can care for your patients with confidence.
Overview of Servo-c key personalized benefits
Overview of Servo-c key personalized benefits
1. 360-degree alarm visibility
A lamp above the screen lights up when an alarm is triggered (blue, yellow, red), making it easy to see from any perspective. An on-line message and checklist then help guide you through each situation. Autoset of alarms is also possible.
2. New intuitive 15" touchscreen
The intuitive user interface provides helpful guidance for everything from pre-use check to initial parameter settings and key information – throughout the treatment. And with a wide screen, it's easier to see and access contextual help, dynamic images, Servo Compass®, recommendations and prompts to help staff orientate quickly and follow guidelines. The interface also simplifies knowledge sharing
3. Servo Compass® or Automode
Servo Compass® is a graphic, on-screen tool that lets you see, at a distance, if a patient is breathing within set targets, volume and driving or total pressure. Automode helps your patient automatically transition to spontaneous breathing, potentially reducing the need for manual interaction.
4. Open Lung Tool trends Stress Index
Open Lung Tool trends helps you assess lung mechanics and gas exchange – breath by breath, in real time and retrospectively. It provides flexibility and guidance when personalizing PEEP and driving pressure during recruitment maneuvers, prone positioning and extracorporeal life support. Stress index and carbon dioxide elimination are also incorporated.
5. High Flow therapy
With built-in High Flow therapy, there's no need to switch to a separate high-flow therapy device. In seconds, you can switch on and accurately monitor a precise supply of heated and humidified oxygen for improved patient comfort. High Flow therapy can be selected in both invasive and non-invasive ventilation, as well as in standby. Nebulization can also be added.
6. Ergonomic handles, cart, wheels
The handles are sculpted to fit a nurse's hand, making the ventilator easy to grip and lift on or off the patient unit. The cart is slim, robust and light enough to provide flexibility for demanding ICU and critical care environments. Modern swivel wheels can be easily rotated 360 degrees, even under load, and then safely locked.
7. Hot-swappable batteries
Two hot-swappable batteries, offering a total of three hours of power, charge automatically when the ventilator is plugged in and tell you exactly (in minutes, not just percent) how much battery power is remaining.
8. CO<sub>2</sub> monitoring nebulizer
To measure carbon dioxide levels in real time during expiration (capnography), Servo-c comes with an easy-to-use CO<sub>2</sub> monitoring option. It helps you to improve the ventilation quality and efficiency for your patients. Convenient and easy to use, an integrated Aerogen® nebulizer can be applied in both invasive and non-invasive ventilatory modes as well as during High Flow therapy.
Introduction by our experts
Story behind the design
How do you make a world-leading ventilator even better? This was the main design challenge facing Victor Sandqvist, Product Interaction Designer and
Mattias Rodehed, Senior Vision and Interaction Designer. In this short introductory video, you'll get a background look at the design philosophy behind the Servo-c. This includes the challenge of bringing clarity and order to the user experience while creating something familiar yet new.
Design philosophy and objectives
Clarity and simplicity as guiding principles
Review of key clinical tools
Peek over the shoulder of Carl-Fredrik Paléus, Global Clinical Applications Manager, as he gives an overview of key features and settings on the Servo-c, including alarms, built-in guides and more. Follow along as he quickly runs through key viewing modes and tools ranging from invasive to non-invasive tools and including Open Lung Tools trends, High Flow therapy, integrated nebulization and CO2 monitoring.
Interactive screen and settings
Human-centric design wins prestigious IF award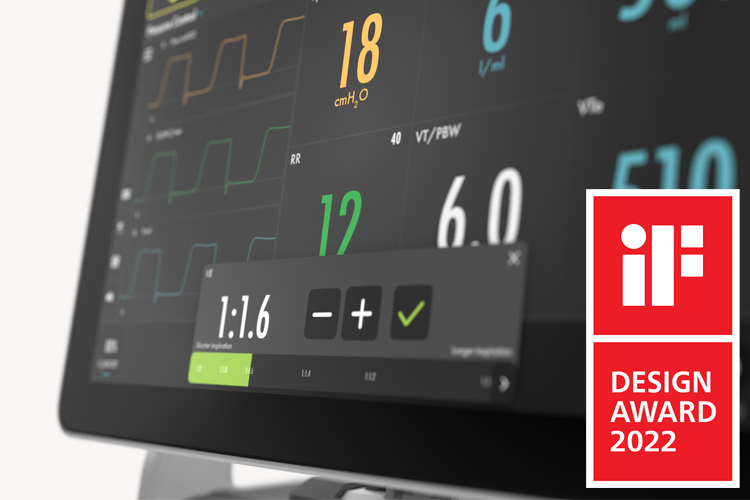 Clear and simple user interface
Creating a clear and simple user experience for safe and effective clinical care has been a hallmark of Servo ventilators for more than 50 years. Our new GUIDE design system follows this tradition by being awarded the prestigious IF Design Award. Selected from among 11,000 entries in 57 countries, the award highlights our efforts to create a thoughtful, safe and calm user experience, thus allowing users to focus less on devices and more on their patients.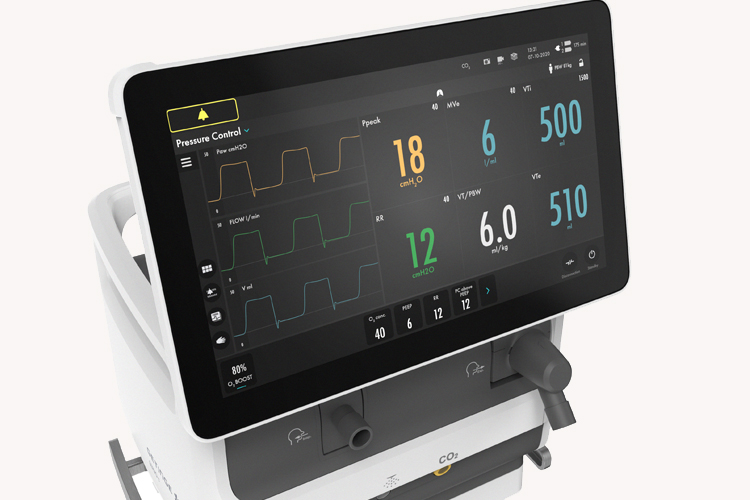 Scandinavian design philosophy
Based on our human-centric Scandinavian design philosophy, the new system places clinicians and patients at the center of attention. Clean shapes, lasting materials and bold graphics create a recognizable intuitive feeling across software and hardware. First introduced in the new Servo-c ventilator, it will gradually be implemented on all Getinge point of care devices. With its similar feel and consistent behavior, the system makes it easier for clinicians to learn and use multiple devices.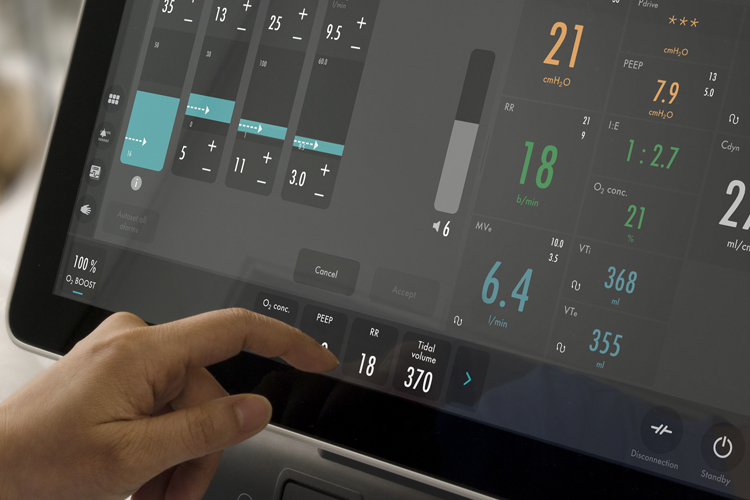 Efficient human-machine synergy
Large buttons and distinct controls, together with helpful animations, add to the
user-friendly feeling. A minimal use of outlines creates a light and calm feeling. By grouping buttons, controls and curves in a subconsciously logical way, we are able to create an efficient human-machine interface giving an intuitive user experience. Simply put, working with our GUIDE system should be second nature, where the user is alerted to anything that requires attention. In short, fewer surprises and compromises.
Marketing Sales - Brochures
Servo-c next-generation ventilator providing personalized care for pediatrics and adults

The physiological challenges of mechanical ventilation requires a powerful toolkit, offering the right protection for each patient at the right time.

Protect your Getinge device and optimize the clinical workflow with Getinge high quality consumables.
Marketing Sales - Pocket Guides
Edi catheter - with ENFit connector pocket guide
Visit our Academy – training and education designed to enhance your proficiency