Comprehensive management ideal for large scale multi-sites.
T-DOC 2000 optimizes the sterile supply workflow by managing instruments, endoscopes, pre-sterile and non-sterile goods and delivering all articles on time while reducing costs and increasing patient safety. T-DOC can interface with hospital IT systems and manage large scale multi-sites.
New T-DOC version 17 Released
Discover how the new T-DOC version 17 helps hospitals achieve a more efficient sterile supply workflow with new functionalities, interfaces and enhanced usability:
New fresh look and feel of all areas of T-DOC
Citrix-Ready verification for strengthened IT infrastructure
Improved BI capabilities with new visual dashboards
Smooth handling of loaner instruments with new T-DOC interface
Quick insight into goods delivery status for surgical staff
New and updated T-DOC info overviews for CSSD and OR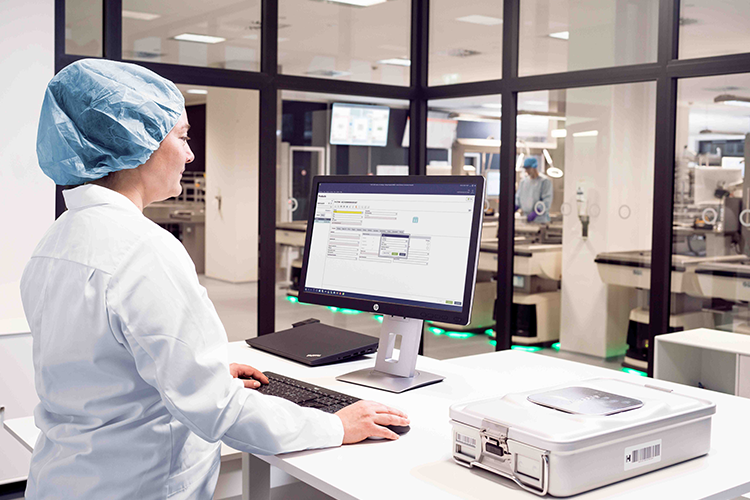 Integration with hospital systems
T-DOC can be integrated with surgical scheduling, materials management and finance systems.
Save valuable time in your SPD
Interfacing with a surgical scheduling solution provides a clear picture of upcoming surgical cases, their procedures, preference cards, rooms and the needed goods. This allows the staff to pick case carts with the trays, instruments and supplies for a procedure's explicit needs, which saves the sterile processing department valuable time.
While picking case carts, stocks that areautomatically deleted can be replenishedthrough an interface to the materialsmanagement system, allowing you to:
Reorder goods
Manage backorders
Update vendor and item changes
Avoid the hassle of maintaining multiple systems
Delve into financial data
With an interface to your hospital's finance system, T-DOC 2000 can provide essential financial data about the reprocessing of goods for operating rooms. Plus, it can determine the cost per procedure for analysis, and costs associated with repair & maintenance, delivery to external locations,and the general management of the department.
T-DOC 2000 provides a true picture of the sterile supply production cost for any hospital, as it tracks:
Washing
Sterilization
Packaging
Handling
Instrumentation costs
Supply costs
Manpower and resources required for quick turnarounds
Automatic prioritization for sterile workflow optimization
T-DOC monitors single and multi-site sterile reprocessing and automatically prioritizes trays needed for surgical procedures.
Be in the know
T-DOC 2000 monitors single and multi-site sterile reprocessing and automatically prioritizes trays needed for surgical procedures. By knowing where all trays and instruments are located, T-DOC 2000 can determine what should be processed with a priority status, to prevent costly operating room delays.
You can count on greater availability of your inventory and a more optimized work flow, as T-DOC 2000 offers:
Dashboard-style monitoring, allowing for updated and immediate identification of requested goods
Customization, giving each department the data it needs
Centralized information for several reprocessing departments, allowing management to visualize the complete workflow and better manage expensive and critical instrumentation.
Identify production costs
The cost of prioritization is transparent with T-DOC, as the system tracks the actual production cost related to a prioritized tray. This helps to determine whether additional inventory is needed or whether a better workflow can resolve potentially unnecessary instrument reprocessing.
Communication between departments
T-DOC provides automatic and direct messaging across hospital departments or directly among staff.
Receive immediate and critical notifications
With T-DOC 2000, automated messages provide instant notification of cancelled surgical operations, assembled trays with missing instruments, skipped steps in the processing cycle, and other crucial information. In addition:
Priority can be given to certain messages of greater importance
Confirmation messages can be included
Manually generated messages can be scheduled in advance
All messages are historically accessible for each user
Minimize disruptions
Your staff can take advantage of the built-in intercom to speak directly through their T-DOC client to another staff member. This limits unnecessary noise (which can compromise the workflow), while increasing communication between different areas within the processing department.
Single instrument tracking
T-DOC fully supports tracking and managing instruments and implants at the individual level.
Tracking instruments to the patient
In T-DOC, single instruments and implants are tracked, either separately or as part of a surgical tray, and linked directly to the patient. In cases where a recall is initiated, a complete historical record is available for each affected item, including the trays it was contained in and all reprocessing information. Alternatively, a single instrument's history can be used to easily track all the patients affected by an instrument. Instruments are flexible and can move across multiple surgical trays, but their movement is automatically tracked and documented using T-DOC.
Usage, maintenance and repair
Single instrument tracking increases the visibility of your hospital's inventory as items are marked and valued. The unique instrument usage, maintenance and repair history provides the necessary data for leveraging contract negotiations.
T-DOC also provides sterile staff with all instructions, images, video and other multimedia files that can assist in properly and accurately reprocessing each unique item. This reduces training time for new staff and assists with difficult and complex instrumentation.
Article substitution
T-DOC provides significant flexibility when assembling trays, filling customer orders, and updating surgical preference lists.
Identical or alternative substitutes
When assembling trays, staff are provided pre-determined options for items that are not immediately available. These include identical items that can easily be substituted as one-to-one instruments but also alternative items that staff might not realize can be utilized. This allows for a greater completion rate and increases availability of trays. Selected identical or alternative substitutes are documented, and provided to staff throughout the production process.
Surgical preference lists
By utilizing the article substitution feature that T-DOC 2000 provides, staff can easily assign an appropriate replacement when faced with challenges regarding spare inventory. Not only does this ensure completion of case carts,it also prevents potential operating room delays.
Additionally, surgical preference lists are constantly updated with instrument changes. Substitutions can be used for operations, procedures, doctors, patient categories, customers and room preferences. This wide range of options gives you greater flexibility when it comes to inventory utilization and optimization.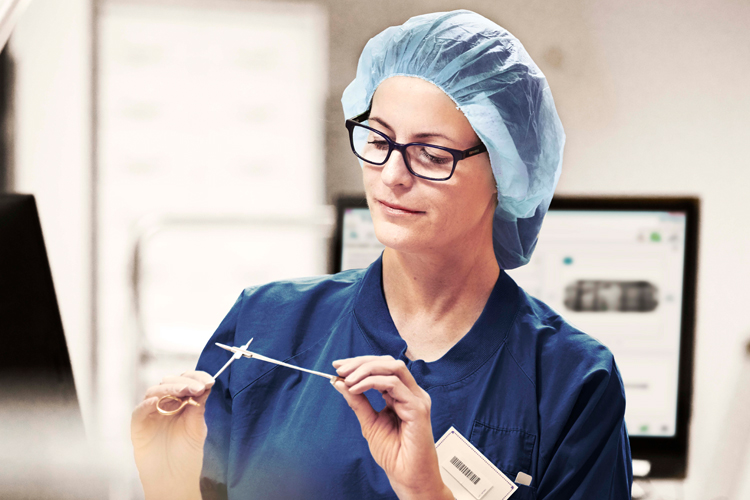 Quality assurance in the sterile workflow
T-DOC 2000 delivers complete process documentation, from the decontamination to the patient—at both the tray and instrument level. Ensuring that every step in the reprocessing cycle inenforced, this premium product provides you with auditable and historical documentation for regulatory compliance.
You can expect:
Clear and easy-to-read labeling that meets local and global requirements( including Unique Device Identification standards), reducing human error and facilitating accurate inventory.
All sterilization records are electronic, ensuring quick and accurate regulatory and audit documentation for internal hospital or regulatory use.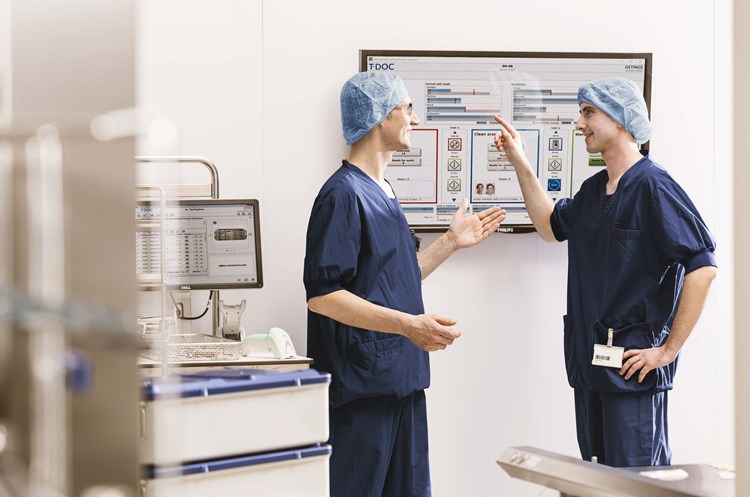 Optimize sterile workflow
An optimized sterile supply workflow in a hospital is about efficient resource utilization when it comes to staffing, instrumentation, prioritization, inventory management and reprocessing equipment.
T-DOC 2000:
Manages each step in the reprocessing cycle
Provides instant accessto valuable tools
Automates communication between departments
Ensures a safer patient experience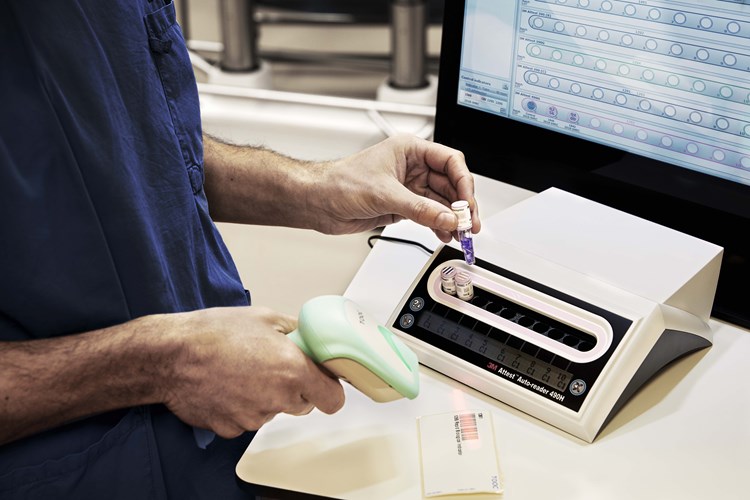 Provides a fully integrated, seamless, and cost-effective solution
Interfacing T-DOC with reprocessing equipment such as sterilizers, washers, heat sealers, and incubators provides a hospital the necessary compliance documentation as well as instant access for urgent patient care events.
T-DOC 2000 can also be interfaced with:
Hospital information systems
Surgical scheduling solutions
Materials management systems
Financial systems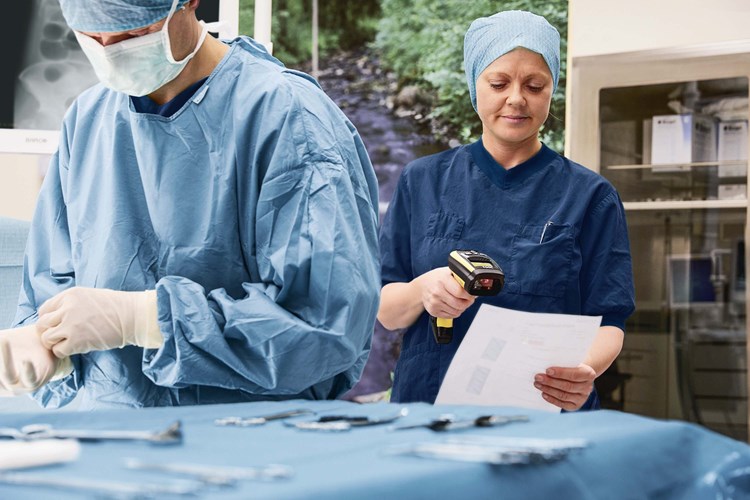 Directly impacts savings in the SPD
With T-DOC 2000, you can:
T-DOC directly impacts savings in the hospital reprocessing department, particularly when it comes to time spent searching for instruments and trays, reduced instrument maintenance and repairs, less time spent managing non-conformance and quality issues, fewer manual processes and the instant recall of goods. In the operating room, T-DOC reduces unnecessary delays due to missing instrumentation, unsterile goods, manual counting and it increases utilization with the accurate data needed for operation planning and procedure costs.