Getinge IN2 CSSD at a glance
The Getinge IN2 Modular Room System is the core of our project business. This high-quality, hygienic solution consists of a substructure, wall and ceiling elements, doors, and the optional integration of built-in elements that give you the flexibility to change and replace as needed. It is the flexible foundation for your hospital to grow and adapt to new technologies.
In the future...
your hospital will be different
1. Substructure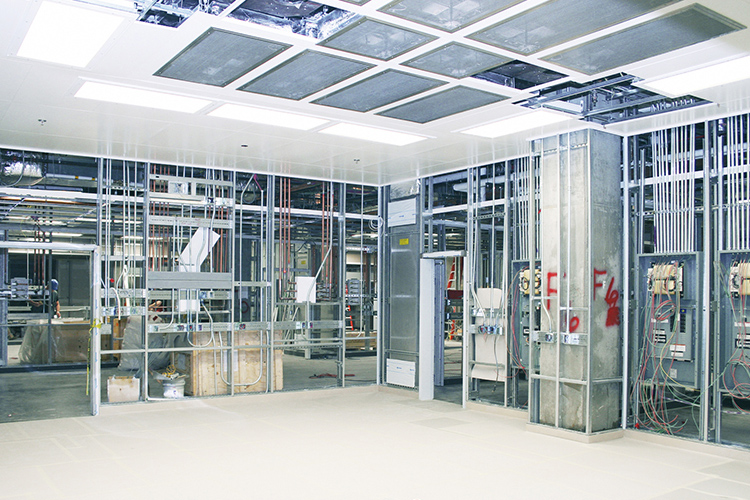 The Getinge IN2 elements are mounted to a solid galvanized steel substructure. Floor rails, ceiling rails, and vertical mounts are used to mix, match, and mount all types of panels.
2. Wall elements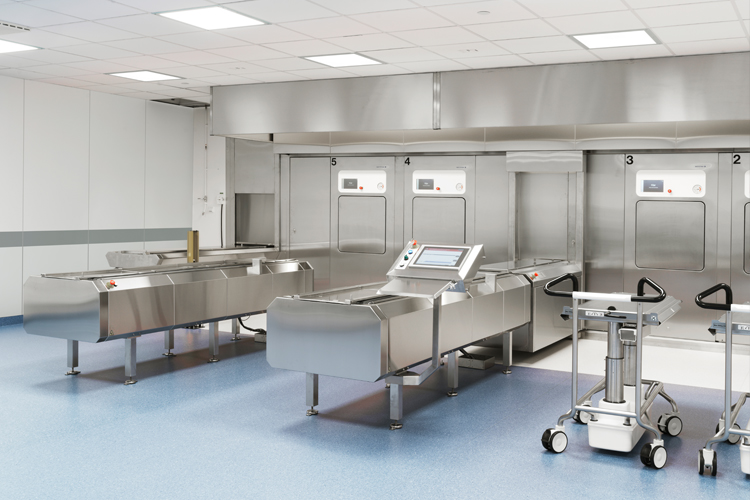 Getinge offers a range of different wall materials designed to meet your requirements. All are easy to clean and include a self-standing substructure. For the complex CSSD environment we recommend using hygienic materials, such as Stainless steel, HPL and Solid surface.
3. Modular Ceiling System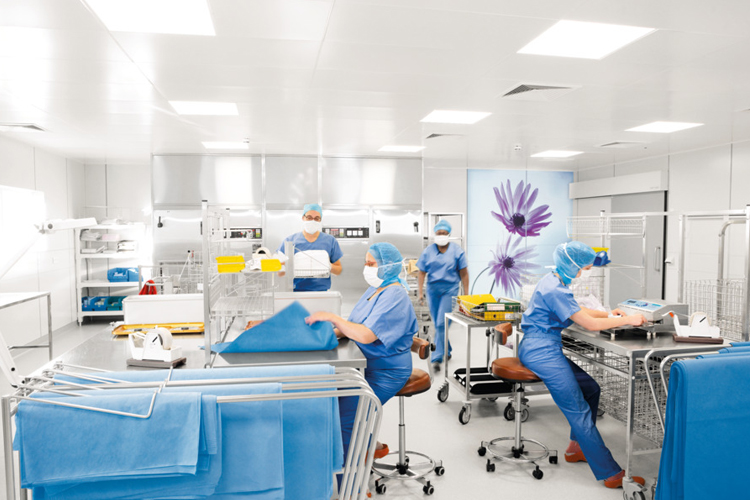 The modular ceiling system consists of a substructure, diffusors, room lights, and powder-coated steel ceiling cassettes that form a smooth false ceiling. These smooth, tightly sealed surfaces are easy and efficient to clean.
4. Glass elements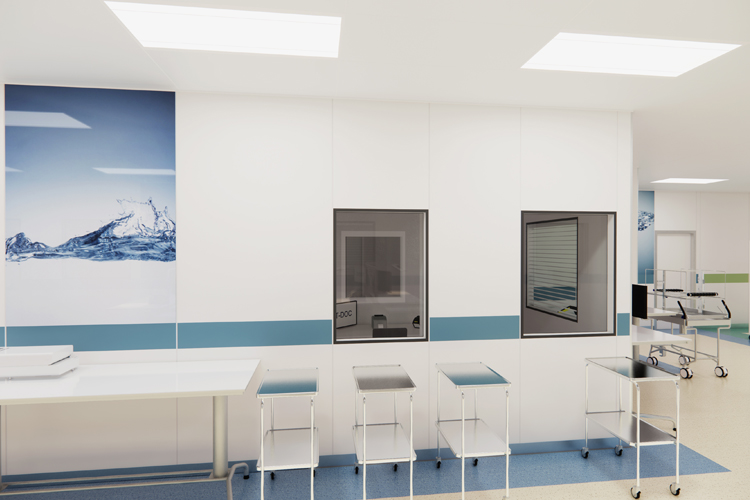 Viewing windows can be included for the supervisor to view the CSSD. Pass-through windows support CSSD workflows by maintaining hygiene between dirty, clean, and sterile areas when transferring tools.
5. Door system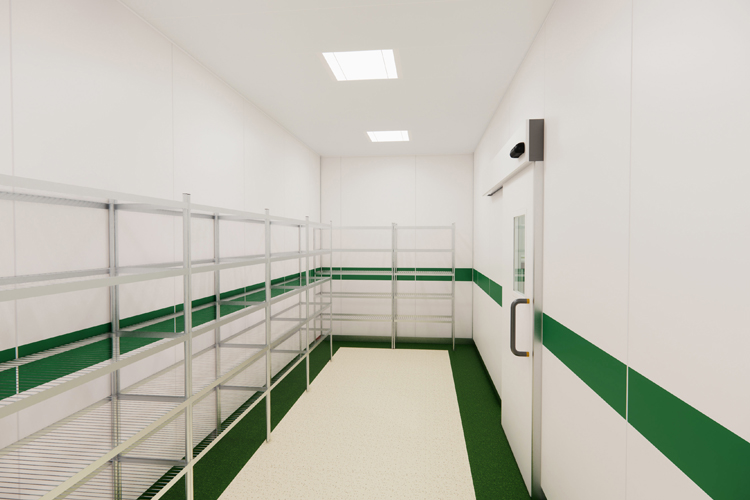 The CSSD door must be carefully selected to maximize space, workflow, and hygiene. We offer a variety of door options that work with the Getinge IN2 System in your CSSD. Automatic sliding doors are recommended for hygienic considerations and space management.
6. Parted system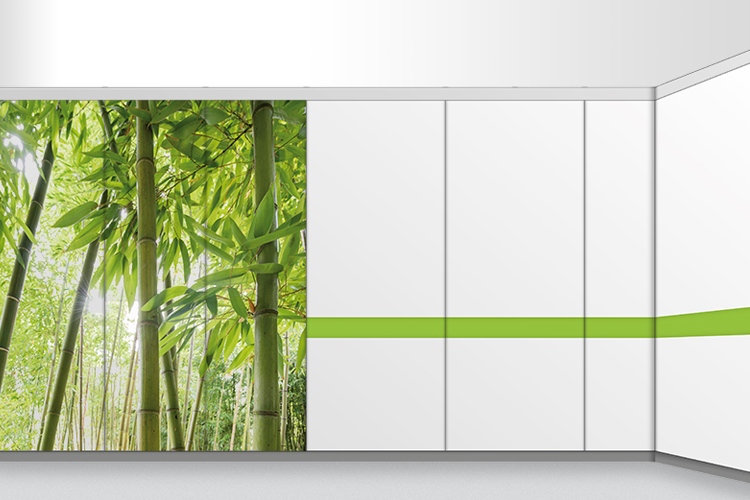 Getinge IN2 wall panels can be customized by need – single elements, 2- and 3 parted elements are available. Elements can easily disassembled and reinstalled during maintenance or modernization.
Dedicated wall materials for your CSSD
Getinge IN2 CSSD offers dedicated wall materials that are designed to meet the requirements of different hospital areas. For the CSSD we recommend our dedicated wall materials Stainless steel and HPL. Several design options such as print or backlit elements are available to improve aesthetics.
Stainless steel
Stainless steel wall elements are powder coated with an infused antibacterial technology. Smooth surfaces support easy cleaning. The standard 3-part elements allow for full modularity and flexibility. On-site cut-outs are possible to add outlets or additional monitors.
HPL
High Pressure Laminate (HPL) wall elements are sealed down to the substructure, feature smooth surfaces, and flush integration of window elements to support an easy disinfection process. The 1- or 2-part panels offer flexibility for future modifications.
Printed wall elements
Getinge IN2 CSSD offers printed wall elements to bring soothing imagery to the sterile reprocessing department– especially in rooms without windows. Images are directly printed onto the product for long-term durability. They are resistant to damage from standard cleaning solutions.
The Getinge IN2 CSSD System is designed to meet highest hygienic workflow requirements and offers:
Elements sealed down to the substructure
Smooth, powder-coated surfaces for easy cleaning
Effective sound insulation to meet building requirements
Cladding of infection control machines with stainless steel panels
Investing in a future-proof healthcare facility
Modular room systems are the key to maximizing ROI while accommodating growth and change.
The prefabricated, modular components of Getinge IN2 are designed to be easily assembled and disassembled without special tools, anticipating the evolution of cutting-edge technologies in the OR, CSSD, and ICU. Choose from a wide range of options and interchangeable elements to easily build or remodel your space.
Projects using prefabricated Getinge IN2 wall and ceiling elements can be completed 40% faster than projects that use conventional construction materials. This keeps project timelines on track and on budget, with less downtime, noise, dust, and disruption.
Getinge IN2 components are built to last
The design allows for elements to be reused and repurposed, reducing your facility's overall carbon footprint and maximizing the return on your investment.
Getinge's sustainability work is an integral part of our passion for life. We help our customers save lives with a commitment to conducting business that is socially, ethically and environmentally sound across the entire value chain.
By respecting our customers, employees, and the planet in everything we do, we make a positive impact on society, today and in the future.
Attractive design for a positive work environment
Incorporating appealing colors, motifs, and design elements can create a pleasant environment that alleviates tension and workplace stress. The pleasant atmosphere can have a positive impact on mood and efficiency.
Whether you prefer colored walls or artistic prints, Getinge IN2 offers a nearly limitless array of combinations of door leaves, walls, and ceiling elements. Create custom designs that bring calming energy to your facility.
A hygienic solution that meets your specific needs
All Getinge IN2 elements are sealed down to the substructure, feature smooth surfaces, and flush integration of built-in elements to support an easy disinfection process.
Getinge IN2 elements are designed to form a large, easy-to-clean surface with few joints within the hospital workspace. This has a positive impact on the prevention of cross-contamination.
Tailored to you
Don't settle for a one-size-fits-all solution.
Getinge specializes in offering complete, single-source concepts that are tailored precisely to your technical, economic, and local requirements. We will work with you to develop a flexible solution designed to evolve with the rapidly changing healthcare environment to maximize ROI.
Let us guide you through every stage, from consulting and planning through installation and initial operation.
Use Getinge IN2 in other hospital areas
Hospitals are high-stress facilities. Create a calming environment in corridors, holding, and recovery areas with Getinge IN2.
The same customized, attractive, and hygienic solution can provide a durable modular design for public-facing areas as well as endoscopic rooms or cath labs.
Marketing Sales - Brochures
The Getinge IN2 Modular Room System is the IN-telligent and IN-tuitive solution for flexible workspaces and positive atmospheres in your OR, ICU, and CSSD.

The Getinge IN2 high-pressure laminate (HPL) wall elements are designed to meet the durability and hygiene requirements for most hospital areas.
Great design is more than just good aesthetics. It's the overall experience from the first impression to interaction and lasting usability. The Scandinavian heritage of Getinge plays a key role in our design philosophy, and in the development of the Getinge IN2 System.