How to speed up aseptic liquid transfer while maintaining sterility?
The single-use DPTE-BetaBag® is playing an increasingly important role in scale-up and high-speed manufacturing operations by providing an aseptic liquid transfer solution that delivers on safety and sterility. Especially in final filtration and filling operations, maintaining sterility throughout the entire process is critical.
The DPTE® system is based on the integration of an alpha part with a beta part, each fitted with a door, a lock and a sealing function. DPTE® is the original rapid transfer port (RTP) and it connects with the DPTE-BetaBag®, providing a path for aseptic transfer of components to the filling suite. The DPTE-BetaBag® is manufactured in ultra-clean conditions and available pre-sterilized and filled with tubing or components from Getinge's partners to ensure a simple solution for pharmaceutical and biomanufacturers.
A number of challenges can arise in a process as complicated as aseptic filling for the manufacturing of sterile medicinal products. Quality assurance, through microbial, particulate and pyrogen contamination control, is critical to ensure both drug and patient safety.
"One of the main concerns surrounding single-use implementation in final-fill is the risk of a leak that could lead to loss of sterility," says Catherine Bianchi, Marketing Group Leader, Bioprocess Solutions at Saint-Gobain. "In the final stages of the bioprocess, every drop counts. Any contamination in the filling system or any leak reduces the doses available. It can also pose a risk to operator safety, especially in the case of high-potency API or antibody-drug conjugates. Our job is to protect both facets of the final-fill process, inside and outside."
Without a transfer port, introducing products in a filling line would require a sterilization or decontamination tunnel – a time-consuming process that requires additional validation. When it comes to the liquid transfer process in particular, the traditional stainless-steel containers that have to be cleaned, sterilized and maintained are also cumbersome.
The DPTE-BetaBag® enables a much faster production process with limited risk of cross-contamination. The DPTE-BetaBag® is integrated into a single-use assembly designed for isolator liquid transfer applications and provided as a sterilized assembly. This SU assembly integration enables greater flexibility and makes it easier to switch between batches.
Contract manufacturing organizations (CMOs) that support multiple companies need to switch production quickly from one drug to another. Single-use offers many advantages for rapid changeover as it minimizes the need for extensive decontamination and cleaning between the manufacturing of different products.
"It's all about speed to market." - Chuck Raye, Mobius® Final Fill Product Manager at Merck. "In the past, when a filling machine was all multi-use stainless steel, the filling machine vendor owned the whole process, including the fluid path. Now with single-use, the machine vendors can adjust the design to accommodate multiple products or multiple fill formats – such as vials, syringes, or cartridges – all on one filling machine. Single-use assemblies enable a quicker transfer, less risk of cross-contamination, elimination of cleaning and sterilization steps, and reduced setup time."
One of Merck's fill-finish customers was able to reduce their overall processing time, from setup and cleaning to fill-finish and filling, from 36 hours to 12 hours. They reduced their carbon footprint and increased their capacity by 40%. [1]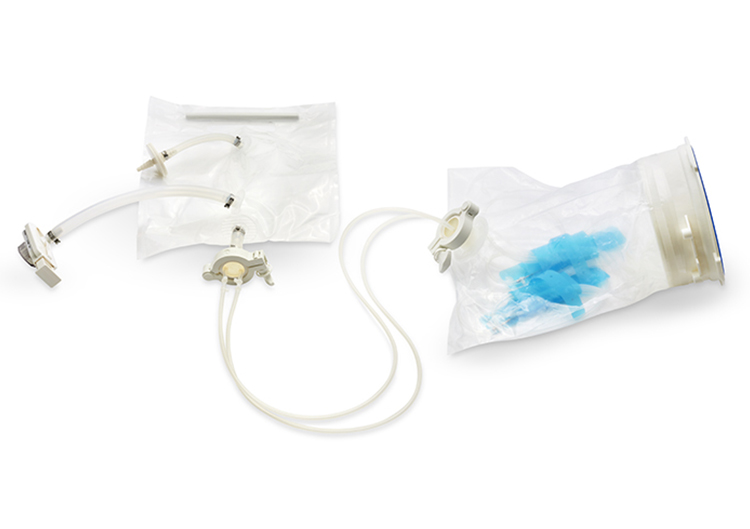 Merck SU Filling Assembly with DPTE-BetaBag®
Due to the critical nature of the process step, the filling must happen in an extremely clean and controlled environment. To achieve this control, Getinge produces the DPTE-BetaBag® in ISO 5 or ISO 7 clean rooms and then re-validates at their partner's production site. "Getinge supplies us with the DPTE-BetaBag® and we then modify the bag by welding on fluid path ports that enable us to assemble the tubing lines and create a sterile flow path from outside to inside the DPTE-BetaBag®," explains Chuck. Merck's manufacturing and sterility processes ensure the final integrated solution of the DPTE-BetaBag® and components – a sterile, single-use assembly that's ready to be integrated into an isolator filling machine.
The DPTE-BetaBag® helps us to safely transfer our single-use filling components from outside an isolator to inside an isolator without the risk of contamination to the filling needles or the tubing.
"The DPTE® technology is the gateway", says Catherine Bianchi, Marketing Group Leader Bioprocess Solutions at Saint-Gobain.
"It's the key component that allows us to bring our assembly into the final-fill process and into the isolator. This technology enables operators to work safely while protecting the product, which in turn protects the patients," adds Catherine.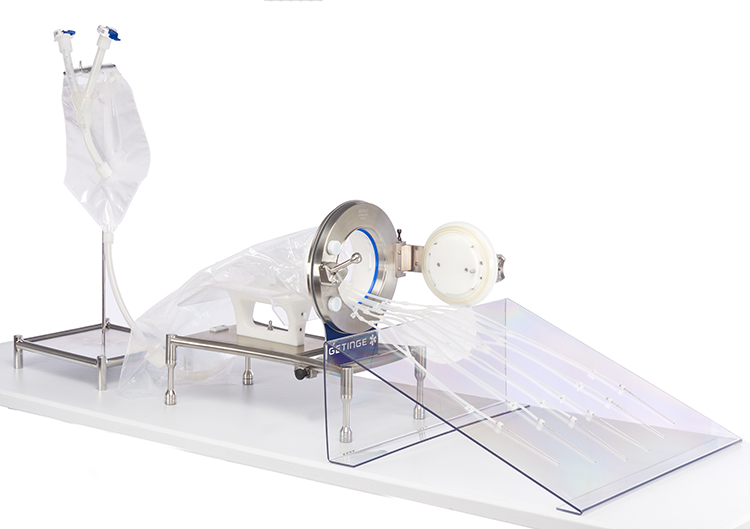 Saint-Gobain Life Sciences' Final Fill Custom Assembly
In recent years the single-use market for liquid transfer has grown by roughly 25% per year, mostly due to the increased production of biologics. The single-use trend is expected to continue, and Chuck believes this is an opportunity for people to collaborate more and be innovative in how they design assemblies. "A number of customers and suppliers in single-use are looking at how to standardize designs and procedures for implementing single-use. I think it will be a challenge, but something the industry has to push for to keep up with growing demand."
Single-use is growing because of its many quality and process advantages. It allows for a higher level of flexibility while reducing capital investment, labor costs and even water and energy consumption.
Single-use is also supporting the rise of multi-product facilities that work with reduced batch sizes, a trend that coincides with novel therapies such as orphan drugs or gene therapies for smaller patient populations.
Partnerships that drive innovation
Robust partnerships between Getinge – the makers of the DPTE-BetaBag® – and suppliers of the ready-to-use, pre-filled solutions are an important part of this success story. Anneke Evers, Senior Director Sales and Market Support for DPTE® Sterile Transfer at Getinge, values the different types of expertise each party brings to the table. "For me, it's great to be specialists of the DPTE-BetaBag® and combining our knowledge of aseptic transfer with the specific expertise of our liquid transfer partners gives a very innovative result."
We were looking for a partner that had a strong industry presence and a tried-and-true technology, and Getinge has been the industry leader in isolator transfer applications for decades.
Catherine agrees: "We want reliability, product quality, fast technical support and knowledge of the final fill market. And Getinge is a company with a long history and a reputation for high quality."
To maintain the great relationships and keep the industry moving forward, Getinge connects with partners regularly to learn about both pain points and trends. "We visit one another's plants to understand capabilities and new innovations, and we also have business reviews to analyze trends and collaborate on meeting future needs," says Chuck. "Knowing that we have a supplier and a partner that can meet our needs is critical for the long-term success of single-use."
Anneke is also excited about the future of DPTE-BetaBag®, adding that a new production facility will open later this year in the US. "This will enable us to reduce transportation and customs costs in the North American market, while also decreasing our environmental footprint," she says. "We need to build a more sustainable future together, which is why Getinge is also innovating within product sustainability and waste management."
Getinge is committed to working with partners to innovate and ensure flexible, optimized and cost-effective production along with the highest level of process and patient safety.