Take the advantage - single-site venous vessel access during ECMO
Minimizing patient trauma.
For critically ill patients requiring extracorporeal membrane oxygenation (ECMO), vascular access can be challenging to the vasculature. With the Avalon Elite Bi-Caval Dual-Lumen Catheter, only one cannula is inserted into the patient's internal jugular vein.
The world's first single site, kink resistant, veno-venous device
It matches the body's natural flow ratios by simultaneously removing deoxygenated blood from both the superior vena cava (SVC) and inferior vena cava (IVC), and returning oxygenated blood to the right atrium (RA).
A single-site venous vessel access
Brings advantages like freeing the femoral vein, which facilitates patient mobilization or preserves it as another access point.
If extubated on ECMO, the patient can be more easily mobilized.
In addition, by not cannulating the femoral vein and using just one site for vessel access, there is one less site for infection and a reduction in nursing care. It also decreases chances for accidental dislodgement.[1]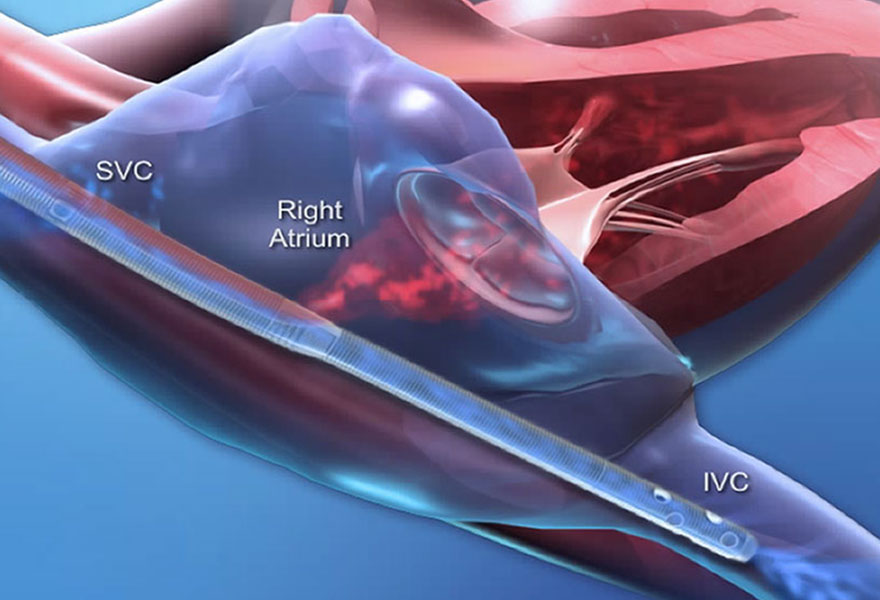 Single-site venous vessel access during ECMO
Radiopaque to assist in catheter insertion and placement for excellent positioning control
Smooth transition between introducer and catheter tip
Tapered introducer tip for percutaneous insertion
Excellent flow characteristics
Catheter material that combines the durability of polyurethane with the flexibility and biostability of silicone
Increased kink resistance due to wire reinforcement
Ultra-thin membrane separating reinfusion from drainage lumen allows for large internal lumen diameters
Seven sizes to accommodate all patients
A broad range of sizes for all patient types: neonatal, pediatric or adult
Physicians can customize the introducer tip extension based on personal preference
Marketing Sales - Brochures
Avalon Elite product brochure
Improve your knowledge with our eLearning and training courses
At Getinge Educational Institute, we have dedicated material for topics related to Intensive Care, Cardiovascular Procedures, Operating Room and Sterile Processing. We can support you with information about current technologies and best practices to boost your performance and productivity.
For more information about our onsite events or remote trainings, you can also contact your local sales & service representative.