Single-use beta bags for sterile transfer
Fully validated and guaranteed transfer process
Significantly reduced risk of biological and particulate contamination
Save on validation and on-site cleaning times and costs
Optimized productivity
A large variety of applications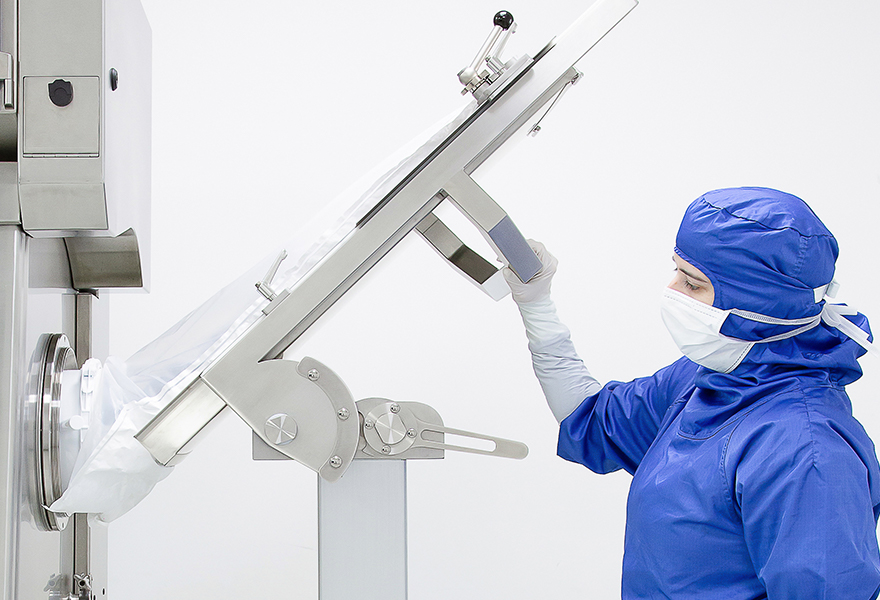 Optimized production
DPTE-BetaBag® is a flexible and scalable solution that can minimize your investment, production, validation, and maintenance costs:
Less equipment
Less storage area
Less water use
Ready To Use (RTU)
Ready To Sterilize (RTS)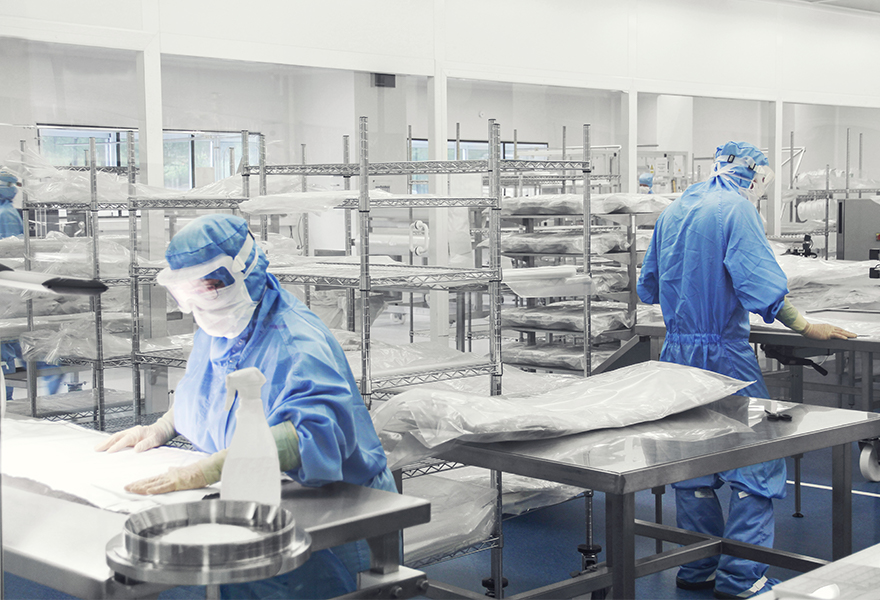 Validated solution
The validation of our DPTE-BetaBag® complies with international regulations:
Mechanical validation: leak testing of DPTE® Beta unit, leak testing if bag welded onto DPTE®, seal strength of the bag
Sterility validation: gamma irradiation cycle between 25 and 50 kGy
Microbiological validation: Bioburden, Endotoxin level
Particulate validation
The DPTE-BetaBag® range is assembled in ISO 5 and ISO 7 environments
for ultra-clean production.
DPTE-BetaBag® models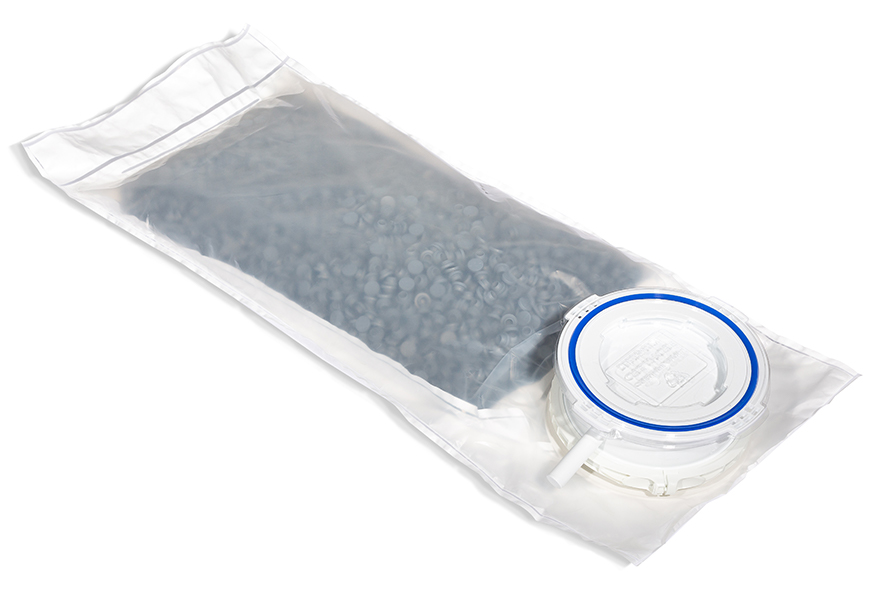 Tyvek
Available in 105 and 190 diameters
Useful volumes from 10 to 80 L
Single or double bag
Main application: component insertion
Steam sterilization or EtO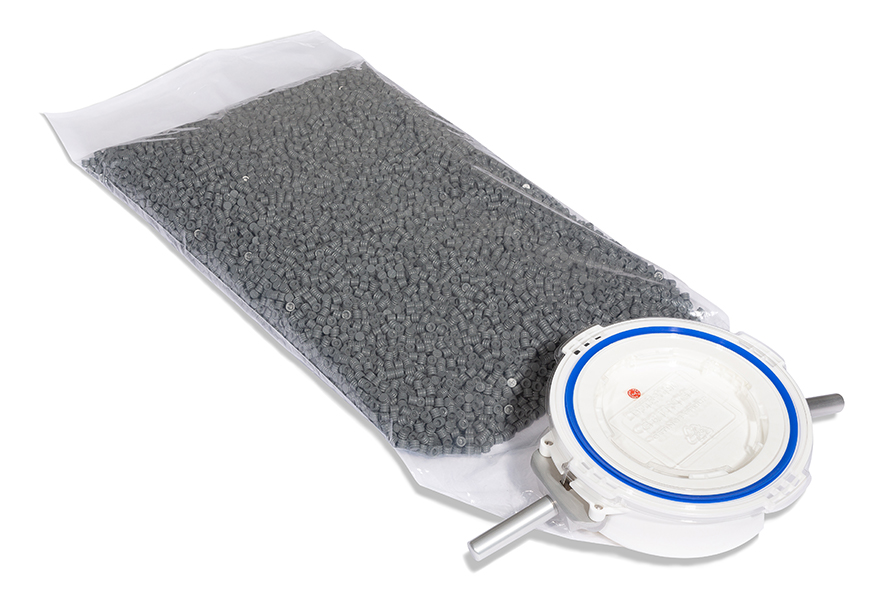 PE/EVOH/PE
Available in 105 and 190 diameters
Useful volumes from 10 to 150 L
Main application: component insertion
Gamma sterilization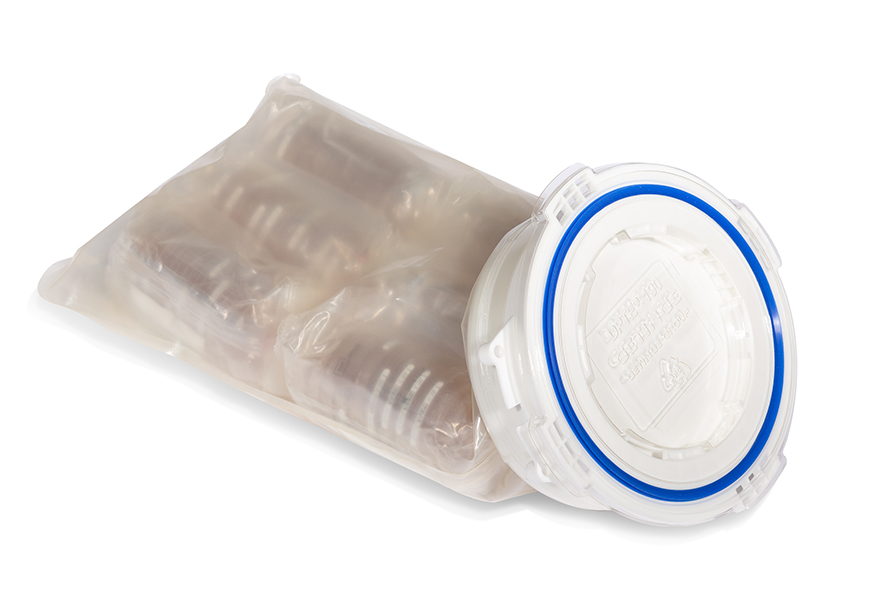 Polyurethane (PU)
Available in 105, 190, and 270 diameters
Useful volumes from 10 to 150 L
Main application: waste disposal, environmental monitoring
Gamma sterilization
Sleeveless DPTE-BetaBag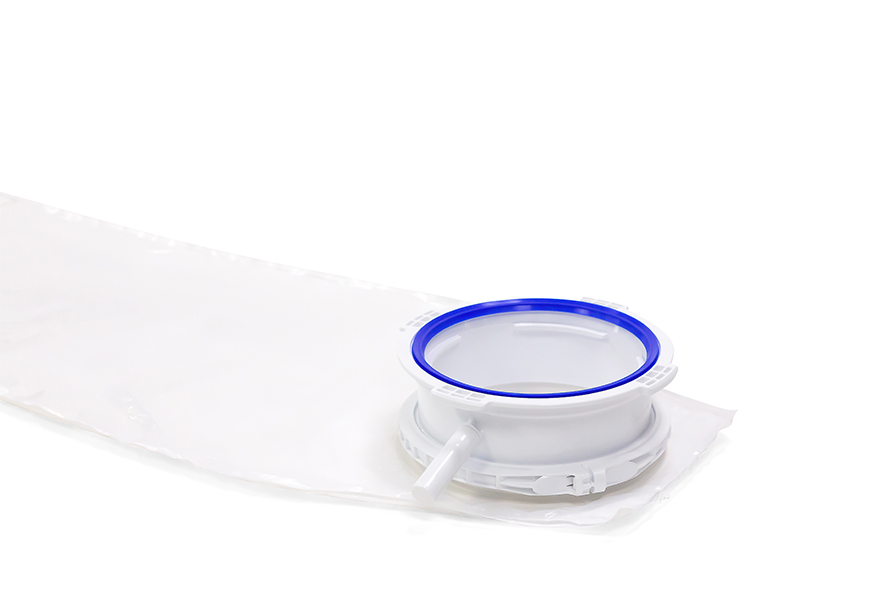 Available in:
Tyvek or PE-EVOH-PE
190 diameter
Useful volumes: 25 L (Tyvek) and 30 L (PE)
Main application: component insertion
Steam sterilization or EtO (Tyvek)
Gamma sterilization (PE)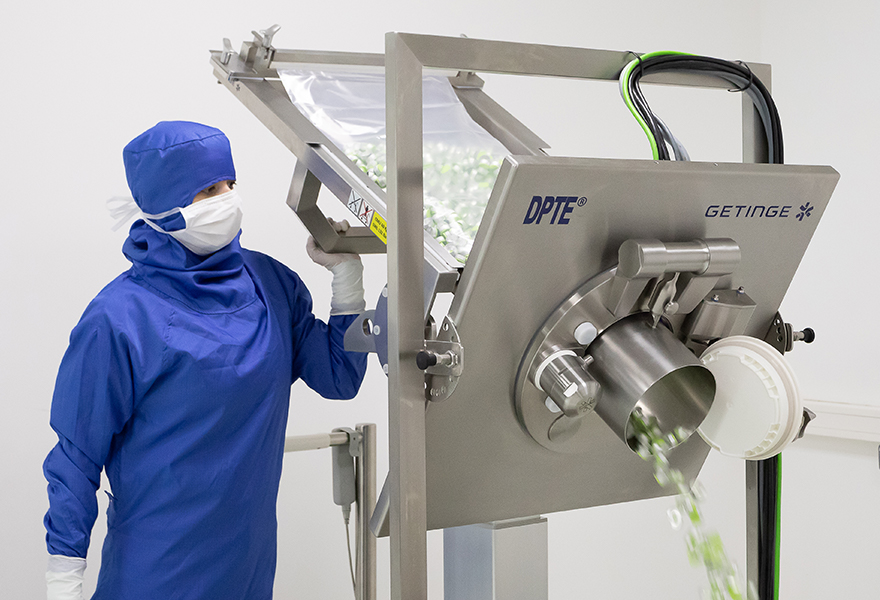 To support the need for gloveless processes, Getinge has developed the DPTE®-EXO - an external opening automated rapid transfer port - and a sleeveless DPTE-BetaBag. The sleeve has been removed and its protective functions are now replaced by the alpha port's funnel.
The DPTE®-EXO with Sleeveless DPTE-BetaBag® is a fully validated and interlocked system. Together with the dismountable funnel, it offers a total gloveless transfer solution from the outside of the aseptic filling area to the processing area.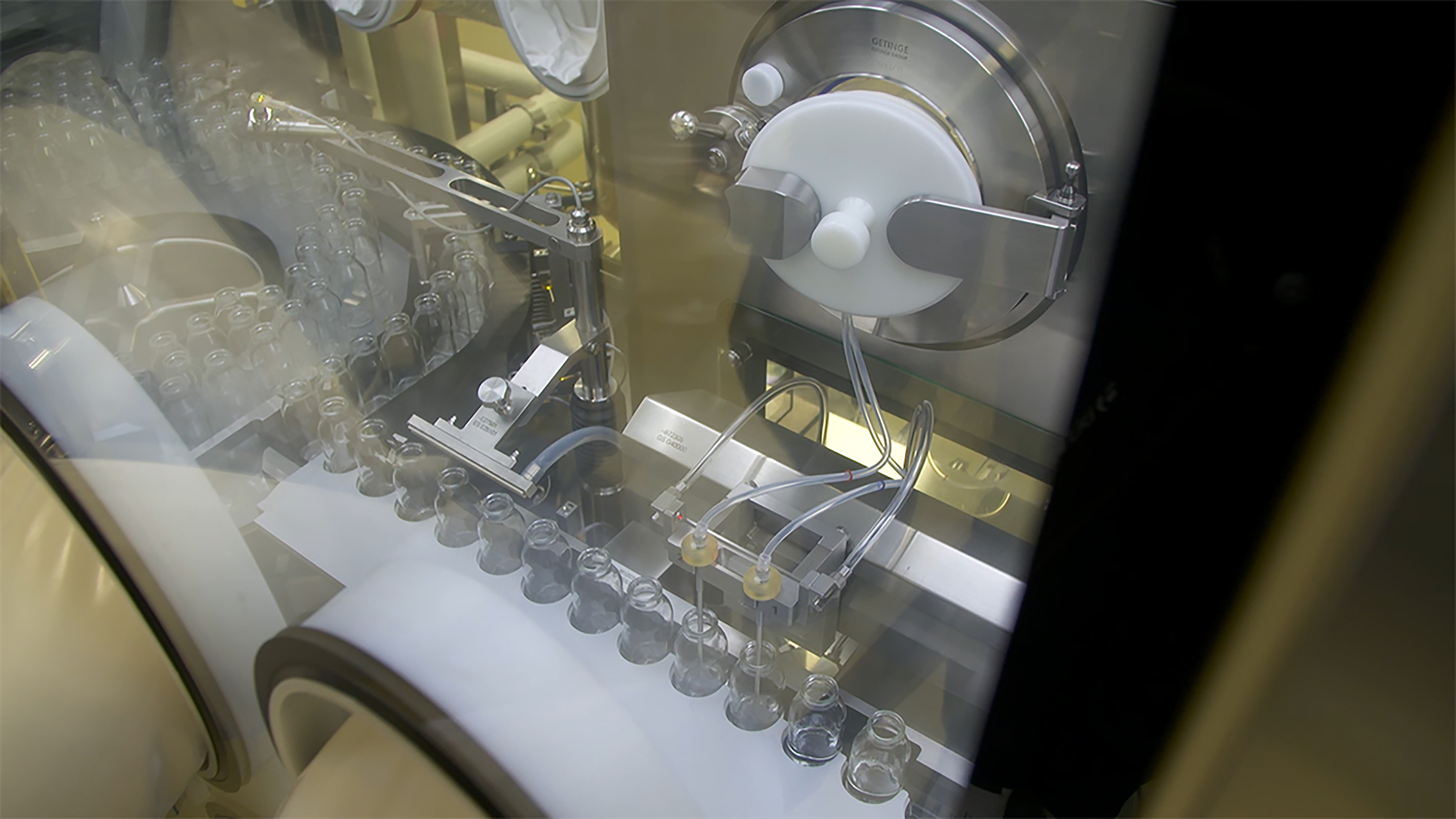 DPTE-BetaBag® for aseptic fluid transfer
Available as part of a sterile, single-use filling assembly from our partners – the efficient way to increase manufacturing flexibility and scalability.
Enables machine vendors to accommodate multiple products or multiple fill formats and makes it easier to switch between batches.
Enables faster transfer with fewer cleaning and sterilization steps and reduced setup times.
Ensures the highest safety levels and protects both operators and patients by eliminating the risk of contamination to filling needles or tubing.
We partner with multiple liquid transfer experts to supply the industry standard in single-use aseptic liquid transfer solutions using the single-use DPTE-BetaBag® technology.
Read more about two of our partners.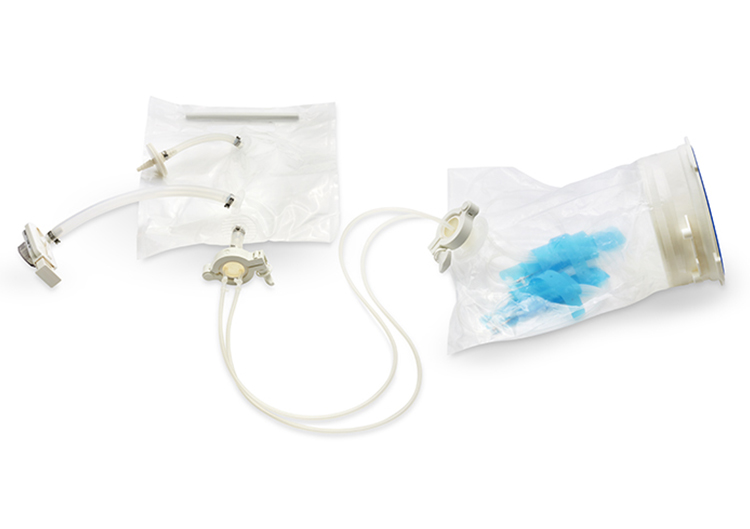 Merck
The Millipore® portfolio's Mobius® single-use (SU) final fill assemblies allow you to rapidly respond to manufacturing demands by eliminating cleaning, reducing setup time and minimizing the risk of cross-contamination. These assemblies contain SU components, including sterile connectors, 2D header bags, overmolded 1.5" TC multi-tube manifolds, peristaltic pump tubing, filling needles and the DPTE-BetaBag®. The DPTE-BetaBag® and Alpha port connection enable Mobius® SU components to be safely installed into the filling machine for sterile transfer and filling of the liquid drug product.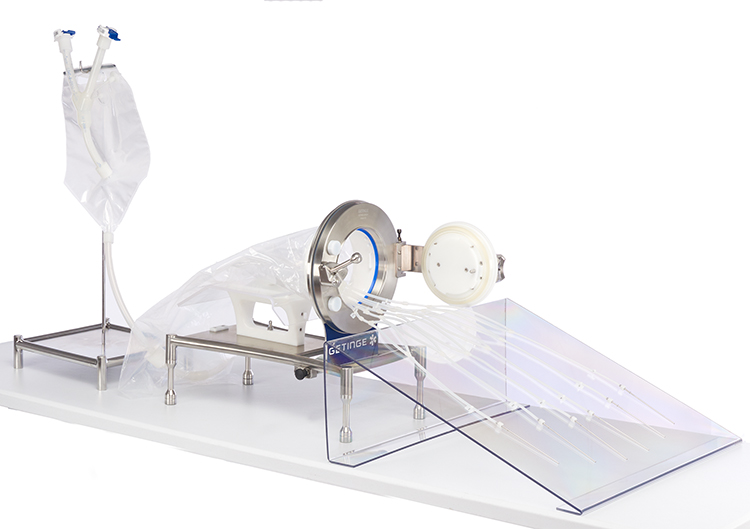 Saint-Gobain Life Sciences
Saint-Gobain Life Sciences' patented overmolding technology in single-use assemblies enables customers to increase productivity, reduce contamination risk, and ensure product integrity. Their vertically integrated components such as Pure- Fit® SIB connectors, BarbLock® retainers, and bioprocess bags, coupled with industry-proven silicone tubing, SPT-60L, can help achieve your critical filling process requirements. Saint-Gobain Life Sciences partners with Getinge for their customizable DPTE-BetaBag® solution: sterile, single-use liquid transfer from source bag to filling needles for demanding aseptic processing environments.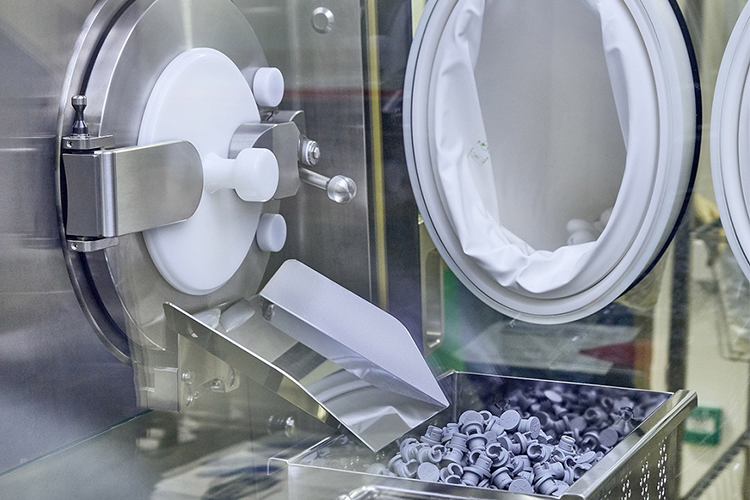 DPTE-BetaBag® for component insertion
Components such as stoppers, caps, plastic bottles, and plungers can be loaded into a single-use DPTE-BetaBag®.
Components can be sterilized inside the bag by the appropriate sterilization method (typically gamma, ethylene oxide, or steam), and delivered to the pharmaceutical production site, ready to use.
With pre-filled single-use DPTE-BetaBag® complete sterility is guaranteed, there is no maintenance, no cleaning, no washing, and no prior decontamination.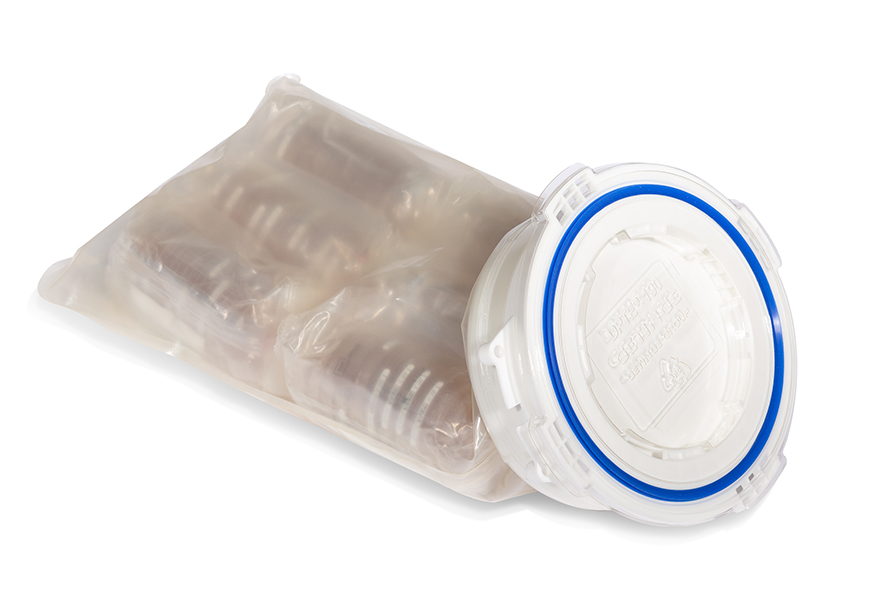 DPTE-BetaBag® for Environmental Monitoring (EM)
To control sterility inside isolators, petri dishes can be inserted through DPTE®-BetaBag.
Marketing Sales - Brochures
The original Rapid Transfer Port