Proven reliability and effectiveness
The water temperature of the HU 35 is controlled electronically, increased to the set point temperature, and the water in the circuit continually pumped via the connected oxygenator heat exchanger.
Easy to use
Easy to handle
No emission of aerosols
Comfortable usability
Clear symbols and large figures on the interface offer comfortable usability. The status display on the front panel of the HU 35 provides information on the proper functioning of the device during the use.
A safety system protects the patient by preventing temperatures beyond 40.1°C. Due to the absence of any fan, the device works exceptionally quiet.
Easy to handle
The HU 35 is smaller and lighter than other heater units in the European market, which are approved for use with oxygenator heat exchangers.
It can be simply placed on any stable table supporting its weight of 10 kg (with filled tank), wall mounted on standard slide rails, or perfectly positioned on the lower shelf of Getinge's Sprinter Cart and Sprinter Cart XL workstations using a special holder system.
No emission of aerosols
The HU 35 water system is sealed to the environment. The filling port to the tank is hermetically closed.
Furthermore, the device is passively cooled without the support of a fan, so that no aerosols can escape during operation into the environment.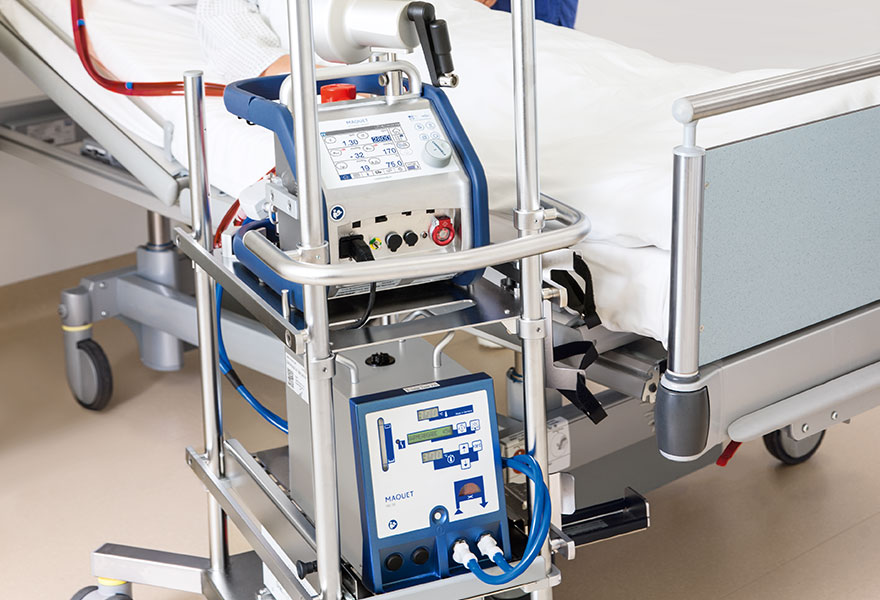 HU 35 and Cardiohelp System
The right combination for easy and safe temperature control for Getinge ECLS Systems equipped with Cardiohelp.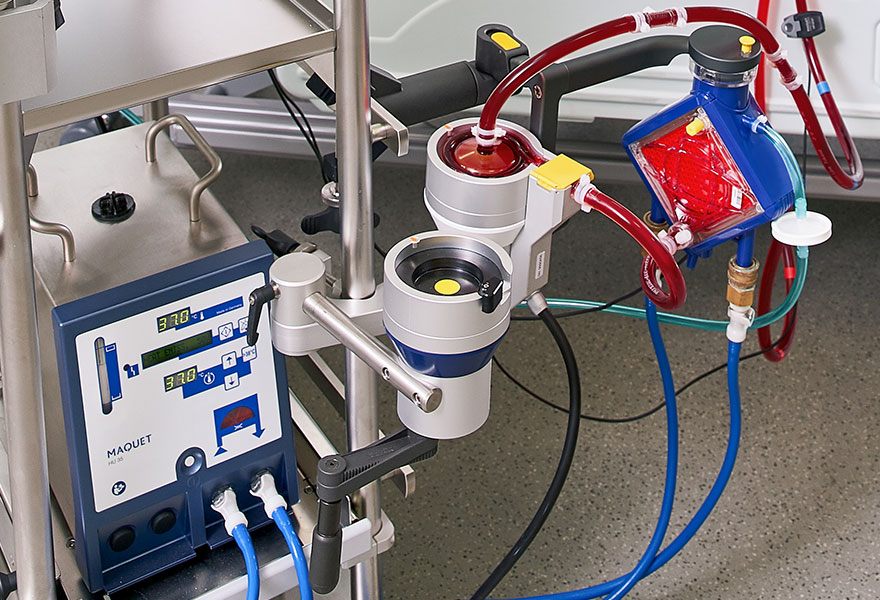 HU 35 and PLS System
Also for the PLS System endowed with Rotaflow or Rotaflow II, Heater Unit HU 35 complements Getinge's ECLS System excellently.
Benefits at a glance
​Smallest and lightest CE-approved heater unit for use with oxygenator heat exchangers during extracorporeal circulation
Robust stainless steel housing – easy to clean and damage-resistant
Easily transportable thanks to compact dimensions, low weight and practical handles
Perfect companion for the HLS System (Heart-Lung Support System) or Quadrox PLS System (Prolonged Life Support System)
Strong heating capacity of 500 Watt ensuring reliable maintenance of patient temperatures
Clear symbols and large figures on the interface for simplified operation
Operational safety through automatic self-diagnostic test and temperature safety cut-off
Safe design with closed water tank and absence of any fan prevents aerosolization and allows pleasant quite operation
Self-closing quick couplings for convenient connection and disconnection of the water supply tubing without water spillage
Proven disinfection procedures including a protocol for highly effective disinfection and biofilm reduction – also effective against atypical mycobacteria in the water system for hygienic safety
Fits perfectly on Getinge's workstations Sprinter Cart and Sprinter Cart XL
Marketing Sales - Brochures
Easy and safe temperature control for Extracorporeal Life Support