Maquet Moduevo Intensive Care and Recovery Solutions
An answer to daily challenges
The Maquet Moduevo ceiling supply units range ensure vital utilities and equipment are easily accessible, streamlining workflows and improving efficiency. Simple to implement and use, they enable better organization of resources, increasing productivity – and consequently, decreasing costs.
Versatility
Ergonomics
Maneuverability
Enhancing patient comfort
Maquet Moduevo Bridge
Think horizontal!
Getinge has developed a horizontal solution to accommodate architectural constraints: Moduevo Bridge.
This economical, space-saving ceiling supply unit is designed to enhance provider-patient interactions at all acuity levels by keeping everything close at hand. It can be installed in intensive care and high-dependency care units, recovery and emergency departments.
Challenging facility constraints
Fostering a healing environment
Answering to economical considerations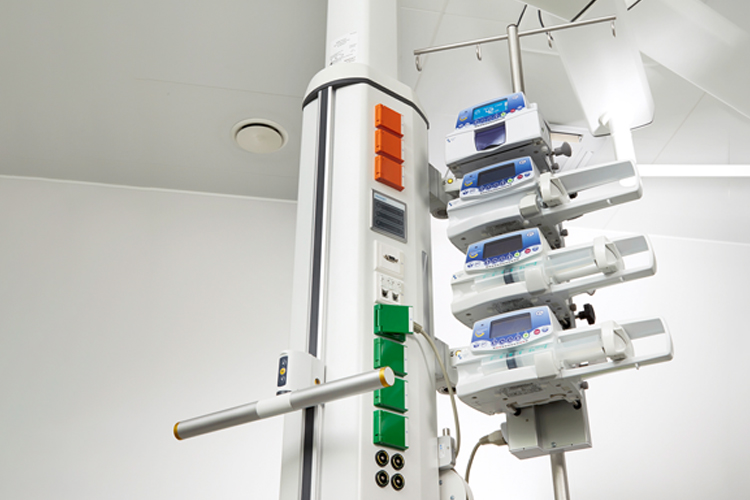 Ergonomic Positioning System (EPoS)
Components and accessories – even those requiring a power supply – can be added and removed in line with changing needs
They can be freely positioned on every face of the unit module, and at any height
Customized workstations can be created easily and quickly, ensuring everything remains within easy reach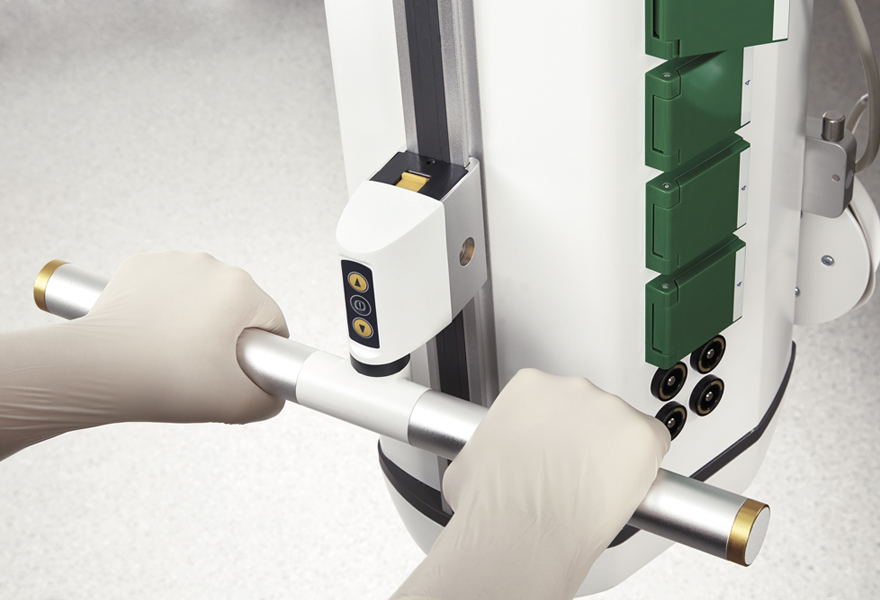 Grab & Move Handle
Breaks new ground in terms of intuitive positioning.
When grasped, its capacitive sensing technology releases the unit's brakes.
Enables staff to intuitively move the pendants to the desired position simply, with just one hand and minimal physical effort.
This design approach allows each configuration to evolve in line with the hospital's daily challenges.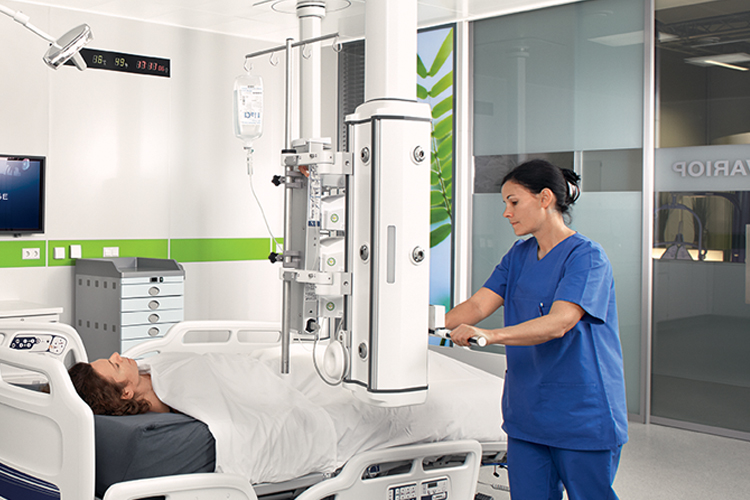 Electro-magnetic Brakes
Maquet Moduevo's pioneering electro-magnetic brakes are absolutely silent, enhancing patient comfort – and virtually no maintenance is required.
Staff can rest assured of seamlessly smooth, controlled movements, and enjoy Maquet Moduevo's broad range of movement.
Staff can reposition the ceiling supply unit without disturbing patients.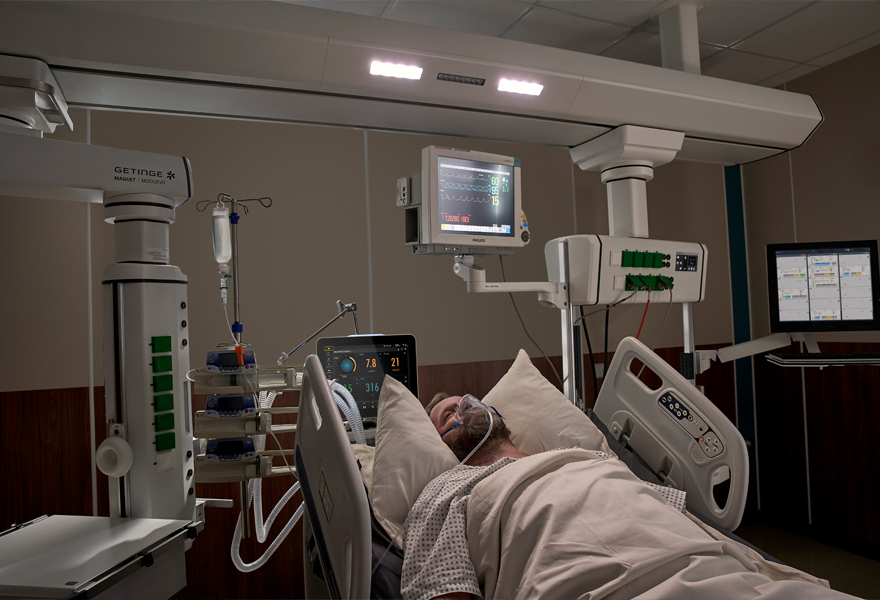 Ambient light
Suitable for units without windows: the Somnus light provides innovative daylight simulation. Developed according to the Lighting Research Center Recommendations, the Somnus light creates bluish tones to simulate morning light, while reddish ones represent evening light (based on the Circadian Stimulus). This option is available with Maquet Moduevo Bridge.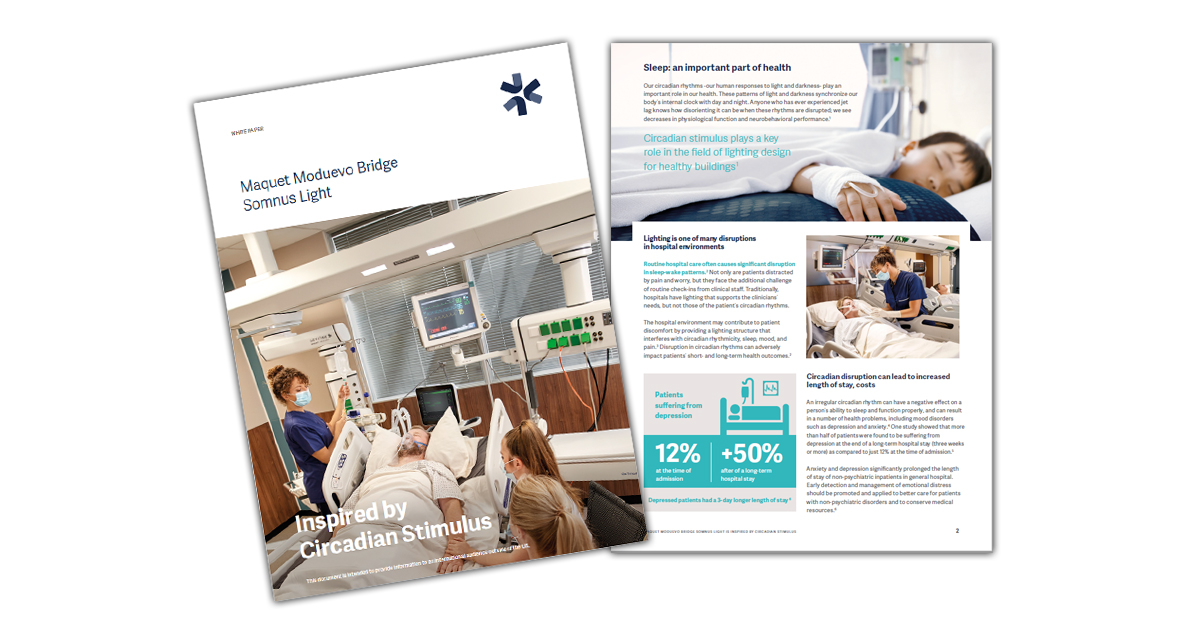 Maquet Moduevo Bridge Somnus Light
Inspired by Circadian Stimulus
Routine hospital care can disrupt patients' circadian rhythms, slowing recovery and prolonging the length of stay.
Learn how mimicking natural lighting can help support patients' circadian rhythms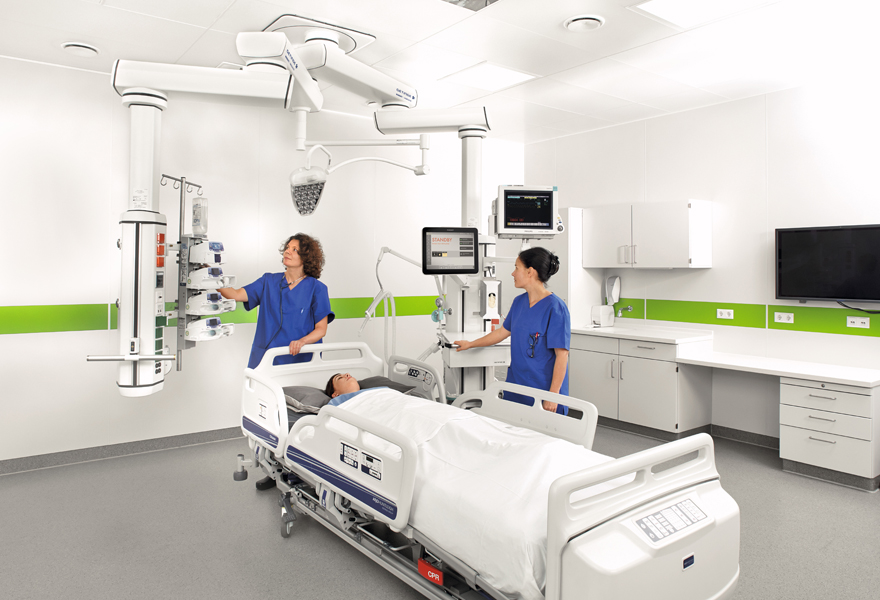 Streamlining workflows in intensive care units
A key aim of Maquet Moduevo is to enhance the patient experience. Specifically, it is crucial that patients in ICUs are able to rest.
To this end, Maquet Moduevo can include options such as absolutely silent electro-magnetic brakes, so staff can reposition the pendant without disturbing patients. Furthermore, soft ambient lighting on the sides, top and bottom of the supply unit create a soothing atmosphere.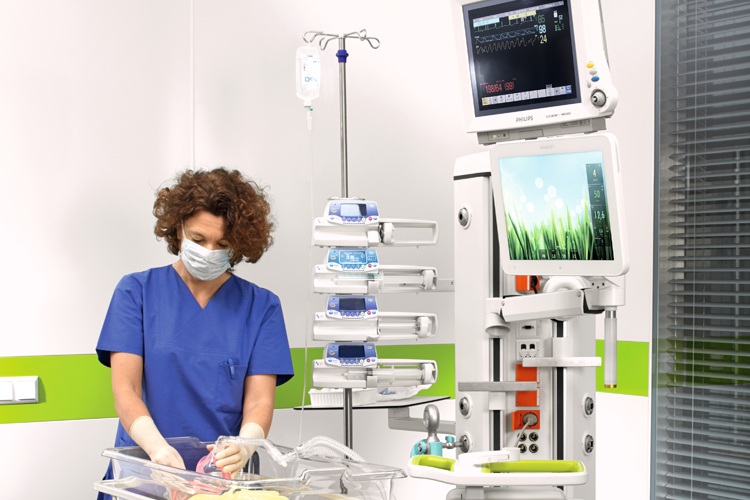 Recovery rooms: caring for all patients made easy
For recovery purposes, a single pendant or a column system is capable of carrying all the essential equipment – such as infusion system, monitors, and shelves – for treatment in recovery rooms. For cost and space saving, a column system can serve two beds positioned on each side of the pendant.
Better bedside access improves care in the ICU
Hospital Center Brive La Gaillarde in France has seen improvements in workflow, patient safety, and staff ergonomics since installing Maquet Moduevo in the ICU. In this video, see the head nurse, staff nurse, and chief medical officer for the ICU explain how the system has improved working conditions in their hospital.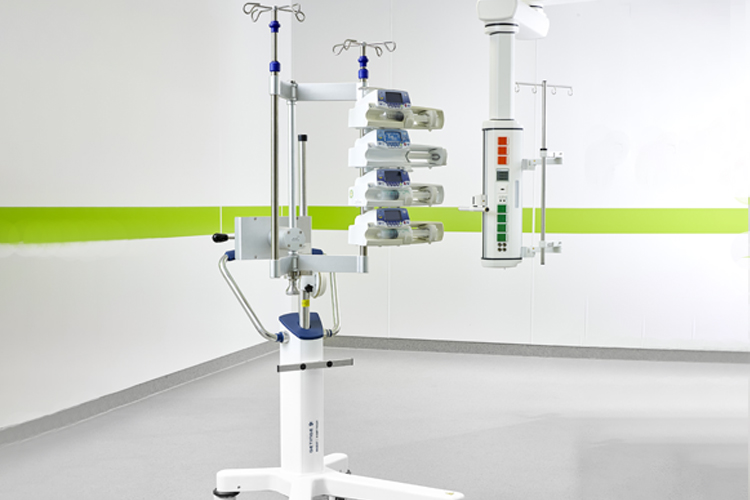 M-Shift & M-Shift trolley
The infusion transfer solution
M-Shift, the infusion transfer solution, excels as flexible, effortless, stable and transferable system. Transferring the patient's complete infusion system will take less than a minute, optimizing the workflow in the critical care environment and liberating nurses from heavy workload.
Combined with M-Shift Trolley, it accommodates a complete IV set-up when particular ICU beds do not fit the solution. M-Shift Trolley enables use of the system's main unit anytime and anywhere.
Maquet Moduevo Accessories
Accessories to store
Accessories to position
Accessories to hold
Accessories to illuminate
Marketing Sales - Brochures
Improving healthcare environments

Discover our Moduevo range in an interractive pdf
Marketing Sales - Sales Flyer
Think horizontal for your ICU!