The Advanta VXT vascular graft is a synthetic vascular prosthesis made from expanded Polytetrafluoroethylene (ePTFE). It is comprised of a reinforced two-layer design. The Advanta VXT vascular graft is available in straight and tapered configurations offering the ability to match or alter vessel flow dynamics. Advanta VXT grafts are also offered with and without helical support (commonly referred to as rings) should additional radial support be preferred. Additionally, grafts can be ordered as standard wall thickness or thin wall thickness.
The Advanta VXT grafts are indicated for use in patients with peripheral vascualr disease, when peripheral arteries must be repaired or replaced and when open surgery is required. Indications for use also include patients with end stage renal disease requiring arterovenous vascular access for dialysis.
Advanta VXT is available in lengths from 10 – 90 cm
Advanta VXT is offered in diameters from 4 mm – 10 mm
Advanta VXT comes equipped with the Slider GDS tunneling system
Advanta VXT has an average outer surface porosity of 50 µm and an average inner surface porosity of 20 µm [1]
Available in different configurations
Straight:
Getinge offers an extensive line of straight grafts. Straight grafts are often used for those applications where a bypass is needed and vessel diameter remains a constant from the proximal to the distal anastomosis.
This graft configurations is offered in both thin wall and standard wall thickness.
Tapered:
A wide selection of tapered grafts is also offered for those clinical applications where flow dynamics need to be altered or when performing a bypass between two different diameter vessels.
This graft configuration is offered in both thin wall and standard wall thickness.
Thin Wall (TW):
The Advanta VXT TW grafts offer a reduced wall thickness across the length of the graft compared to Advanta VXT standard wall thickness grafts.
Standard Wall (SW):
Getinge also offers a full line of standard wall thickness grafts.
Helix
Advanta VXT grafts are also offered with a helical coil (made of PTFE) that is wrapped around the outer surface of the graft. This helix provides additional radial support to minimize graft compression. Common uses for a helix wrapped graft would be when graft placement extends across a joint, where unwanted compression of the graft is likely to occur. Unlike competing products, our helix can be peeled off (by following the procedure in the product IFU) so that it will only be present where desired.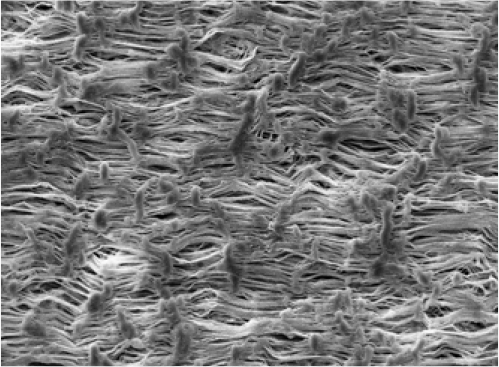 Advanta VXT has an average outer surface porosity of 50 μm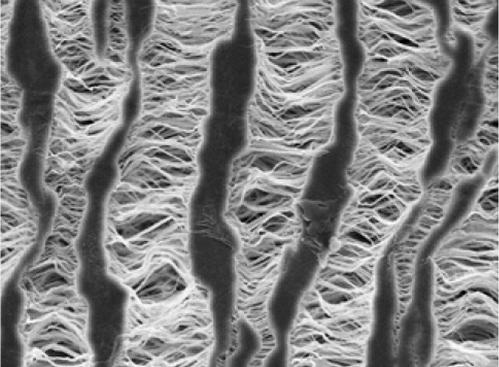 Advanta VXT has an inner surface porosity of nominal 20 μm
Complete Vascular and Cardiothoracic Surgery Solutions Catalog