Getinge Lancer Ultima Undercounter Laboratory Washers
High performance
– compact footprint
Reliable and repeatable cleaning of glassware and utensils
Less noise, less surface heat, and less space required
User-friendly and ergonomic interface
Learn more about the basic operations
Getinge Lancer Ultima Washer/Dryers are designed to deliver reliable and repeatable cleaning of glassware and utensils while maximizing valuable floor space in your laboratory.
The most common racks are interchangeable between wash levels. All racks can be used with the 810 LX and 815 LX models Undercounter Washers, and the 910 LX, and 1300 LX models of Freestanding Washers, minimizing the need for additional accessories.
A user-friendly, icon-based interface features 5 preset programs for easy operations and setup.
Optimize cleaning performance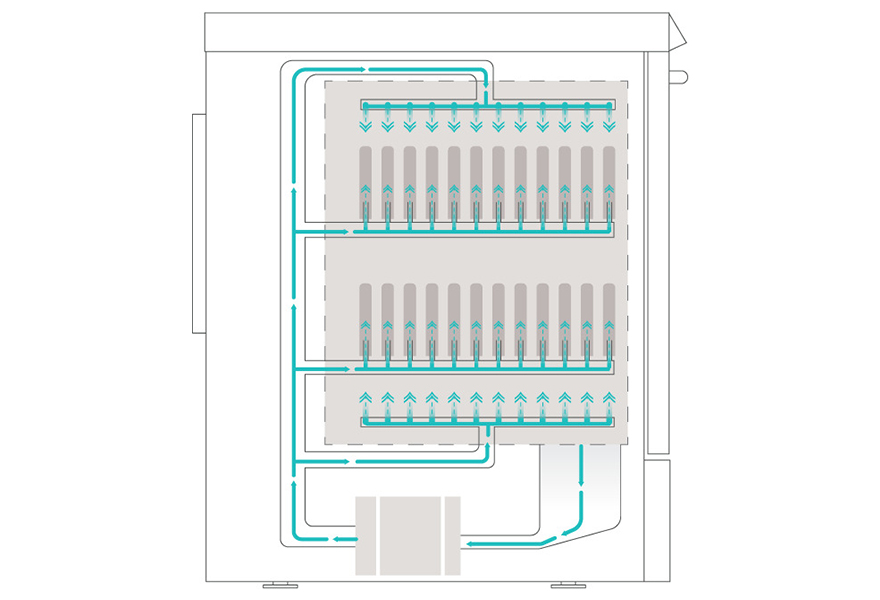 High performance in a compact footprint
The Laboratory Undercounter Washer/Dryers are designed for optimal cleaning performance in space-limited laboratories. The hydraulic systems deliver a direct fluid path to each individual rack, maximizing water flow and pressure.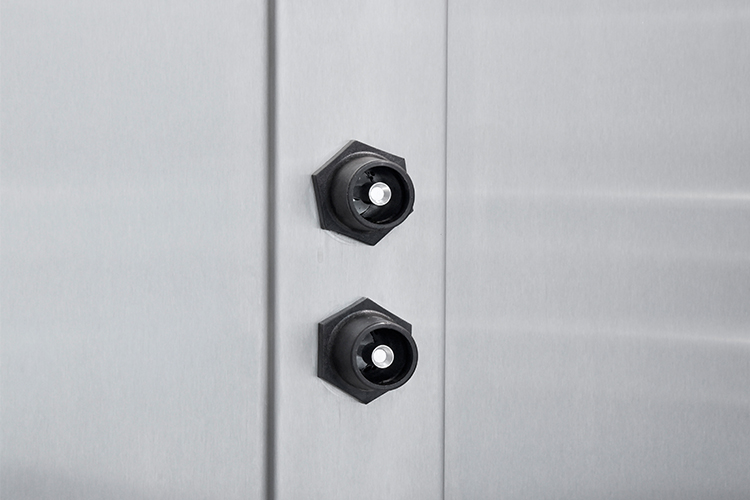 Ensure consistent pressure and flow
A tight connection to the hydraulic circuit ensures consistent water pressure and flow on each wash level. Injector rack connections are strategically located in the rear of the chamber. The door pushes the racks against the circuit to form a secure connection.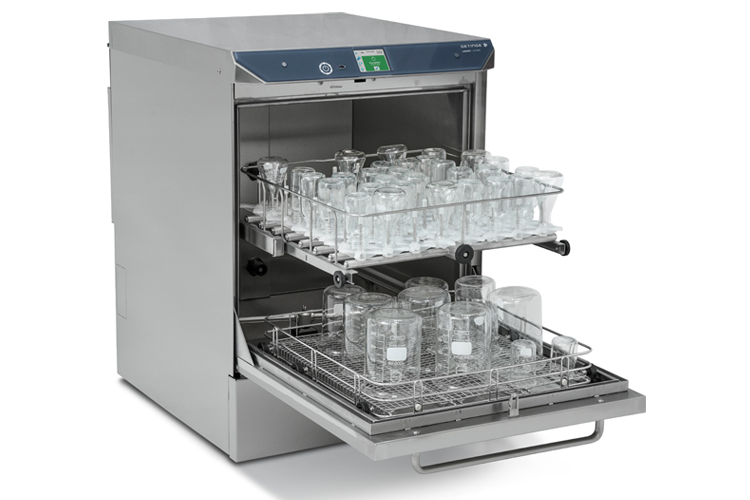 Complete water coverage for comprehensive cleaning
Get complete coverage of both the exterior and interior of your laboratory glassware. Pressurized top and bottom stainless steel spray arms combine with injector washing on two levels for a comprehensive clean.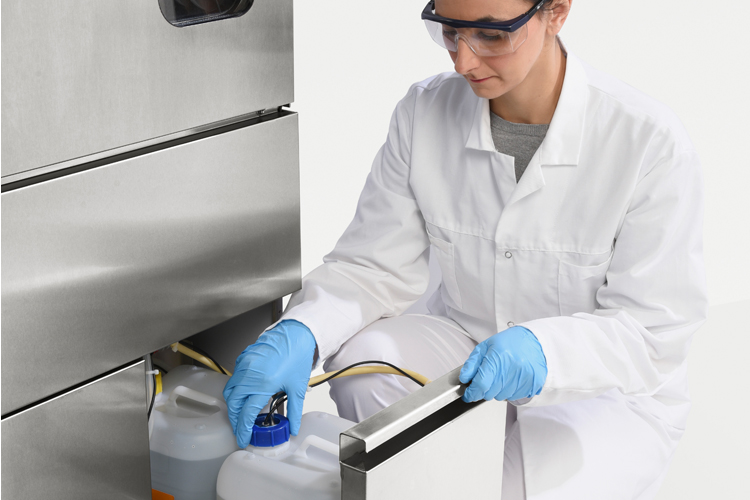 Minimize environmental impact
Maximize cleaning performance while minimizing costs and environmental impact. Peristaltic pumps deliver accurate dosing of detergent and acid. Optional conductivity measurement ensures consistent processing with no chemical residues on processed goods.
Process control & operation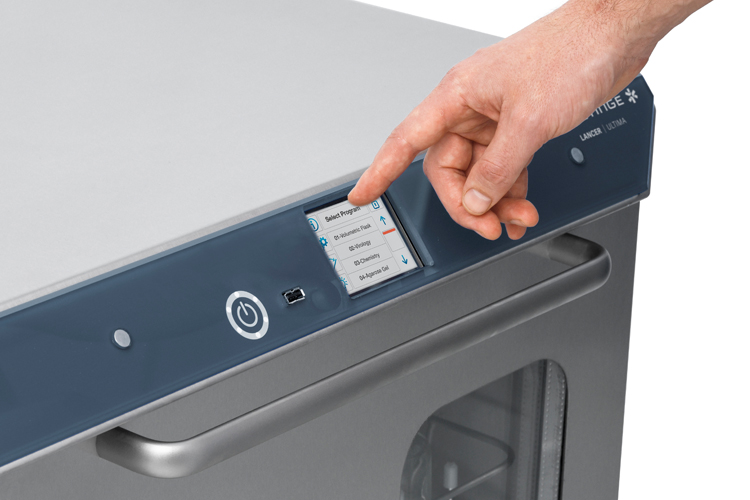 One-touch efficiency
Improve reprocessing efficiency with preset and custom cycles. Five preset programs cover the most common routine cleaning applications; these can easily be started with one touch on the icon-based user interface.
Cycle parameters can be adjusted and customized to deliver up to 35 custom cycles to meet specific process needs. Different password levels are required for custom programming.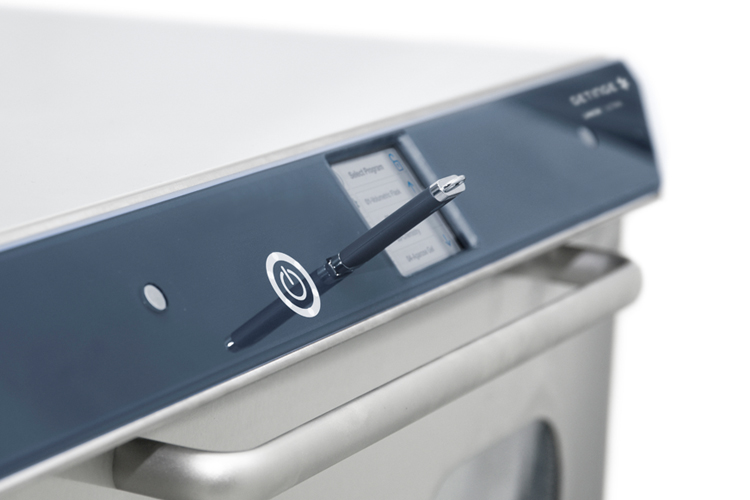 Documented performance
Documentation plays a critical role in laboratory quality control. With Lancer Ultima, a control system monitors several parameters throughout the cycle. The interface will display an alarm, stopping processes if parameters go outside the pre-set limits.
A digital pdf printout provides cleaning process documentation including cycle parameters, cycle number, date and time, phase duration, temperature for each phase, and detergent/acid intake.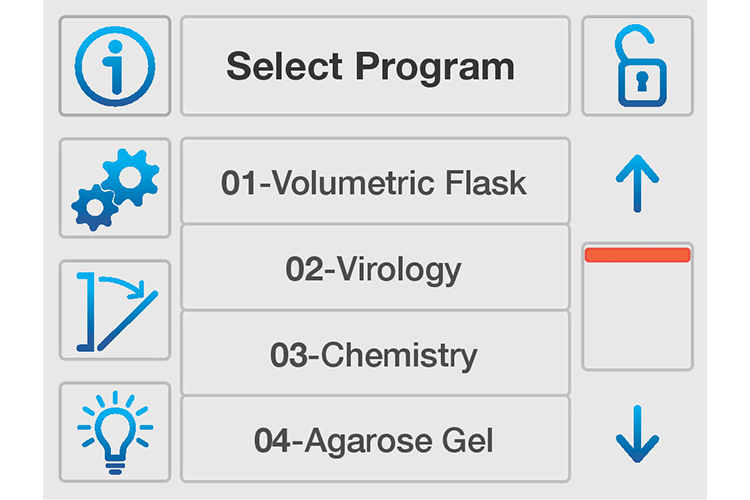 Efficient operations
User-friendly interfaces ensure easy and efficient performance. Screen menus and graphic user interfaces simplify setup and operations, making it easy to identify active programs, remaining time, warnings, alarms and cycle complete notifications.
The interface also includes functions to simplify calibration and other qualification tasks.
Loading efficiency & construction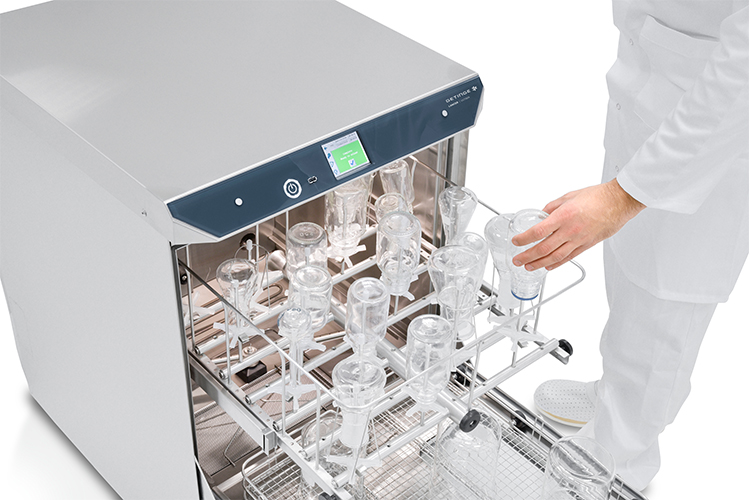 Ergonomic and efficient loading
The Undercounter Laboratory Washer/Dryers make the best use of your valuable laboratory space. Efficient use of chamber space maximizes throughput with a minimal footprint and operating cost. The range allows washing on multiple levels, each connected to the hydraulic circuit. Telescopic runners support high-density loading. When combined with a drop-down door, these features allow for ergonomically friendly loading without removing racks from the chamber.
The most common racks are interchangeable between the upper and lower level, allowing the chamber to be flexibly configured according to the items being processed. All racks are interchangeable among the 810 LX and 815 LX models of Getinge Lancer Ultima Undercounter Washers, and the 910 LX, and 1300 LX models of the Freestanding Washers, limiting the need for new loading equipment when expanding the capacity of your laboratory.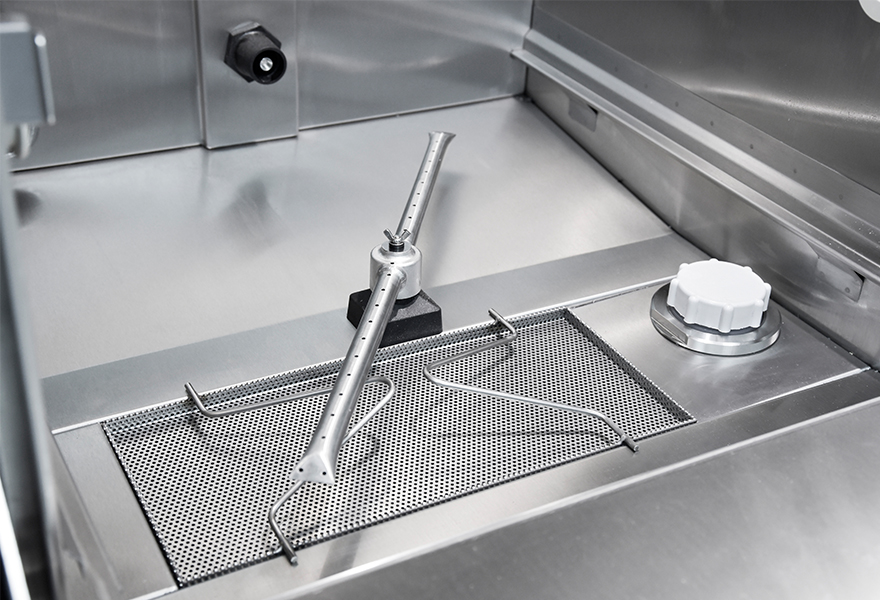 High-quality construction for a long-term investment
The Undercounter Laboratory Washer/Dryers have high-quality construction to maximize uptime and improve laboratory efficiency. The sump, interior chamber, door, and spray arms are constructed of high-grade stainless steel which resists aggressive laboratory chemicals and residues.
Within the chamber, a dual-filter system protects the main pump from debris that could cause damage and costly downtime. The exterior is fully enclosed in stainless steel to resist corrosion, simplify cleaning, and protect plumbing and electrical components. An insulated chamber and door confines heat loss and provides retention of heat to minimize energy consumption. The sump design and direct fluid path reduce the water volume needed per fill, minimizing the overall consumption of water and chemicals.
Bioreactor preparation solution
Advances in bioreactor washing
The programmable labware washer with specialty wash rack for the multi-use bioreactor assures thorough cleaning, better reproducibility and reduced labor.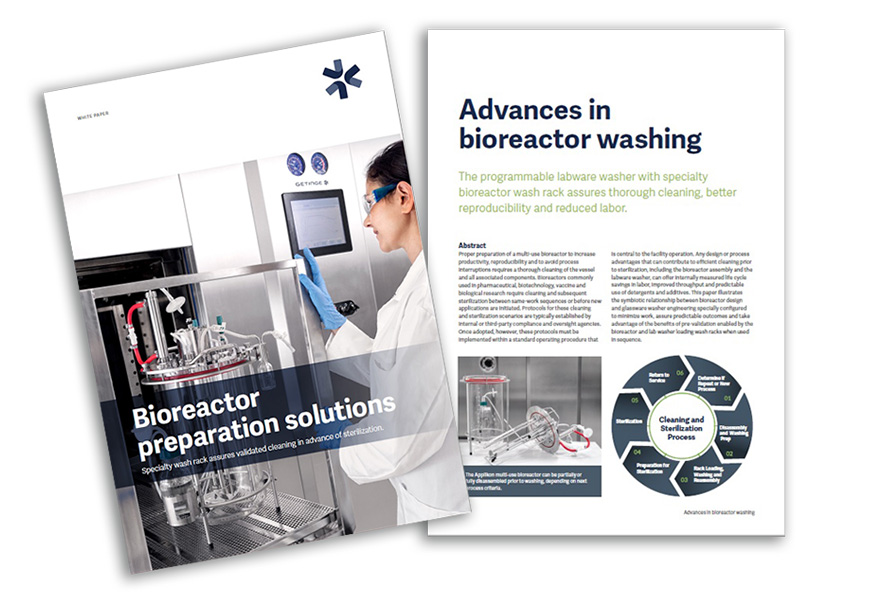 Preparation of multi-use bioreactor
Proper preparation of a multi-use bioreactor will increase productivity, and reproducibility and avoid process interruptions. This requires a thorough cleaning of the vessel and all associated components.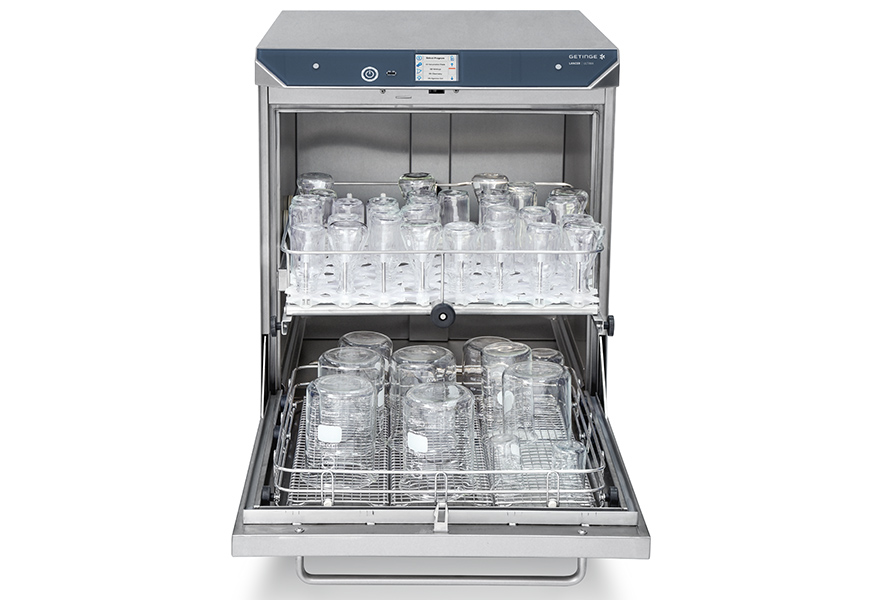 810 LX
The 810 LX is the entry level model in the undercounter range of laboratory washer/Dryers. It offers direct injection washing on two levels, and fits under standard casework to meet the budget and space requirements of many laboratories.
The racks are interchangeable among the 810 LX and 815 LX models of Getinge Lancer Ultima Undercounter Washers, and the 910 LX and 1300 LX models of Getinge Lancer Ultima Freestanding Washers, which limits the need for additional loading equipment when expanding the capacity of your lab.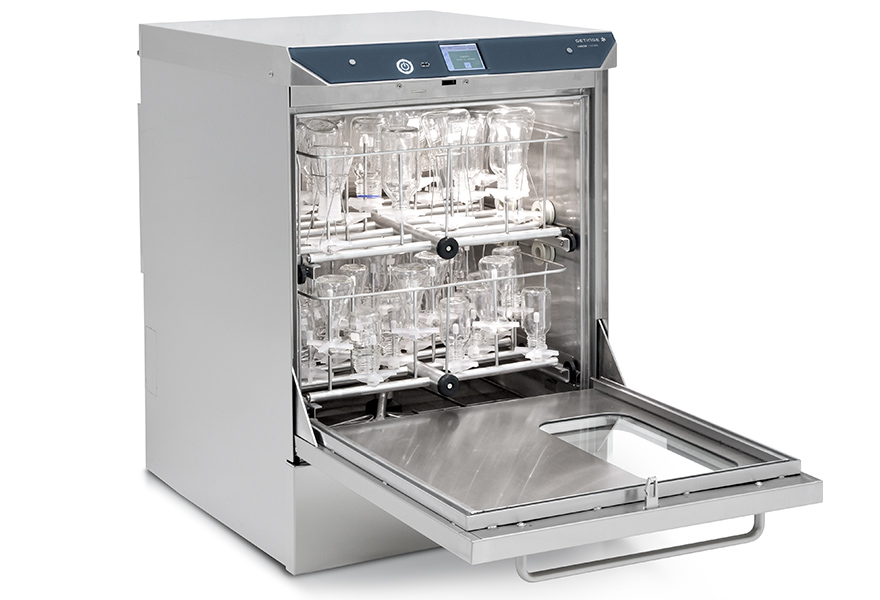 815 LX
The 815 LX offers all the benefits of the 810 LX plus chamber or HEPA filtered injector drying capabilities.
Optimal drying performance even for narrow neck glassware, if the optional HEPA filtered injector drying system is selected.
| | |
| --- | --- |
| Exterior Dimensions (WxHxD) | 600x850x739 mm (23,6"x33,5"x29,1") |
| Exterior Dimensions (wxHxD) with side chemical cabinet, sold as accessory | 900x850x739 mm (35,4"x33,5"x29,1") |
| Chamber Dimensions (WxHxD) | 535 x 498 x 520 mm (21,1" x 19,6" x 20,5") |
| Chamber Volume | 140 L (4,9 cu.ft.) |
| Weight | 85 kg (187 lbs.) |
| Weight with side chemical cabinet | 100 kg (220 lbs.) |
| Sound Level | ≤ 60 dB(A) |
| Washing Levels | 2 |
| Human Interface | Color touch screen 3,5" |
| Controller | PROLUX - 40 Programs |
| Drying | No |
Exterior Dimensions (WxHxD)
600x850x739 mm (23,6"x33,5"x29,1")
Exterior Dimension (wxHxD) with side chemical cabinet, sold as accessory

900x850x739 mm (35,4"x33,5"x29,1")
Chamber Dimensions (WxHxD)
535 x 498 x 520 mm (21,1" x 19,6" x 20,5")
Chamber Volume
140 L (4,9 cu.ft.)
Weight
85 kg (187 lbs.)
Weight with side chemical cabinet
100 kg (220 lbs.)
Sound level
≤ 60 dB(A)
Washing levels
2
Human Interface
Color touch screen 3,5"
Controller
PROLUX - 40 Programs
Drying


Standard: Forced air chamber drying
Optional: HEPA filtered forced injector drying system for narrow neck glassware
Marketing Sales - Brochures
Marketing Sales - Sales Flyer
Multi-Use bioreactor washing and sterilization
Visit our Academy – training and education designed to enhance your proficiency