Getinge Operating Tables Accessories
A comprehensive range of high-quality accessories for the best possible patient positioning.
Getinge creates products in close collaboration with doctors and hospitals. This helps to optimize workflows, facilitate the work of the OR team, and improve the success of treatments for patients. Getinge offers a comprehensive range of
accessories for the best possible patient positioning. There are a variety of suitable surgical tables accessories for different needs and types of surgery, be it infusion stands, or metalfree and radiolucent multi-purpose plates.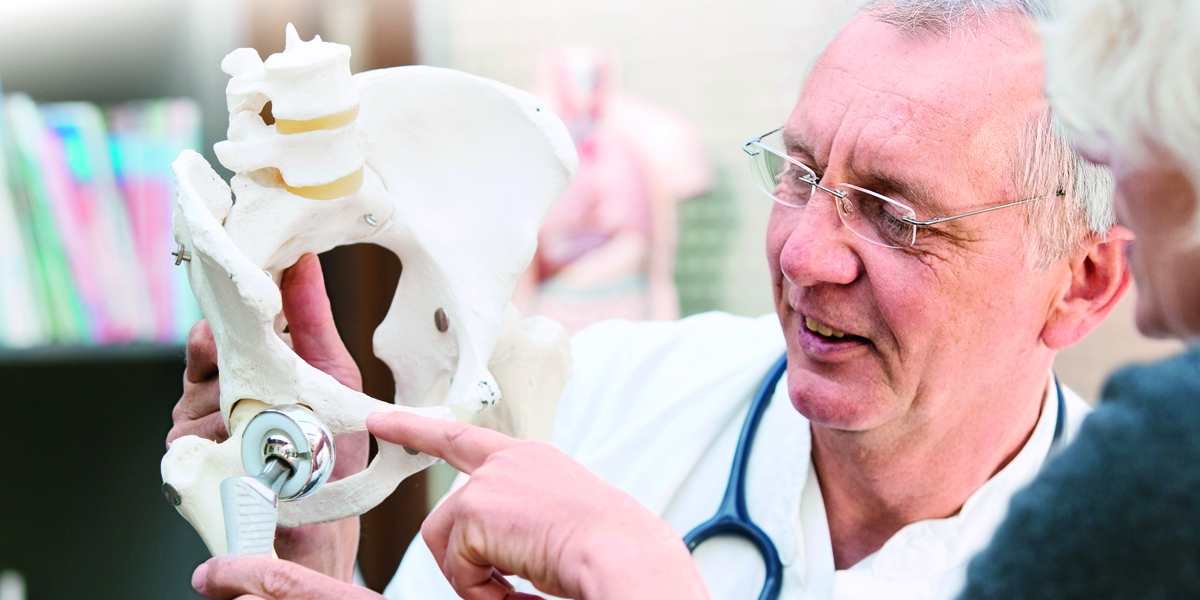 Orthopedics and traumatology
Modern orthopedics and traumatology require particularly demanding positions and accessories that are coordinated for interventions. Maquet's accessories for orthopedics and traumatology cover the full range of standard applications.
In conjunction with experts and users, innovative solutions are developed which support new surgical procedures. More advanced imaging procedures, such as 3D X-ray technology, again increase the demands placed on OR tables and accessories in orthopedics.
Maquet accessories for orthopedics and traumatology meet the requirements for optimum X-ray results: from high quality carbon-fiber materials through to the shape of the modules and to the radiolucency of the pad material.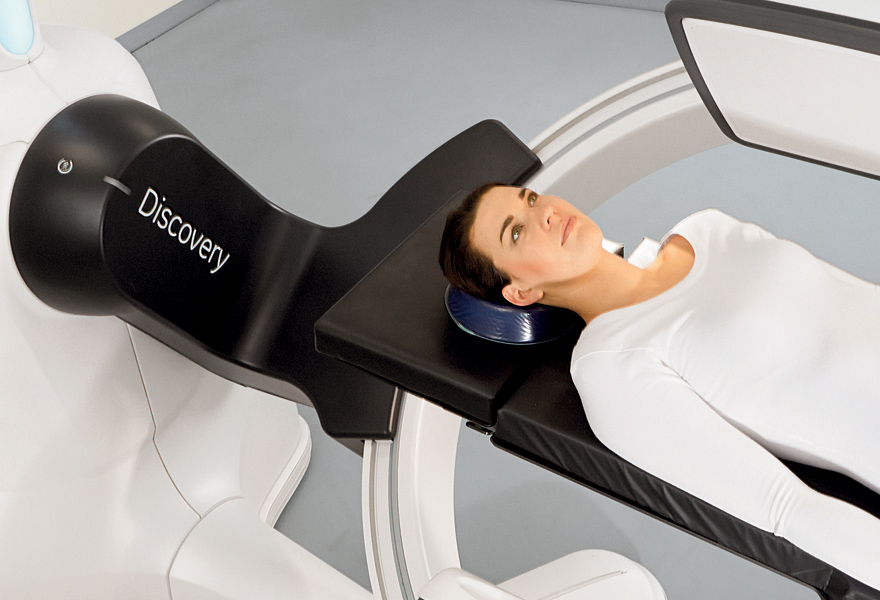 Neurosurgery
Stable and anatomically precise patient positioning is important for all
surgical disciplines, none more so than neurosurgery because any unintentional movement of the OR table could influence the position of the patient and have fatal consequences.
All Maquet OR Tables are designed to give the surgeon optimum access to the patient. The use of modern imaging procedures, for example, 3D X-rays, places increasing demands on the OR table accessories for neurosurgery. With specially designed and radiolucent accessories as well as high-quality pads, our products facilitate optimum X-ray results.
General accessories
Each position is different, depending on the upcoming operation, the patient and the habits of the OR personnel. Alongside the many special accessories, Getinge also offers standard OR table accessories that can be used regardless of the surgical discipline, from anesthesia screens and infusion stands through to body supports.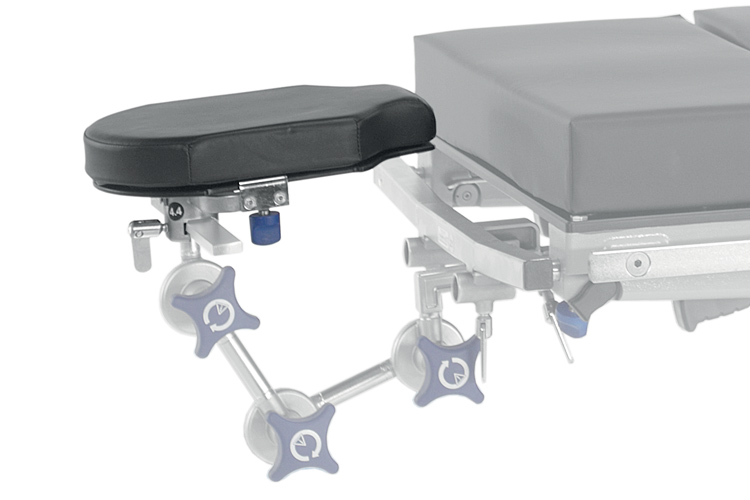 Head rests
The head rest plays an important role in the anatomically correct positioning of the patient. For this purpose, Maquet offers a wide variety of head positioning accessories: from head rest adapters and simple head rests through to radiolucent horseshoe head rests.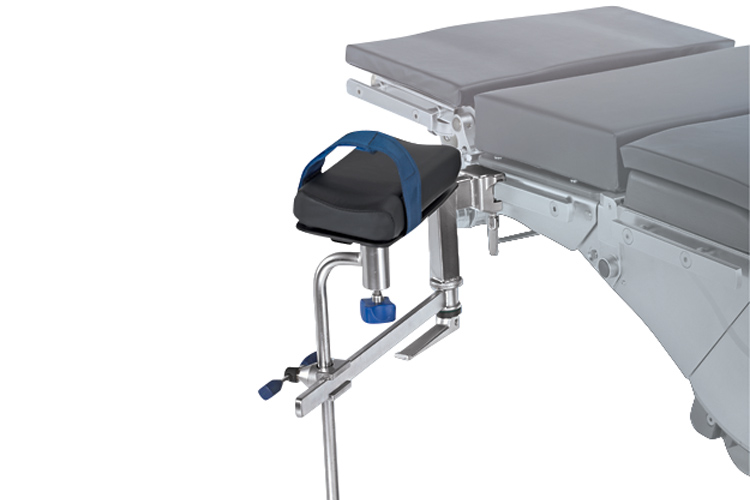 Arm supports
Correct support for the patient's arm plays an important part in a successful procedure. A poorly positioned arm may lead to nerve damage for the patient. Even in short interventions, it may result in pressure points on the skin.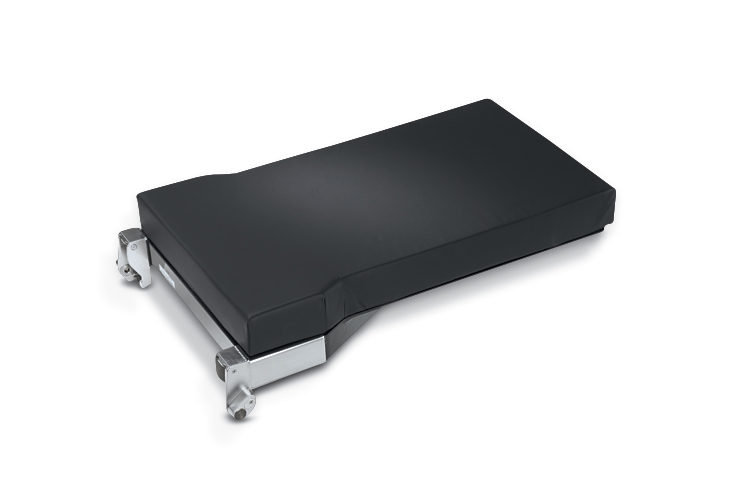 Back and lithotomy positioning
The range of back plates supplied by Maquet is extremely versatile. They include from radiolucent multi-purpose plates, modular back plates for shoulder operations, extension plates for very large patients, and trapezoidal shaped plates that improve ergonomic access to patients. Seat plate extensions, for example, for laparoscopy or urological interventions, complete the range.
SFC and IPC pads
Optimizing patient comfort while reducing costly complications
Maquet Operating Tables ranges* are equipped with special paddings aiming at optimizing patient's comfort during surgery and improving post-surgical recovery.
Choosing the right OR table pads can reduce the risk of costly complications and delays in recovery. Both SFC and IPC pads ensures leveled weight pressure distribution, aiming at providing safe and stable patient position.
* IPC is available for dedicated accessories only as well as for the 1160 table tops.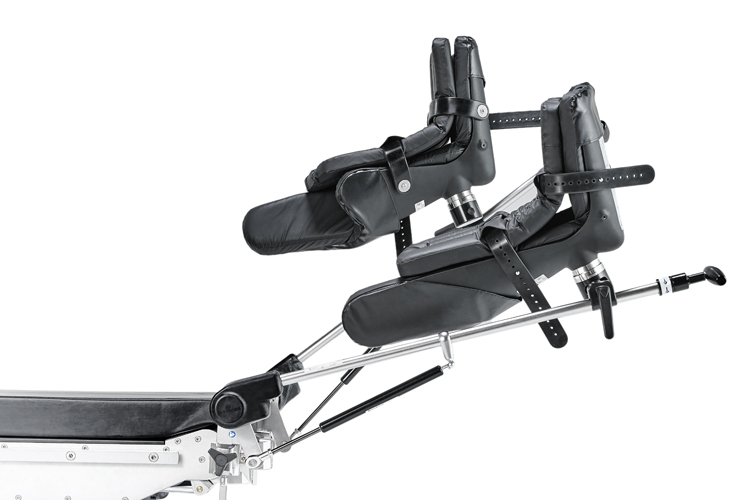 Leg holder and knee crutches
A single leg holder to minimize your investment and save time between surgeries
Proper leg and foot positioning is essential for patient comfort and effective surgical site access in gynecology, obstetrics, urology, and proctology. Our leg holder system can now be used with two variants of knee crutches supporting up to 160 or 250 kg to fit a wide range of patients.
The right position for each patient: The leg holder adjustment angles varies from 85° upwards to 50° downwards. Abduction possibilities range from 10° to 23°.
Traction Boot
Traction boot for positioning and securing of foot and calf during orthopedic procedures
Shell is extremely robust
2 handles on each side for easy adjustment
Proper positioning improves patient outcomes
Getinge collaborates with caregivers to develop patient positioning solutions that improve clinical outcomes. Proper positioning enhances ergonomic access to the surgical site while reducing positional stress on patients.
Getinge Surgical Assist Systems are a special group of operating table accessories that focus on proper patient positioning. These tools are easy to use, extend the options for universal OR tables, and improve ergonomics for the entire surgical team.
Minimize specialty equipment costs and improve functionality by converting universal tables into specialized tables with Getinge Surgical Assist Systems.
The accessories are designed to carefully hold and lift the extremities in ways that improve site access and reduce positional stress. Each accessory supports ergonomic positioning for patients and ensures optimal access for clinical staff during orthopedic surgical procedures.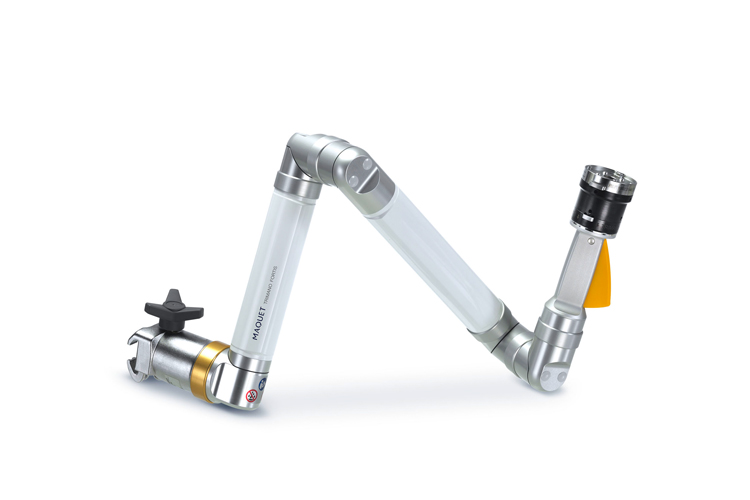 Trimano Fortis
A helping hand in the operating room for better ergonomics.
Holding and lifting body extremities during orthopedic interventions is a huge effort. Trimano Fortis acts as a "third hand" in the OR, providing stable support that frees surgical staff for other work. Easy to connect to the OR table side rail, Trimano Fortis is ready for immediate use.
A range of accessories makes the system flexible for many surgical interventions:
General surgery
Orthopedics and traumatology
Neurosurgery (positioning of the lower arm in park bench position)
Hand and plastic surgery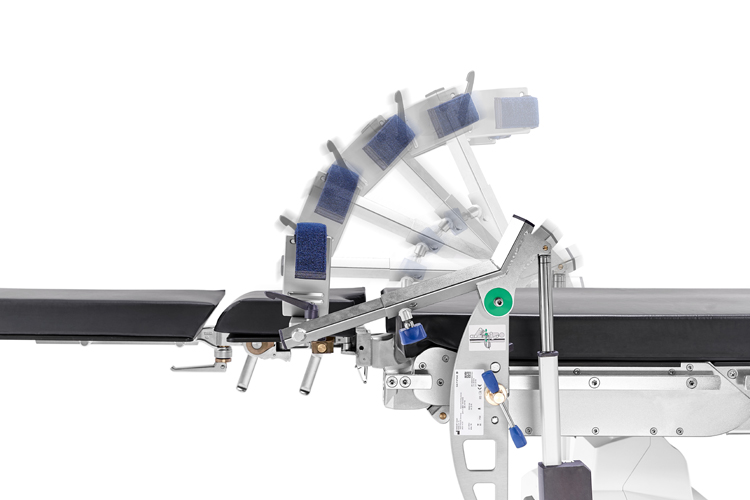 Knee positioning device
State-of-the-art knee surgery
The motor-driven knee positioning device is suited for various forms of surgery. The product's area of application is in the field of knee prosthetics, arthroscopic and open surgical procedures in the area of the knee as well as the treatment of fractures. The knee positioning device facilitates the surgeon's control of the flexing and stretching movements required during surgery. The secure fixation of the leg is ensured during this action. The device is fastened to the side rails of the OR table with an included clamp and can be operated by the surgeon via foot switch.
A manually operated knee positioning device is also available and safely secures the thigh for several types of knee joint procedures. As it is horizontally and vertically adjustable, the device can be flexibly adapted to the body of the patient. The knee positioning device is fastened to the side rail of the OR table with the included radial setting clamp.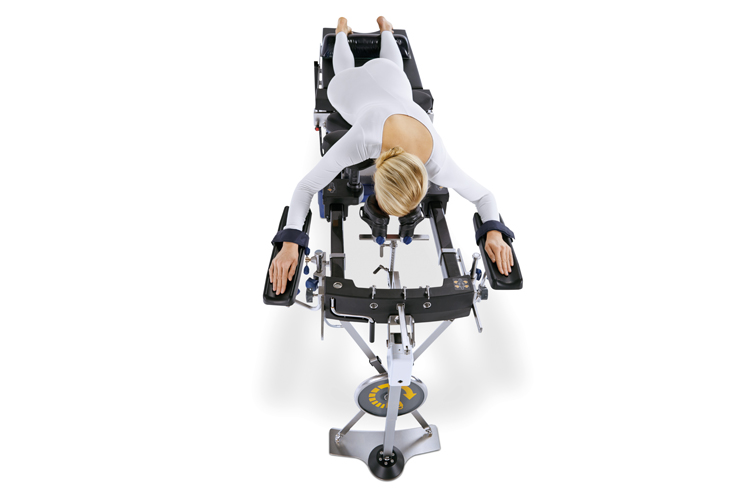 Getinge Universal Frame
The ideal addition to every OR table
The Universal Frame for patient positioning is designed to provide ergonomic support for nearly all surgical procedures in lateral, prone or supine positions. And because the main components of the frame are made of radiolucent material such as carbon fiber, it supports intraoperative imaging.
Innovative patient positioning
Multifunctional applications
Exceptionally large X-ray area
Quick and easy configuration
Supports ergonomic working
High stability
Marketing Sales - Brochures
A comprehensive range of high quality accessories for the best possible patient positioning.

Optimizing patient comfort while reducing costly complications

Essential accessories to easily transform universal tables into trauma and orthopaedic tables.

State-of-the-art knee surgery

A single leg holder to minimize your investment and save time between surgeries
Improve your knowledge with our eLearning and training courses
At Getinge Educational Institute, we have dedicated material for topics related to Intensive Care, Cardiovascular Procedures, Operating Room and Sterile Processing. We can support you with information about current technologies and best practices to boost your performance and productivity.
For more information about our onsite events or remote trainings, you can also contact your local sales & service representative.