Safe, efficient and cGMP compliant terminal sterilization processes
Flexible process design
Effective process control
Efficient throughput
Automated loading solutions
The GEV Steam/Air Mixture Sterilizer is designed to sterilize pressure-sensitive pharmaceutical product/package combinations such as syringes, flexible plastic, or rigid glass containers.
The ventilator and heat exchanger systems also make it possible to rapidly cool and dry the product after the sterilization phase. Product/package integrity is maintained by counterbalancing with air throughout the process.
Watch the video to discover more about Getinge's automated load handling solutions for terminal sterilization.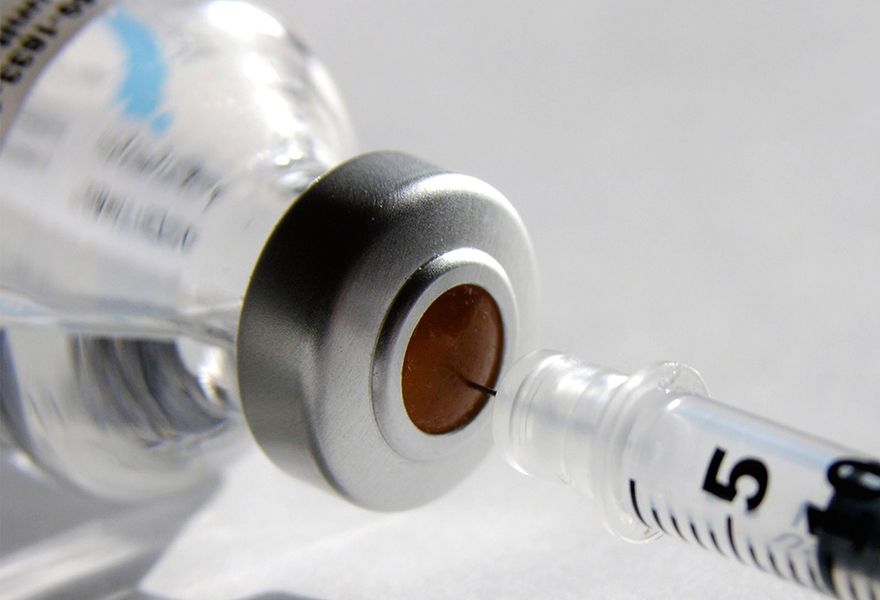 Optimizing process design
The correct packaging and drug delivery systems play an important role in easing drug administration and improving patient safety. Yet the wide variety of products and packaging styles present significant challenges for the biopharmaceutical industry. Terminal sterilization puts stringent demands on efficient sterilization while protecting both product and packaging.
Getinge supports you by defining optimal process parameters for your specific product and packaging. GEV Steam/Air mixture sterilizers offer versatile sterilization processes to achieve correct temperature and pressure throughout the process cycle.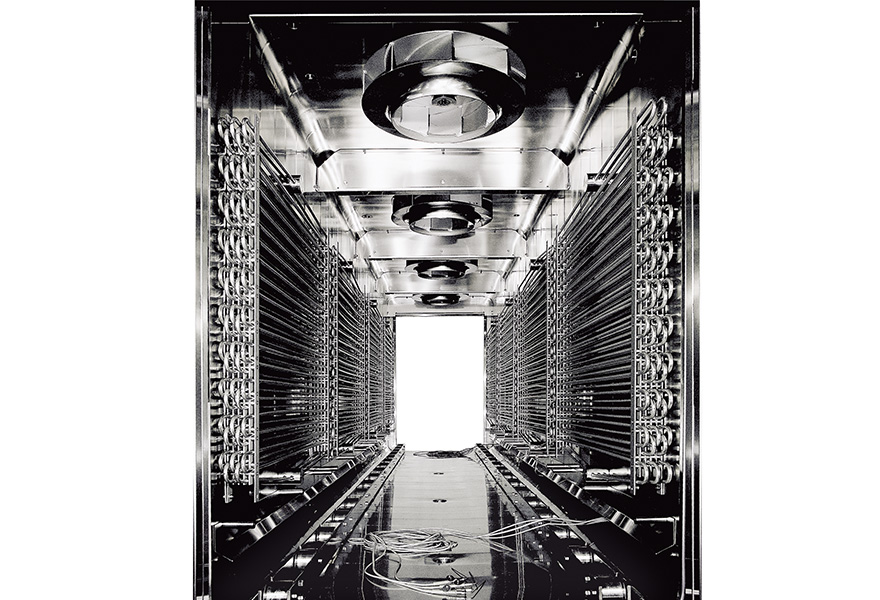 Control over temperature and pressure
Temperature and pressure within the chamber must be carefully controlled and evenly distributed to prevent packaging deformation during sterilization.
Getinge GEV Steam/Air Mixture Sterilizers use sterile compressed air to apply support pressure to balance the environment with the internal load pressure, meeting each load's requirements for heating and cooling rates. Pressure and temperature sensors within the chamber control and adjust when necessary. A fan and ducting create a circulation pattern and maintain a homogeneous environment when it comes to temperature and pressure.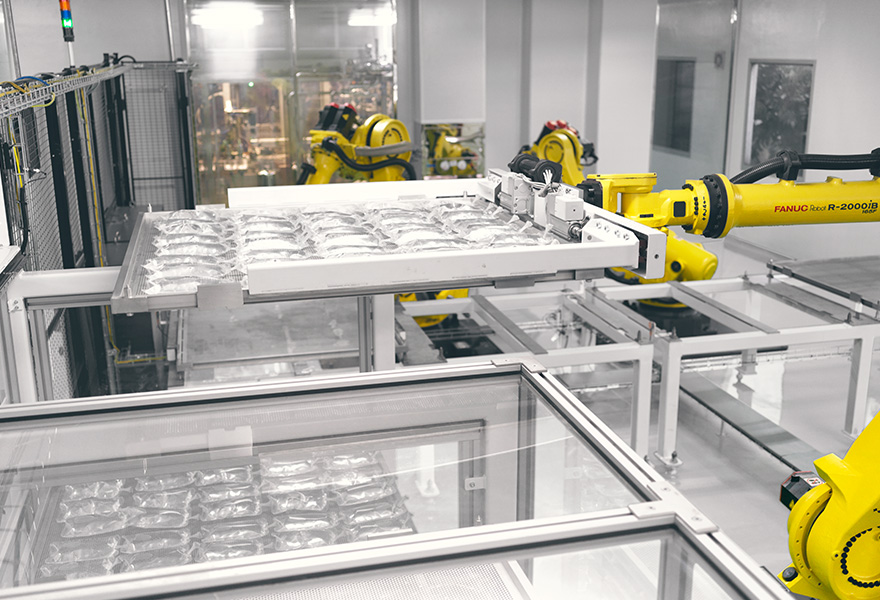 Automated loading solutions
In a busy production environment, transporting products to and from a sterilization chamber is a logistical challenge. Often large, heavy loads must be moved daily to maintain productivity. Yet manual handling is difficult to control according to the validated processes. Getinge supports you with automated, ergonomically friendly solutions for load handling. Conveyor systems and robotic loading play an integral part in maximizing throughput and ensuring process control.
Rack design supports efficacy
Rack and shelf design play a key role in process efficacy and product protection. They must allow adequate and uniform flow of sterilizing media while supporting the product to prevent damage or deformation. Getinge supports you with wide variety of shelving systems, and offers test and prototyping services to assist in the design of shelving for your specific process requirements.

Optimized throughput
Pre-heating for dry loads
While steam-heating is energy efficient, the resulting condensation can be problematic for downstream processing. The drying result can be improved by pre-heating with dry air. In this process, the circulating air is heated, which then heats the load prior to steam injection. When steam is injected, less energy is required to raise the load to sterilization temperature. Less steam means less condensate, resulting in a drier load.
Rapid cooling
Getinge uses bundled heat exchangers placed in the path of the circulating steam/air mix to rapidly and efficiently cool the sterilized goods. As the product temperature decreases, the pressure is reduced; this maintains balance with the load's internal pressure to prevent compression or distortion of the container. As result, the products emerge sterile, cool, dry, and ready for further downstream processing.
Sterilizers for all capacity needs
The GEV Steam/Air Mixture Sterilizers offer a wide range of chamber sizes and configurations ranging from 0,36m3 to 16,3 m3 to meet your capacity needs. The range also offers single or double door (pass through) models, and a service area on either side of the chamber. The sterilizers can be mounted in a cabinet, recessed between two walls, or recessed in a wall with a surrounding cabinet.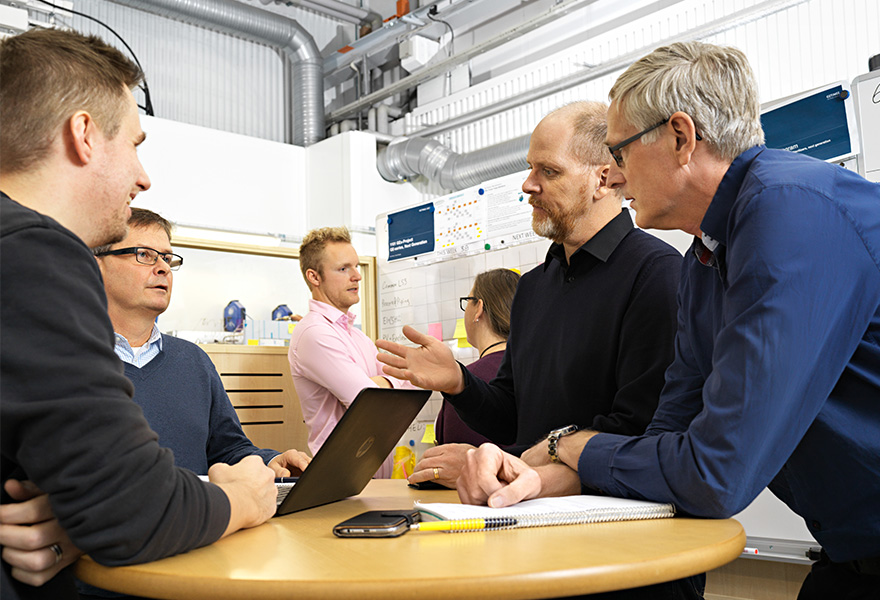 Process optimization services
We work together with you to develop the optimal cycle for your processing needs. Getinge can help you optimize testing and process development conditions at our process development lab in Getinge, Sweden. A specially designed sterilizer allows for programming of a wide range of sterilization cycles, giving you full control to optimize process parameters.