Easy to use, this benchtop endoscope packaging system prepares and stores endoscopes, so they'll be ready when you need them.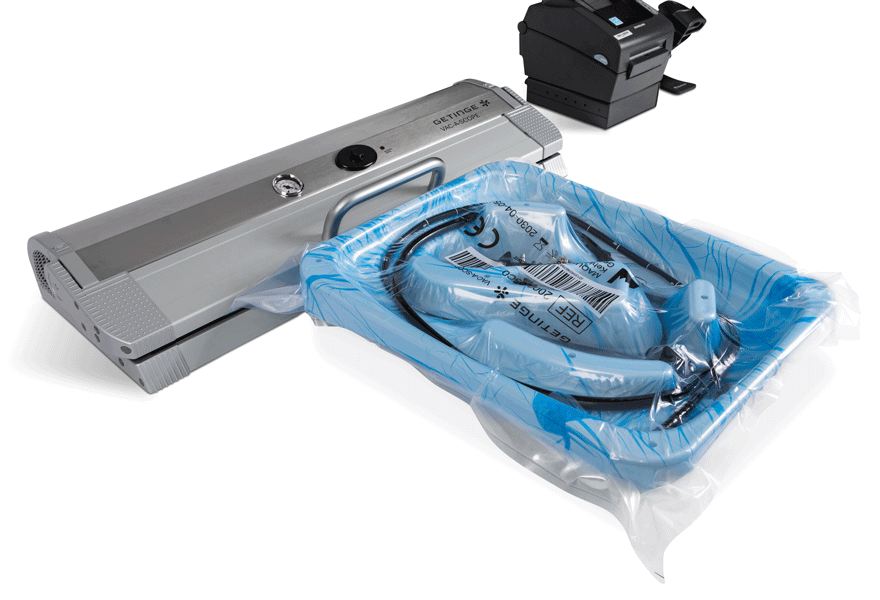 Safe, simple, and secure
The patented system preserves instrument integrity from reprocessing through to the procedure room. It allows the dry endoscopes to be securely transported and/or stored in a convenient location for use when needed.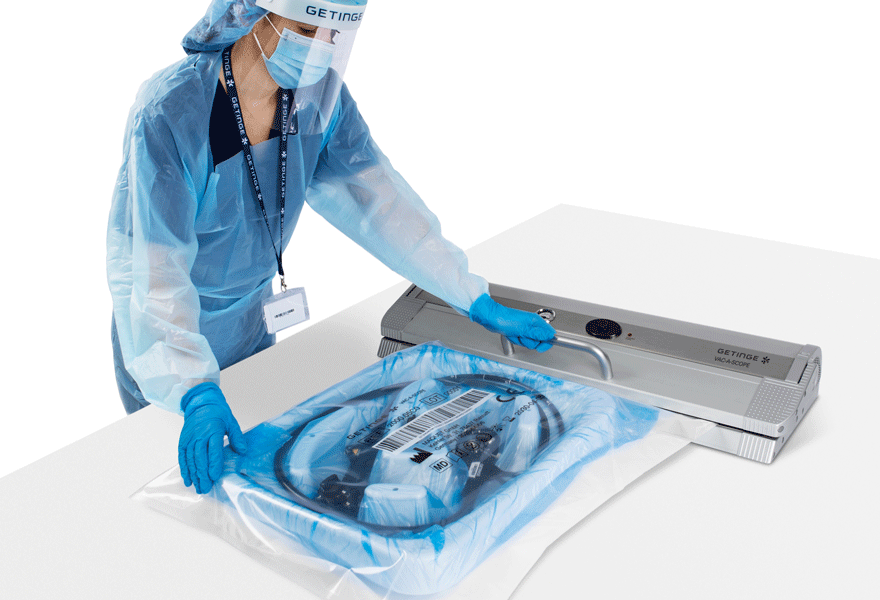 Maintains clean, disinfected, dry endoscopes in a safe to use condition for up to 30 days
Reduces the frequency that scopes are reprocessed – less chemical, less wear and tear, less staff time
No additional chemicals that increase reprocessing cost and risk compromising endoscope cleanliness / patient safety
Secures scopes against excessive movement during transport and storage
Reduces time needed to store endoscopes in drying and storage cabinet
Technical data
| | | | | |
| --- | --- | --- | --- | --- |
| Getinge Vac-a-Scope | | | | |
| | Width | Height (closed) | Height (open) | Weight |
| | 830 mm | 130 mm | 280 mm | 19.5 kg |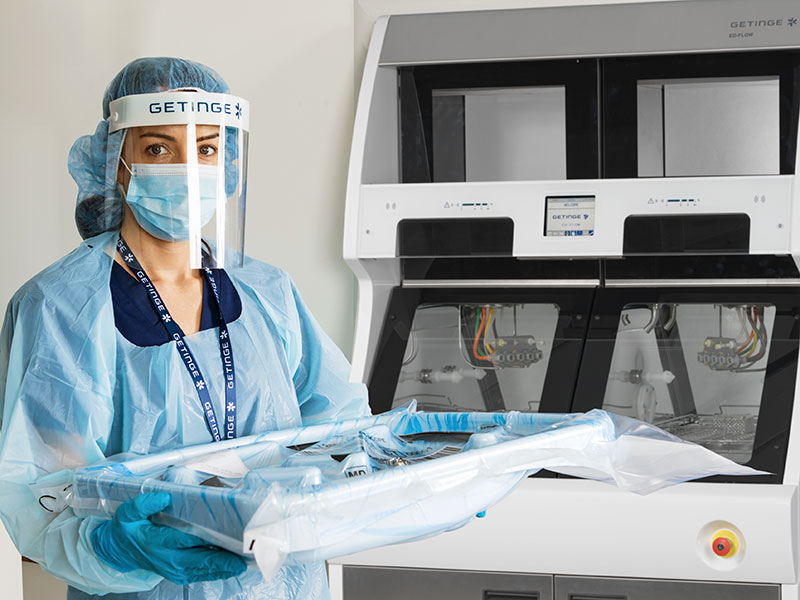 Assured safety
The Vac-a-Scope System is designed with patient safety in mind. It preserves scope integrity by removing air – without introducing additional contaminants that could compromise safety or cleanliness.
Independently type tested to ensure against microbiological growth for up to 30 days
A tamper-proof, triple-sealed vacuum bag ensures the integrity of the endoscope until it is opened for use on a patient
Protects the endoscope during transport between the reprocessing area and procedure room
Independent monitoring system (IMS) automatically monitors and documents the process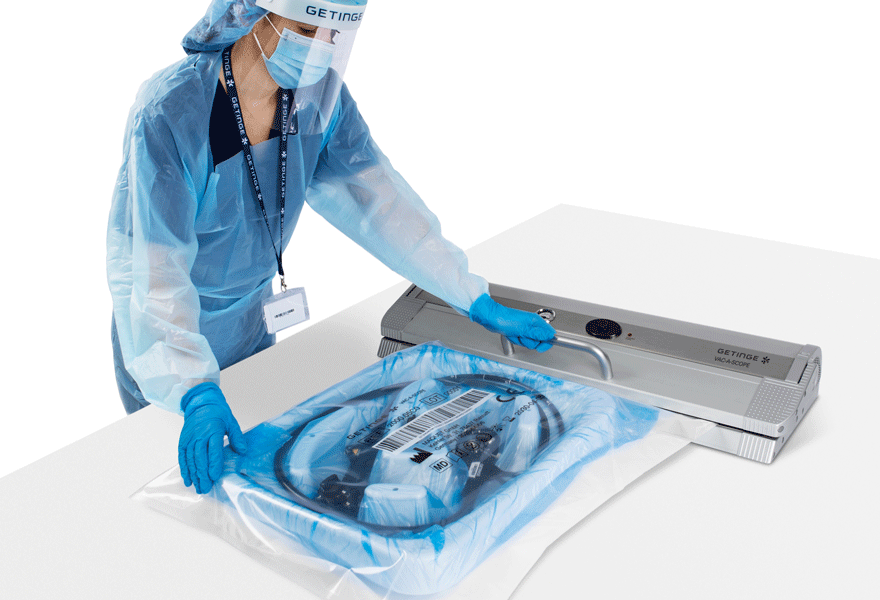 Easy to use
When protecting against cross-contamination, a simple system is best. The Vac-a-Scope System requires minimal training – simply load the vacuum bag with the endoscope in its tray, scan, and go.
An automated process reduces the risk of user error
Easy to load and package
Simple processes reduce staff time, freeing them to focus on other tasks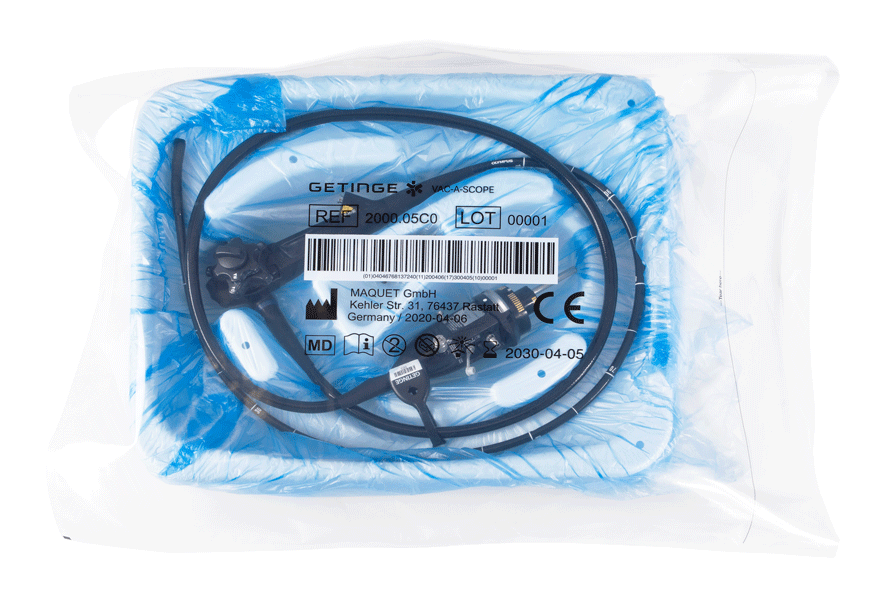 Ready when needed
The Vac-a-Scope System ensures that high-level disinfected endoscopes are ready when you need them.
Endoscopes can be stored in a convenient location for immediate access
Ideal for emergency procedures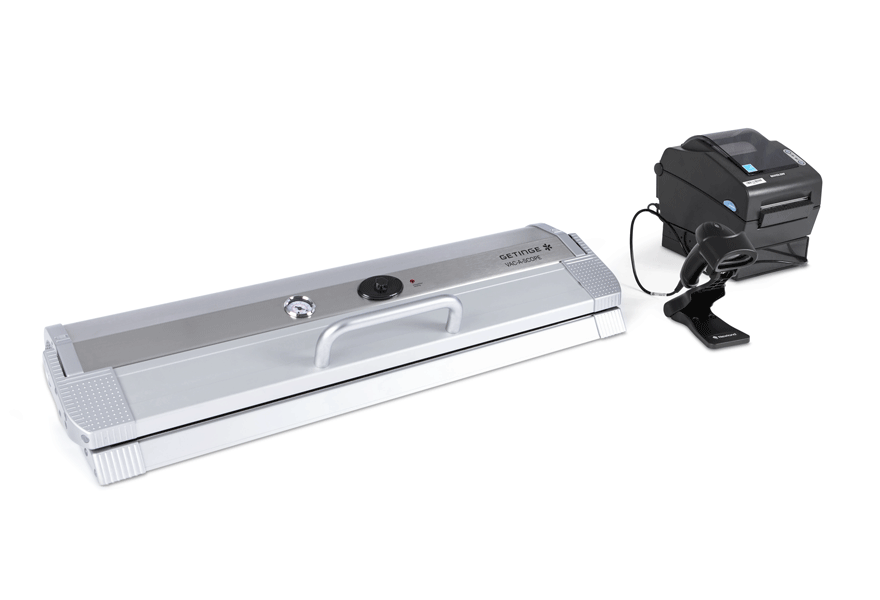 Cost effective
Reprocessing clean endoscopes can be costly. Accurate systems and secure storage can minimise the frequency of unnecessary reprocessing, saving time and money. The system's small footprint fits easily into your department.
Minimise wear and tear from reprocessing and transport
Maximise the lifespan of the endoscope
Reduce consumable costs – no additional chemicals are needed for the Vac-a-Scope System
Marketing Sales - Brochures
Product brochure

Product range brochure
Improve your knowledge with our eLearning and training courses
At Getinge Educational Institute, we have dedicated material for topics related to Intensive Care, Cardiovascular Procedures, Operating Room and Sterile Processing. We can support you with information about current technologies and best practices to boost your performance and productivity.
For more information about our onsite events or remote trainings, you can also contact your local sales & service representative.